Sprucing a home up for resale is a great idea, but there is a balance between what you can spend and what is going to increase your returns. Kitchen and bathroom renovation is a must and with the price of vinyl siding, it's worth considering.
New vinyl siding will definitely improve your home's resale value. In perspective, the National Association of Realtors estimates that in some states the home's resale value can increase by up to 3.2%. There are other cases however where resales value did not increase enough to recoup the money spent. Business insider considers siding replacement as one of the top 5 things to increase a home's resale value.
There is no guarantee you are going to puck the right color or get a great deal that will have you recoup your money and more, but if done right you can definitely increase the home's appeal and resale value.
Based on its advantages, yes! Vinyl siding is a cost-effective option that will allow you to spend less but still get the curb appeal that attracts homebuyers.
Nevertheless, you'll have to insist on quality installation to enjoy these benefits and avoid frequent repairs.
In terms of numbers, you stand to recoup up to 77% of your original investment from the home resale. This means that if you spend $12,000 on the vinyl re-siding, your home's ask value can increase by around $9,240.
Note: Vinyl sidings may not be for you if you're remodeling your house in a high-end neighborhood. In such areas, brick and stone sidings tend to do much better.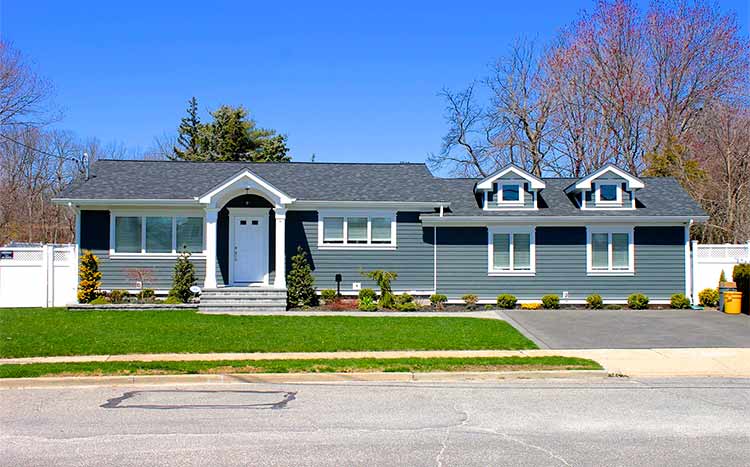 How much does vinyl siding cost?
The national average cost of vinyl siding ranges between $4.50 to $8.50 per sq ft. As such, for a 1,500 sq. ft home, you can expect to spend anywhere from $6,750 – $12,750. 
The actual costs for the job will depend on your location, the shape and size of the house, the type of vinyl, and the time of year. Your contractor may also charge more if they'll first have to make some repairs. 
| Service | Quantity | Average cost |
| --- | --- | --- |
| Vinyl siding cost | Per Sq. ft | $2.10 - $3 |
| Cost of labor | Per Sq. ft | $2 - $5 |
| Cost of supplies | Per Sq. ft | $0.40 - $0.50 |
| Total | Per Sq. ft | $4.50 - $8.50 |
| Project total | 1,500 sq. ft | $6,750 - $12,750 |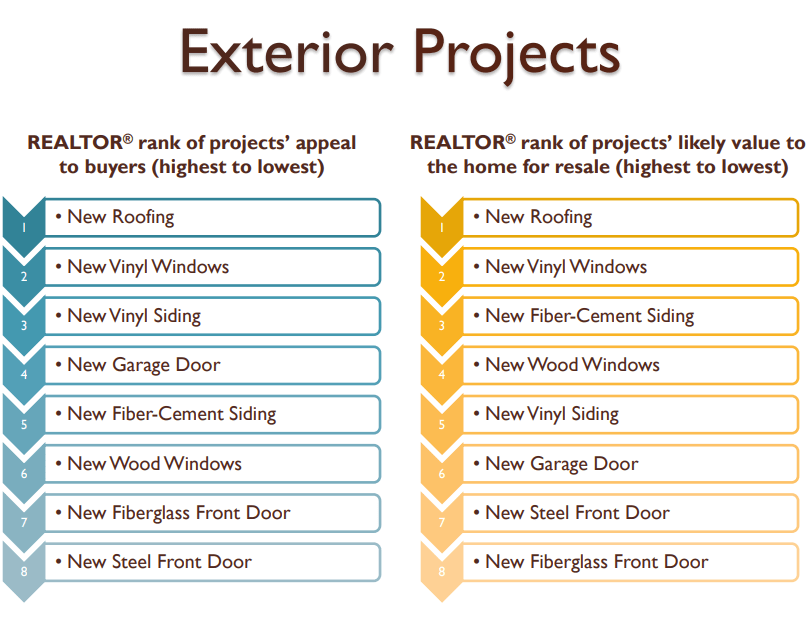 Source: https://www.nar.realtor/2019-remodeling-impact-10-03-2019.pdf
What color siding has the best resale value?
Generally, light neutral color sidings provide the most appealing looks for homebuyers. They create a modern, livable feel that is inviting and desirable.
Light shades of brown, beige, and sometimes green are excellent choices that work for most homes. Any shade of grey is also a great option.
In recent years, shades of dark blue and light blue have also emerged and have proven to be an excellent color choice. If possible, avoid all-white homes and instead, use a light neutral color with white trim accents.
Most dark colors like black and dark brown should be avoided. They make the house look dull, uninviting, old-fashioned, and a tad scary, repelling any buyers from your home.
Also, unless your neighborhood embraces such a style, avoid loud colors like red, purple, mustard yellow, pink, bright blue, and orange.
Factors that influence your color choice
Even though we've determined light neutral colors as the best for your siding, there are factors you must consider. These include:
Your neighborhood-style – In every neighborhood, you'll notice a common pattern in the style of the houses and the colors preferred. So, in an area where their real estate is defined by bright colored houses, don't go for a dark color. Buyers within that area are more likely to reject any house that looks off place.
Homeowner's Association regulation – In some areas, the HOA dictates the colors allowed within that neighborhood. In such a case, you have no choice but to respect these rules. Keep in mind, no homebuyer would buy a house that will soon be penalized for violating those rules.
Architectural style – For homes designed in powerful architectural designs like Victorian or Colonial, most homebuyers will have predefined expectations of the colors to be used.
For example, most people expect Colonial homes to come in light-colored neutral shades or just white. On the other hand, many expect a quite colorful palette for Victorian homes. These expectations should guide your color choice for the siding and trims.
Pros and cons of vinyl siding
While vinyl sidings receive a ton of well-deserved praise in the market, it doesn't come without their limitations. Let's dive into what you should know;
Vinyl sidings are among the cheapest siding options you'll find in the market. This makes it very popular among most homeowners. Compared to fiber cement and wood sidings, this option is around 50% cheaper.
Attractive and Versatile option
With vinyl siding, you have a wide range of color and texture options to choose for your home. Regardless of your color preference and home profile, you're likely to find that color or a shade of it on vinyl.
Vinyl boasts a long lifespan of up to 50 years or more when well maintained. It can withstand heavy impacts of wind and hail without cracking and is known to be resistant to excess moisture. These properties prevent it from rotting or corroding after some years.
A big part of why vinyl sidings are popular is also due to their low and easy maintenance requirements. As a homeowner, you can expect to spend next to nothing on maintenance needs for your vinyl siding since all you may need is washing it. Vinyl doesn't require any painting.
While Vinyl sidings look good for a long time, they can be prone to fading depending on the colors and the environmental conditions of your area.
Under direct sunlight, the colors will easily fade making your house look old. This in turn results in higher costs of maintenance (painting) in the long run.
It's also harder to replace a faded panel with a new one since the contrast in color between the new panel and the existing ones will be visible.
While vinyl doesn't absorb water, it doesn't stop it from getting trapped beneath the siding. This is a cause for alarm as it can result in severe water damage as well as mold and mildew infestation.
And since vinyl isn't directly affected by the water, it makes it hard to spot the infiltration and damage until it's too late. This can only be avoided by proper installation.
Vinyl sidings can be a disadvantage when installed in areas experiencing extremely harsh weather. In areas with very hot summers, the siding may warp or change shape.
Some owners have also reported melting under extreme heat.
In cold areas, the vinyl is prone to developing cracks and dents when any object comes into contact with it. Some cracks might be big enough to allow water to infiltrate the siding.
It's also worth noting that melting can also occur in cold climates. This is made possible when light rays are reflected towards your siding from your neighbor's insulated glass windows.
What is the lifespan of vinyl siding?
The average lifespan of vinyl siding is 50 years. However, it can last for up to 60 years depending on the climate of the area and your maintenance habits. Compared to other siding options like wood, it's very durable.
But in many cases, vinyl sidings lose their effectiveness after the 20-year mark and you may notice that it has begun fading. This is caused by the extended exposure of the siding to adverse weather conditions like hot sun, rain, wind, and hail.
Is Insulated vinyl siding worth it?
Yes! Insulated vinyl siding gives you superior benefits over conventional vinyl siding. Besides improving the insulation properties of your home, it offers better resistance to warping and movement, as well as an improved R-value.
Most homeowners also say that insulated vinyl generally looks and feels better than traditional vinyl. You're, therefore, investing in a premium product if you've chosen this for your siding.
Drawback: Insulated vinyl sidings are usually 20% – 50% more expensive than the standard vinyl. You're likely to spend around $5.40 – $12.75 per sq. ft for the material, labor, and supplies on this siding option.
DIY Siding vs. Hiring a Professional for vinyl siding
Generally, hiring a professional siding contractor for your vinyl siding job is the best choice for any homeowner. However, experienced DIYers can also complete the job since working with vinyl is easy.
Either option you choose will have an impact on the overall resale value of your home.
Cost-savings are the biggest magnet for going the DIY route. You'll save a lot on the labor costs and get more freedom to work on your own time and without the interruptions of other people.
DIY jobs will also give you the satisfaction you want for completing the job by yourself.
Cons of DIY siding
Inexperience may mean poor finish that will diminish your home's resale value
You might spend more to hire an expert if you mess up when working
You waste a lot of time on the project
You may not know how to use all the tools required
If you're planning to resell your home, a pro is always the best for the job. They have the skill, equipment, and experience to handle the job quickly and in the best quality.
They'll also get the required permits, complete any extra services required, and even purchase the required materials at a discounted price.
With a professional, you have peace of mind throughout the project.
Cons of hiring a pro
Their costs can be high
Inexperienced or unprofessional contractors can mess up the work
Their availability is unpredictable
Other home renovations to increase your resale value
Besides vinyl sidings, there are several other home renovations you can try to increase the resale value of your home. These include:
Fiber-cement siding is a great alternative for vinyl siding in terms of its impact on resale value. It costs an average of $15,688 and allows you to recoup up to 78% during the resale. This comes to around $12,237.
Manufactured stone veneer
Stone veneer used on key features of your home like the entryway drastically improves its exterior. The project will cost you an average of $9,500 but has a 96% recoup rate. Therefore, you can recover around $9,120 during the resale.
You can never go wrong with a new garage door. By using the existing motorized door opener, you can expect to recoup around $3,491 from the resale which is 94% of the initial $3,695 project cost.
Instead of a major upscale kitchen upgrade which is expensive, you can easily improve your home's value through a minor upgrade.
This could include replacing some cabinets with shaker-style panels, add new flooring, replace a few appliances with more energy-efficient ones, etc.
This project costs around $20,000 and has a recoup rate of around 77%, allowing you to receive up to $15,400 during resale.
Statistics have revealed that most buyers would pay more for a home with new steel doors. The doors offer better energy efficiency, added security, and in some cases, smart technology features.
An entry door project could cost you around $1,800 and has a recoup rate of about 69%. You can therefore expect to recover around $1,242 during resale.
Stucco siding. The material can last 80+ years with proper maintenance. Vinyl sidings are also quite durable having a lifespan of up to 60 years.
This depends on the type of siding, its quality, and how you maintain it. However, most sidings have a lifespan of between 20 – 40 years. Within these years, look for signs of damage like peeling and cracking. These may indicate it's time to replace.
All light colors. Fading is usually less visible on the lighter shades of colors. So, the lighter the vinyl color, the less you'll notice the fading.