Engineered wood siding is a cost-effective alternative to natural wood siding.
Engineered wood siding cost ranges from $7.00 to $11.00 per square foot including materials and professional installation. For an average 1,500 square foot home, many homeowners will have to pay from $10,500 to $16,500 in total installation costs.
In this article, I will try to bring the installation costs of engineered siding closer to you.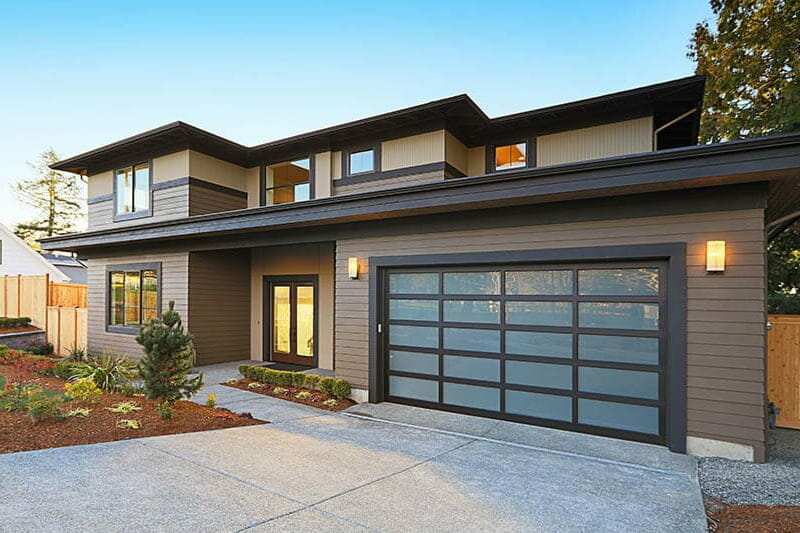 For a 1,500 square foot installed simple ranch house.
| Lowest End | $10,500 |
| --- | --- |
| Average Price | $13,500 |
| Highest End | $16,500 |
The price table above refers to the installation itself. Replacement costs vary depending on the size and design of your home, local labor cost, and the complexity of the project, full or partial engineered wood siding installation.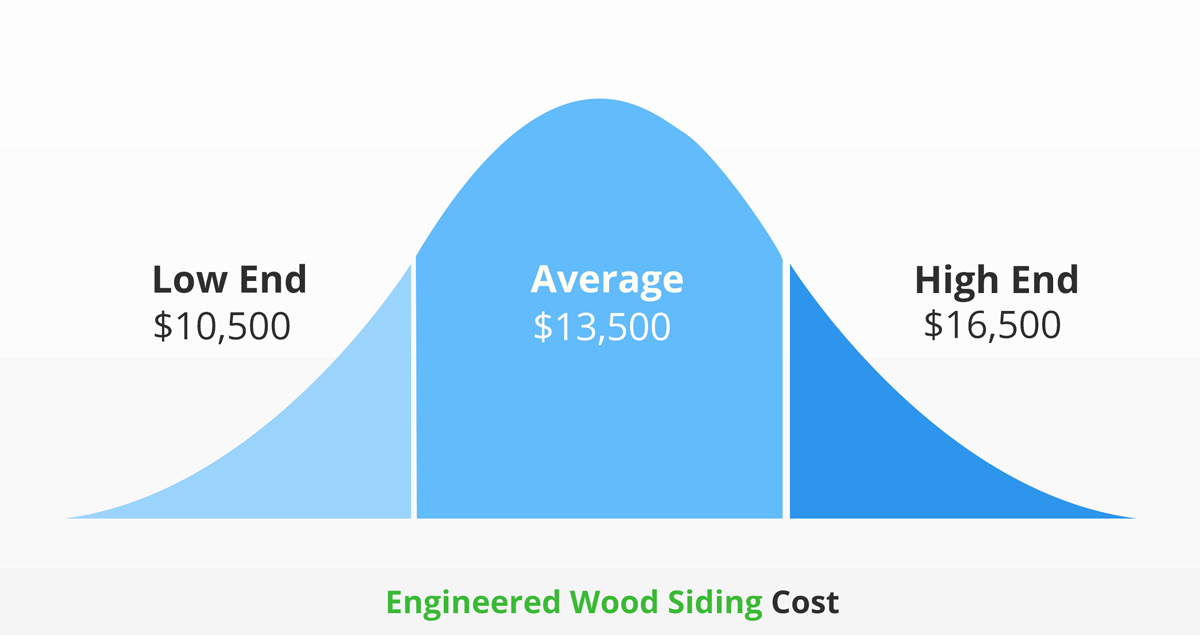 Engineered Wood Siding Costs
The average cost per square foot for engineered wood siding installation is $7 to $11 per square foot, including materials and installation.
Prices vary depending on the type of siding you want to install. Traditional lap siding is the cheapest, while architecture panels are on the highest end of the price list. If you had to remove the old siding first, the cost range from $1,000 to $3,000 for that. Always ask if the price quote includes all labor, removal, and dumpster fees.
Engineered Siding - Pricing and Installation Cost Checklist
Engineered wood siding prices can add up quickly especially if you are installing siding for the first time. This checklist will help you stay within your budget and give you some tips for you to avoid hidden expenses that can pop up out of nowhere.
The golden rule is to get 3-5 estimates from local contractors before starting. Unless it is a service call for a repair, these estimates are 99% of the time free.
Always ask for quotes when it is a down season for the contractors in your zip code area. That is usually late fall or early winter and you can expect serious discounts.
Try to visit every store that sells siding materials, and try to negotiate a better price with each supplier. An even better situation for you will be if you can buy directly from the siding manufacturers. That way you will get the best price.
For a successful installation process hire a contractor specialized in wood siding, ask references of his previous projects, and if it is possible to go to see the houses that he had worked on.
Be sure to have a copy of the engineered wood siding manufacturers' recommended installation requirements before starting in order to be sure that your project doesn't end up costing you more money in the long run.
HomeGardenGuides.com is a free service that quickly matches you with top-voted local siding specialists.
You can get 3 estimates fast by real certified experts in your area in just 2 minutes.
Scroll to the top of the page and enter your Zip code.
Answer questions about your siding job.
Your siding project details are forwarded to three local siding experts. They will send you a price estimate for the job and some friendly advice.
IMPORTANT: There is no obligation to hire. This is a free tool and service to be used at your pleasure.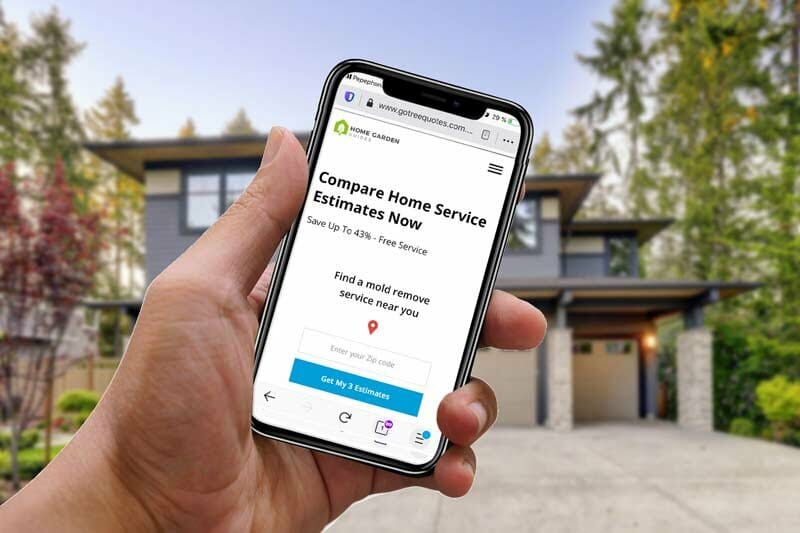 Engineered Siding VS Real Wood Siding
Engineered wood siding products have the purpose to imitate the look of the natural wood siding but with benefits such as eliminating flaws, resisting deterioration, lower cost to install and maintain.
According to the manufacturers, engineered wood siding is superior to real wood due to these factors:
Strength: Made up of wood strands, engineered wood siding has superior strength. Wood strands are coated with a resin binder and compressed in strong boards that stand well against elements.
Moisture, Rot, and Pest-Free: Engineer wood siding is treated to prevent termites and rot, and it is also coated with a moisture-resistant overlay. It allows creating a cedar grain pattern that provides superior protection against moisture that makes the engineered wood siding more weather-resistant than natural wood.
Easy to install: Easier and cheaper to install than natural wood siding because it is lighter in weight and the whole process is less complicated. Engineered wood siding can be purchased pre-primed, ready to paint, or pre-finished in any number of finish options. This reduces labor time and labor costs.
Engineered Wood Siding Cost by Type
According to Remodeling Calculator, these are the 2022 prices for the most popular types of synthetic wood siding. Included are material prices and top manufacturers of engineered siding.
Lap Siding: $1.25 - $2 per sq. ft.
This traditional type of siding remains a top choice for many homeowners across the State.
If you want a high-quality material from a trusted and proven manufacturer then LP Smartside siding has to be your choice. Siding with a rich grain cedar texture and long panels with fewer seams.
Truwood is one of the greatest engineered wood siding options available. With so many choices, you are sure to find a truly custom look for your house. The installation process uses concealed fasteners, for a more seamless appearance.
Trespa siding will provide you with the luxurious look of the classic Dutch lap siding. They are one of the leading companies that specialize in high-end composite exterior siding panels for commercial and residential needs.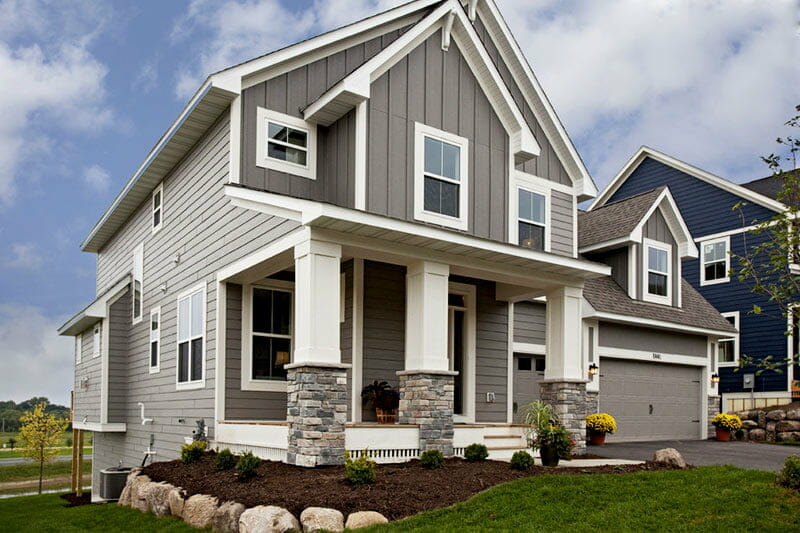 Shingle and Shake Siding: $2.00 - $3.5 per sq. ft.
Old-school. Shingle and shake never go out of style. The old-worm charm of this type gives your property unbeatable curb appeal. Shingles are beautiful on their own but accented when combined with other types of siding, are truly marvelous.
Collins Co. produces one of the most beautiful engineered shingle and shakes siding, from staggered or split edge style shingles to cedar shake profile, you name it.
Above mentioned LP Smartside siding offers a less fancy alternative of cedar shake siding with either a straight or staggered edge. Manufactured pre-primed, so you have the freedom of choosing your own color. The quality is indisputable since LP is one biggest siding manufacturers in the States.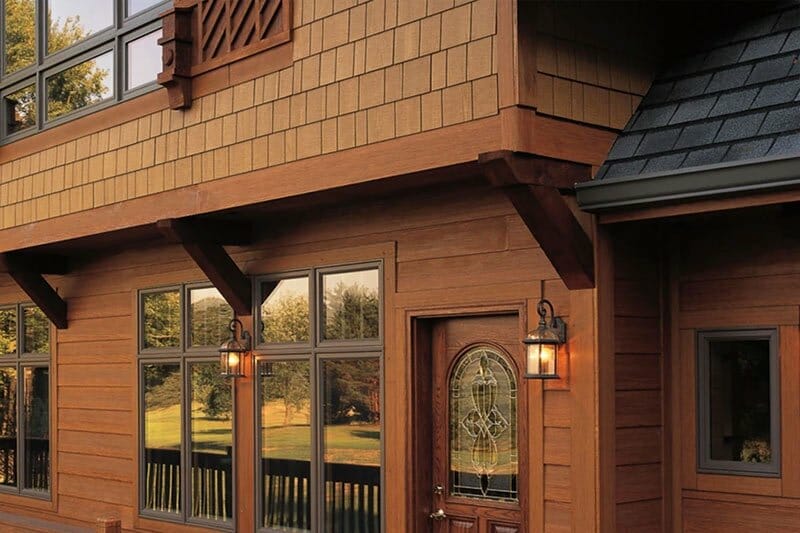 Vertical Siding: $1.25 - $2.5 per sq. ft.
Many styles of houses and homes go well with vertical siding because it makes an interesting accent on any architectural style.
Truwood siding has in its offer 7/16" and ½" vertical panels with the natural cedar wood look that gives you the freedom to create your own custom look because they have beautiful texture and highly paintable surface.

Truwood's siding and trim products are highly durable because they are treated with EcoGuard technology. That is a zinc borate-based process that makes the boards resistant to mildew and rot and termite damage.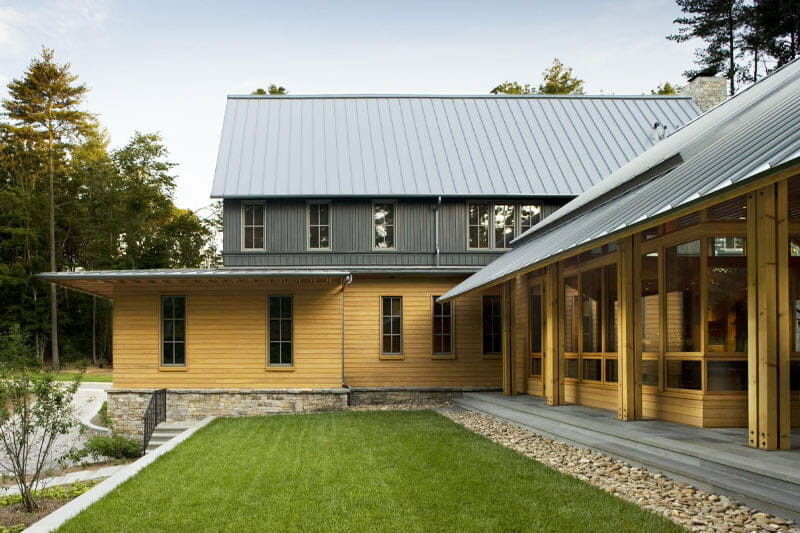 Architectural Panels: $6 - $20 per sq. ft.
Architectural panels are a siding type that has been popping up everywhere. Very versatile panels that look equally beautiful both as stand-alone siding or as an accent section on rustic style home for example.
You can pair them with metal, stucco, stone, brick, or other materials, and can satisfy your design need since they come in a wide range of sizes.
Sourcing these panels from real wood would be expensive and not cost-effective if you need to cover a large area of your home. Additionally, since wood panels aren't designed to overlap like a lap siding, you will end up with holes in between the boards – a shortcut to moisture infiltration, you don't need that.