Engineered wood sidings were developed to mainly achieve two goals. The first was to create the look and feel of real wood. And the second was to overcome the shortcomings that come with using real wood as a sidings solution.
Generally, engineered wood siding is more durable than real wood sidings. It requires more affordable, easy to install, weather-resistant, and pest-resistant. It also requires way less maintenance. As for its downsides, the fact that it is not as environmentally friendly as natural wood, the tendency of its color fading, and the risk of it not looking natural, stand out.
Here is what you should know about engineered wood sidings, why people love them, and why some homeowners may shy away from them.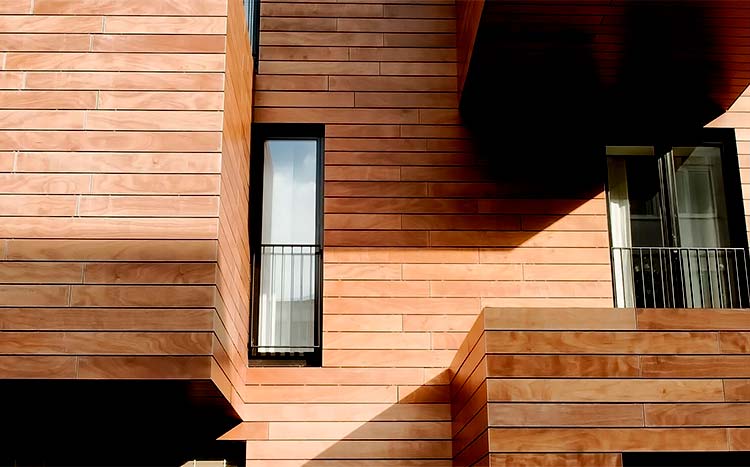 Engineered wood siding is a siding solution that is made up of a combination of resins, wood fibers, and wood chips. The materials are usually subjected to high pressure, resulting in durable boards.
In some cases, they are treated with chemicals in order to increase their resistance to insect infestation and harsh weather conditions. This, in addition to protective coats that the boards are typically covered in, gives the sidings longevity, water resistance, and a host of other qualities that make them a good alternative to using natural wood sidings.
Pros of engineered wood siding
Engineered wood sidings have advantages that make them attractive to homeowners.
Even though they look like, and are made from, wood the extra processes that they are subjected to give them additional characteristics. And as a result, they tend to be superior to wood sidings in some aspects.
The following are the main advantages of engineered wood sidings.
| Pros | Cons |
| --- | --- |
| Easy to instal | Not eco-friendly - Harsh chemicals and raisins used |
| Affordable alternative to real wood | Look too perfect so look a little fake |
| Resistance to pests, mold, water | Not as easy to paint |
| Easy to maintain | |
| More color options | |
| Higher impact resistance | |
| More color options | |
| Longer lasting | |
| Long warranty | |
When compared to other siding options, engineered wood sidings tend to be easier to install.
When compared to wood, they are lighter. This makes for an easier installation process since it makes them easier to lift and put in place for installation.
Some engineered wood sidings come with clever designs like self-aligning edges that help to make the installation process simpler and easier.
Affordable alternative to wood sidings
Engineered wood sidings cost a fraction of what it normally takes to purchase real wood sidings. Therefore, for homeowners who are looking to create the same look and feel of real wood, they are an affordable solution.
Creates a better like-wood aesthetic
Siding options like vinyl siding attempt to mimic the look and feel of real wood. And while they usually do a decent job at mimicking real wood, the look they create is nothing close to engineered wood sidings. These sidings are just better at it and are thus a superior alternative.
Higher resistance to harsh weather, water damage, mold, and fungus
Thanks to the coating that these sidings come with, they generally show better resistance to damage when exposed to extreme conditions.
They are less likely to warp as a result of extended exposure to sunlight. They are also less likely to rot or develop mold even when consistently exposed to moisture. This makes them an improvement over real wood sidings.
Engineered wood sidings don't need extensive maintenance routines. Occasionally washing and drying them is sometimes all that is required to maintain their aesthetic appeal. And in case they are painted, repainting at least after a 10-year period is all that you will need to worry about.
Another thing that makes them an easy-to-maintain option has to do with the fact that they hold paint for longer. It is estimated that they can hold paint for more than 3 times the period that real wood can.
This means fewer siding painting routines. And this eventually translates to lower maintenance costs.
Homeowners have a wide array of options to choose from as far as colors are concerned. This is a luxury that most don't have with real wood sidings.
In order to increase their lifespan, some manufacturers infuse engineered wood sidings with extra chemicals. Some of these chemicals act as effective pest and insect repellents. They in turn make using these sidings an easy way of discouraging infestations in a home.
5. Higher impact resistance
As various tests have consistently shown, when subjected to physical trauma, these sidings tend to handle it better. This is so especially when compared to other siding materials like aluminum, vinyl, and cement sidings.
With proper maintenance, you can easily get between 20 years and 30 years of protection from your sidings. This is a longer lifespan than what the average natural wood sidings provide. And it thus makes engineered wood sidings a superior sidings material.
7. Attractive warranties from manufacturers
Most manufacturers of engineered wood sidings give long warranties of up to 30 years. These warranties help to provide peace of mind to homeowners. They are also a sign of the confidence that the manufacturers have in their products.
Cons if engineered wood siding
The following are the disadvantages of using engineered wood sidings in a home.
They use resins, binders, and other chemicals that are not eco-friendly
While they do a good job of creating a look that is close to natural wood, they tend to look to be too perfect to completely mimic the look. Nothing can really compare to actual natural wood
It is a new sidings materials, which means that there isn't enough data and actual use cases to support its claims of durability
Opting for engineered wood sidings gives you an array of options from which you can choose.
You can opt to go for sidings that are already finished by the manufacturer or simply opt for ones that aren't. unfinished engineered wood sidings tend to cost less, and opting for them is an easy way to save money. It will also give you the freedom to choose the exact finishing material that you would like.
You also have the option of choosing pre-primed engineered wood sidings or ones that don't have any priming. Pre-primed sidings tend to be ready for painting and hold paint longer. However, if you don't mind doing the priming yourself, you can opt for the more affordable option — the ones that come free of priming.
Most manufacturers also offer the option of having factory-painted boards. These sidings are usually painted at the factory and they tend to feature higher quality paint finishes. And since they are usually heat-treated, they tend to also have higher adhesion.
Engineered wood siding boards also come in different lengths. One typically has the option of choosing lengths of up to 16 feet.
How much does engineered wood siding cost?
Engineered wood sidings cost between $3.58 and 8.58 per square foot. The actual cost varies widely depending on the type of finishing that one chooses, the shape and size of their home, and the cost of labor in their given location.
How long does engineered wood siding last?
Engineered wood siding is among the most long-lasting sidings on the market. It lasts between 20 years to 30 years. However, this largely depends on how well the sidings are maintained, the finishing material, and the conditions to which they have been exposed.
How to maintain engineered wood siding?
In order to keep your engineered wood sidings in a good condition, there are a few maintenance routines that you have to perform. They include the following.
Regularly cleaning the sidings with soap and water to remove dirt and debris
Repainting the sidings after every 5 years or 10 years in order to ensure that they not only look great, but also have a protective coating
Pruning shrubs and trees that threaten to scratch the surface of the sidings
Replacing missing or cracked sealant or caulking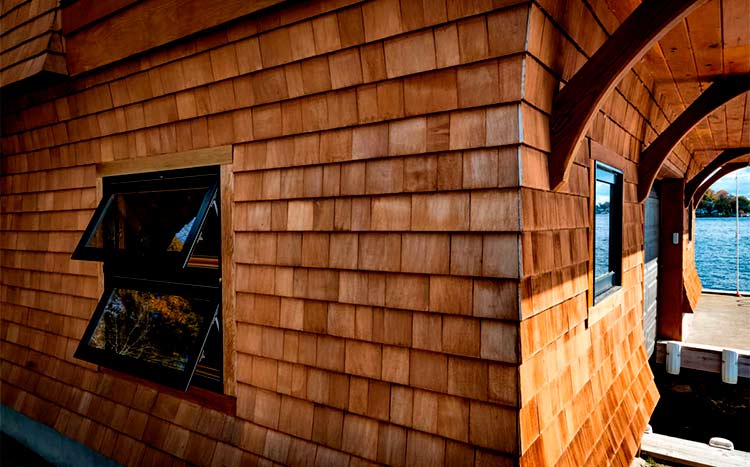 Does engineered wood siding add value to a house?
Yes, engineered wood siding adds value to a house.
It improves its curb appeal by creating a realistic like-wood aesthetic. It also offers improved insulation, something that usually helps to improve the overall energy efficiency of a home.
And given that the modern homeowner cares about these things, having engineered wood siding installed will improve the attractiveness of the house to potential buyers. And this alone is usually enough to improve the market value of the house.
Do you have to paint engineered wood siding?
No, you don't have to paint your engineered wood sidings.
These sidings exist in pre-finished and pre-primed states. As a result, they come already fitted with a protective film and in finishes that look great.
Furthermore, you also have the option of choosing pre-painted engineered wood siding panels. When you do, the sidings will be painted and heat-cured at the factory, way before they reach your doorstep. And given the superior adhesion and painting results that factory pre-painting techniques offer, this is an option that is attractive to most homeowners.
However, even though you don't have to paint the sidings immediately after installation, you may have to repaint them after every 5 years or 10 years. This is because the protective coat, film, or paint that the sidings come with, gets worn out with time.
What is the best engineered wood siding?
KWP Engineered Wood Sidings are the best wood sidings. This is so mainly because they have a reputation of being long-lasting. And given that they come accompanied with warranties that extend up to 50 years, they are an ideal choice.
The fact that they are manufactured by a company with a long track record of over 4 decades lends confidence to their sidings. And the commitment of the organization to manufacturing eco-friendly engineered wood sidings also helps to cement their sidings as the best in the market.