James Hardie is a popular fibre cement brand siding that is very strong and durable. Hardie board enhances the visual appeal of a home and protects it against weather elements. It is also an excellent insulation material and can give you a good ROI if you plan to sell your home.
On average, homeowners pay an average of $ 13,275 to install Hardie board siding. This price ranges between $ 6,050 and $20,500. The average cost per square foot is about $10.
The actual cost to install Hardie board siding will vary depending on your home's size, the job's complexity, the preferred finish options, and the type of Hardie board you choose.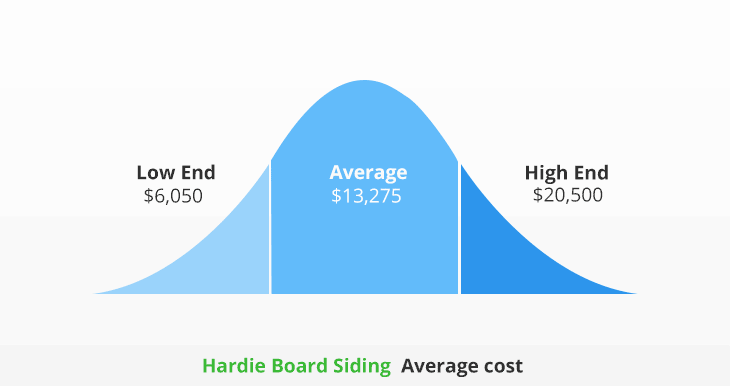 Here is a table illustrating the cost to install and replace Hardie board siding per square foot.
| Description | Quantity | Price Range |
| --- | --- | --- |
| Hardie board siding installation cost | Per sq. ft. | $5 - $15 |
| Hardie board siding installation cost | For 1500 sq. ft. house | $7,500 – $22,500 |
| Hardie board siding replacement cost | Per sq. ft. | $3- $16 |
| Hardie board siding replacement cost | For 1500 sq. ft. house | $4,500 – $24,000 |
| Labour and materials cost | Per sq. ft. | $6 - $15 |
| Labour and materials cost | For 1500 sq. ft. house | $9,000 – 22,500 |
Hardie board siding installation cost
The average cost to install a Hardie board ranges between $5 and $15 per square foot. For a 1,500 square foot house, expect to pay around $7,500 to $22,200. In lower-income regions, the cost tends to be lower by approximately 17% for a home of the same size.
Most homeowners prefer siding their homes with Hardie board compared to other cheaper options because James Hardie is a premium quality siding material than other fibre cement options.
Several factors that tend to affect the installation price include location, job complexity, and accessibility. Also, the quality of the Hardie board (colour and exposure) will determine the overall cost of the project.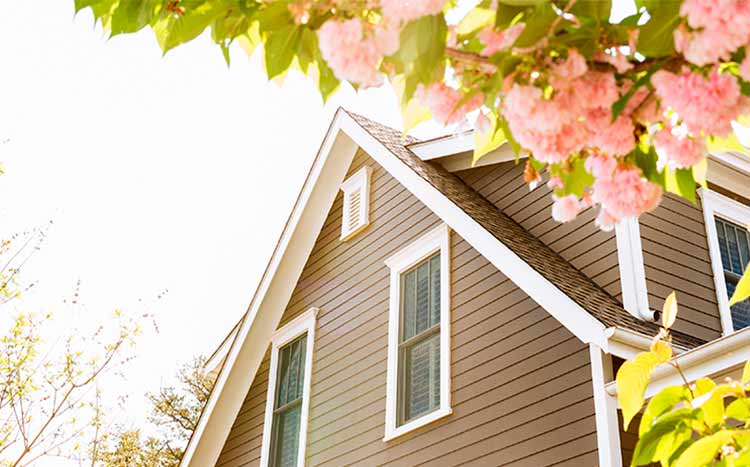 Hardie board replacement cost
If you plan to replace your Hardie board siding, expect to pay between $3 and $16 per square foot. The price ranges from $4,500 to $24,000 for a 1,500 square foot house.
The cost to remove old siding ranges between $0.25 and $0.75 per square foot, or $1,000 to $3,000. This cost includes dumping fees and labour of about $50 to $300. The actual cost will depend on the type of existing siding and the size of your house.
Once you remove the old siding, make sure to inspect the house's cladding before installing the new siding. Also, ensure you repair any damages and get rid of mould, if any, before any new installations.
Materials and labour cost
Hardie boards come in different types, and its cost depends on the colour, exposure, and size. On average, Hardie board costs about $3 to $5 per square foot. 4" and 5" are the most popular exposures and are more affordable. On the other hand, 6" and 7" exposures are costlier because they are considered premium products.
The larger the exposure, the lower the material cost per square foot. So, the total cost for materials may be less if you buy a wider exposure board. However, contractors tend to charge more to install wider exposure boards because they are considered premium. To avoid unnecessary charges, ensure you negotiate with your installer before the project commences.
The average labour cost for James Hardie siding is approximately $3 to $10 per square foot. The cost can double for hard-to-access and complicated installations. Most contractors offer fixed prices, but some may charge by the hour, depending on the nature of the project. Before you hire an installer, ensure you get a detailed estimate that captures every aspect of the job.
Unpainted VS factory painted Hardie board cost
The cost of the James Hardie board depends on whether the panels are painted or not. Typically, these boards come in two categories. These include:
Pre-primed boards
These are unpainted boards that cost about $1.60 per square foot. If you buy these boards, you will need to hire a painter and select your preferred color to paint your siding. Expect to pay between $1 and $3 per square foot to paint your siding. For a 1,500 square foot house, the cost will range between $1,500 and $4,500.
The cost to paint your siding or the whole house depends on local rates and the type of paint you choose. Higher quality paint costs more, so the overall painting cost will be higher, and the paint job will last for a longer time. Also, low-income areas tend to have lower painting rates than high-income areas.
Factory – painted Hardie board
The painted James Hardie costs about $1.90 per square foot. These boards are more expensive, and you pre-order the preferred color. There are 24 stock colors in total to choose from, so you can select the best color depending on your needs and preferences.
Both painted and unpainted Hardie boards are excellent options, and you can choose the one that suits your preference and budget.
Hardie board is a high-quality fiber cement siding material that comes with so many benefits. It is very attractive, and its durability and low maintenance make it a popular option for siding in the US. Besides, this material is available in various exposures and colors, providing homeowners with a wide range of choices. Below are additional pros of James Hardie siding.
1. Fire resistant
Hardie board siding consists of approximately 90% cement and sand. This gives it an exceptionally high resistance to fire compared to other siding materials like wood-engineered wood. People that have installed this siding may even get a discount on their insurance premiums for their homes.
2. Weather-resistant
James Hardie siding is also weather-resistant, making it an excellent siding option for people living in areas prone to frequent storms, high winds, and hail. Hardie board is a proven siding for harsh weather and can withstand even the worst storms.
3. Hardie board lifespan
Hardie board siding is highly durable and can last for several decades with proper care and maintenance. It comes with a 50-year limited transferable warranty which means James Hardie stands behind their products. This material is also resistant to rot, insects, and salt sprays from coastal homes.
4. Appearance
Hardie board is very appealing, and it can be designed to imitate almost every siding material, such as cedar shingles, wood shake siding, and wood lap boards. More so, you get endless choices on colors. Hardie board also comes with a warranty of 10-15 years on the finish. This material is, therefore, a perfect choice for siding as it offers both quality and reliability.
Hardie board also has a fair share of disadvantages, just like any other siding material. The two things that stand out are the weight and cost of this siding material. Typically, you will require more resources to install this siding.
1. Cost
James Hardie siding is very costly to install. The labor costs are high, maybe because of the weight of this material. The material itself is also quite pricey compared to other popular siding options like aluminum and vinyl.
The installation takes longer and requires more precision, planning, and resources. More so, the shipping and moving of the siding to the worksite will be costlier. The contractor will also need special lifting equipment and ensure that the installers are working properly, resulting in higher installation and labor costs.
2. Weight
Hardie board is very heavy as it weighs approximately 300 pounds for every 100 square feet compared to vinyl siding, which weighs about 60 to 70 pounds. Besides, the contractor will need several installers to help in the installation, which means more labor costs.
3. Not DIY project
Hardie board is not ideal for DIY installations because of its weight. Therefore, if you are on a tight budget, this material may not be a suitable option. Even if you decide to DIY the project, you will need several people to help you and special tools to lift the siding. More so, you will risk harming yourself during the installation.
Hardie board maintenance tips
If you want to preserve the beauty and integrity of your Hardie board siding, regular cleaning and maintenance are essential. Your geographical location and the exposure of your house to weather elements will determine the nature and level of maintenance. HomeGardenGuides has put together few tips to help you maintain your siding properly.
Wash your Hardie board siding every 6-12 months to eliminate dust and debris that may accumulate on the surface over time. A garden hose can work perfectly, but you can use a soft-bristled brush and a mild detergent for stubborn stains. Make sure you brush from side to side to avoid ruining the siding.
Clean one section at a time to prevent debris, soap, and water from falling on other areas.
Clean your pipes and gutters frequently and remove clogs to prevent water and debris from spilling over to the siding.
Ensure you reapply the caulking once it starts to wear off to prevent moisture from penetrating the wall cavity. Permanently flexible caulking and sealants are recommended for James Hardie siding for optimal performance.
Trim any vegetation like small trees, flowers, grass, and bushes growing near the house regularly. This prevents sprinkler systems from saturating the area near the house.
Repaint the Hardie boards if they have extensive damage to keep the house neat and appealing. Avoid using alkyl and oil-based paints as they may damage the boards further.
With regular care and maintenance, your Hardie board siding will offer you a long-lasting performance. Also, if you plan to sell your house, a well-maintained siding may attract a better price.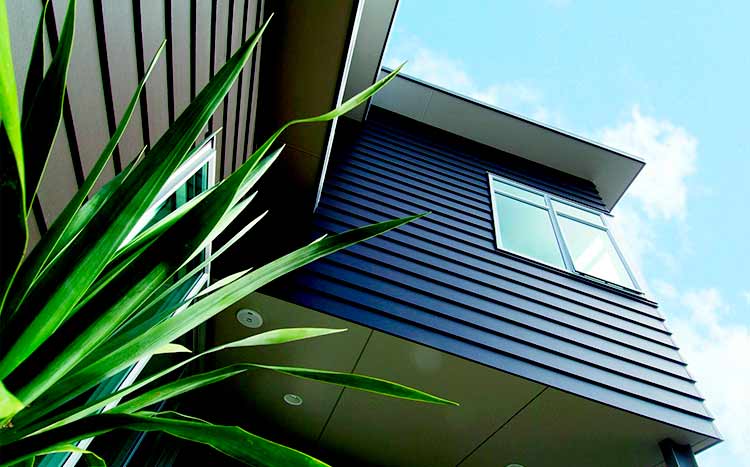 What can affect the total cost of the project?
There are several factors that can affect the total cost of installing Hardie Board siding. These include:
Design and shape of the house: a house with many corners, irregular shapes, and roofs will be challenging to work with, and there will be more material waste. This will increase the overall installation cost.
Number of doors and windows: installing James Hardie siding around doors and windows requires extra time and work, so the cost will be higher if the windows and doors are many.
Multi-storied house: installing siding on multi-storeyed homes is more complex and time-consuming, leading to extra costs.
Size of the house: a bigger house will need more materials and labour, which means the total installation cost will be higher. Usually, small projects of less than 1,500 square feet tend to be more expensive than larger projects. This is because the professional will still prep and clean the site like a bigger project.
It is essential to keep all cost factors in mind when installing James Hardie siding to make sure you set aside enough money for the project.
Hardie board siding warranties
The James Hardie siding comes with a 30-year transferable warranty. This warranty covers manufacturing defects. In case of repairs and alterations of the original material, this warranty may be nullified. Some agreements vary depending on the location of your home, where some homeowners may have more limited warranties than others.
Hardie board siding VS other siding material
Below is a price comparison of the Hardie board and other siding materials. This comparison will help you determine the best siding option depending on your specific needs, budget and preferences.
| Material | Per sq. ft. | For 1500 sq. ft. house |
| --- | --- | --- |
| Fibre cement siding | $4.5 - $9 | $6,750 - $13,500 |
| Vinyl siding | $2.5 - $5.5 | $3,750 - $8,250 |
| Aluminum siding | $2.75 - $4.5 | $4,125 - $6,750 |
| Engineered wood siding | $6.5 - $11 | $9,750 - $16,500 |
| Cedar wood siding | $6 - $15 | $9,000 - $22,500 |
Hardie board siding dimensions
Hardie boards come in 12-ft lengths. Each panel has a different width to accommodate the different exposures. Below is a table showing different Hardie board widths and exposures.
| Board Size (width) | Board exposure | Board length | Pisces/Square (100 sq. ft.) |
| --- | --- | --- | --- |
| 5.25" | 4" | 12 feet | 25 pcs. |
| 6.25" | 5" | 12 feet | 20 pcs. |
| 7.25" | 6" | 12 feet | 17 pcs. |
| 8.25" | 7" | 12 feet | 14 pcs. |