If you're looking to transform your home's appearance with a durable, budget-friendly, and aesthetically pleasing siding, consider Hardiplank siding. This material, getting its name from the famous brand, James Hardie, is popular among most homeowners due to its high ROI and impact on a home's resale value.
The national average Hardiplank siding cost ranges between $12,500 – $19,500 with many homeowners spending about $14,625 on a 1,500 sq. ft house.
However, the actual amount you'll pay for the installation of this siding will be determined by a number of factors. Here's a breakdown of some of the costs to expect on the overall job estimates.
The average cost of installing Hardiplank siding stands at around $15,750, including the costs of materials, equipment, and labor.
Depending on your location and the complexity of the job, homeowners can expect to pay about $8,000 on the low end, and up to $20,000 on the higher end. The materials will cost you anywhere from $4 – $8 per sq. ft while supplies and tools range between $0.50 – $1 per sq. ft.
If you choose to hire professional siding contractors, that will set you back around $3 – $5 per sq. ft or between $40 – $70 per hour.
| Item | Quantity | Low | Average | High |
| --- | --- | --- | --- | --- |
| Materials | Per sq. ft | $4 | $5.50 | $8 |
| Labor | Per sq. ft | $3 | $4 | $5 |
| Equipment & Supplies | Per sq. ft | $0.50 | $0.75 | $1 |
| Average Cost | Per sq. ft | $7.50 | $10.25 | $14 |
| Total cost | 1,500 sq. ft house | $11,250 | $15,375 | $21,000 |
Hardiplank siding cost per square foot
The average Hardiplank siding costs per square foot ranges between $7.50 – $14 including materials and labor. The material costs for this siding however vary significantly and this will affect the overall costs.
You might also spend more for a two-story or three-story since their heights require more equipment and time. This results in higher labor costs.
If you choose to go with James Hardie cement, your costs will be determined by the type of product i.e., HardiPlank, HardiPanel, or HardiShingle.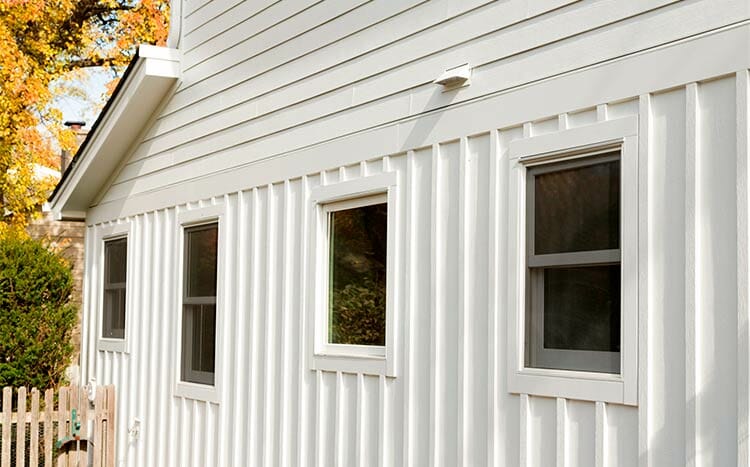 Hardiplank siding cost per board
Hardiplank board sidings installation (including material and labor) costs anywhere from $6.50 to $13.50 per sq. ft. The costs can however get as high as $25 per sq. ft or $140 per piece, depending on your location, the size, and thickness of the board.
Hardiplank lap siding cost
Hardiplank lap siding costs anywhere from $5 – $15 per sq. ft. However, the material costs anywhere from $1 – $6, and the rest is covered by supplies and labor costs. The type or style of lap siding you choose will also affect the total costs.
Hardie board, also known as Hardiplank siding, is the material used for lap sidings. It comes in around 6 different options.
Hardiplank siding cost per shingle
Hardiplank shingle sidings cost between $7 to $15 per sq. ft for the complete installation. It comes in four different siding product options and offers a cedar-style shake and shingle look.
Hardiplank vertical siding cost
The average cost of Hardiepanel vertical siding is between $4 – $7.50 per sq. ft with most homeowners paying around $5.40 per sq. ft. The material costs range from $0.90 – $3 per sq. ft with labor and supplies at $3 – $7 per sq. ft.
This is one of the best materials if you want that vertical shiplap or a board and batten look for the siding.
Installing HardiPlank sidings will set you back between $3 – $5 per sq. ft in labor costs alone. But keep in mind, how much you spend on labor will greatly vary depending on your location.
If you live in a neighborhood with a booming real estate market, most contractors will charge higher for their work. On the other hand, in a low-income neighborhood, the contractor fees could be around 15% lower compared to the national average.
The reputation and size of the siding company will also influence the overall installation prices. All these factors make labor costs hard to estimate.
Nevertheless, most companies today calculate their labor costs by multiplying their material costs twice or thrice. For instance, if the material cost is around $200, the labor cost could be between $400 – $600.
Besides the factors mentioned above, there's a multitude of other factors that may affect the overall installation costs. These include;
Accessibility – If your home is in a hard-to-access area, the project's completion time, as well as the labor costs, will increase.
Peak season – Generally, contractors charge higher for all the home improvement projects during the peak season (Usually during summer). On the low season (may vary by location), their costs tend to be 10 -15% lower.
Extra services – If your old siding needs removal before the installation of this new one, your total costs will increase by an extra $0.25 to $0.75 per sq. ft. If you're installing Hardiplank over another material, costs for the prep work, reinforcements, and repairs (if any) also rake up the costs.
Trim boards and other supplies – Besides the siding material, you also need to account for trim boards, house wrap, nails, and caulking. Trim boards are the most expensive, costing between $2 – $4 per sq. ft depending on the quality you choose. AZEK and PVC are the best trims for this siding installation.
Shape of the house – Houses with many corners, gables, or simply an irregular shape will cost you more as it increases the complexity of the job.
Number of doors and windows – Siding installation around windows utilizes more materials and labor thus increasing the total costs.
Cost of Hardiplank vs other fiber cement brands
Although Hardiplank siding got its name from the popular James Hardie brand, that doesn't mean it's the only cement board siding manufacturer in the market. There are multiple other fiber cement siding brands that homeowners could consider for their homes.
Here's a breakdown of how much each brand costs.
| Brand | Low | High |
| --- | --- | --- |
| James Hardie | $4 | $14 |
| Allura | $4 | $9 |
| Nichiha | $4 | $6 |
| GAF | $4 | $6 |
| Woodtone | $4 | $7 |
| Cemboard | $5 | $10 |
| Equitone | $4 | $8 |
This is the oldest, most popular, and most expensive brand in the market. It manufacturers Hardiplank that mimics a range of finishes including wood.
Their product line also includes shingles, panels, and shakes which are pre-primed and ready for painting. Expect to shell out anywhere from $4 – $14 per sq. ft for this Hardiplank.
Allura is another cement siding brand whose fiber cement is popular for its versatility and wide range of finishes.
They offer over 30 colors and wood stains for their wide product line that includes architectural panels, lap sidings, shingles, and shakes. They also offer a 50-year warranty for their materials making them very attractive.
Installing this option will cost you anywhere from $4 – $9.
Nichiha manufacturers their fiber cement in planks and panels. Their products can easily mimic the wood, stone veneer, and stucco looks and textures, giving you maximum versatility to customize the appearances and textures for your siding.
Opting for this material will cost you anywhere from $4 – $6 per sq. ft.
GAF fiber cement, known as Weatherside, is popular for its availability. It can be found in most home improvement stores and is arguably one of the cheapest options around.
It comes in form of wide, straight-bottomed, and thatched-bottom shingles, all fabricated to mimic the cedar-look and wood grain texture.
Weatherside costs anywhere from $4 – $6 per sq. ft.
Fiber-cement from Woodtone is designed for homeowners who love the authentic wood-grain look and texture. What makes them unique is that they use two tones on one fiber cement plank to achieve the grain appearance.
Woodtone also offers their customers several styles and options to choose from on their lap siding and shingles product line.
Expect to spend around $4 – $7 per square foot for this fiber cement.
Cemboard is well known for the manufacture of the Cemplank lap siding and Cempanel vertical board and batten siding. Their fiber cement range is quite limited in terms of styles but they have multiple color and size options for every material.
Cemboard also boasts of superior durability and an attractive wood-grain appearance to satisfy homeowners.
If you choose this material, expect to spend anywhere from $5 – $10 per sq. ft.
Equitone manufacturers focus solely on architectural fiber cement panels. Their products come in a smooth finish and a wide range of textures on the cladding. They also feature sharp and linear lines on their 3D-shaped material, giving the panels some depth when they cast shadows.
The material costs alone for this fiber cement is approximately $4 – $8 per sq. ft.
Why James Hardie costs more
From the prices above, it's clear that James Hardie fiber cement commands one of the highest rates in the market for all their products. Part of the biggest reason for this is the fact that their fiber cement is hard to work with.
Compared to materials like vinyl and wood, installing James Hardie fiber cement requires a big crew, and takes more time and effort. This translates to higher installation costs.
Other key reasons for their high costs include:
Their strict adherence to safety regulations like the Occupational Safety and Health
Administration (OSHA)
The superior 30-year limited transferable warranty
Investment in research and innovation such as the ColorPlus Technology
What is the difference between Hardie board and Hardiplank?
There's no difference. The terms Hardie board and Hardiplank can be used interchangeably to mean the same thing.
Being the most successful product from James Hardie, some homeowners in the country began using the term 'plank' instead of 'board' and that's how Hardiplank came to be.
However, the Hardie board or Hardiplank will cover their 6 major products used for lap siding.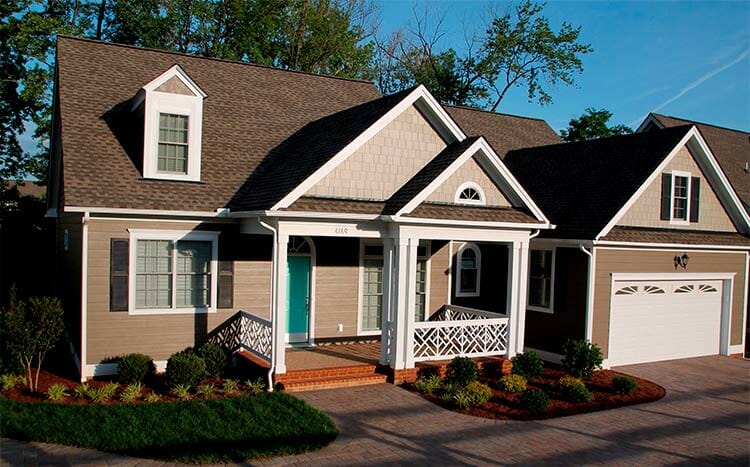 Cost of unpainted vs factory painted Hardie board
When purchasing a Hardie board, you'll also have to choose between an unpainted one or a factory-painted one.
The unpainted Hardie board comes pre-primed and costs anywhere from $1.47 – $1.65 per sq. ft to paint it. For a 1,500 sq. ft home, this is around $2,250 – $2,475.
These costs may also be higher if you choose to hire a painter to paint it.
If you opt for the factory-painted Hardie board, the costs will be slightly higher, ranging between $1.85 – $2.03 per sq. ft. For the average 1,500 sq. ft home, this translates to between $2,775 – $3,045.
These costs will however vary by 5 – 6% depending on the color you choose and the supplier in your area.
Cost comparison: Hardiplank siding vs Other sidings
While Hardieplank siding isn't the cheapest option in the market, it's still relatively budget-friendly and may cost just like cedarwood sidings. What makes HardiePlank more expensive is its installation which is more complex than other options.
Here's how Hardiplank compares with other siding options out there plus how much you can expect to spend on a regular 1,500 sq. ft home.
| Material | Cost per sq. ft | Cost to install 1,500 sq. ft |
| --- | --- | --- |
| Hardie board siding | $7.50 - $14 | $11,250 - $21,000 |
| Vinyl siding | $1.50 - $3 | $2,250 - $4,500 |
| Wood siding (Cedar) | $6 - $12 | $9,000 - $18,000 |
| Engineered wood siding | $4 - $10 | $6,000 - $15,000 |
| Aluminum siding | $2 - $5 | $3,000 - $7,500 |
| Stucco siding | $3 - $10 | $4,500 - $15,000 |
| Stone Veneer / brick siding | $6 - $9 | $9,000 - $13,500 |
| Fiber cement siding | $6 - $14 | $9,000 - $21,000 |
Tip: While cost is a crucial factor to consider when choosing a siding, it shouldn't be your only factor. Look into the climate and environment of your area, its maintenance requirements, and the overall appearance of your home before choosing your preferred siding.
Does Hardie plank siding increase home value?
Yes! Hardieplank siding has consistently been ranked among the best siding options with high returns during resale. According to the Remodelling Magazine, HardiPlank sidings have an ROI of between 76 – 81% of the initial cost of installing the siding.
The exact returns will depend on your area's climate and environment. In hotter and fire-prone areas the returns may be slightly lower, and much higher in cooler climates.
This means that if you've installed the siding at $15,375, the resale value of your house is likely to increase by around $11,685 – $12,454.
The durability and long-lasting characteristics of Hardiplank, as well as its beautiful appearance also make it a great long-term investment.
Hardiplank siding installation considerations
Even though Hardiplank looks like wood or vinyl, its installation isn't the same. You'll have to do it right, otherwise, you'll end up wasting money and forever damaging the curb appeal of your home.
To avoid this, here are some factors you should remember during the installation.
Precision and accuracy matter – Ensure you have the right measurements for your home. This will be crucial in ensuring your purchase the right amount of material. You also need to be precise when measuring the row levels of the siding to achieve an even appearance.
Get the right tools – Purchasing the right quality of tools for the job can drastically affect the final results. They minimize the risks of breaking the Hardiplank when cutting or nailing it.
Leave adequate room for the expansion and contraction of the HardiPlank as the building settles. Otherwise, the material may crack.
The installation process can produce silica dust especially when cutting so always put on your protective gear.
Professional siding contractors are the best for this job. They have the experience and equipment to complete it and achieve your desired results.
The siding is heavy and requires at least two people to lift and install it on your home.
Pros and Cons of Hardiplank siding
Pros
Fire and weather-resistant
Offers high ROI, up to 80%
Durable and can withstand hail and storm damage
Attractive appearance and provides many color options
Robust warranty of around 30 years for the Hardie products
Long-lasting with a lifespan of up to 50 years
Environmentally friendly
Cons
Can be expensive
Quite heavy making it harder to install and repair
May need to be repainted every 15 years
Finding qualified installers is hard
Hardiplank siding maintenance tips
Regardless of the type of Hardiplank you have, the maintenance is relatively simple and minimal. Besides the standard regular inspection, here are some tips to keep your siding looking great all year round.
Always wash down the siding at least once or twice a year to get rid of dust, debris, and other accumulated dirt. You can use a garden hose a soft-bristled brush for this.
In case of grease and oils, use a mild detergent, some warm water, and a soft brush.
When using a pressure washer, keep a distance of at least 6 feet from the siding and the pressure below 1500 PSI, to avoid damaging it.
Reapply or replace the caulking once it shows signs of wear and tear to prevent moisture from getting into the wall cavity.
The average cost of installing Hardiplank siding as a DIY stands between $4.50 – $9 per sq. ft or around $6,750 – $13,500 for a 1,500 sq. ft home. This is around $5,000 cheaper than what you'd spend hiring a professional for the same job.
Nevertheless, there are a ton of reasons why DIY installation is discouraged for homeowners. For one, the Hardi boards are heavy making it a two-man job, and also it needs specialized tools to get the right results.
Furthermore, investing in some of the equipment required will be just as expensive if not more than hiring a pro. You'll also waste more time on the job, unlike a team of contractors who know how to do install faster.
You're therefore much better off hiring an experienced siding contractor. Just ensure you do your research on the company and follow the 3 quotes rule before hiring a contractor.
Need a HardiPlank siding contractor?
Try our FREE service! HomeGardenGuides.com is the fastest and easiest way to get three estimates for your Hardiplank siding project from the best and most affordable contractors near you.
The service quickly matches you with the 3 Hardiplank siding specialists voted #1 by previous users in your area. All you have to do is:
Scroll up to the top of this page and enter your ZIP Code in the blue form.
Give us a few details about your lap siding job, plus some contact information.
We will then forward your drywall details to the closest three Hardiplank siding contractors, all voted best priced in your area, who will price your siding job.
IMPORTANT: There is no obligation to hire any of the contractors. This is a free tool and service to be used at your pleasure.