Hardboard, also commonly known as Masonite or pressboard and resembles wood siding in appearance, but is actually a synthetic compound made from a mixture of wood fibers, glue, and other materials depending on the manufacturer.
Hardboard siding costs between $2.5 and $5 per square foot installed. Expect to spend between $3,750 to $7,500 to install hardboard siding on a typical house with 1,500 square feet of exterior surface area.
Compared to modern siding materials, hardboard is a low-budget option that you can go for if your project allows it.
| Service | Quantity | Low | High |
| --- | --- | --- | --- |
| Hardboard siding material cost | Square feet | $2.5 | $5 |
| Hardboard siding labor cost | Hours | $16 | $22 |
| Other job supply cost | Avg. | $500 | $1500 |
| Total per square foot | | $518 | $1577 |
| Total for project (Avg. 1,500 sq. ft. house | | $3,750 | $7,500 |
What Is Hardboard Siding?
Hardboard siding was one of the early synthetic siding materials to come to market in North America and other places. While it might appear like wood or plywood in appearance, hardboard is actually manufactured using a mix of wood fiber, resin, heated and bound together using glue or other bonding materials. Different manufacturers use their own set of materials and mixing compounds to differentiate their end products.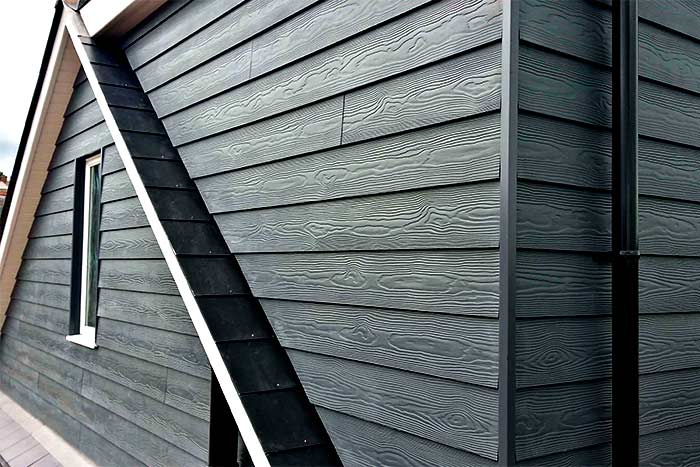 Hardboard siding first came into the market in the 80s and 90s, so most houses built around that period still have it as the main siding material. 
As a siding material, good quality Masonite siding was quite good and water-resistant, so you can still find it on houses from that period.
Today, manufacturers produce tougher and more weather-resistant hardboard siding than the original products. However, most shy away from using the term hardboard due to its bad reputation and prefer to use tempered wood instead. 
Hardboard Siding Cost Per Square Foot
Expect to pay between $2.5 to $7 per square foot for modern hardboard siding. Depending on the manufacturer, quality, and type of hardboard. Some manufacturers will market all types of synthetic wood-alternative sidings as hardboard, so pricing might vary depending on the brand. 
Harwood siding cost factors
When buying hardboard siding, always be sure to look out for the following to make sure you are getting the best deal and quality:
Materials used- Hardboard is a composite of wood fibers and other materials. Some manufacturers use recycled wood, while others use fresh-sawn wood and other elements. Be sure to go through the description to see that the materials are used to ensure the hardboard meets your desired standards.
Physical appearance- Low-quality hardboard will have tiny cracks, knots, checks, and surface variations. Be sure to look at a product sample before you make a bulk order for your house.
Manufacturer- If possible, buy hardboard from a known manufacturer or supplier, especially when buying online. Some online sellers will ship low-quality engineered wood overseas and sell it as hardboard siding.
The cost of masonite siding
Below is the national average cost to install masonite siding.
| Cost per square foot | $2.50 – $5.00 |
| --- | --- |
| Cost per 1,500 sq ft house | $3,750 – $7,500 |
| National Average Cost | $6,500 |
| Average Labor cost (per sq. ft.) | $1.50 – $3.00 |
| The cost of materials only (per sq. ft.) | $1.00 – $2.00 |
Masonite siding cost per square foot
The average cost to install masonite siding per square foot is around $3.75, with the range being between $2.50 and $5. Masonite siding is quite popular because of its natural resemblance to wood. It is relatively easy to work with, making it a perfect option for DIYers.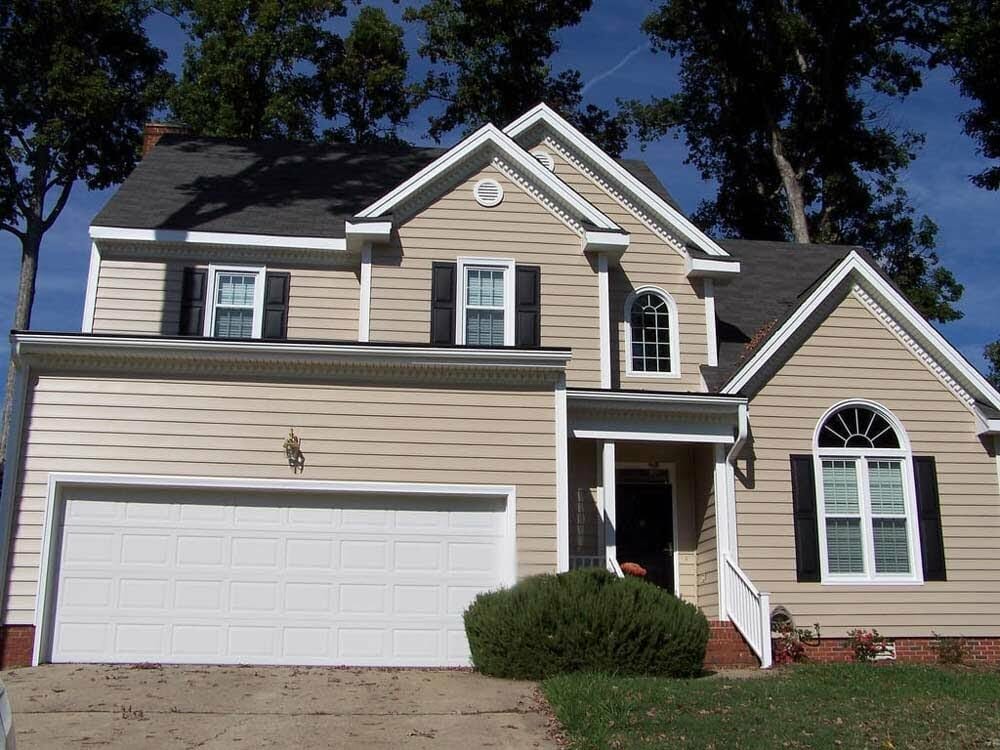 Masonite siding cost for 1,500 sq. ft. house
Installing masonite siding on a 1,500 square-foot home will set you back by approximately $5,625, ranging between $3,750 to $7,500. This house size is ideal for smaller families as it is neither too large nor too small.
However, the cost will skyrocket for a double-story house or a house with complex designs and many corners. To get the project's actual price, ensure your contractor takes accurate measurements and considers all cost factors.
The average labor cost to install masonite siding is about $1.50 to $3.00 per square foot or $40 to $50 per hour. Different contractors will offer different rates depending on the nature and size of the project. You should get at least three estimates to know the average labor cost.
The cost of materials only
Masonite costs around $1.00 to $2.00 per square foot, but the cost can go up to $5 depending on location, availability, and the type of material you choose. If you want to DIY the project, you will only need to buy the materials.
Masonite siding cost by type
Masonite siding comes in three types, as outlined below.
| Type | Cost per square foot |
| --- | --- |
| ShipLap Edge Panel Siding | $3.50 – $5.00 |
| Lap Siding | $1.28 – $4.00 |
| Square Edge Siding | $3.95- $5.40 |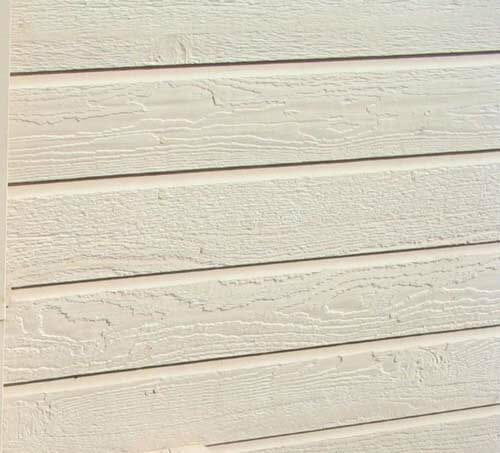 ShipLap Edge Panel Siding
Shiplap edge panel siding costs around $3.50 to $5.00 per square foot. For a 1,500 square foot house, you will spend around $5,250 to $7,500.
This siding uses shiplap joints over long edges, and it is usually placed vertically. It is a great option for seamless siding and a beautiful look on your home's exterior. Utmost care should be taken during the installation to avoid breaking the boards. Also, caulking should be applied correctly to ensure all the joints are air and water-tight.
Lap siding, the second subtype of Masonite siding, is the most common type. It costs about $1.28 to $4.00 per square foot, but the actual cost will depend on the size of your home, job complexity, and finish options.
Lap siding features horizontal boards overlapping the boards beneath. It is simple to install, so you can install it yourself to save on labor costs. Like the other hardboard siding types, caulking should be correctly applied, as improper installations may lead to serious moisture, mold, and swelling issues.
The square edge Masonite siding averages around $3.95 to $5.40 per square foot installed. This siding is installed vertically in sheets, resulting in a neat, uniform look. It improves your home's curb appeal because of its high-end look.
As with the other two types, this siding comes in various finishes, including pre-painted, pre-stained, and pre-primed. Your chosen type will depend on your needs, preference, and budget.
Hardboard Siding Repairs Cost
Costs to repair a section of hardboard siding will depend on the extent of the damage.
A 10 sq feet section will cost between $125 to $500 to repair depending on the materials used, the extent of the damage and labor.
You will need to buy the right size replacement material (hardboard siding), some paint, nails or screws, and other supplies. Hardboard is relatively easy to work with compared to other materials, although you need to be careful when doing repairs not to cause further damage in the process.
To repair a whole section of hardboard siding (over 500 square feet or an entire wall) you may spend between $1,500 to $2,000 depending on the cost of materials and who does the repairs. At some point, it may make more sense to replace the hardboard siding with better modern siding material like fiber cement or side over it with vinyl if possible, provided it's not too rotten or warped.
Mold – Mold hardboard siding may absorb moisture and lead to mold formation. Some types of mold can be dangerous to humans if inhaled.
Significant cracks – removing one part of the siding might affect the entire section leading to a larger repair bill.
Surface scratching
Warping, loosely attached boards,
Siding style – Is it board and batten, shiplap, or clapboard siding? This will inform what kind of material to purchase for the repairs and measurements.
Bear in mind that old hardboard siding will require more frequent maintenance than modern alternatives. It is for this very reason that the problematic hardboard was discontinued by the Masonite Corporation after a successful class-action suit from homeowners.
Today, you will be advised to replace any old hardwood siding with a better material if you can afford it or another layer of siding over it. However, this is not exactly the case with modern tempered siding or engineered wood as it has better performance.
Hardboard Siding Installation Labor Cost
You are most likely going to need an experienced installer or an extra pair of hands to install hardboard siding. Labor costs for installing hardboard siding range between $16 to $22 per hour depending on the skill level of the installer.
Installing siding on a standard bungalow with about 15,000 square feet of exterior surface area could take a maximum of two working days, each day with a minimum of 10 working hours. Assuming that you hired two installers, this will come to a total of about $620 installation costs for the two days or $880 on the higher side. You should have a budget of at least $1,500 to cater for labor in case there are extra hours or other costs in between.
The amount you pay to have hardboard siding installed comes down to who you hire and for how long. It's best to find the right people for the job and be informed about market rates before you sign a contract. Look for someone who has some experience working with hardboard siding as a flaw in installation could lead to bigger problems in the future.
Is Hardboard Siding the Same as Hardie Plank?
Hardboard siding and Hardie plank are not the same. The two materials are worlds apart in all aspects such as pricing, composition, and quality. Hardboard siding is a wood-based material that mainly consists of wood fiber bound together by glue and resin. It's usually thinner and more fragile than Hardie Plank.
Hardie plank on the other hand is a premium siding material made of cement, sand, and other materials. The name Hardie Plank is a registered trademark belonging to James Hardie– the manufacturer. Hardie Plank is also commonly referred to as James Hardie plank or Fiber cement and is tougher and more expensive than hardboard. It is one of the preferred alternatives to hardboard and wood siding because it can be made to resemble real wood in appearance but is more durable and requires less maintenance.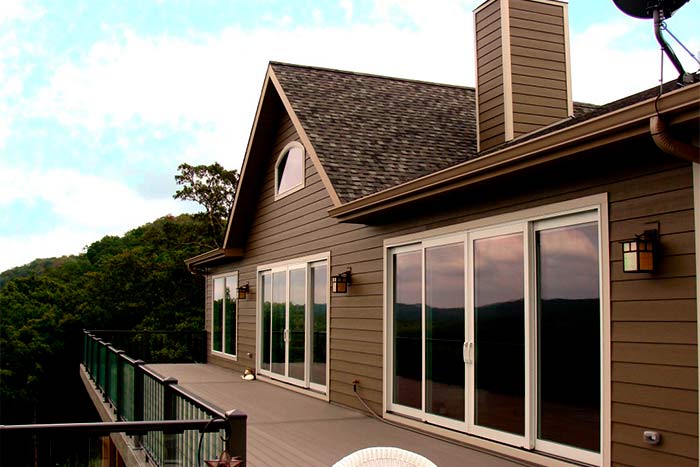 How Do You Maintain Hardboard Siding?
There are few recommended ways you can make your hardboard siding last longer and prevent major damage as a result of weather and other elements. Here are some of them:
Repainting- Hardboard siding needs to be painted more frequently than real wood. Use modern protective paint to give your old hardboard siding a new lease of life. It is recommended to repaint your hardboard siding every five years or when it starts to fade and age.
Routine inspection- As a preventive measure, always do a thorough visual inspection of the siding for signs of cracking, warping, and surface scratching. This will help you schedule necessary repairs before it gets too damaged.
Do repairs on time- Any physical cracks or loose nails should be repaired as soon as possible to prevent moisture penetration.
Repair drainage pipes and other gutters – Drainage pipes and gutters that may be spilling water directly onto hardboard siding should be repaired immediately to prevent permanent damage to the siding.
Does masonite siding add home value?
Yes, installing new Masonite siding will boost the value of your home. Updating your worn-out, cracked, or rotten siding with Masonite will enhance your home's visual appeal and increase its resale value. Masonite siding is inexpensive, and its natural resemblance to wood makes it very attractive. More so, it can last for over 20 years with proper care and maintenance.
Cost Factors Are There with Hardboard Siding?
The following factors will determine how much you spend to install hardwood siding on your house:
Odd-shaped houses are generally harder to work on so expect to pay more to install siding on them. The installer will have to make complex cuts and spend more time installing the siding.
You will pay more to install siding on houses with more than one floor as the installers need to use scaffolding or ladders and the exterior surface area is larger.
Some periods in the year will attract higher than normal installation rates. Schedule the installation at a time when there is plenty of labor in the market. The best season for installing siding is in the summer and spring.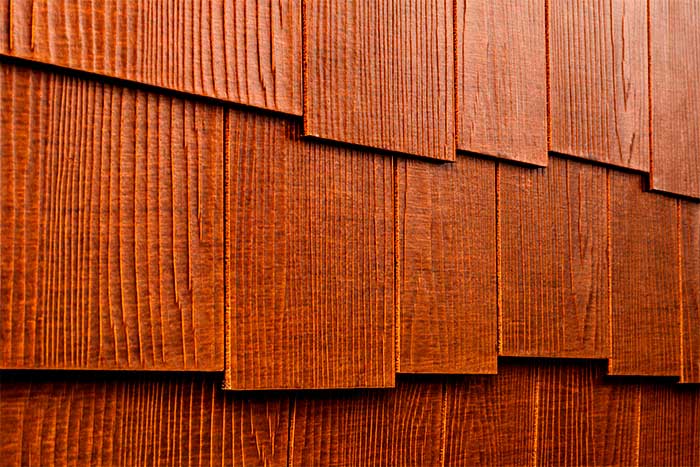 Pros and Cons of Hardboard Siding
As a siding material, modern hardboard siding/ tempered hardboard has the following advantages if installed correctly
Durability – Modern hardboard/ tempered wood can withstand bad weather and last for several decades.
Easy to install and maintain – You don't need a lot of resources or labor to install modern tempered wood. In most cases, the individual planks or pieces will come pre-cut and are easy to attach using normal wood nails or screws. At the same time, tempered wood is easy to maintain either through repainting or reinforcement with other materials.
Cheap – Modern hardboard siding is a relatively cheap siding at $2.5 to $5 per square foot as compared to alternative materials such as fiber cement or stone. This makes it a great choice if you are on a budget and still want good quality siding.
Appearance – Hardboard siding looks and feels the same as real wood but is cheaper and probably more available than wood. If you live in an area where wood is no longer as available as it was in the past yet want to maintain the local architectural style, then you might find hardboard a logical choice.
Disadvantages of Hardboard Siding
Hardboard siding, however, has some shortcomings, among them:
Old-fashioned- young homebuyers might not see a house with hardboard siding as modern or stylish. As a siding material, the hardboard is not the trendiest or modern in any way.
High maintenance- As compared to modern synthetic siding alternatives such as vinyl and fiber cement, hardboard siding can be considered high maintenance because it needs repainting every few years.
Short lifespan- Hardwood siding has a relatively short lifespan as compared to its closest competitors. You should expect not more than 25 years from hardwood siding before you need to replace it with brand new siding.
Bad reputation- Most people would wrongly associate modern hardwood with the discontinued synthetic Masonite siding. This means you will have a harder time selling your house if you want to.
Low house resale value- Houses with hardwood siding (both new and old) will fetch a lower resale value as compared to other siding materials because of the shorter lifespan.
Not widely available- tempered hardwood siding is not as widely available as other modern siding materials such as vinyl or fiber cement. You may have to order it from an online store or travel to another state in some places to find it on sale.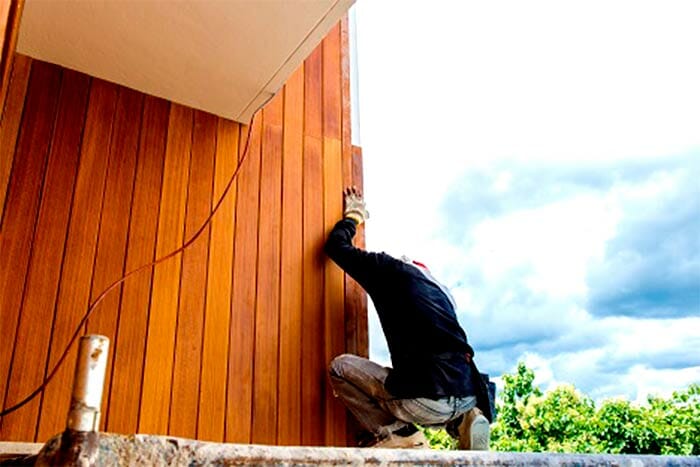 Hardboard Siding Alternatives & Their Cost
There are several alternatives to hardboard siding in the market today to choose from. Some- like vinyl siding- are equally affordable and also good in other aspects. These are average prices for siding a 15,000 square ft. house with the different materials:
| Material | Quantity | Low | High |
| --- | --- | --- | --- |
| Vinyl | Sq. ft. | $1.44 | $2.93 |
| Aluminum | Sq. ft. | $2.00 | $5.00 |
| Fiber Cement | Sq. ft. | $5.00 | $13.50 |
| Hardie Board | Sq. ft. | $2.50 | $5.00 |
| Hardiplank Lap | Sq. ft. | $1.80 | $6.00 |
| Hardiepanel Vertical | Sq. ft. | $3.95 | $5.40 |
| James Hardie Siding | Sq. ft. | $9.00 | $11.00 |
Vinyl is the closest alternative to hardboard siding in terms of costs but it shines on all other aspects hence its popularity. The average price per square foot for vinyl siding today ranges between $2 to $3 and therefore cheaper siding than hardwood on the low end of the market. You will spend an average of $30,000 to install siding on a 15,000 square ft. house.
Fiber cement is a robust siding material made from a mixture of cement, limestone, and other materials. You will spend approximately $12,000 to install cement-fiber siding on a 15,000 square ft. house with rates per square foot installed ranging between $4 to $6. Fiber cement siding is a low maintenance option with a longer lifespan as compared to hardboard and a better visual appearance.
Hardiplank lap siding is a premium siding material manufactured by James Hardie. It is made out of a mixture of high-quality cement and other proprietary materials. Average Hardiplank lap siding costs per square foot range between $7 to $13 installed meaning you will spend an average of 105,000 to side a 15,000 square ft. house with Hardiplank lap siding. This particular product is suitable for shiplap and clapboard siding styles.
Hardies hingle Siding Cost
Hardieshingle is yet another siding product from James Hardie specifically designed for shingle or shake siding styles. Costs per square foot installed for Hardie shingle range between $4 to $7 so expect to spend an average of $60, 000 for a 15,000 square ft. house for this product. You will most likely purchase the materials in bulk as individual shingles or shakes ready for installation.
Hardie panel Vertical Siding
Hardie panel is yet another premium siding product from James Hardie that comes as large vertical panels. It's great for vertical shiplap siding and bold and batten siding. Prices for Hardiepanel range between $7 to $10 per square foot installed so expect to spend an average of 150,000 for a 15,000 square foot home to install Hardiepanel siding. You will purchase this siding as individual panels. A single panel of James Hardie 48-in x 96-in HZ5 Hardiepanel Sierra 8 Fiber Cement Vertical Siding goes for around $35 in major stores.
Should You Hire A Pro to Install Hardboard Siding?
Hardboard siding is easy to work with provided you have the right tools and expertise to install it correctly. However, it is recommended to work with a professional as a faulty installation can lead to problems in the future.
If you are skilled and have the right tools, you could save a few bucks by hiring a semi-skilled handyman to assist you with the installation. It is not recommended to install hardboard siding on your own as it may require the use of ladders and power tools.
Installing hardwood siding would typically require a two-man crew- one to man the tools such as ladders and the other to do the actual installation. You may require more people if you have a multiple-story house or one that has tall walls.
Installing hardboard siding on your house will add value. The new siding improves the house's curb appeal and makes it more attractive to buyers.
The cheapest way to side a house is to use affordable material such as vinyl or cedar. You can also save money by preparing your house before the installation is done or being involved in the installation to reduce labor costs.
Old hardboard siding tends to leak and accumulate moisture especially if it has visible cracks and warps. It is recommended to replace old hardboard siding especially if it was installed in the 80s and 90s. However, modern siding that is correctly installed does not leak.