Masonite siding, also known as hardboard siding, was originally designed as an alternative to real wood. Made from a mixture of wood chips and resin it actually has the look of real wood. Even though it is a choice to many homeowners, it is good to know that masonite siding had some drawbacks too.
Some of the major problems with masonite siding are rotting and blistering, mold and mildew, insects, discoloration, bowed wall studs. Out there you can find some alternatives to masonite that are better and even cheaper to install and easier to maintain.
In this article, we will go through the problems with masonite siding, best alternatives that are budget-friendly and in some ways better than masonite.
Get familiar with the most common problems with masonite siding that you will face eventually.
Rotting and blistering
When moisture begins to infiltrate the siding, rotting, buckling, and swelling become common problems. When wood chips and the resin becomes wet they are not stable anymore and the wood swells and boards start to wrap. That is where rotting starts. Once it begins to rot, there is nothing to repair the only option left is to replace the whole siding.
Exposure to moisture and heat can cause blistering of the paint. Since masonite is meant to be lower maintenance than wood the paint is not a perpetual finish. Blistering of the paint contributes to the sidings ugly look and it is an open door to moisture beneath the paint.
Mold and mildew
Once water gets into the masonite, it doesn't easily go out. A damp environment is perfect to grow mold and mildew. This can lead to stains on the exterior. Also, mold can grow inside your walls and the interior of your home as well.
Insects
As we mentioned above, masonite isn't solid wood but still contains wood. And therefore, it's also susceptible to insects. Insects like termites and carpenter ants may be attracted by the softness of the wood. As time goes by these insects can compromise the wholeness of the boards and the replacement of the siding will become inevitable.
Discoloration
No matter how hard you try to stay on top of your masonite, discoloration will appear eventually. It can't be stopped from occurring because of the masonite itself. Resin or mold and mildew can be the reasons for discoloration. The stains will definitely seep out onto the paint, even if the paint is new.
Bowed wall studs
Since your wall studs are made from wood, over time they will absorb the water that masonite siding has absorbed before. "Normal" siding is supposed to prevent and stop moisture from infiltrating the studs of your home. This can be a problem if the house wraps with moisture or vapor barriers were not used to help protect the studs. When the time comes to replace the siding, bowing studs can cause significant problems throughout your home.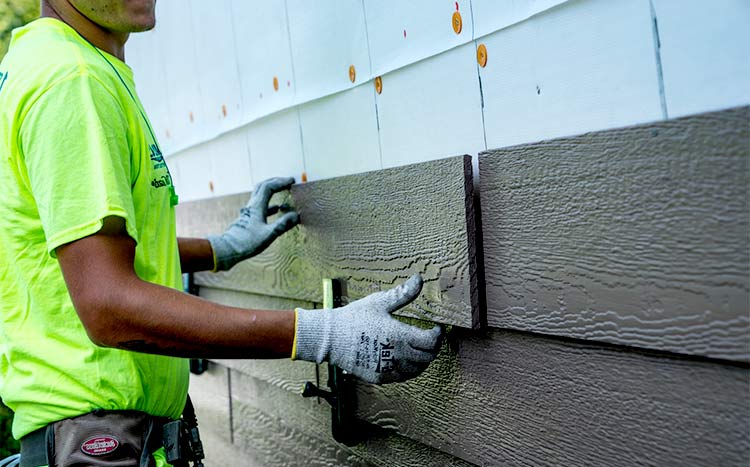 The table below gives you a look at some cheap siding alternatives to masonite siding that are also easier to maintain:
| Material | Quantity | Low | High |
| --- | --- | --- | --- |
| Masonite siding | Sq. ft. | $ 2.50 | $ 5.00 |
| Vinyl siding | Sq. ft. | $ 1.44 | $ 2.93 |
| Aluminum siding | Sq. ft. | $ 2.00 | $ 5.00 |
| Hardiplank lap | Sq. ft. | $ 1.80 | $ 6.00 |
| Hardie panel vertical | Sq. ft. | $ 3.95 | $ 5.40 |
Advantages
Don't have to be repainted
Durable and resistant to color fading
Easy to install
Disadvantages
Unsafe to high winds
May lead to mold and rot because it is not waterproof
Extreme weather and high temperatures can lead to dents and cracks
Advantages
Light-weight and easy to install
Insulates houses
Completely waterproof
Resistant to insects, fire, and rust
Recyclable
Disadvantages
Color fade over time
Prone to scratches and dent
Difficult to replace several parts because it is hard to match with old ones
Hardiplank lap siding and Hardie panel vertical
Advantages
Withstand rain, hail, high winds, storms, snow, ice, harsh humidity, and temperatures changes
Variety of styles and colors gives your home pleasing aesthetics
Resists pets
Highly customizable
Fire resistant
Low maintenance
Disadvantages
Initial investment
Longer installation process
Need to be repainted
If you have masonite siding on your home, it is only a matter of time before these kinds of problems will appear. Making the switch to more reliable and more durable siding can help you achieve your goal of having low maintenance and attractive material on your home.
As a result of the lawsuit, almost all manufacturers stopped producing masonite siding and, in March 2001, the masonite corporation announced its decision to phase out production of all hardboard siding products.
Yes, you can repair masonite siding with wood putty. Holes are common problems with masonite siding. Repair holes in a timely manner to prevent moisture from further permeating the siding and compromising its structural integrity.
Every new siding adds value to your home. If the buyer of your house is familiar with all the problems that come with masonite siding, then the replacement will definitely increase your property value.