After several years of weathering harsh climate conditions and wear and tear from other external factors, installing a new siding should definitely be your next step.
Besides improving the curb appeal of your house, it also boosts its resale value in the real estate market. Regardless of the siding option you choose, residing has proven to be a buyers' magnet, making it a worthwhile investment.
Most homeowners choose to replace their siding once they notice clear damage signs on their old one. This could be cracks on surfaces, mold growth, tiny holes, peeling and rotting, or even sagging panels.
While this is generally the time to replace your siding, you stand to save a ton of money by replacing your siding early. Furthermore, residing your house comes with numerous unexpected benefits including;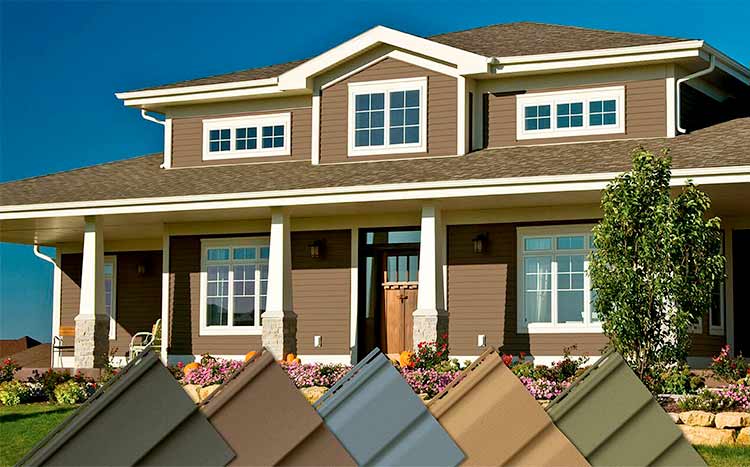 Improving curb appeal
It's obvious that a new siding will drastically improve the aesthetics of your home. With the older siding likely to be cracked, peeling, and faded, the new siding provides a refreshing modern appeal that leaves your home looking beautiful.
Improves home's energy efficiency
New sidings also provide better energy efficiency, especially during the cold winters and hot summers. Unlike the older worn-down sidings, new sidings prevent the loss of warmth during cold months and block incoming heat during summers.
Additionally, you can also opt to add extra insulating materials which stop any air leakages. Doing this translates to significantly lower heating and cooling bills every month.
Provides better structural protection
Installing a new siding helps you spot and avoid the expensive damages that could be hidden by an aging siding. Things like mold growth, leaking waters, and internal rotting can easily be concealed by an old siding.
Residing ensures that such problems are fixed early enough with the installation of moisture and weather-resistant siding options. The new siding may also withstand heavy winds including that of a level 5 hurricane (180 mph).
Preserves the quality of new paint jobs
Most new sidings tend to hold paint jobs better than older sidings. This means that the siding won't require a lot of paint to look good. Better yet, the new siding won't require more painting in future as it can keep its color for several years.
You, therefore, get to save on paint and maintenance costs down the road.
Boosts your home's resale value
Studies and reports by the National Association of Realtors have shown that installing a new siding can boost your home's resale value by up to 89% of the initial siding costs.
Putting this to perspective, if you invest in a $9,000 new siding, your home's asking price goes higher by around $8,010.
Therefore, even if the installation costs are high, you can be sure you'll get most of your money back during the resale.
Challenges of a new siding
When it comes to a new siding, the biggest drawback would be the initial cost of installation. For instance, the average cost to install a new siding stands between $3,000 (the cheapest) to $50,000+ (most expensive) on a 2,000 square foot home.
This means that you'll have to dig deep into your pockets to make the investment. But as earlier mentioned, you'll generally recover a large chunk of this money during the resale.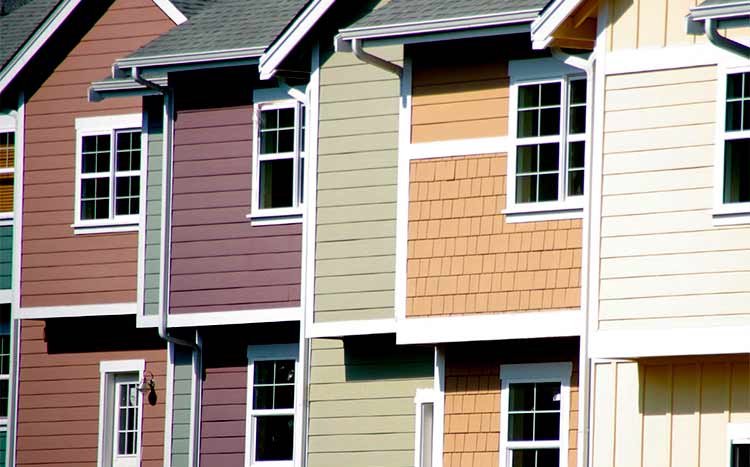 What is the ROI on new siding?
The total return on investments on your new siding varies based on the different types of sidings. On average, most realtors estimate the ROI to be around 75 – 80%.
However, the actual range could be slightly lower or higher depending on your location. Take a look at the estimated ROI for different siding materials.
| Siding Material | Average ROI |
| --- | --- |
| Vinyl | 75 - 80% |
| Stucco | 70 - 75% |
| Wood | 77 - 85% |
| Veneer stone | 93 - 97.1% |
| Natural stone | 60 - 70% |
| Aluminum | 77 - 85% |
| Brick | 83 - 92% |
| Fiber cement | 77 - 83% |
Deciding Between Different Types of Siding
Even though new sidings offer numerous benefits to your home, choosing the right siding isn't a walk in the park. There are numerous siding alternatives in the market, all of which differ in aesthetics, costs, energy efficiency, and durability.
As such, before making your decision, you need to be well informed about the characteristics of different sidings. The most common options include:
This is the most popular siding option in the country. It's known for its durability, versatility in the range of colors, and significantly low prices.
Advantages: Vinyl sidings are easy to maintain, weather and insect resistant, and are not prone to rotting, warping, or expansion. It's also the cheapest and may come with a lifetime warranty.
Disadvantages: It's not weather resistant, may crack under cold weather, Colors can't be changed or repainted, prone to dents and marks from tree branches.
This is one of the oldest sidings in the market. It's preferred due to its timeless and natural appearance, as well as the inexpensive costs. Wood siding comes in a wide range covering cedar, pine, cypress, redwood, Douglas fir, etc.
Advantages: Wood can be easily repainted or stained, installation is relatively easy, can be inexpensive, it's energy-efficient.
Disadvantages: Requires consistent maintenance, susceptible to rotting, water damage, and insect infestation, it's not fire-resistant,
This siding refers to a mixture of wood fibers, sand, and cement. The end material is very thick and stable and looks like natural wood siding.
Advantages: Extremely durable, water, insect, and fire-resistant, versatile finishes and textures, holds paint longer, resistant to expansion and contractions during temperature changes.
Disadvantages: Fiber cement siding costs two or three times more than vinyl siding, may hold moisture, hefty installation, and labor costs.
This option is mainly characterized by aluminum and steel sidings. It was popular years ago but it's still common among homeowners seeking a unique modern look.
Advantages: Metal sidings don't rot or decay, are mold-resistant, it's waterproof and eco-friendly, require little maintenance, don't fade, fire-resistant.
Disadvantages: Not durable, susceptible to rust, its soft and can be easily dented or scratched, can be expensive, heavy steel takes longer to install.
Loved for its durability and long-lasting properties brick is also among the most popular sidings. It comes in a classic appearance and may take different colors, sizes and textures.
Advantages: Can last for more than 100 years, requires little maintenance, fire-resistant, doesn't need repainting, weather and insect resistant.
Disadvantages: Very costly, may crack and deteriorate with age, can't return to initial color once painted.
This is one of the oldest and most durable siding materials available. Homeowners can choose from a range of beautiful stones including, Granite, Slate, Limestone among others.
Advantages: Long-lasting, impervious to harsh weather conditions, environmentally friendly, little need for maintenance, energy-efficient, natural and attractive look once installed.
Disadvantages: Very expensive, difficult to install and replace, requires a professional mason for installation.
What color siding has the best resale value?
Ideally, light neutral colors have been universally recognized as a favorite among home buyers. If you're repainting your house, shades of grey, brown, beige, and green are among the best you can try.
Shades of dark blue, tan, or wheat-colored sidings also tend to do well in the market. These colors give a house a modern and lively look which makes a good first impression among homebuyers.
Among the top colors you should avoid include black, dark brown, purple, pink, bright red, bright blue, mustard yellow, and orange.
Does insulated siding make a difference?
Insulated vinyl sidings offer a host of advantages to homeowners. Among its top benefits is that it's energy-efficient, water and insect-resistant, improves curb appeal, and helps reduce noise transmission by up to 39%.
On the downside, it's very expensive and requires a lot of labor to install.
Compared to regular vinyl, insulated siding seems to offer more value. However, it's more suitable for areas experiencing extremely hot or cold temperatures.
How much does it cost to remove and replace siding?
The overall costs of removing and replacing siding will depend on the specific siding you prefer. Nonetheless, the national average cost to remove and replace siding stands between $400 – $37,000.
However, most homeowners pay between $5,000 – $16,000 for their residing projects.
Does new siding increase home value?
Yes! Depending on the type of siding you choose, you can expect to increase your home's resale value by between 15 – 30%. However, the type of siding you choose will determine how much you can recover during the resale.