When undertaking any renovation project in your home, labor, in most cases, accounts for at least 40% – 70% of the total costs. The case is no different when installing vinyl siding.
The average American household spends anywhere from $1 to $3 per sq. ft on labor costs alone to install vinyl siding. However, the more experienced contractors may charge you as much as $5 per sq. ft to complete the same project.
In your search for a contractor, you might also find other experts who charge you by the hour, per full workday, and others still, per complete project.
Below we look at how much you can expect to spend on each of these contractors, regardless of their payment preferences.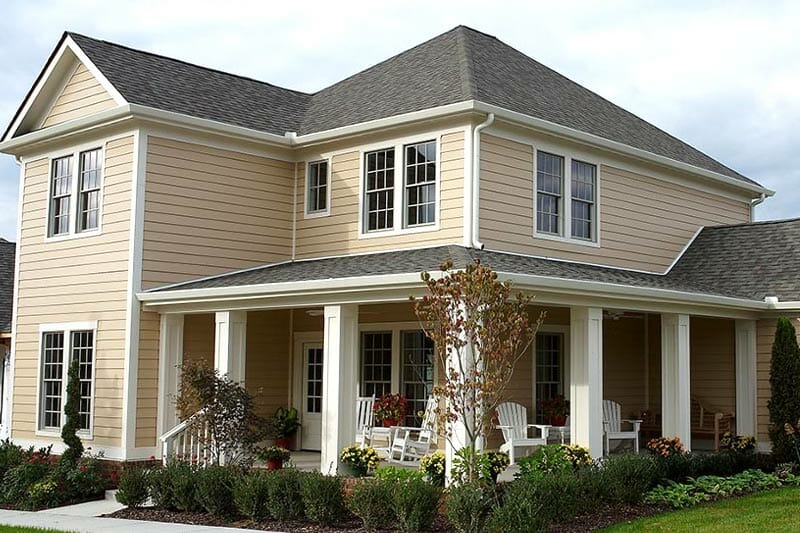 | Labor costs | Low | High |
| --- | --- | --- |
| Per sq. ft | $1 | $5 |
| Per hour | $30 | $75 |
| Per day | $320 | $2,000 |
| For the entire house | $1,500 | $7,500 |
| Per story on house | $200 | $1,500 |
There are several factors that influence how much you'll spend on labor costs during the installation. The most common factors include the size of your house, the size of the crew handling the job, and the task complexity.
In general, a crew of two contractors can complete siding installation of at least 40 sq. ft per hour or around 320 sq. ft for an 8-hour workday.
With these statistics in mind, here's how much you can budget for labor costs:
The average cost of labor when installing vinyl siding ranges from as low as $1 to the highs of $5 per sq. ft. This difference in pricing comes in depending on the contractor's experience and skill, as well as the difficulty of the job.
For contractors charging by the hour, expect to spend anywhere from $30 – $75 per hour. There might also be a flat fee included in the quote which must be accounted for, even if the contractor doesn't use up the full hour.
Most contractors consider a full day of work to be between 8 and 12 hours. This means that they're able to install between 320 – 400 sq. ft of vinyl siding per day.
As a result, your total costs for the day will range from $320 – $2,000.
Labor cost to install vinyl siding on an entire house
On average, most homeowners spend between $1,500 – $7,500 on labor costs alone to side a 1,500 sq. ft house. However, for story houses, these costs tend to be significantly higher.
Most two- and three-story houses will require specialized installation methods, adding at least 10% to the total labor costs per floor.
When you include the cost of materials and supplies, the total cost you'll incur for the entire house is estimated to be between $6,000 and $12,000.
Below is a summary estimate of how much you could expect to spend if you're siding your entire house.
| Size of the home | Labor cost | Total costs |
| --- | --- | --- |
| 1,000 sq. ft | $1,500 - $3,000 | $4,500 - $8,000 |
| 1,500 sq. ft | $2,250 - $5,250 | $6,000 - $12,000 |
| 2,000 sq. ft | $3,000 - $7,000 | $8,000 - $16,000 |
| 2,500 sq. ft | $3,750 - $8,750 | $10,500 - $20,000 |
| 3,000 sq. ft | $4,500 - $10,500 | $12,500 - $25,000 |
Labor cost to remove old siding
If the contractor has to remove your old siding first, they will also charge you more for this service. The average cost to remove the old siding ranges between $0.25 to $.80 per sq. ft.
This means that for a 1,500 sq. ft home that you have to pay around $3,750 for labor, you'll now need to add an extra $800 for the job.
For a two-person crew, completing the siding removal may take around 1- 2 days, and then an extra day to replace the house wrap.
Factors that influence vinyl siding installation labor costs
Besides the size of your home and the crew handling the job, there are numerous other factors that influence how much you'll pay a contractor for their labor.
Among the most common ones include:
Time of the year (Peak season)
Most contractors experience their busiest season during the summer months. As such, due to the high demand for their services, they're likely to charge you much higher than usual for the installation.
On the contrary, late fall and early spring tend to be the 'low' season for most contractors. As such, you're likely to get better quotes if you plan to install the siding during this period.
You'll also discover that most contractors will charge you different rates to install the different types of vinyl siding. This is because installing some vinyl types takes longer than others.
For instance, installing an insulated or premium vinyl siding tends to be much easier and faster compared to hollow-type vinyl sidings.
While each type is lightweight, the hollow vinyl sidings tend to bend a lot, requiring at least two crewmen to move, position, and attach each plank. This takes more time and hence, increases the labor costs.
Premium and insulated sidings, on the other hand, tend to be more rigid, meaning one crew member is able to manage the planks. This saves time and money.
Prep work, repairs, and replacements required
Any prep work, repairs, or replacements required before installing the new siding will also increase the total amount you'll spend on labor costs. Depending on the extent of the damages, you can end up paying as low as $50 to the highs of $1,200 for repairs.
Your total labor costs will also drastically increase if your home has more curves and angles, or if you need a more specialized design for your siding. Such a job will require a contractor who's very experienced and their charges tend to be quite high.
Total cost of vinyl siding installation
While labor may account for more than 50% of the total cost of your vinyl installation project, it's not the only cost factor you should worry about.
The cost of vinyl and that of the supplies will also influence the total amount you'll spend to install the vinyl siding. The average homeowners spend an average of $9,000 or between $6,000 – $12,000 for vinyl installation.
Here's a breakdown of how much you can expect to spend on a 1,500 sq. ft house.
| Service | Quantity | Low | High |
| --- | --- | --- | --- |
| Vinyl cost | Per sq. ft | $2.50 | $9 |
| Labor cost | Per sq. ft | $1 | $3 |
| Supplies cost | For 1,500 sq. ft | $450 | $800 |
| Total | Per sq. ft | $3.80 | $12.53 |
| Overall cost | 1,500 sq. ft | $5,700 | $18,795 |
How do you estimate siding?
Given that how much you'll spend in labor costs will be determined by the size of your house, knowing how to estimate the size of siding you need will greatly help you budget better.
Fortunately, estimating the size of vinyl siding required is very simple. Here are a few steps that can help you do that:
Make a rough sketch of your house, then measure (in feet) the height and length of all walls that need siding, and mark it in your sketch
Once you have all the measurements, determine the total siding square footage by multiplying the length and width of each wall, and adding them up.
Since most vinyl panels are sold in 100 sq. ft units, divide your total square footage by 100 to find out how many units you'll need to purchase.
DIY or hire a professional?
Given the high labor costs associated with hiring a professional for your vinyl siding installation, it's easy to be tempted to look into DIY installation. But, before you jump into this trap, here are a few questions you should ask yourself:
Do you have experience working on DIY projects?
Do you have enough manpower to handle the project?
Do you have the right tools for the job?
Do you have enough time to complete the project?
If you lack in any of these areas, you'll be better off contacting an experienced local contractor to help you out with the job.
Great savings on the labor costs
You get to work on your schedule
You won't have to rely on other people to complete installation
You get the satisfaction of completing the project yourself
Lack of knowledge and experience may result in a poor job
Mistakes made can be harder to fix
Purchasing all the required equipment and supplies can make it costly
Pros of hiring a professional
Pros have the tools necessary to do a high-quality job
Pros have the experience and enough crewmen to handle siding projects quickly and on time
Pros offer warranties that extend past the materials. Most of them offer a workman's warranty guaranteeing you quality work.
Pros will help you obtain all permits and meet all building code requirements if needed
Pros will handle every aspect of the job from the prep work to finishing and clean up
Pros are bound to a signed contract which protects you in case they violate the terms of your agreement
Cons of hiring a professional
The labor costs could be expensive
Their availability could be an issue
Some experts could handle the job differently from what you expected
Labor cost comparison: Vinyl siding vs other materials
| Material | Labor Cost per sq. ft | Labor cost for 1,500 sq. ft house |
| --- | --- | --- |
| Wood siding | $2 - $5 | $3,000 - $7,500 |
| Fiber cement siding | $2 - $10 | $3,000 - $15,000 |
| Brick siding | $2 - $8 | $3,000 - $12,000 |
| Aluminum siding | $2 - $6 | $3,000 - $9,000 |
| Stucco siding | $2 - $6 | $3,000 - $9,000 |
| Stone siding | $6 - $24 | $9,000 - $36,000 |
| Steel siding | $4 - $8 | $6,000 - $12,000 |
HomeGardenGuides.com is the fastest and easiest way to get three quotes for your vinyl siding job from the best and most affordable contractors near you.
The service quickly matches you with the 3 specialists voted #1 by previous users in your area. All you have to do is:
Scroll up to the top of the page and enter your ZIP Code in the blue form.
Give us a few details about your vinyl siding job, plus some contact information.
We will then forward your details to the closest three vinyl siding contractors, all voted best priced, who will price your siding job.
IMPORTANT: There is no obligation to hire any of the contractors. This is a free tool and service to be used at your pleasure.