Low-maintenance siding provides affordable and long-term cost-effective makeover for your home.
Vinyl siding's low installation costs, high durability, and long lifespan with minimal maintenance make it the best low-maintenance siding available. It is highly versatile, and it is available in several shapes, colors, and textures, some of which at a distance can be mistaken for natural wood.
There are several other options that come close such as fiber Cement and engineered wood.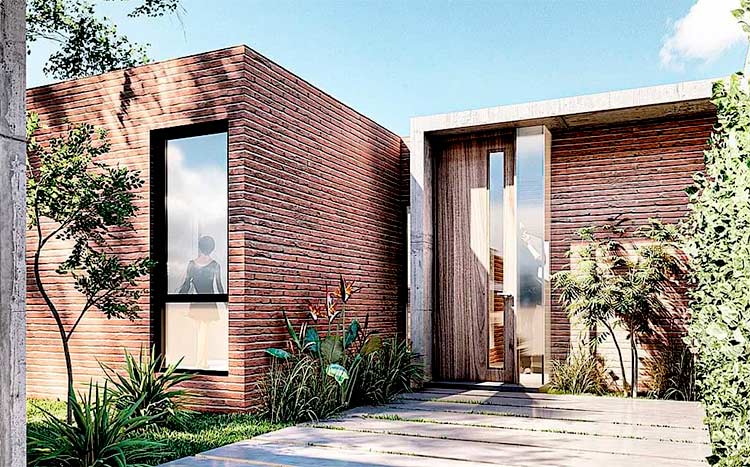 | | Wood | Vinyl | Engineered wood | Fiber Cement | Metal (Aluminum, tin etc) |
| --- | --- | --- | --- | --- | --- |
| Cleaning | Easy | Easy | Easy | Easy | Moderate |
| Sealing | 2- 3 years | Never | Never | Never | Never |
| Damage | Moderate | Easily | Moderate | Moderate | Hard |
| Mold, Mildew | Yes | Yes | Yes | Yes | No |
| Pest resistance | No | Yes | Yes | Yes | Yes |
| Color Change/ Painting | Easy | Difficult | Difficult | Easy | Difficult |
| Durability/ lifespan | Moderate | Great | Great | Excellent | Excellent |
| Cost | Cheap - Expensive | Cheap | Moderate | Moderate | Moderate - Expensive |
Despite being a budget siding alternative. Vinyl siding can match the premium look of more expensive siding materials like wood or stone when viewed from a distance. And it is available in a wide variety of attractive colors and styles. And homeowners can have vinyl siding in fake wood or decorative wood panels with wood grain without the accompanying maintenance issues.
Cost – affordability is a significant attraction for vinyl siding. Average installation costs are lower than wood or metal siding, with no additional maintenance expenses. Prices to install vinyl siding range from $3.50 to $13.50, depending on the material quality.
Installation – because vinyl siding is easy to install and does not require painting. You can perform a DIY installation and save on labor costs. There is no need for specialized equipment, and the installation process is straightforward. Check out our online guide on installing vinyl siding.
Maintenance – Giving your vinyl siding a thorough cleaning once a year is all the maintenance required to keep it clean and good-looking. However, vinyl is a moisture-resistant material. Dirt, grime, and stains from leaves, bird droppings, mold, and mildew can accumulate and cause discoloration. Cleaning vinyl siding is a simple affair, and there is no need for you to hire a professional cleaning service. All you need are ordinary home and garden items such as a hose, cloth, bucket, soapy water, and a stiff-bristled brush to scrub built-up dirt and mildew. Homemade cleaning solutions like vinegar or inexpensive commercial vinyl cleaning products are available. Homeowners can not repair damaged vinyl siding panels, but you can fit new boards to replace the broken pieces.
Durability – vinyl siding performance under harsh exterior conditions is nearly comparable to more expensive exterior siding materials despite its lower cost and maintenance. Fans of vinyl siding consider the material indestructible because it is moisture and pest-resistant, does not rust or corrode, does not fade, decay, and newer versions have scratch and dent-resistant properties.
Lifespan – vinyl siding has an average lifespan of 30 years, making it an exceptionally cost-effective siding if you consider its low installation and maintenance costs. Although, the lifespan of vinyl siding is dependent on several usage factors. You can expect a minimum lifespan of 20 years under the most unfavorable environmental conditions.
Low maintenance siding options
Homeowners have a lot of choices when it comes to choosing cost-effective siding. There are several exterior siding materials in the market with similar low-maintenance cost savings as vinyl siding. Here are a few options that offer the best value for money by considering their installation and maintenance costs, performance, and durability.
Aluminum siding – has strong anti-corrosion properties making it resistant to rust. It is an affordable, moisture and insect-resistant siding option that can withstand extreme temperatures and climate conditions. Installation costs of aluminum siding are cheap compared to engineered wood or fiber cement siding. The only maintenance required is yearly cleaning and painting every couple of years to keep it looking pristine.
Modified Wood – is an excellent low-maintenance siding material that offers a timeless wooden look for your home exterior, but without its upkeep costs. Modified wood is inexpensive installation costs makes it a practical budget siding option for homeowners. Producers create modified wood siding through a process called Thermal Modification. They heat natural wood to temperatures reaching 410-450º F in oxygen-free chambers to cause a structural change at the cellular level. The result is modified wood siding with a natural appearance but significant improvements such as pest resistance and improved protection against moisture damage.
Fiber Cement – is an incredibly durable and long-lasting, low-maintenance siding with a long list of benefits which includes moisture, impact, and insect resistance. It has fire-resistant properties, in addition to being able to withstand extreme temperatures and cold environments without rotting or deteriorating. Although, fiber cement installation costs can be expensive compared to other low-maintenance siding materials. It has an average lifespan of around 30-40 years with minimal maintenance costs.
Stone veneer – homeowners looking for a premium natural look for their home exterior without the maintenance costs and hassles of a wood siding material can choose this excellent low-cost siding option. When properly installed, stone veneer siding has a lifespan of 20-70 years with little maintenance, compensating for its high installation costs. Stone veneer is durable with moisture and pest resistant properties in addition to being fire retardant.
Brick Siding – is another cost-effective siding option, provided you can afford its high installation costs. Brick siding is not for everyone, but homeowners who want a 100% natural look without compromising on quality and pricing can take a good look at this siding option. Brick siding is durable, and with proper care, you can prevent moisture issues. Routine maintenance involves washing with water to remove dirt and replacing degraded mortar to prevent moisture damage. These are DIY tasks you can perform with minimal experience.
Stucco Siding – can last for the entire lifetime of a home with little maintenance when properly installed. Although, installation costs are higher than most siding types except stone siding. Stucco siding will repay the homeowner with several decades of valuable service with virtually zero cost maintenance.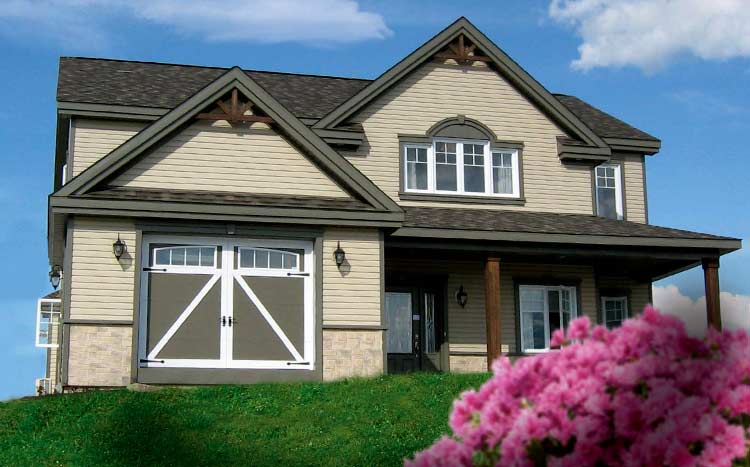 Maintenance-free siding that looks like wood
Artificial wood siding is an example of low-maintenance siding created by manufacturers from various siding materials, with aluminum, vinyl, and fiber cement being famous examples. This siding option provides homeowners with the look and texture of natural wood but without the high costs and maintenance demands. Artificial wood siding is available in different shades and wood grains. And they provide excellent protection for your home in addition to being durable.
Factors to consider when choosing low-maintenance siding
Selecting the most appropriate low-maintenance siding for your home exterior is a challenging task. This is more difficult when you are shopping for a particular style and quality at a reasonable price. Every homeowner aims to cover their home with durable and stylish siding at affordable prices with minimal long-term maintenance costs. Your success in achieving this feat will depend on the following factors.
Design and appearance – how a siding looks on your home after installation is essential. Considering the siding's long-term effects, such as neighborhood suitability and its impact on the resale value of your home, should be a key factor during the decision process. Consulting with a contractor or siding expert can give you better knowledge on which low-maintenance material or color that suits your neighborhood and bring out your desired look without reducing your home value.
Installation cost – materials and installation costs are key considerations when choosing a low-maintenance siding for your home exterior. Homeowners may spend extra on an expensive but low-maintenance siding material to reduce potential future upkeep expenses. Also, estimate the labor costs to install the siding and whether you can perform a DIY installation. Certain siding types like stucco require a professional to install and repair, which increases future maintenance costs. Choosing a material that you can install and repair yourself is essential if you genuinely want low-maintenance siding.
Maintenance – a major emphasis of homeowners looking for a low-maintenance siding is to spend minimal personal time and money on siding upkeep. Hence, the attraction of a siding material requires only periodic washing over a material that needs painting every few years.
Durability and lifespan – durable siding materials that can withstand your local temperatures and climate conditions without fading or premature deterioration typically have a longer lifespan than less durable siding options. Characteristics of an excellent low-maintenance siding must include moisture and insect resistance, fire resistance, anti-fading properties, mildew and stain resistance, and the ability to withstand mechanically and storm impact.
Low maintenance siding pros and cons
Although low-maintenance siding is primarily about saving maintenance costs and siding longevity, it also offers several benefits, including improving your home value and curb appeal. Installing the right low-maintenance can also perform practical functions like protecting your home from outdoor elements and lowering your energy bills.
Let's take a look at the pros and cons of some popular low-maintenance siding materials.
Pros
Easiest siding to maintain with minimum maintenance costs.
Vinyl siding does not require painting.
Vinyl siding is moisture resistant, and it does not have water damage issues, e.g., rot.
The paint on vinyl siding does not chip, fade, or peel, and it does not need refinishing.

Cons
Vinyl siding tends to melt or warp in hot temperatures.
Vinyl siding is not environmentally sustainable. Although some vinyl siding panels are recyclable. Most end up in landfills.
Vinyl siding can hide serious moisture issues when installed inappropriately.
Vinyl siding can become brittle under cold weather conditions, causing it to crack upon impact.
Pros
It offers a natural wood appearance without the shortcomings associated with wood siding.
Modified wood siding doesn't require painting which eliminates any future maintenance like scraping and repainting.
Modified wood siding fades into a lovely weathered look as time passes. Giving your home a natural rustic look.
Modified wood siding is more durable than natural wood. It does not degrade or rot.

Cons
It is more expensive than natural wood.
Modified wood siding has reduced bending strength due to exposure to high temperatures.
The Thermal Modification process can blacken the natural appearance of modified wood siding, making it less appealing.
Modified wood siding can turn into a nasty grey when exposed to high levels of sunlight. 
Pros
Highly durable with a long lifespan.
It has minimal maintenance costs with substantial moisture-resistant properties.
It is 100% recyclable
Aluminum siding installation is cheaper and less tedious than other siding types.

Cons
Aluminum siding industrial look lacks the aesthetics of other siding materials.
It has minimal trim choices.
Aluminum siding has poor paint absorption properties. And the color is prone to fading quickly.
It is susceptible to denting, and it is known to amplify noise from raindrops and hail.
Pros
It is an elegant, durable, and natural-looking siding material.
Aside from periodic cleaning, stone veneer requires little maintenance due to its moisture and insect-resistant qualities.
It has flame-retardant characteristics.
It does not require painting.

Cons
Stone veneer is expensive and difficult to install.

The faux stone used in stone veneer siding is not as durable as the real deal.
Stone veneer installation must be performed correctly by an experienced professional to avoid moisture problems.
Pros
It is available in various shapes and textures, including realistic elaborate trim designs resembling natural wood and stucco.
It has an exceptionally long lifespan (60+ years) due to its industrial-grade durability.
It is flame and insect/pest-resistant and can withstand extreme temperatures and harsh climatic conditions, including humid and coastal environments.
It is a virtually maintenance-free part from the occasional wash.

Cons
Installing fiber cement is a laborious and expensive process due to its weight.
Experts do not recommend fiber cement in wet or coastal environments due to potential moisture damage.
Fibre cement siding is fragile and can easily break during or after the installation process.
Fibre cement siding is not recyclable.
Every 20 to 40 years. An adequately maintained siding should last for around 30 years before replacing. Siding in dry conditions should last longer before replacing.