Masonite siding, also called hardboard, is an excellent alternative to wood siding. It mimics the natural look of wood, and it is available in three types: shiplap edge panel siding, lap siding, and square edge siding.
On average, installing masonite siding costs around $2.50 to $5 per square foot. For an average home size of 1,500 square feet, the cost to install this siding will range between $3,750 to $7,500.
The exact cost for masonite siding will depend on the size of the home, location, material type, and job complexity.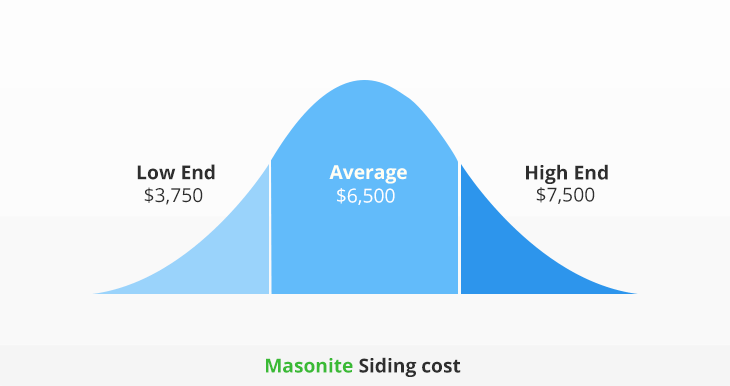 Below is the national average cost to install masonite siding.
| Cost per square foot | $2.50 - $5.00 |
| --- | --- |
| Cost per 1,500 sq ft house | $3,750 - $7,500 |
| National Average Cost | $6,500 |
| Average Labor cost (per sq. ft.) | $1.50 - $3.00 |
| The cost of materials only (per sq. ft.) | $1.00 - $2.00 |
Masonite siding cost per square foot
The average cost to install masonite siding per square foot is around $3.75, with the range being between $2.50 and $5. Masonite siding is quite popular because of its natural resemblance to wood. It is relatively easy to work with, making it a perfect option for DIYers.
However, masonite siding requires high maintenance because it is prone to water damage. It can swell quickly because of the porous material used to make it. More so, it attracts mold and insects easily compared to other siding options.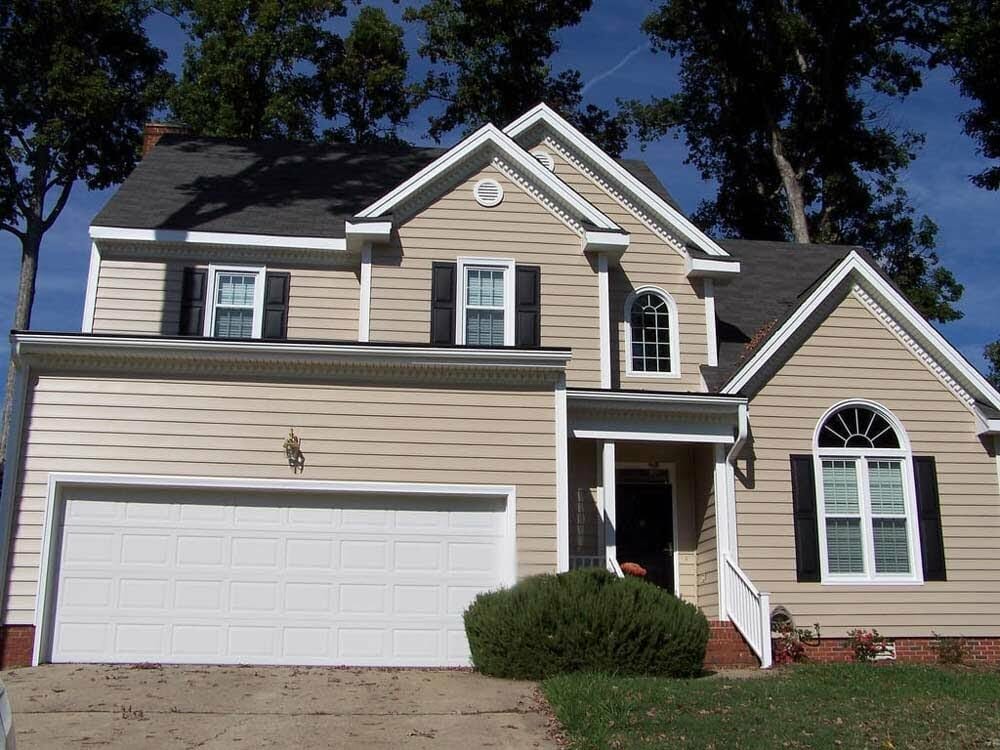 Masonite siding cost per 1,500 sq. ft. house
Installing masonite siding on a 1,500 square foot home will set you back by approximately $5,625, ranging between $3,750 to $7,500. This house size is ideal for smaller families as it is neither too large nor too small.
However, the cost will skyrocket for a double-story house or a house with complex designs and many corners. To get the project's actual price, ensure your contractor takes accurate measurements and considers all cost factors.
Average Labor cost of masonite siding
The average labor cost to install masonite siding is about $1.50 to $3.00 per square foot or $40 to $50 per hour. Different contractors will offer different rates depending on the nature and size of the project. You should get at least three estimates to know the average labor cost.
Labor charges tend to take up to 70% of the total project cost. So, when planning to side your house, ensure you know how much labor costs in your area. Typically, regional changes affect labor charges where low-income areas get lower rates than high-income areas.
The cost of materials only
Masonite costs around $1.00 to $2.00 per square foot, but the cost can go up to $5 depending on location, availability, and type of the material you choose. If you would like to DIY the project, you will only need to buy the materials for your project.
While DIY projects are cost-effective, they may be stressful because you will need supplies and tools, which will be the least of your worries if you hire a professional siding contractor.
Masonite siding cost by type
Masonite siding comes in three types, as outlined below.
| Type | Cost per square foot |
| --- | --- |
| ShipLap Edge Panel Siding | $3.50 - $5.00 |
| Lap Siding | $1.28 - $4.00 |
| Square Edge Siding | $3.95- $5.40 |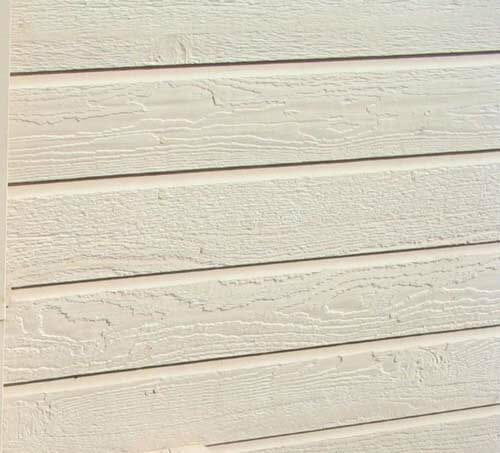 ShipLap Edge Panel Siding
Shiplap edge panel siding costs around $3.50 to $5.00 per square foot. For a 1,500 square foot house, you will spend around $5,250 to $7,500.
This siding uses shiplap joints over long edges, and it is usually placed vertically. It is a great option for a seamless siding and beautiful look on your home's exterior. Utmost care should be taken during the installation to avoid breaking the boards. Also, caulking should be applied correctly to ensure all the joints are air and water-tight.
Lap siding, the second subtype of Masonite siding, is the most common type. It costs about $1.28 to $4.00 per square foot, but the actual cost will depend on the size of your home, job complexity, and finish options.
Lap siding features horizontal boards overlapping the boards beneath. It is simple to install, so you can install it yourself to save on labor costs. Like the other hardboard siding types, caulking should be correctly applied as improper installations may lead to serious moisture, mold, and swelling issues.
The square edge Masonite siding averages around $3.95 to $5.40 per square foot installed. This siding is installed vertically in sheets, resulting in a neat, uniform look. It improves your home's curb appeal because of its high-end look.
As with the other two types, this siding comes in a variety of finishes that include pre-painted, pre-stained, and pre-primed. The type you choose will depend on your needs, preference, and budget.
How do I estimate the cost of masonite siding?
Like any siding, it is essential to estimate the overall installation cost to budget accordingly and avoid surprises. Below are the main factors you should consider when estimating the cost of Masonite siding.
Material cost
As mentioned above, Masonite siding comes in three subtypes, each having a different price tag. The type you choose, and the quantity of the material will affect the overall cost of the project. If you have a large or complicated house, you will need more Masonite boards than a smaller house with a simple design.
Labor cost
Another essential factor you should consider is the labor cost unless you intend to install the siding yourself. Labor cost is the most expensive in any project as it takes up to 70% of the overall cost. Also, the company you choose and your location will affect the labor cost. It is always wise to get at least three to five estimates from different contractors to know the average labor rates.
Project size
Typically, the size of a project will determine its overall cost. A large house will cost more to install because more materials and labor will be required. The price per square foot, however, decreases as the project size increases.
Old siding
If you are replacing your old siding, you should include demolition and disposal costs. The cost to remove and dispose of existing siding depends on the material. Tough materials like fiber cement may be costlier to remove than clapboard and shiplap.
Permits
Before you begin your project, you must consult your local authorities to determine whether you need a permit.
Usually, large home improvement projects such as siding installation and replacement will require permits, but the rules, regulations, and costs will vary from state to state.
Does masonite siding add home value?
Yes, installing new Masonite siding will boost the value of your home. Updating your worn-out, cracked, or rotten siding with Masonite will enhance your home's visual appeal and increase its resale value. Masonite siding is inexpensive, and its natural resemblance to wood makes it very attractive. More so, it can last for over 20 years with proper care and maintenance.
What are the advantages and disadvantages of masonite siding?
Masonite siding has several outstanding advantages, but it also has several hard-to-ignore disadvantages. Below are the main benefits and shortcomings of hardboard siding.
Environmentally friendly
Masonite is an eco-friendly product because it is manufactured using recycled wood materials, resin, and fibers. This saves numerous trees and keeps landfills clear of reusable materials. More so, Masonite is not made of any harsh elements that could cause harm to you or the environment.
Highly flexible
Masonite is highly flexible, which makes it easy and fast to install. The manufacturing process involves gluing wood strands together using natural water-based glue, resulting in flexible, user-friendly wood.
Durability
Masonite siding can last for over 20 to 50 years, depending on its composition. Materials designed with natural cement minerals are waterproof and durable. Also, the flexible nature of this siding reduces breakage during its installation.
Cost-effective
The low cost of Masonite siding makes it an excellent option for homeowners on a budget. It is cheaper than wood and other popular siding options like metal, fiber cement, and vinyl. More so, its ease of installation lowers labor costs.
Resemblance to wood
The natural resemblance of Masonite siding to wood is another excellent benefit this siding has over other siding options. It makes a great alternative to wood and offers a natural, rustic ambiance to a home's exterior.
Susceptible to moisture
Masonite siding is highly susceptible to moisture damage. The porous nature of this siding makes it absorb water quickly. Prolonged exposure to water may lead to the following issues:
Swelling: Masonite siding starts to swell when it absorbs a substantial amount of water. Swollen boards will need replacement to avoid further damage.
Mold: Masonite siding starts developing mold when exposed to water for too long. Mold spreads so fast in this material and may lead to serious problems and costly siding replacements.
Extreme mildew: once Masonite siding becomes exposed to high moisture content, mildew will start to grow and spread fast.
Rot and decay: extreme contact with water and prolonged exposure to a humid environment may cause Masonite to rot. Decayed boards may start falling off and expose the house's interior to the elements.
Blistering: water may also cause the boards to blister, which affects their visual appeal and durability.
Prone to insect damage
Masonite siding is prone to insect infestation like termites that start eating away on the boards. This may affect the siding's integrity and should be dealt with immediately to avoid more damage.
Buckling and impact
Masonite siding is also prone to buckling, which means it is easily damaged under high physical pressure. More so, it cannot withstand high impact like other siding options.
DIY vs. Hiring a Professional
Masonite siding is relatively easy and fast to install because of its flexibility, making it an excellent option for DIYers. However, siding a house is not a project for weekend warriors because it takes a lot of time. More so, Masonite siding requires highly skilled professionals because improper installations may lead to serious problems.
Pros
It is cost-effective because you do not need labor
It gives you a perfect chance to enhance your skills
No one controls the project, but you
You will choose the style and finish that suits your preference
Cons
Lack of skills may lead to damages, thus additional expenses
You cannot handle complex installations
Not time-effective
Higher risk of self-harm and injuries
Pros
Pros are more experienced and can handle any project
Professional installations are time-effective
No material wastage because pros are accurate and precise
You will get a beautiful and seamless finish
Cons
Labor charges are quite high, making the initial siding installation cost to be high.
Finding a reliable siding contractor may be daunting