Metal siding comes in a wide variety of shapes, styles, and colors. They are stronger and longer lasting than wood or vinyl siding. Steel and aluminum are the most popular, adding a classic or modern look depending on which one you go for.
Metal siding costs between $2.50 – $45 per square foot installed, depending on the quality of material, and or project difficulty. The national average cost to install metal siding is from $9,500 – $25,500.
Actual installation costs typically depend on the project scope, site conditions, and material quality, and the company you choose.
| Cost per square foot | $3.50 - $45 |
| --- | --- |
| Cost range per 1,500 sq ft house | $5,500 - $55,000 |
| National average cost | $9,500 - $25,500 |
| Average Labor cost | $4 - $12 per square foot. |
Metal siding is available in an extensive range of materials and styles. Steel and aluminum siding is the most common, but other available materials include tin, zinc, and copper.
Each material has unique attributes and costs, and they serve a variety of purposes.
| Material | Cost per square foot |
| --- | --- |
| Tin | $1.50 to $3.50 |
| Aluminum | $2.50 - $4 |
| Steel | $4.50 - $7 |
| Insulated Steel | $5.50 - $7 |
| Corrugated steel | $5.50 to $8.99 |
| Zinc | $15.50 - $29.99 |
| Copper | $20.50 - $30 |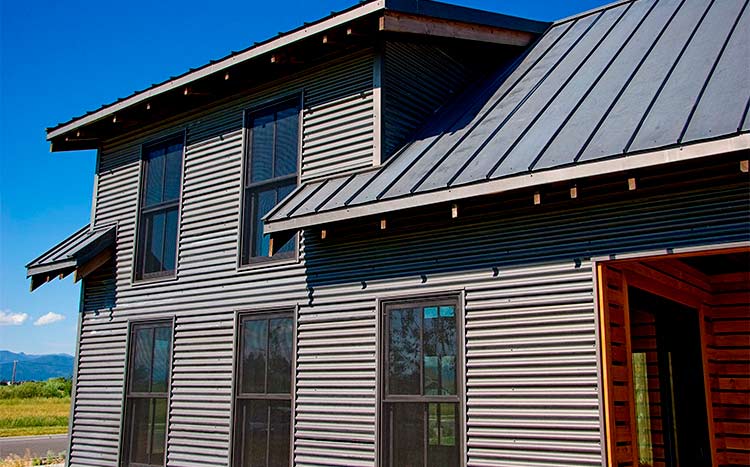 Although rarely seen in modern homes, tin was a hugely popular siding material when metal siding was first introduced. Tin siding costs about $3.50 per square foot. A significant advantage of tin siding is that it is lightweight and easily cut and folded into the required shape. However, its significant drawback is its lack of strength and limited available options. This probably contributes to its little appeal among homeowners. 
Steel siding is a popular and affordable siding material commonly seen on both residential and commercial buildings. Steel siding costs range from $4.50 – $7 per sq ft. It is durable, less prone to dents, and can be finished into an extensive range of textures. However, steel siding is susceptible to rust if the surface finish is removed. Homeowners can choose their steel siding from a large array of design options and textures. Some brands even offer high-quality steel siding with premium coats that carry a lifetime fade or crack warranty. 
Aluminum siding is one of the most popular options. Prices range from $2.50 – $4 per square foot. Affordability is a primary reason for the widespread acceptance of aluminum siding, but the lightweight design and rust resistance capabilities also add to its appeal. Available in a large range of styles, aluminum siding possesses exceptional longevity due to its ability to weather the elements with minor damage. However, aluminum siding is susceptible to dents and scratches, both of which can be repaired without difficulty by a professional.
Insulated steel siding is designed as an energy-saving construction material for homeowners looking for a cost-effective siding option. Prices range from $5.50 – $7 per square foot. Insulated steel siding performs a double function as an appealing home exterior decor while providing heating for your home. Although insulated steel siding is a recent introduction into the siding market, its cost-saving attributes have made it popular with homeowners. It is available as either pre-insulated or with recessed panels that you can stuff insulation inside.
Corrugated steel siding is a heavy-duty metal siding that's designed to mask the effects of hard use. Average prices are from $5.5 to $8.99 per square foot. It's primarily used in commercial applications, making it a less common siding type than conventional steel siding. Corrugated steel siding is heavier and stronger than typical steel siding due to its thicker dimensions. It is sold in sheets and has limited options available for interested buyers. 
Zinc siding is long-lasting siding material with corrosion and rust-resistant capabilities. Zinc siding prices are $15.50 to $29.99 per square foot. Due to its high cost, zinc siding is usually installed to accentuate other siding types. Zinc siding usually develops a deeper hue due to weathering effects, and it is available in various panels and lap siding shapes. Homeowners typically pair zinc siding with masonry or wooden homes for an extra impact.
Copper siding is renowned for its durability, beauty, and longevity, often lasting for more than one hundred years. Copper siding costs between $20.50 to $30 per square foot. Copper siding has high corrosion and rust-resistant capabilities and can develop a blue-greenish hue over time. However, copper siding requires lots of maintenance to keep it in great shape. Its high cost means that copper is often used as an accent with other siding materials. 
Metal siding costs by type/ style
Metal siding has a huge advantage over other siding materials such as wood or vinyl because it can be cast and bent into different shapes, sizes, and styles. This means that homeowners have a considerable number of metal siding shapes and styles to choose from.
1. Plank metal siding.
Plank metal siding is manufactured to simulate the look of a horizontal lap siding installation. It is available in a variety of styles and colors including, clapboard and Dutch lap. You can also buy plank metal siding in smooth or wood grain textures. Wood plank siding prices range from $3.50 – $30 per square foot.
2. Board and Batten Panels.
Although board and batten metal panel siding isn't as popular as other issuing types, it is probably the easiest to install. This metal siding type is available in panel shapes, and they are built to fit easily in an overlapping fashion. When installed, board and batten metal panel siding resembles a series of interlocking metal plates on a home exterior. It is available in various materials, including aluminum and steel, and homeowners have a choice of a high-quality range of colors to choose from. Board and batten panel siding prices range from $2.50 – $1 per square foot.
3. Log-Look Metal Siding.
Log-look metal siding is an excellent alternative to using real timber in the construction of log cabins. Insulated log-look metal sidings can also be used to keep your cabin comfortable and improve its energy consumption. Log-look metal siding costs between $6 to $8.
| Type | Cost per square foot |
| --- | --- |
| Sheets | $1.50- $30 |
| Planks | $3.50 -$30 |
| Board and Batten Panels | $3.50 - $5 |
| Log-Look | $6 - $8 |
Metal siding cost per square foot.
Metal siding materials cost between $2.5 to $35 per square foot, depending on material type and quality. With average prices of around $5.50 per square foot, tin siding is the cheapest metal siding material. In comparison, the more popular steel and aluminum siding cost between $2.50 to $8.50 per square foot. You will spend $12.50 per square foot on average to install steel or aluminum siding on a 1,500 sq ft home. Installing a copper siding for a similar area typically costs around $45 per square foot for both labor and materials, depending on siding material and brand.
Metal siding average labor cost.
Labour makes up a massive chunk of metal siding costs, and it can run almost twice as high as materials costs per square foot. Average labor costs for metal siding range from $4 – $12 per square foot. The labor cost for installing metal siding on a 1,500 sq ft home is between $7.89 to $12.83 per square foot or between $5,000 to $8,000 out of an average installation cost of $12,500.
Professionals usually perform a full assessment of the building to determine what the labor costs will be. Labor costs can vary significantly per square footage or project because of certain factors or conditions. They include:
The size of the building.
The difficulty of attaching the siding material or type to the building.
The projected difficulty, meaning the level of preparation, cleanup, and the range of equipment required. For example, professionals will charge more to install siding on a multi-story building with curves and arches than a single-story home with flat surfaces.
The site layout, conditions, location, and the cost of transporting equipment and materials.
HomeGardenGuides.com is a free service that quickly matches you with top-voted local contractors.
You can get three estimates fast by real certified experts in your area in just 2 minutes.
Scroll to the top of the page and enter your Zip code.
Answer questions about your siding installation job
Your project details are forwarded to three local experts. They will send you a price estimate for the job and some friendly advice.
IMPORTANT: There is no obligation to hire. This is a free tool and service to be used at your pleasure.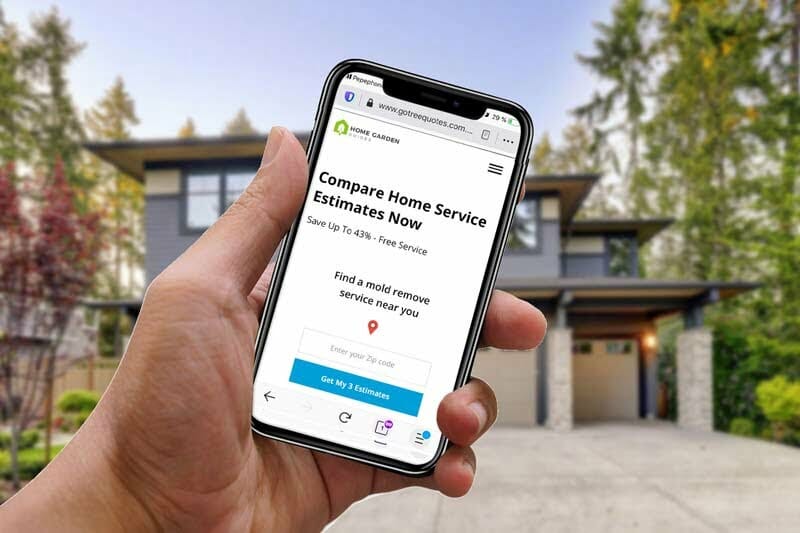 DIY Metal Siding Installation vs. Hiring a Pro
Each year, millions of homeowners install sidings over their home exterior. Residential siding installation ranks among the major improvement projects, and it boosts your property curb value, significantly improving your home appeal to potential buyers. However, installing metal siding on residential buildings requires some amount of preparation, as well as experience and siding installation skills. Whether you choose to make your siding installation a DIY project or opt for a professional, here are a few pros and cons about each option that you should know.
Do-it-yourself metal siding installation can be fun, but it also comes with a lot of pitfalls. There is a lot of potential for causing severe damage, which can have disastrous consequences on your wallet (remember, it's your house you're dealing with here). The bottom line is that you have to be rational when assessing your capabilities to take on such a significant project.
Pros
DIY siding installation saves you money.
You save money on professional fees, which you can use to buy high-quality materials.
You work according to your timeline.
You have no 'get the job done now' pressures when you decide to do metal siding installation by yourself.
You get a sense of fulfillment from completing the project on your own.
Nothing beats that sense of pride and satisfaction from watching a completed job done by your hands. It's a feeling that hiring a professional can not deliver.
Bonding experience.
You can turn the project into a bonding experience by inviting your children, friends, and relations to collaborate.
Cons
High potential for expensive mistakes.
Your relative lack of experience can lead to costly and extensive mistakes.
You will need to buy specialty tools.
Some siding types do require expensive special tools to install. Performing a DIY siding installation means that you'll have to buy these tools, which adds to your costs.
You don't have access to contractor discounts.
Major construction material wholesalers and suppliers have special discount offers for licensed contractors who buy materials in bulk and frequently. Homeowners who DIY have no access to these special offers, and they are forced to purchase materials at regular retail prices.
You have to perform the cleanup.
Disposing of construction waste is a tedious job that you have to perform without the aid of a cleanup crew if you DIY.
Do not berate yourself if you choose to hire a licensed contractor to install your home metal siding. For many folks, hiring a pro is a wiser choice that guarantees a high-quality job that DIYers can't hope to have.
Pros
You enjoy several benefits in one package.
Hiring a licensed contractor guarantees that you have a competent, experienced, and insured professional working for you.
Less chance of accidents happening.
A DIY project site is always an accident waiting to happen, which isn't the case with professionals. Licensed contractors are trained to observe safety protocols and deploy safety procedures to prevent accidents on work sites.
High-quality job.
This is the primary appeal of hiring a contractor. A licensed contractor provides higher quality work than a DIYer.
Expert advice.
Hiring a professional ensures you have access to expert advice regarding the siding type that's most suitable for your property, color, and texture choices. Pros will also offer help with the permitting process and give recommendations on other related issues.
Cons
Hiring a pro is more expensive.
This is a primary reason why most homeowners go the DIY route.
Your project may be placed on hold due to scheduling conflicts.
The truth is most experienced licensed contractors are never short of work, and your project may have to wait while the contractor completes other projects on his schedule.
Metal siding prices are determined by material type and gauge (thickness). The thicker the gauge, the more expensive the siding. However, some materials such as copper or zinc siding cost significantly more than most types of siding, including wood and stone veneer siding.
The disadvantages of metal siding include:
A higher price tag than other sidings of relative thickness.
Prone to corrosion and rust.
Heavier than similarly sized vinyl or wood siding.
Prone to dents.
More expensive to install than comparatively priced composite wood or vinyl siding.
Some types of metal siding require special tools and specialized skills to install.
Installation of metal siding can be time-consuming.
Yes, installing metal siding over your home is an excellent decision. It offers incredible benefits and improves the aesthetic appeal of your home without you making significant compromises in comfort, quality, costs, and efficiency.