Redwood is a popular siding wood known for its warm, rich color and straight grain.
To side a 1,500 sq ft. home you will typically spend $12,450. The price will depend largely on the price of timber with the real range being $9,200 and $18,500.
Redwood is often coated after install with an oil or lacquer which protects the wood from rot and pests.
| Service | Qty | Low | High |
| --- | --- | --- | --- |
| Redwood Siding cost | Per sq. ft. | $0.90 - $1.44 | $1.80 - $2.52 |
| Redwood Siding cost (installed) | Per sq. foot | $2.79 - $4.32 | $5.58 - $7.38 |
| Redwood Siding labor cost | Per hour | $1.89 - $2.88 | $3.78 - $4.86 |
| Redwood Siding cost 200 sq. ft. (installed) | 200 sq. ft | $712.00 | $1296.00 |
Average Estimate: $1000 per 200 sq. ft.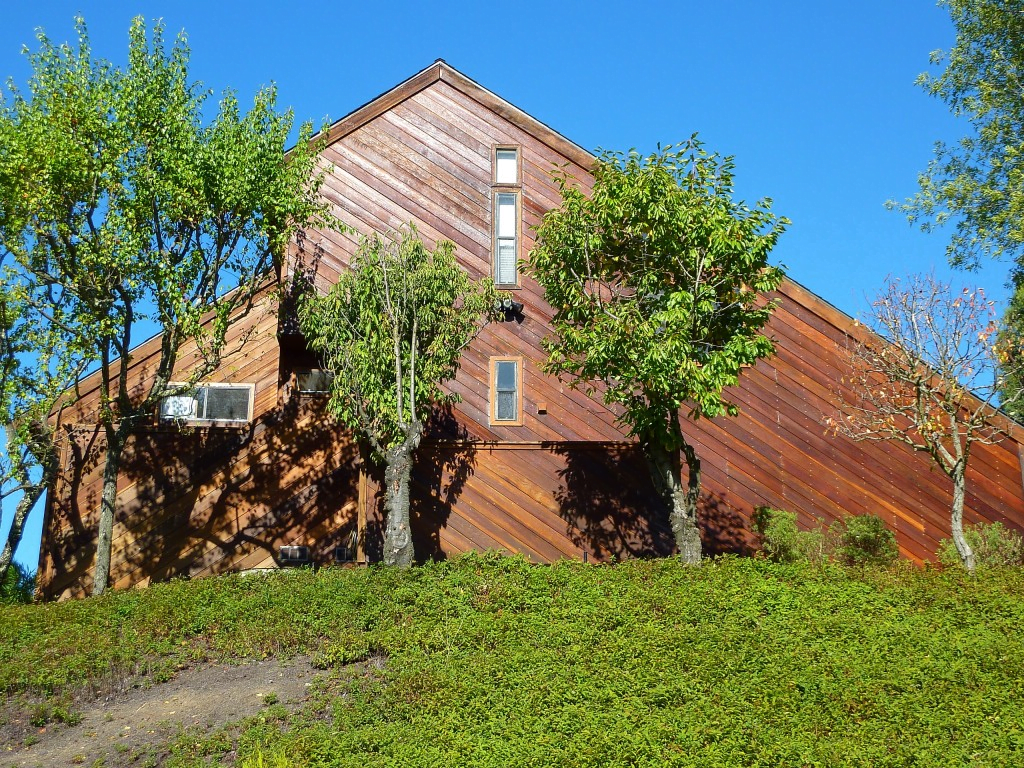 Cost of Redwood Siding by type
| Service | Quantity | Low | High |
| --- | --- | --- | --- |
| Redwood Dutch Lap Siding | 200 ft | $200 | $1600 |
| Redwood Clapboard Siding | 200 ft | $600 | $2400 |
| Redwood Bevel Siding | 200 ft | $800 | $2400 |
| Redwood T & G Siding | 200 ft | $1000 | $3000 |
| Redwood Channel Rustic Siding | 200 ft | $1000 | $3000 |
| Redwood Shiplap Siding | 200 ft | $1400 | $3600 |
Average Estimate: $1900 per 200ft
Labor cost to install redwood siding
The labor cost to install redwood siding varies according to the type of siding panels, local real estate values, and the region that the home is in. Costs fluctuate between $1.89 to $4.68 per square foot. It is best to get 3-7 quotes from local contractors to compare pricing.
Repairing wood siding involves removing affected panels, treating the area for water/pest damage, replacing the panels with new ones, then finishing to match the existing siding. 
As wood siding is a natural material, it is quite common that it would need repairs from time to time to keep the structural integrity intact. Small isolated areas cost less to repair and most installers will charge approximately $100-150 per section, while repair work to large sections can cost $50-70 an hour. It is in your favor to get that maintenance done as early as possible. 
Installing redwood sliding
Whether you DIY or hire a contractor, there are a few essential steps to take before installing your redwood siding.
First of all, you must allow your wood 1-2 weeks to adjust to the climate of your site before you begin the installation. Even if sourced from a local supplier, the wood has likely been stored in different conditions to those of the outdoors on your property. It is very costly to install the wood too soon after it arrives at the site – the wood needs time to settle. Stack and store your wood siding outdoors on a dry, flat surface using 2×4 pilings to allow air to circulate under the pile. Do not store the lumber indoors with drywall or fresh concrete, or near artificial heating/cooling.
"It must adjust to the natural conditions where it will reside." – Buffalo Lumber Co.
If you are planning to DIY, first do proper research regarding air spaces, water run-off, and finishing. Use stainless steel siding nails as other types will stain the wood.
Additional cost factors of redwood siding
Existing Siding: If you already have wood siding that you want to replace, you will have to factor in the costs to remove and dispose of the existing siding – this can add up to $2000 to your project.
Supplier Location: buying siding from a local supplier is more cost-effective, as well as better for the environment. It also helps your local economy when you support local businesses.
Building permit: check if your local building codes require you to obtain a building permit to install the wood siding.
Priming and Sealing: proper finishing of wood siding is essential to ensure a long life span for your exterior. By investing in this initial stage, you will save on long-term costs.
Benefits of redwood siding
Aesthetic beauty: tannins give redwood a rich reddish-brown color that, giving houses a rustic charm.
Pest-repelling: redwood is naturally resistant to insects and disease thanks to chemicals naturally present in the wood.
Rot-resistant: redwood's natural tannins and chemicals make it resistant to rot.
Fire-resistant: redwood has Class B compliance according to California fire safety law. The same tannins that make the wood red, and repel insects, make the wood resistant to fire.
Sustainable building material: redwood (Sequoia sempervirens), is a fast-growing tall tree. For industrial use, it is grown in sustainable redwood forests. This material also decomposes naturally if left in a landfill.
Reduce carbon: redwood trees absorb carbon and hold it locked into their wood fiber (carbon sequestration), which reduces the carbon footprint of your build.
Physical attributes: redwood is a lightweight softwood that is easy to install.
Long life span: with a good maintenance plan and proper finishing, redwood siding will last for many decades.
Tips on hiring a siding installer
If you plan to hire a professional contractor, check references and reviews, and get quotations from more than 3 companies. Beware of bids that come in a lot higher or lower than the rest as they may not understand the scope of works. Get a written estimate and ask to see portfolio pictures.
It is best to find an installer with a proven track record of successful redwood siding installation, especially one familiar with installing the profile style that you prefer.
Finishing and Maintaining Redwood Siding
Regular maintenance on redwood siding and a finish that preserves the integrity of the wood will keep it good for 30-50 years. Transparent stains will preserve the natural aesthetic of the wood, and also protect it from mildew and sun damage. Varnishes and polyurethane coatings are not advised as they will crack and peel very quickly, ruining the appearance of the wood.
If you choose to paint redwood siding, it must be primed to prevent resins from bleeding through the paint.
To save on long-term costs, inspect your redwood siding annually to check for any areas requiring repairs – then fix those areas as soon as possible.
Simply spray your garden hose lightly on redwood siding to clean it. Hosing reduces dirt build-up, and the need for more intense cleaning regimes later on. Clean during dry weather to ensure that the wood will dry out properly before applying new finishes. For a more intense clean, buildingadvisor.com suggests using a low-pressure sprayer or sponge to apply a cleaning solution. High-pressure water can cause damage to the wood and the integrity of the installation, especially weathered wood.
Use a mild detergent if there is no staining or mildew. A bleaching agent can be applied to darker sections to blend them in. [source: https://buildingadvisor.com/how-to-clean-and-stain-weathered-redwood-siding/]
For severe cases of mildew, hiring a professional pressure washing company experienced with cleaning siding is advisable.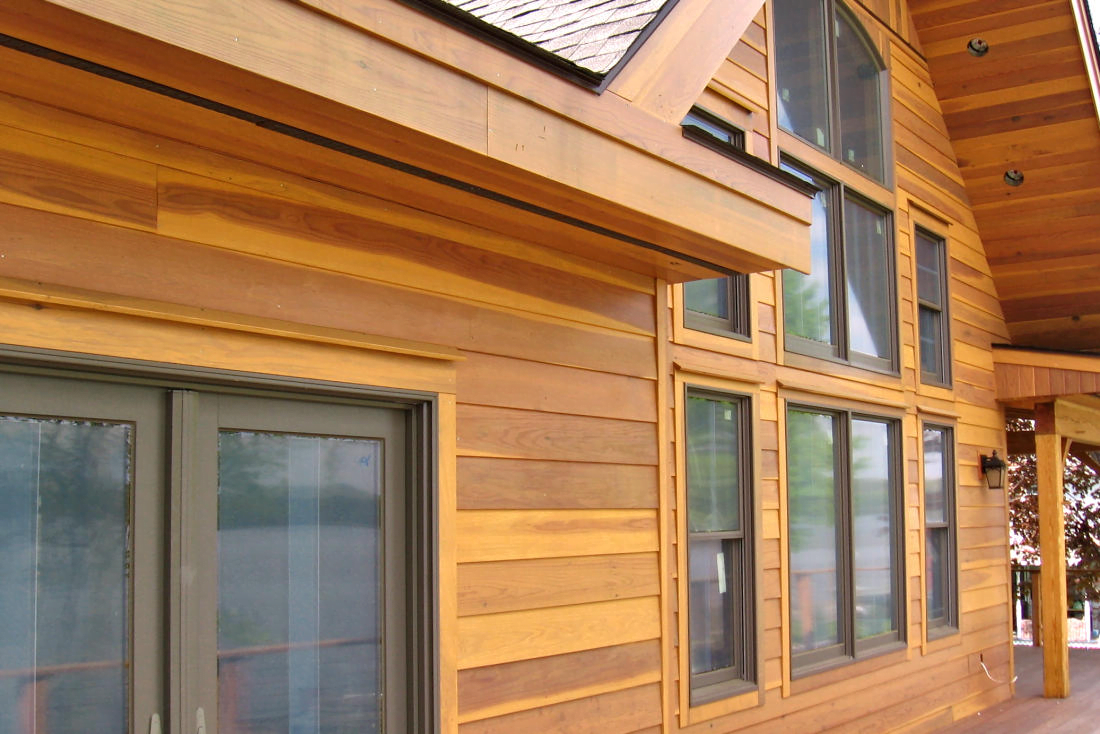 Redwood siding style types
The following information and profile images were collected from
https://www.buffalo-lumber.com/redwood-siding-pattern/ .
Redwood Dutch Lap: (Cove Lap, German Lap, and WWPA 105), this profile has a curved channel that tucks under the board above when installed. From a distance, the Dutch Lap profile gives a slight 'log cabin' impression and is a more cost-effective option than an actual log profile.

Redwood Rabbeted Bevel has a notched butt end and a saw-textured face. Also known as 'Dolly Varden', it is easier to install than the Clapboard Bevel siding option, though it gives the same appearance. Panels fit together to protect joints from water damage. This option costs slightly more than the Clapboard Bevel due to the notch cut.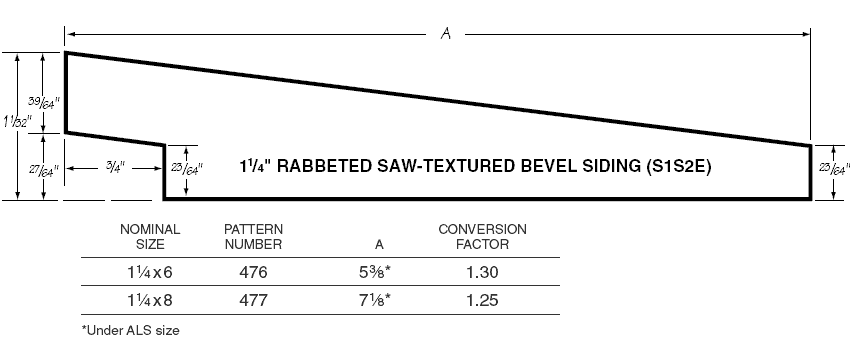 Redwood Clapboard Bevel: is a bevel siding with a triangular profile, a square butt end, and a saw-textured face. Though it costs less than the Rabbeted Bevel, it is not as easy to install, so labor costs may be higher.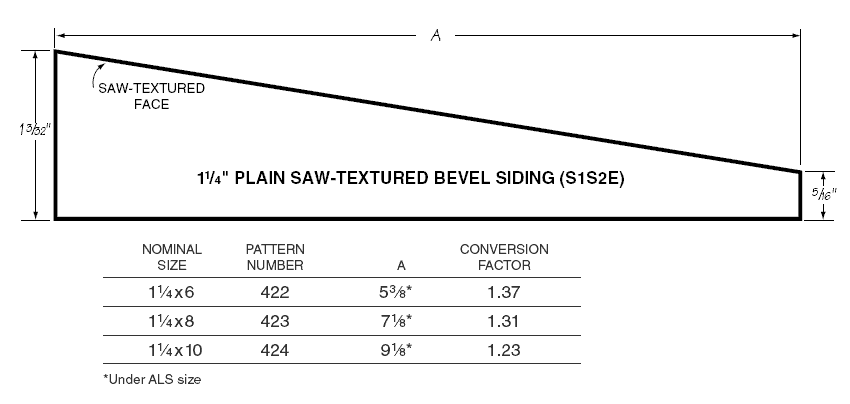 Redwood T&G: is beveled on the edges to create a 'V' indent. The depth/angle of the bevel determines the prominence of the groove on the wall. Tongue & Groove SIDING is usually graded to the rough face unless requested otherwise for a higher price (one side is rough, and the other smooth). T&G Wood Siding is a versatile option that can be installed in various ways, making it a cost-effective best seller.

Channel Lap: traditionally has a 1/2" overlap and a 1" to 1 1/4" inch "reveal". When installed, the gaps create a channel effect between siding boards. This option has a rustic, rough-hewn, textured appearance. Relatively simple to install with minimal wastage, it can be installed in a horizontal, vertical, or diagonal pattern. It is good for wet regions as the overlaps act as weather protection for the frame allowing the panels to 'breathe' when there is moisture in the atmosphere. Moisture levels should therefore have no adverse effects on the appearance of the siding.



Shadow Gap: is a type of Shiplap siding that has a shadow-line gap built into the overlaps – one side overlaps as per standard shiplap style while the other is approximately double to produce a gap.