A rustic design style is an ideal option for homeowners who are looking for ways to make their homes feel relaxing and approachable. It is also a great way to make a home stand out.
There are countless rustic siding options that are designed to give a home an organic, aged, and natural feel. What is even better is that these styles can be achieved by using common materials like vinyl, fiber cement, and steel.
Here is what you should know.
Top rustic siding options: materials
You can use different materials to create a warm, aged, natural, and organic look.
Here are the most popular material options for creating a rustic modern siding design and style.
If you want to create a rustic exterior, using wood siding is probably the easiest way to do so. This is because it has natural colors. And it can also be easily aged.
The fact that it can also accommodate an endless number of finishes and styles, and that it is eco-friendly, makes it an ideal option as far as materials are concerned.
But this doesn't mean that it is perfect.
The following are the reasons why you should definitely consider it as the material of choice.
It enhances the aesthetic appeal of a home by giving it a natural, relaxing, and warm appearance
It significantly adds value to a home
It is easy to age
It is environmentally friendly
It holds paint really well
It has a long lifespan. With proper maintenance, it can last for decades
It can be installed in countless styles to make your home stand out
Here are the shortcomings that come with using wooden materials, like wood shingles, to side a home.
It requires a lot of maintenance. It needs painting or staining every couple of years. And it also needs annual cleaning
It is not as long-lasting
It is vulnerable to termite damage and ant infestations. This is one of the main reasons why alternatives like engineered wood shingles are gaining popularity.
It is susceptible to warping, splitting, cracking, and rotting
It is not as affordable as other options like vinyl. This is both in terms of the cost of materials, installation, and maintenance.
This siding provides a realistic rustic look because it contains real wood fibers.
It is made up of a mixture of cellulose fiber, sand, and portland cement, something that makes it incredibly durable.
It has a long lifespan, holds paints pretty well, and features an incredible degree of insect, fire, and weather resistance.
The following are the reasons why it is a popular choice for those who want a rustic look.
It is a long-lasting rustic siding option that can easily last for up to over 50 years
Comes in many styles, textures, and patterns that make it easy to create a unique look
It is great at simulating the muted tones, colors, profiles, and depth of real wood siding
It is incredibly fire-resistant
It is not as susceptible to rotting or damage from hail impact
It is better at withstanding warping, splitting, and cracking than most alternatives
It is a low maintenance material
It is not easy to install
It is less environment-friendly
Susceptible to moisture damage
It still requires some maintenance attention
Aged steel already has a rustic look. Therefore, it provides an effortless option for anyone who is looking to create a natural and aged look. It has the right color. It has an aged look. And it even has the right texture.
No need for painting in order to create a rustic appearance
It is fire resistant
It has a long lifespan
It is resistant to impact
It is resistant to termite, ant, and other insect infestations
It is environmentally friendly in that it can be recycled, and it is often made from recycled materials
It is susceptible to rusting over time
It offers little in terms of improving the energy efficiency of a home
It tends to be a little bit more challenging to install
When compared to alternatives like fiber cement and vinyl, the cost of buying and installing it falls on the higher end
Steel is a durable material that is resistant to fire, insects, and mold infestation. And since it is easy to paint, you can easily create a rustic effect by painting it with earthy colors. You can also add a little texture to make for a more realistic rustic appearance and feel.
It is a siding option that isn't easily susceptible to damage
It is easy to maintain and so once you install it, you really don't have to worry about spending a lot of money and time on maintenance activities
It is fire-resistant
It is not vulnerable to insect infestations
It is not vulnerable to rot
It is relatively more expensive than other options in the market
It is not easy to install
It rusts when exposed to weather elements
It needs occasional repainting
It does not improve a home's energy efficiency
Reclaimed wood siding provides an instant rustic feel, even when used with modern designs because it is made from natural first-growth wood. Its look is incredibly unique and it comes with a tight grain profile that is incredibly beautiful.
It provides an environmentally friendly way to side a house
It creates a unique and interesting look
It creates a genuinely rustic feel and cozy look because it doesn't have to be painted or textured in order to look aged
It increases a home's value
It provides insulation, which increases a home's energy efficiency
It is incredibly long-lasting
It is perfect for cases where one wants to complete a rustic design of a home that already uses it for ceiling paneling or walls.
It is a pest magnet
It can be a little pricey
It can rot easily
It is challenging to establish legitimacy because some manufacturers misrepresent their products.
What are the best rustic siding options and ideas for modern homes?
Not all homes with a rustic design have to look the same.
You can always make your home stand out by adopting any of the following siding styles. You can even combine styles in order to create a unique look that creates a great first impression.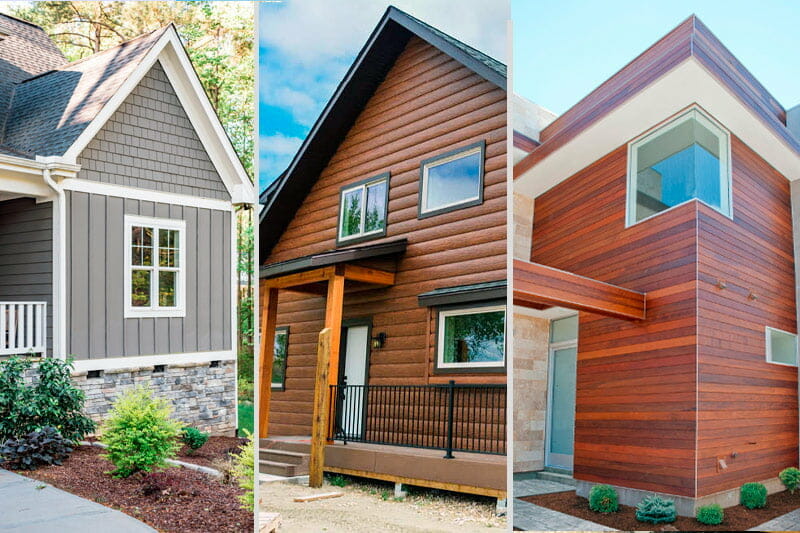 Shake siding can be used to create a natural rustic aesthetic. This is so especially given that it tends to have an uneven surface — thanks to the fact that it is usually made by hand.
However, when opting for this style, you don't have to limit yourself to wooden materials. Shakes can also be made from other materials like vinyl and fiber cement. And as far as installing the siding on your home, you have two options. You can opt for shake siding with a uniform thickness or one that has a tapered surface.
While they have a lot of similarities to shake siding, shingles tend to have a thinner end. They are also typically machine cut, hence smoother.
However, just like shake siding, it can still be made from other materials that mimic a wooden appearance. Therefore, cedar-look shingles can work just as well as actual real-wood cedar shingles.
You can also opt to create a cabin-like look by siding the exterior of your home with wooden logs or materials that mimic a wooden look and feel.
This style is perfect for homeowners who are looking for a simple and minimalist rustic style home that draws on the welcoming feel of a log cabin.
With this style, you can opt to side your home with full logs. You can also use half logs.
You can also decide to envelop your home with thin rustic overlapping siding boards that are installed horizontally.
Traditionally, these boards are made of wooden materials. However, advances in building technology have seen them made of other materials like vinyl.
You can also choose to style your rustic home by using shiplap siding. This style option involves the use of groove-cut boards that overlap at the edges. The grooves are usually enough to create a sealing effect, making for a smoother surface — because the grooves allow the boards to fit perfectly.
This installation can be made vertically or horizontally. You can also mix up both vertical and horizontal installations in order to create a unique look.
As far as styles go, it is a great alternative, and most homeowners who use it love it because it creates a tight seal while also giving the siding enough space to contract and expand.
6. Board and batten siding
Board and batten is a popular style that has wide planks that are joined by thinner vertical strips. In some cases, the vertical thinner strips are nothing but decorative.
It is an attractive style that is a favorite among fans of rustic decor — especially textured battens.
Another style option for modern homes is dutch lap. This style has been in popular use from as far back as the 1880s. Its distinguishing characteristic is a bottom notch and a concave face. The combination of these two distinct features enhances its appearance by casting a shadow over the bottom part.
As with the other styles on this list, you will have several options as far as materials are concerned. You can use vinyl or other engineered materials — like engineered wood — that have a rustic feel in order to create the perfect look for your home's exterior.
8. Tongue and groove siding
Another stylish option is the tongue and groove style. It uses boards that have grooves and ribs. When installing it, the rib or one end is usually fitted into the groove of the other to create a perfectly fitting surface.
This is a great styling option because it requires relatively fewer fasteners. Its simplicity also allows for a quicker installation process. And even when using the rustic option, it can still give a home a classy and modern look.
Note: Combining styles, colors, and materials
You don't always have to stick to traditional styles. You can combine different styles to enhance the uniqueness and beauty of your home's exterior.
For a look that is rustic, but which is at the same time modern, you can mix architectural panels with shiplap planks. You can also combine cedar-look shingles with traditional horizontal lap siding. And a combination of board and batten with fieldstone can also work.
To create a chateau-type look, you can combine natural, or engineered, wood, fiber cement lap siding, and stone.
And if you are interested in giving your home a farmhouse look, a combination of board and batten accents with lap siding is an option that can work.
However, you don't always have to limit yourself to mixing styles in order to create a beautiful and appealing look. You can achieve an interesting look by mixing colors. For example, you can get an aesthetically pleasing and interesting look even when using a pure vertical shiplap installation, if you opt for trim colors that are darker.