Shiplap siding is a popular material for most homes in the US. It effectively protects your home and keeps the elements at bay. If you plan to install shiplap siding, do not let your budget go overboard due to unexpected costs. This article will take you through everything you need to know about installing shiplap.
The average cost to install shiplap siding ranges between $3,700 and $10,500 for a 1,500 square foot project. The approximate cost per square foot ranges from $2,46 to $7.00. This price is inclusive of materials and labor.
Factors such as your location, quality of shiplap, location, the complexity of the project, home's size, and finish option may affect the project's final cost.
The table below summarizes shiplap siding costs for a 1,500 square foot home.
| Type of wood | Per sq. ft. | For 1.500 sq. ft. house |
| --- | --- | --- |
| Shiplap Board | $2.50 - $7 | $3,750 - $10,500 |
| Hardwood | $2.50 - $3.50 | $3,750 - $5,250 |
| Cedar | $2.50 - $7.00 | $3,750 - $10,500 |
| Pine | $2.75 - $3.75 | $4,000 - $5,600 |
| Materials and Labor | $3.95-$7.20 | $5,900 - $10,800 |
Cost to shiplap side a 1,500 sq. ft. home (exterior)
On average, it costs about $5,900 to $10,800 to install shiplap siding on a 1,500 square foot house. The cost may be lower or higher depending on your location, finish options, and project complexity. The price will be higher for a multi-storied home because contractors will use special tools such as scaffolding or special ladders.
Cost to shiplap side by sq. ft.
Expect to pay about $5.56 per square foot on average to install shiplap siding. The cost ranges between $3.95 and $7.20 per square foot. Usually, the average cost per square foot slightly decreases as the project size increases. So, bigger projects may get a better average price than smaller projects.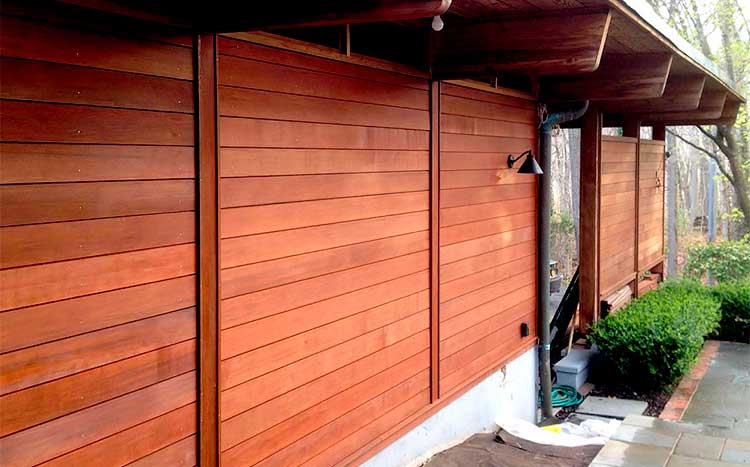 Cost considerations when installing shiplap siding
The total cost to install shiplap depends on the following cost considerations.
1. Shiplap wood grade
The type of wood grade you choose for your siding matters a lot. For instance, lower wood grades are cheaper to buy and install, so the total cost will be lower. On the flip side, higher wood grades tend to be costlier, so the overall installation cost will be higher.
If you want a more appealing look and finish, higher-quality wood will be a better choice because they have fewer blemishes. Cedar, redwood, pine, and plywood shiplap come at different qualities and prices. Select the wood type and grade that suits your preference and budget.
2. Your location
If you live in an area where cedar, pine, or redwood trees are grown extensively, you will likely get shiplap at a relatively lower cost. This is because the material is readily available and transportation cost is considerably reduced.
However, shiplap material will be costlier in areas with a scarcity of the wood. So, location matters a lot when pricing shiplap siding installation.
3. House footprint
The size of a home also influences the overall shiplap siding installation cost. A smaller project will be cheaper than a larger project. However, the average cost per square foot for a larger project will be lower than for a smaller project. It is crucial to take proper measurements to get the correct estimates for the project.
4. Labor
Labor cost is typically the most expensive part of any project. It takes almost 70% of the overall project cost. So, if you intend to hire professionals for the installation, ensure you have enough cash to cover labor costs. You can DIY the project to eliminate labor costs, but you may end up damaging the boards or harming yourself.
5. Your budget
Installing siding is a costly project that needs a lot of planning. You need to get several quotes to compare prices and determine your budget. If you are low on cash, you can opt for cheaper shiplap boards such as pine. You can also install the siding yourself to cut on the total cost.
6. Shiplap durability
Shiplap siding durability depends on the quality of the wood. Durable wood will be more expensive than low-quality wood. You may opt for low-quality wood to save some money if your budget is tight. However, durable installations are cost-effective in the long run because the wood will be less prone to damages.
7. Ease of installation
Mostly, contractors price the project depending on its ease of installation. A home with straight corners will be cheaper to install a shiplap than one with a complex design. More so, multi-storied homes may cost more to install shiplap because contractors will need scaffolding or special ladders.
Types of wood used & costs
The cost of shiplap depends on the type of wood. Below are the common types of wood used for shiplap installations.
1. Hardwood
Hardwood shiplap is the most common material used for interior and exterior installations. It is easily accessible for homeowners interested in replacing their home's siding or for building new homes. Hardwood shiplap costs between $0.80 and $4 per square foot. The price depends on the hardwood type and manufacturer.
2. Cedar
Cedar shiplap is also a very common material for interior walls and siding installations. An average board costs about $2.50 to $5.00 per square foot. If you want high-quality cedar, you can get it at about $4.00 to $7.00 per square foot. The price can be influenced by your location and manufacturer.
3. Pine
Pine shiplap is a cheaper option compared to hardwood and cedar. You can buy medium-quality boards at approximately $2.50 to $4.00 per square foot. The material comes in 100 square foot bundles costing between $275 and $375 each. If you are looking for a standard material for siding and interior walls, pine is an excellent choice.
Cost to shiplap side a 10 x 12 room (interior)
Installing shiplap on a 10 x 12 room costs about $500 to $1,000. The cost may, however, vary depending on the wood type and grade. Also, if the room has an intricate design, the installation cost may be higher.
Installing a shiplap on a larger space may be cheaper than a smaller one. This is because most contractors offer better per-square rates for bigger projects.
Shiplap vs. other materials for interior
| Material | Quantity | Price Range |
| --- | --- | --- |
| Shiplap | 10x12 room | $500 - $1,000 |
| Drywall | 10x12 room | $200 - $400 |
| Sheetrock | 10x12 room | $250 - $450 |
If you can't seem to decide whether to install shiplap, drywall, or sheetrock for your interior walls, comparing their prices may help you decide.
Shiplap is a trendy material these days and will cost more than drywall. It can be used for both interior and exterior installations. The average price to install this material ranges between $3.95 and $7.20 per square foot. Installing it on a 10 x 12 room may cost about $500 to $1,000. The wood grade, quality, and type you choose dictate the final cost. If you want a budget-friendly or cheaper option, pine and plywood shiplap are excellent choices.
Drywall is one of the most common materials for interior walls. It comes in different types, thicknesses, and sizes used for various rooms. The average installation cost is about $1 to $3 per square foot. For a 10 x 12 room, expect to pay about $200 to $400 for the installations.
Sheetrock is a drywall brand engineered and marketed only by the USG. It is similar to sheetrock and can be used interchangeably. The panels are, however, thicker due to the additional fire-resistant coating. The cost to install sheetrock is almost similar to drywall. So, installing it in a 10 x 12 room may cost between $250 and $450.
Where can you use shiplap siding in your home?
Shiplap is suitable for both interior and exterior installations. Below are the places shiplap can be used in your home.
1. Living rooms
If you are tired of plain walls in your living room, shiplap can be an excellent way to revamp it. Get your perfect dream home by adding diversity to your living room with shiplap. The right combination of colors will complete the look.
2. Dining Rooms
Shiplap dining room creates a focal point on the walls. It makes the room look larger and the ceiling higher. For a more rustic look, you can leave the panels raw.
3. Bedrooms
If you are looking to add character to your bedroom, you can create a statement wall using shiplap material. Shiplap adds texture, color, and accent to your room. It can also design a luxurious bedside table and headboard.
4. Laundry rooms
Your laundry room also needs a retouch with shiplap because it is one of the frequently used places in the home. Painting the room white makes the room look clean and open.
5. Bathrooms
Shiplap is also an excellent material for bathrooms. You can break up the monotony in the small space by designing half walls. With a bold splash of color, your bathroom can be your favorite space in the house.
6. Ceilings
Are you looking for elegance and diversity? Paneling your ceiling is the best way to diversify your room. The lines and shapes on your ceiling will bring about a natural and unique feel to the room.
7. Exterior siding
Shiplap is also an excellent choice for exterior walls. While you can use inexpensive shiplap for your interior walls, it is advisable to use durable and high-quality wood for your exterior. Shiplap will protect your home from the elements and increase the home's curb appeal.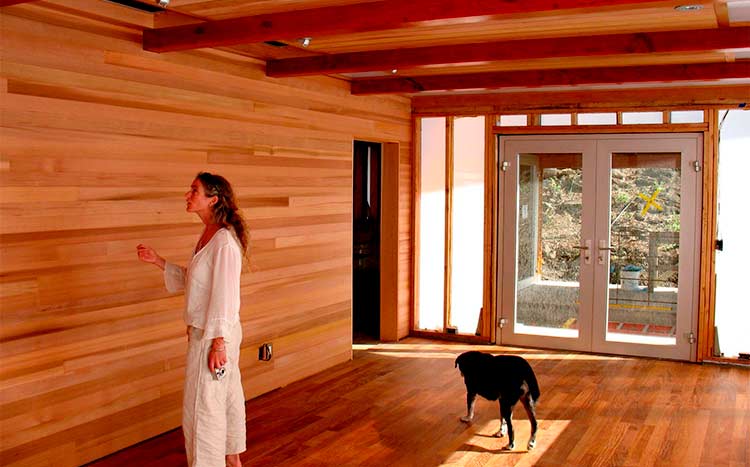 Advantages and disadvantages of shiplap siding
Shiplap siding has its strengths and weaknesses, just like any material. Some of the advantages and disadvantages of the material are as follows:
| Pros | Cons |
| --- | --- |
| It is easy to install | Difficult to repair when it gets damages |
| It is resistant to weather elements | It is costlier than drywall and sheetrock |
| It is beautiful and appealing | The grooves attract dust, making it difficult to clean |
| Shiplap is very versatile | The boards can warp or lift if not installed properly |
Shiplap VS Tongue and Groove
Shiplap has many similarities to Tongue and Groove Siding. However, shiplap connects the boards using rabbeted edges. It is also cheaper and easier to install. On the other hand, Tongue and Groove planks connect by cutting and interlocking the edges. It offers better protection against elements, and installing it costs about $2.00 to $3.50 per square foot.
Both shiplap and clapboard excellently protect your home from harsh weather elements. Clapboard siding is characterized by thin overlapping boards or wood planks. It is common in many older homes and creates an appealing rustic feel. Also, clapboard is cheaper to install and gives the house a more textured surface. Installing a clapboard can set you back by about $1.90 to $3.00 per square foot.
DIY or hire a professional
Most homeowners prefer DIYing their projects to cut labor costs. However, when it comes to wood siding installation, it is best to hire professionals. The shiplap siding should be aligned appropriately to protect your home from weather elements. So, the boards should be measured and cut properly to make sure they fit perfectly. Shiplap for interior walls should also be aligned correctly to protect your house and make it look appealing.
Professional shiplap installation is therefore recommended to keep your home and family safe. Besides, professionals can check your home's insulation and foundation before installing a shiplap. Their expertise and experience ensure the integrity of the house is untouched. When properly installed, shiplap makes your home look beautiful and appealing. It also adds its curb appeal, which adds the home's value.
If you wish to save some money, you can prep the worksite and do the clean-up when the installation is complete. Even if you have the skills to install shiplap yourself, you may risk harming yourself or damaging the material. This will only lead to more unwanted costs.