Small improvements to your home can work magic on its curb appeal and market value. New windows and siding will have the biggest impact and have proven to drive a home's value and marketability by over 60%.
Replacing siding will have a bigger impact on your house's curb appeal than replacing windows, especially if you are looking for a buyer. However, it's recommended- if you can afford it- to replace the windows and siding at the same time. This will save you a lot of money and effort as changing one of them at a later date may require that you remove parts of the other.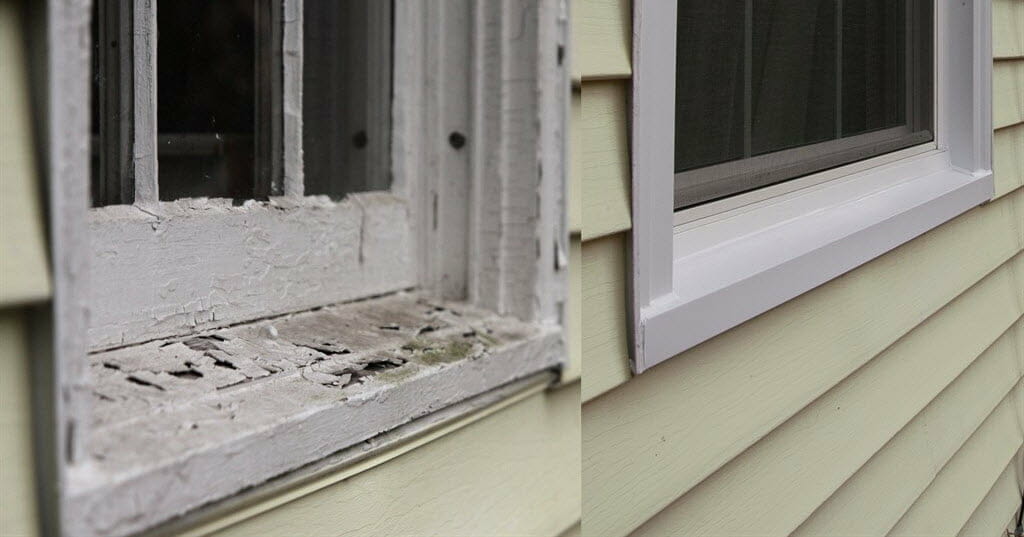 In most cases, you will find that the contractor has to remove some parts of your siding to place the new windows properly or the other way around. This can be cumbersome and probably cost a bit more as some siding materials, e.g. stucco, tend to break and will need to be replaced. Based on the way most windows and siding are installed, it would be impractical and possibly destructive to try and install an entire window without messing with the siding as installed.
Of course, you can still go over the design of your home's exterior with a professional and see if it is possible to lift the windows from their frame or casement without damaging the siding. It may also come down to the type of siding you have on your house and how it was installed. For instance, it's easier to remove an independent section of metallic siding (steel or aluminum) and put them back and harder to do the same with cement fiber, vinyl, or even wood.
Why Replacing Windows and Siding at The Same Time Is A Good Idea
Most homeowners prefer to replace their siding and windows at the same time for various reasons, the most common ones being the convenience and lower costs. It is generally more convenient to work on both external components because you won't have to worry about working around either of them or having to purchase piecemeal/partial components to cater for minor replacement damages.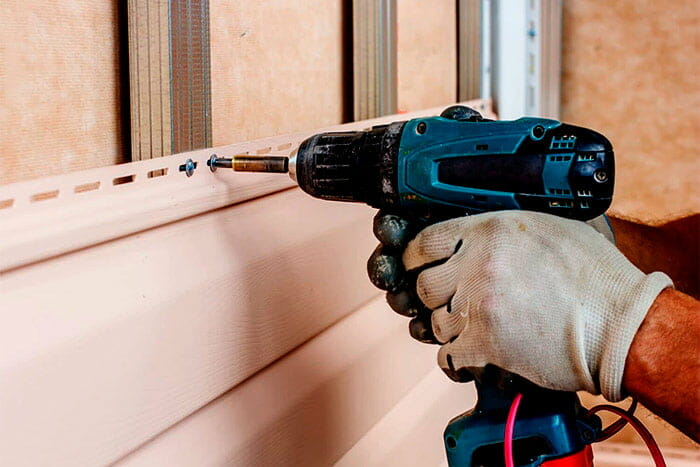 Here are two more reasons why you should schedule both window replacement and siding replacement at the same time:
You will not only get a good discount on the materials and labor costs for the bulk order but the contractor will spend fewer work hours working on your house. Most home improvement companies charge by the hour and having them work on both components at the same time will save you some money as opposed to calling them on separate days. At the same time, you won't have to worry about removing parts of your siding and having to do partial replacements after the windows have been fixed.
Better Exterior Aesthetics
Unless you have relatively new windows or recently replaced or installed new siding, adding either of them while the other is beaten and old may not give you what you need. Windows and siding tend to complement each other in terms of improving your house's exterior appeal so it may be a good idea to have both worked on and matching. Viewers will be quick to notice the stark difference in both components if either of them looks old or beaten.
While still on the curb appeal, there is a big chance that you will be looking at upgrading either of the components to modern ones. For instance, you would want to go for modern metallic alloys such as aluminum for your siding but still have vintage windows that may not go well with the modernized exterior look.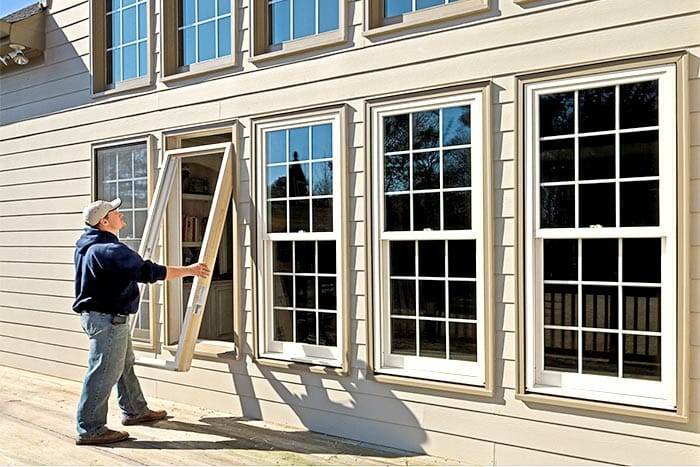 Will New Windows and Siding Increase Home Value?
Short answer? A definite yes, replacing or upgrading windows has been proven to have a dramatic effect on a house's exterior curb appeal and hence value. In fact, installing windows is one of the biggest tricks house flippers and realtors use to get a good price without spending too much money on renovations.
When it comes to houses- the exterior plays an important role in its overall appeal and marketability as people tend to judge a house based on their first impression before they get a chance to get a detailed tour. For an even better effect, consider upgrading your windows to modern ones or overhauling the entire exterior as a priority if you want to improve the market value and sell the house quickly.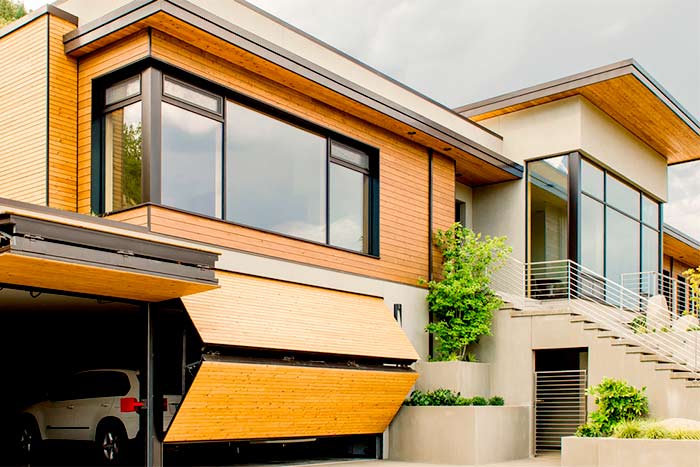 How Much Does It Cost to Side A House?
The amount you will spend to side a house depends on its exterior size (surface area) and type of siding.
The average cost to side a typical house is $10,000 but could be as low as $1500. Siding costs vary depending on the type of siding material you choose. If you are on a shoestring budget but still want to improve your home's exterior, then try and find good quality vinyl material of your desired style and color. Vinyl is not only the cheapest siding available in North America but also the most versatile.
If, on the other hand, you want to do a major upgrade and have a sizable budget, then you should go for more premium siding materials like fiber cement, steel, natural stone, or even stucco. However, you should also use the correct siding material that is suitable for your location and needs. For instance, it wouldn't be a good idea to install expensive metallic or stucco siding if you live in a wet and humid location or if the rest of the houses in your neighborhood are using wood or some other locally available siding materials.
The table below shows how much you could spend on average to side a typical home for different siding materials. The total cost is calculated based on an average exterior surface area of 2,000 square feet. Be sure to find a professional to assist you when it comes to measuring your house's total exterior size for a more accurate estimate.
| Material | Low | High |
| --- | --- | --- |
| Vinyl | $1.44 | $2.93 |
| Aluminum | $2.00 | $5.00 |
| Fiber Cement | $5.00 | $13.50 |
| Hardie Board | $2.50 | $5.00 |
| Hardiplank Lap | $1.80 | $6.00 |
| Hardiepanel Vertical | $3.95 | $5.40 |
| James Hardie Siding | $9.00 | $11.00 |
Siding A House Increase Home Value?
There is no doubt that installing new siding will significantly impact your home value. According to realtor.com and a recent report by the National Association of the Remodeling Industry, installing new siding ranks second and has an 80% ROI as a home remodeling option. Of course, the type of siding you choose also plays a key part in the amount of value you can add to your home. For instance, you will have a bigger ROI if you upgrade to modern engineered wood or stone siding from older siding materials such as painted aluminum.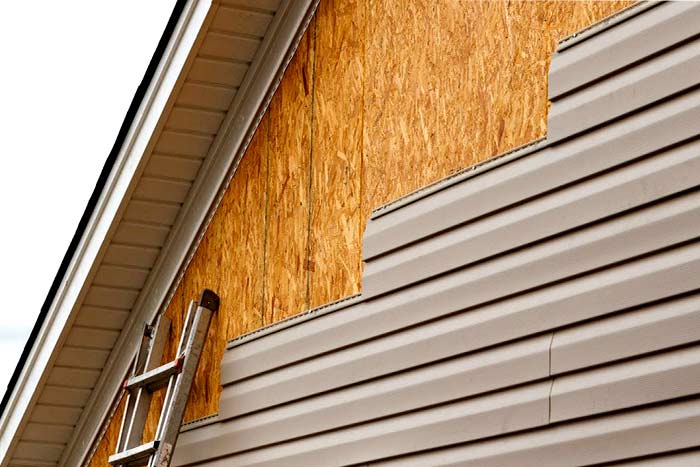 Is New Siding A Good Investment?
New siding is a good investment given the impact it has on your home's value and overall curb appeal, insulation, and protection from the elements. Remember you are not just installing the new siding for aesthetics alone as siding has more benefits. Generally, you are supposed to replace siding every few decades but you can change it at any time depending on your needs and especially if you are looking to sell.
Can You Side Over Old Siding?
It is not advisable to side over old siding if you can avoid it as it makes the job harder and will probably cost more. However, it's common practice to install new vinyl siding over old wood clapboard siding as a reinforcement and to improve the exterior of your house. The old siding can also be used as a substrate in some cases. However, proper preparation should be done on the old siding to ensure existing issues such as cracks, mold, and dents are not covered by the new siding.
What Will Increase A Home Value More, New Windows or Siding?
New siding has a bigger impact on your home's value because it covers a larger surface area and has more functions. As compared to windows, new siding has an estimated 80% ROI while installing new windows has an estimated 50% ROI. Of course, all this also depends on the type of siding or windows installed and the previous state of the home.