Steel siding is growning in popularity in recent years because of it´s low cost, ease of maintenance and durability.
Expect to pay an average of $6 per square foot for steel siding. This translates to a total average cost of about $8,900 for a 1,500 square foot house. Corrugated steel siding ranges in price from $5 to $8 per square foot while insulated steel siding will cost you $7 per square foot on average.
These costs vary based on type and style.
Steel Siding Average Labor Cost
Labor can sometimes cost up to twice as much as materials when it comes to steel siding. You will pay between $3 and $8 per square foot on labor for steel siding installation. This translates to an average labor cost of $8,250 out of a total average installation cost of $17,250 for a 1,500 square foot house.
These costs can however vary depending on a number of factors which include the size and type of the structure, project complexity, range of equipment needed, location and transportation distance.
Steel Siding Cost by Type
| Type of Siding | Low | High |
| --- | --- | --- |
| Corrugated Steel Siding | $7 | $12 |
| Insulated Steel Siding | $6 | $7 |
Commercial structures and outbuildings are extremely popular for having corrugated steel siding exteriors. This kind of siding normally comes in sheets which are thicker than those of other types of steel siding. It is therefore stronger and lasts longer. Its beautiful wavy panels also make it suitable for residential applications.
Corrugated steel siding is mostly used in commercial applications because its panels are designed to hide the flaws that result from natural structural damage over time. It is however not as common as other steel siding alternatives which makes it limited in options. Expect to pay between $7 and $12 per square foot on average to install this type of siding.
If you are looking for a cost-effective and energy efficient siding material, insulated steel siding is a perfect option for you. This is because its panels are designed to serve as both an attractive exterior and a source of heat for your home. These qualities have made this type of siding grow in popularity despite being new to the market.
You will pay an average of $6.5 per square foot to purchase insulated steel siding for your home. You can either get pre-insulated steel panels or recessed panels that can be stuffed with insulation.
Steel Siding Cost by Style
| Siding style | Low | High |
| --- | --- | --- |
| Standing Seam Steel Siding | $10 | $16 |
| Board and Batten Steel Siding | $4 | $8 |
| Box Rib Steel Siding | $4 | $11 |
| Flat Steel Siding | $7 | $16 |
| All Purpose Steel Siding | $7 | $16 |
| Log-look Steel Siding | $5 | $8 |
Standing Seam Steel Siding
Standing seam steel panels are just as expensive in siding as they are in roofing applications. Materials for standing seam steel siding will cost you between $3 to $5 per square foot. The total installation cost inclusive of labor for this type of siding ranges from $10 to $16 per square foot.
This is generally more expensive than other steel siding panel alternatives. The extra costs of standing seam steel siding are attributed to its high quality PVDF painting technique and its hidden fastening system. Both of these features make it superior to other types of steel siding in combating weathering.
This siding technique is quite popular in residential applications because of its neat clean lines that create a beautiful and modern exterior look. It is also available in a variety of styles that can meet any homeowner's design preferences.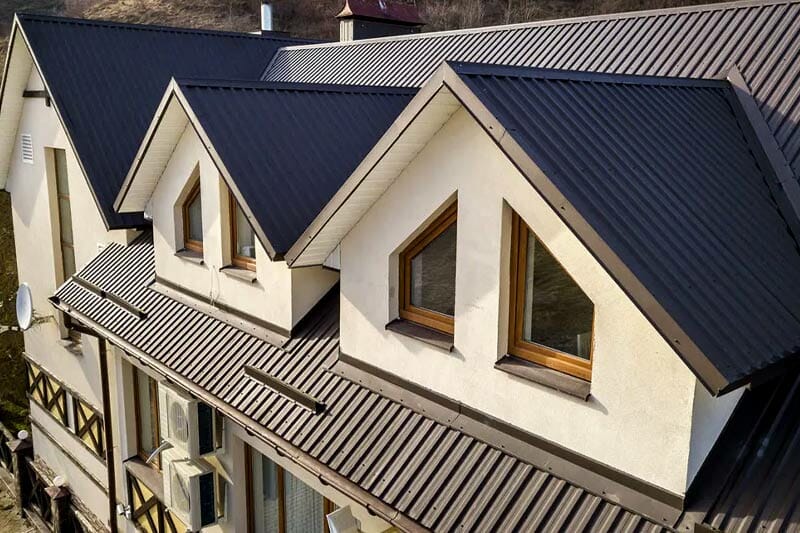 Board and Batten Steel Siding
Steel batten siding has a more conventional appearance than other siding styles. This is because of its concealed fasteners that give it a clean and continuous rustic look. You can therefore go for it if you prefer a classic exterior appearance on your house.
You can also use it in contemporary settings because of its bold and distinctive rib designs. Expect to pay an average of $6 per square foot to install steel board and batten siding on your house.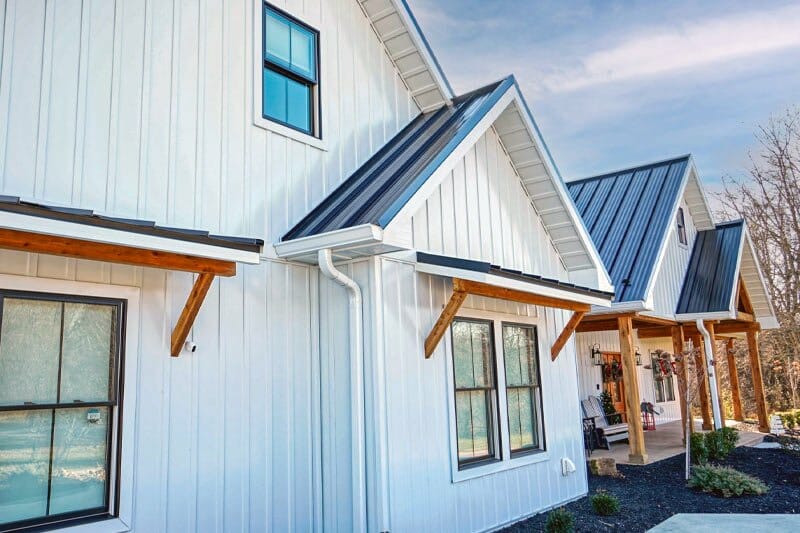 Box rib steel siding is made up of steel panels with exposed fasteners and a recurring box-shaped rib. Apart from siding, you can also apply these panels on roofing, fencing and decking. When applied in siding, the sharp edges formed by the recurring box-shaped ribs give you strong and visually attractive bold lines.
Most box rib steel panels have 1.5-inch high ribs. The distance from one rib to another is normally 7.2 inches. It is this height and depth along with their exposed fasteners that makes them extremely strong and easy to install. Based on the panel gauge and your preferred paint system, expect to pay $2 per square foot on average to buy for box rib steel panels.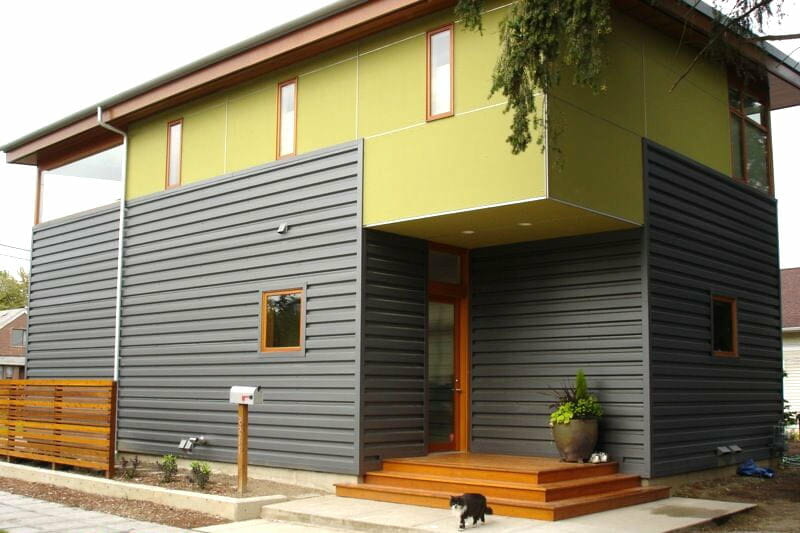 The smooth modern appearance of flat metal siding panels can give your home a very aesthetically pleasing exterior appearance. When expertly applied, these panels usually create very crisp and clear lines that are great for a unique contemporary look.
You can customize flat steel siding panels using v-groove shiplap and custom flat alternatives to achieve a variety of styles. You will pay an average of $11.5 per square foot to install flat steel siding on your house.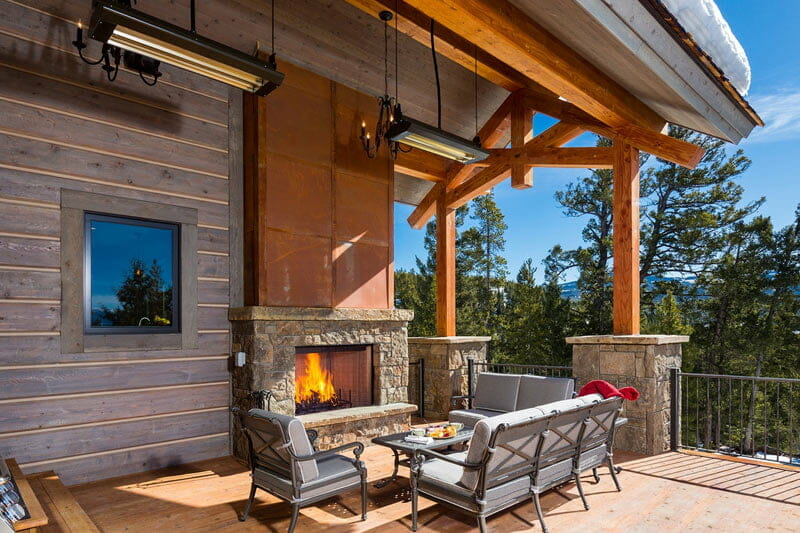 If you are a DIY siding installer, all-purpose steel siding is a great option for your home's exterior. This is because its panels are extremely easy to install. They are also built to withstand extreme weather conditions for a very long time. You can also tailor all-purpose steel siding panels to suit your home's design because they come in a variety of styles.
Expect to pay an average of $11.5 per square foot to professionally install all-purpose metal siding on your house. If you are a DIY contractor, you will only pay an average of $6 per square foot to purchase the materials.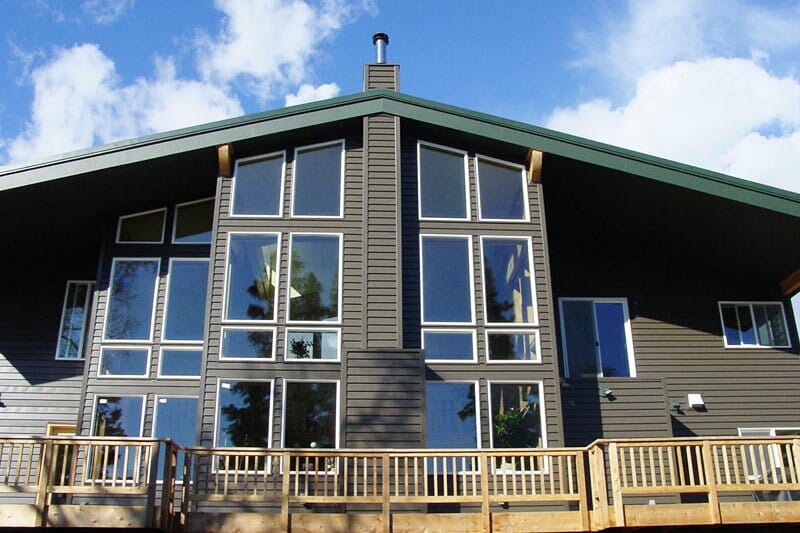 If you want the look of real log siding on your home's exterior without incurring its expensive expenses, log-look steel siding is just what you need. This type of siding is easier and cheaper to install and maintain than real log siding made from wood.
It is even available in energy-efficient insulated panels that provide beautiful aesthetics while saving you from costly energy bills. Professionally installing log-look steel siding will cost you between $5 and $8 per square foot.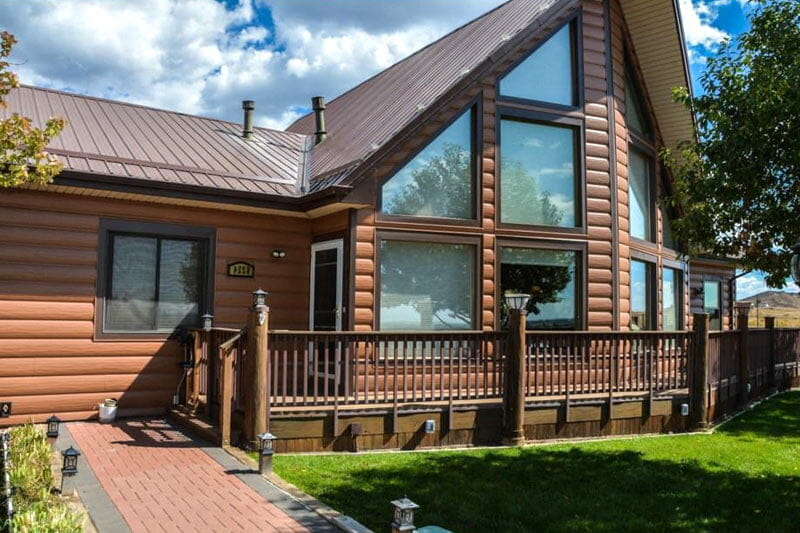 Horizontal vs Vertical Steel Siding Cost
You will pay the same in labor for installing both horizontal and vertical steel siding. There is however a difference in overall costs that will arise depending on your preferred installation design. Interlocking panels with hidden fasteners will therefore cost more panels that require nailing down because they offer a better aesthetic value.
Horizontal steel siding is mostly used when dealing with concealed fastener panels. Such panels are usually joined to the substructure using hidden clips and fasteners. This gives them a clearer and more refined look. Applying horizontal installation on your concealed fastener panels can therefore add to their visual appeal.
Vertical steel siding is quite common when installing exposed fastener panels on structures where visual appeal is not a priority. You may therefore want to consider vertical steel siding if you want to side your barn with a technique that is easier to clean and maintain than horizontal siding.
Steel Siding Cost by Gauge
| Gauge | Average Material Cost Per Square Foot |
| --- | --- |
| 22 | $2.00 |
| 24 | $2.25 |
| 26 | $3.25 |
| 28 | $4.50 |
Steel siding can be modified into a variety of gauges. It is however mostly available in 22 to 28-gauge panels. The gauge is simply the thickness or thinness of a panel. The thinner the panel, the higher the gauge. Steel panels with lower gauges are therefore more expensive and durable than those with higher gauges.
Although 26-gauge steel panels are recommended for residential siding, they cannot be applied in every situation. Thinner 22 and 24-gauge panels are the best option for environments that are frequently exposed to harsh elements such as hurricanes, high winds, storms and heavy snow.
Galvanized Steel Siding Cost
Galvanized steel siding panels are normally not painted. Instead, they are covered with a zinc finish to keep them from corroding. This makes them extremely bright and dazzling. These panels are quite common in commercial and agricultural settings.
Their prices usually differ depending on the panel gauge. Expect to pay an average $1.75 per square foot for 26-gauge panels and an average $2.75 per square foot for 24-gauge panels.
Additional Cost Factors of Steel Siding
It is professionally advisable for you to remove your existing siding instead of covering it with new siding. This will help you in finding out if there are any issues underneath your old siding that you need to fix before installing your new steel siding. You will pay a professional $0.5 per square foot or $750 on average to remove siding on a 1,500 square foot house.
Although steel siding is generally very easy to maintain, it is quite vulnerable to scratches. You should therefore paint your steel siding panels immediately after they experience scratches especially if they are not galvanized. This will prevent them from corrosion through rusting. Annual pressure washing is also recommended.
Expect to pay a professional $1.5 per square foot on average to paint your steel siding with acrylic exterior paint. This translates to $2,250 for a standard 1,500 square foot house. Yearly pressure washing will cost you $275 on average.
Buildings larger than a shed normally have additional construction regulations. You should therefore consult your local zoning authority to find out if you require any special permits to replace your siding. You should also find out if your neighborhood has any restrictions on aesthetically used building materials.
Soffits and gutters are generally thought to be roofing components. Siding installation may however reveal serious problems affecting them. If these problems are not addressed, they can negatively affect your siding. Expect to pay $14 per linear foot on average to install steel soffits and $18 per linear foot on average to install steel gutters.
DIY vs Professional Steel Siding
Without expert knowledge and skill, steel siding can be extremely difficult to install. Hiring professional siding installers is therefore recommended if you want to obtain optimum results and prevent costly DIY mistakes.
https://homegardenguides.com/siding/ is a great tool that quickly matches you with the best siding specialists in your locality. You can get three estimates from local siding professionals in a matter of two minutes. Kindly follow the steps below to enjoy this great service:
Scroll to the top of the page and enter your zip code
Answer questions about your siding job
Your siding details are forwarded to three local experts who will send you a price estimate for your job with some friendly advice.
With proper maintenance, steel siding can last up to 50 years. This is because it is strong enough to withstand the effects of direct force like dents, bumps and cracks unlike other siding materials.
Traditional steel siding used to produce an indoor echo when in contact with heavy rain and hailstones. Modern steel siding is however well insulated and only produces as much sound as other siding materials in the same climatic conditions.