When looking to beautify your home's concrete walls and foundation, stucco is one of the best materials you can consider. It not only improves the wall's aesthetics but also improves its fire resistance and is a low-maintenance option.
Nevertheless, applying stucco over concrete isn't a finish you'll see every day. This is because the process is much harder compared to other materials. But this shouldn't be a reason for you to give up on your project.
Here's a step-by-step guide to applying stucco over concrete and some tips and tricks on how to do it right.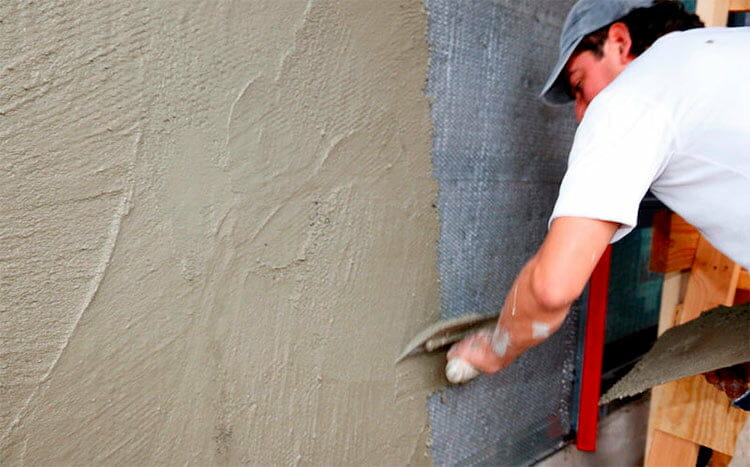 Yes! Unlike wooden surfaces, stucco can easily and directly stick on concrete surfaces including your walls and foundation. You'll, however, need to ensure that the surface is washed and dry, and has no structural integrity issues.
Stucco can also be applied directly on a metal lath that's attached to a frame or concrete construction. In both cases, it sticks comfortably and forms a very thick and tough coating.
How to apply Stucco over concrete step by step
Before beginning this remodeling project, it's important to note that this isn't the ideal DIY project for beginners. Working with stucco and concrete requires a big deal of skill as well as some plastering experience.
If you do it wrong, your walls and foundation will be more susceptible to cracking and chipping. The stucco may also start falling off. Therefore, always hire a professional when you don't know what you're doing.
Important: Some local governments require homeowners to obtain building permits before starting this project. To be safe, consult your local planning department to confirm their regulations regarding such a renovation.
All things considered, if you still insist on doing the job yourself, here are the crucial steps you should know.
Protective gear (Face mask, gloves, Goggle, etc.,)
Power washer
Hammer
Type I Portland cement
Clean medium-grain sand
Galvanized or masonry nails
Nail gun
Masonry cement
Wooden or long metal
straightedge
Lime
Wood lath or plywood
Common mason's trowel
Pointed mason's trowel
Stucco spray (Optional)
Adhesive agent (Optional)
Generally, most stucco over concrete jobs require 2 – 3 coats of stucco depending on the condition of the wall and the area's climate. In the stucco businesses, these coats are commonly known as;
Scratch coat – base layer and first to be applied
Brown coat – middle layer
Finish coat – Colored top layer and last to be applied
For foundation and wall surfaces in good condition (don't require a lath), 2 coats, scratch and brown, are usually enough. But for surfaces that require a metal lath, you'll have to mix and apply the three coats.
Step 1: Prepare the surface
When working with stucco, prep work is the most important part of the job. You need to first inspect your walls and foundation looking for any cracks or holes. Any imperfection noted should be immediately repaired.
Next, ensure that the surface is free of dust, dirt, mold, and other debris by washing it. If these are left unaddressed, they'll make it harder for the stucco to stick with the concrete.
The power washer removes all the contaminants and ensures the surface is cleaned evenly. If you don't have too much foundation space, you can scrub using a cleaner and brush.
In cases where the surface is covered with a sealer or paint, or it's just too soft for stucco, power washing may not work.
You'll have to try any of the following;
Sandblasting (most common option)
Using an adhesive agent (but not over water-soluble paints)
Acid etching
Step 2: Mix and apply the Scratch coat
Start with one part premixed cement (with lime) and mix it with ¾ parts water, and ½ part sand. Keep mixing these ingredients for around 5 minutes and add more water to achieve your desired consistency.
However, avoid adding too much water as it will result in high porosity, excess shrinkage, dropouts, high porosity, and lower strength.
Application
Spread your mixed coat evenly on the surface in ¼ inch thick layer. If there's a metal lath, exert enough pressure to allow the mix to squeeze through it. Ensure that only a small portion of the lath (10%) is left exposed.
Next, mark your wall or foundation with horizontal lines then cross rake(scratch) the layer once it hardens to facilitate proper mechanical bonding with the brown coat.
Note: For etched surfaces, you'll have to hit this base coat with a gunner to release air and hence creates more resistant adhesion.
Additionally, if you choose to combine this coat with the brown coat to form one base layer, ensure you use a total thickness of around ⅜ inches of concrete (Portland cement) and ½ inch masonry cement.
Step 3: Moisturize the surface
Once the scratch layer is dry, moisturize (cure) the surface with water before applying the brown coat. For better coverage and to save time, use a sprayer.
Doing this will help improve the adhesion of your wall or foundation, ensuring that the base coat doesn't absorb all the surface water then dries up prematurely.
Rules for curing or moisturizing coats
The need for curing will be determined by your location's climate. Ideally, in high-humidity areas (70%+ relative humidity), very little curing will be required. But in hot, dry, and windy areas, curing is direly needed.
If you're anticipating cold temperatures or strong winds in the coming weeks, delay the work. These conditions will affect the drying process.
Only the base coat should be cured.
Always cover the cured (moisturized surfaces) if you're in a hot or windy climate.
Step 4: Mix and apply the brown coat
For the brown coat, mix the cement, sand, and water in a 1:4:5 ratio respectively. You can also add a split to soften the mixture and make it more compact.
The overall thickness of this coat should be an ⅛ inch for 2-coat processes and around ⅜ inches for 3-coat work.
Application
When applying this coat, don't wait for the scratch coat to completely dry. Thanks to modern cement, you can apply it as soon as the base coat is rigid enough to withstand cracking. This is usually after 4 – 5 hours.
Doing this reduces the loss of moisture and improves the adhesion between the brown and scratch coats. However, avoid trowelling this coat too much, you'll break its bond with the substrate.
Finally, use your straightedge to soften and level the brown coat surface and ensure that it's around ¼ inches thick. You can also choose to float the coat using a Darby to give it a uniform rough texture.
Note: If you choose to float this layer, ensure that it's done before the stucco gets too rigid, but after it has lost all its water sheen.
Step 5: Maintain the moisture of the brown coat
As the brown coat dries, you need to preserve its moisture or humidity for around 36 – 48 hours. During this period, moisturize the coat regularly (using water spray) to ensure it doesn't lose its water prematurely.
How often you water your wall or foundation will depend on the humidity in your area. If the humidity is lower than 70% you should moisturize the surface at least twice every day.
Moreover, you'll have to leave the stucco to dry for between 7 – 21 days before applying another coat or painting. This helps improve the stucco's resistance against cracking.
Step 6: Mix and apply the finish coat
The finish coat, cement, sand, and water should be mixed in a 1:3:4 ratio respectively. If you want some color, you can add a pigment to the mix, otherwise, it'll be white. Next, soften the mixture into an ⅛ of an inch thick for the three-coat job.
Application
Apply this coat onto the entire wall or foundation surface without interruptions, joints, or laps. Be keen not to leave any marks or drips on this coat since it's the layer that'll be seen by your guests (if you don't intend to paint).
Finally, let the coat dry completely.
Professional tricks for applying stucco over concrete
For a beginning DIY enthusiast, the entire process of applying stucco over concrete can be hectic. Moreover, you're more likely to make several careless mistakes that a professional could easily avoid.
Here are some of the easiest yet useful tips that could drastically improve your results:
The top-down technique simply means starting at the top of your wall then applying your stucco coats downwards.
All contractors and experienced DIYers use this technique when applying stucco coats as well as painting to avoid leaving drips on areas they've already covered.
Don't retemper finished coats or base coat twice
Your mixed stucco can harden quickly due to water evaporation. When this happens, you're allowed to remix it with water and use it. This is called retempering.
However, you can only retemper once. If the coat dries the second time, discard it. In fact, most experts recommend that you discard any stucco that isn't used in 2.5 hours.
Don't apply stucco to a frozen base
After setting the scratch coat, don't apply the second coat if this base coat is frozen or has frost over it. By the same token, don't mix any stucco coat using an ingredient that's frozen.
Start with the hidden rooms
Finally, if you're applying stucco on the walls of multiple rooms, always start with those hidden rooms. If you're working on the foundation, start with the side that's not facing the street.
This way, you'll be able to practice and improve the skill the more you apply stucco. By the time you reach those visible areas, you'll be able to complete a great job.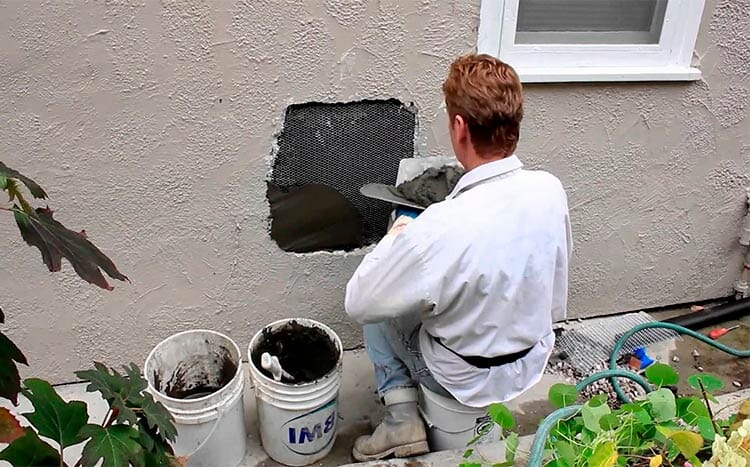 Can you stucco over painted concrete?
Naturally, no. Since most paints in the market today are water-resistant, they make it harder for the stucco to bond with the concrete surface. 
For you to apply stucco on such a surface, you may have to first sandblast the painted surface or apply an adhesive (bonding) agent all across the concrete surface. 
Tips for choosing a stucco contractor
Based on how tough and complicated applying stucco over concrete can be, it's no surprise why most homeowners opt to hire stucco experts to complete the job for them.
But even choosing the right contractor in today's market is no picnic. You have to choose a contractor who understands the job as well as what you want.
Here are some key pointers to help you make the right choice.
Every contractor in the country is expected to have an active license and insurance recognized by the state. A license means that the contractor has undergone the required training and is certified to carry out the job.
Having insurance is also crucial as it frees you from any liabilities if any accident happens on your property. As a rule, don't hire any contractor who can't produce any of these documents.
For insurance, ask for a copy of their policy cover and contact their insurer to confirm it's still active.
The right questions will shed light on most of the activities of the contractor, even if he/she is trying to hide something. Some of the critical questions you can ask include;
How long have you been in the business?
Do you have general liability and worker's compensation insurance?
Do you have an in-house team or sub-contract the work?
Can you provide a few references and testimonials of your past clients?
How will you handle my project? (Step by step)
Prioritize recommendations
Before looking into any contractor online, ask around your circle of friends, neighbors, or family for a recommendation. The good thing about word-of-mouth recommendations is that you can visit them to see the quality of work the stucco contractor can deliver.
People you know are also more likely to give you their honest experience working with that contractor.
Getting many quotes isn't just about getting the cheapest contractor. It allows you to understand the pricing for different services. This way, you'll be able to spot a contractor who's just after your money.
Nonetheless, don't always go for the cheapest contractor. Compare their experience, quality, and even how they communicate before making the final decision.
It's better to spend more but get the value for your money than going cheap and spending extra thousands on repairs.
Get everything documented in a contract
When dealing with stucco contractors, don't presume that your verbal agreements will hold once the project starts.
Ask them to provide a well-detailed contract that covers everything you've agreed to; from costs to timelines, methods, and materials. This will be crucial if you're ever in a dispute with the contractor.
Use our FREE service! HomeGardenGuides.com is the fastest and easiest way to get three quotes for your stucco job from the best and most affordable contractors near you.
The service quickly matches you with the 3 stucco specialists voted #1 by previous users in your area. All you have to do is:
Scroll up to the top of the page and enter your ZIP Code in the blue form.
Give us a few details about your stucco over concrete job, plus some contact information.
We'll then forward your details to the closest three stucco contractors, all voted best priced, who will also price your project.
IMPORTANT: There is no obligation to hire. This is a free tool and service to be used at your pleasure.