Stucco siding can be a little more costly than other siding types, but the finish, in my opinion, is worth the little extra.
The average cost of stucco siding is around $9,750, with the true range at $4,500 – $15,000 for a 1,500 sq. ft home. The average cost per square foot is $6. This covers the total costs of labor, materials, and supplies.
Keep in mind: The cost of building materials are fluctuating of late so prices of materials can range up and down, but usually no more than 10%.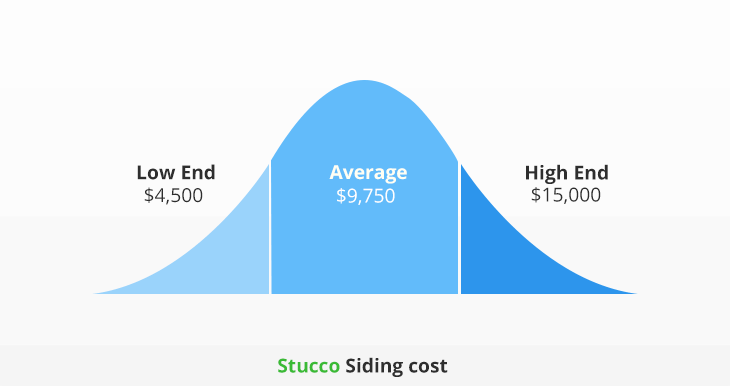 The national average cost to stucco a standard house (1,500 sq. ft) stands at around $9,750 or $6.5 per sq. ft. However, some homes can expect to spend up to $18,750 on the high end or around $4,500 on the low-price spectrum.
These costs include the materials, labor, equipment, prep work, and any additional services required.
The wide range of prices is mainly dependent on the number of stucco coats applied.
| Size | Cost |
| --- | --- |
| 1,500 sq ft. home | $9,750 |
| 2,000 sq ft. home | $12,150 |
| 2,500 sq ft. home | $13,950 |
| 3,000 sq ft. home | $15,500 |
Stucco siding cost by square foot
The average homeowner can expect to spend anywhere from $4.5 to $9 per sq. ft for the stucco siding. Stucco costs by square foot will also vary depending on the type of stucco, chosen finish, and the complexity of the job.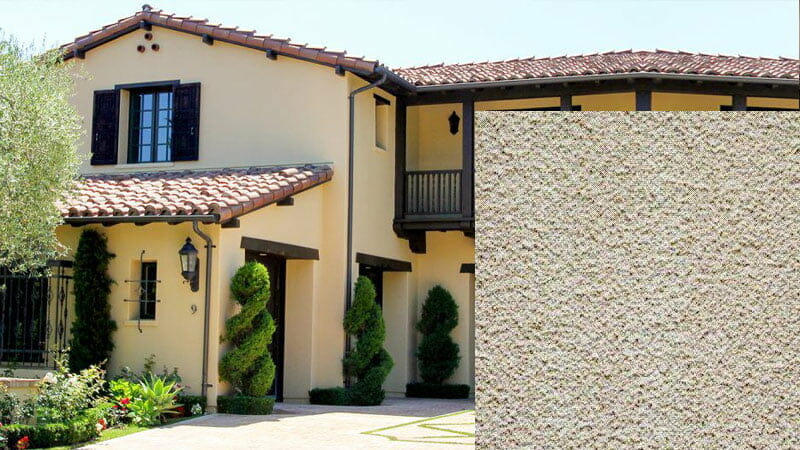 Material for this stucco installation costs between $5 – $6 per sq. ft but can go up to $9.50 per sq. ft depending on the quality of the materials. Equipment costs add up an extra $0.30 – $0.50 per sq. ft to these costs.
Some of the materials covered in these costs include: acrylic or cement stucco, finishing coat stucco, sealants, flashings, stucco mesh, corrosion-resistant fasteners, and exterior grade coloring.
| Material | Cost | Quantity | Coverage in sq. ft |
| --- | --- | --- | --- |
| Acrylic stucco | $40 - $60 | 5-gallon bag | 100 - 250 |
| Cement stucco | $10 - $15 | 90-pound bag | 100 - 180 |
| Stucco mesh | $0.63 - $0.81 | Per square foot | |
| Finishing coat | $14 - $20 | 80-pound bag | 30 - 35 |
Stucco labor costs account for around 40% of the total project costs. Based on how the contractor prices their job, you can expect to spend $40 – $60 per hour or between $2 – $6 in labor costs.
The laborers may take anywhere from 8 hours to around 3 days on the job, depending on the size of the house, their experience, and number.
Your location will also determine how much you'll pay.
| Item | Quantity | Low | High |
| --- | --- | --- | --- |
| Materials | Per sq. ft | $2.5 | $5 |
| Equipment | Per sq. ft | $0.30 | $0.50 |
| Labor | Per sq. ft | $2 | $3.5 |
| Cost | Per sq. ft | $4.8 | $9 |
| Total costs | 1,500 Sq. ft | $7,200 | $13,500 |
Stucco siding cost by type
The type of stucco you choose for your siding will also determine how much you spend on the project. The three main options you'll find in the market include:
Cement isn't just for your patio and driveway, there's also a special type of stucco made from lime and Portland cement that can be used for a siding.
On average, using this type of siding costs between $0.50 – $3 per sq. ft.
Its installation may, however, increase your labor costs since it requires three coats of stucco on metal lath. But if you need faster installation, it can also work well with a thin-coat application.
Note: Cement stucco is durable but it doesn't last as long as other options.
Engineered stucco, or Exterior Insulation and Finish System, is the latest and most expensive development stucco.
On average, homeowners spend between $3.50 – $6 per sq. ft for this stucco.
EIFS consists of several thin layers over foam insulation and a moisture-resistant top coat made from an adhesive to ensure your substrate sticks to the foam.
Synthetic stucco, also known as, acrylic stucco, is also a new form of stucco that resembles high-quality paint. It's made from acrylic resins, sand, and polymers hence the name synthetic.
On average, it costs anywhere from $1.50 to $5 per sq. ft.
The best thing about synthetic stucco is that it looks very similar to natural stucco. It's also just as flexible, durable, water-resistant, and low-maintenance.
Stucco siding installation costs
Just like there are different types of stucco, the installations systems are also different. There are three popular stucco installation systems in the market i.e., Thin-coat, three-coat, and EIFS installations.
Each of these installations will cost you differently.
Although EIFS is designed to overcome most challenges faced during the installation of traditional stucco, it's still quite labor-intensive.
Its installation begins with the application of foam insulation followed by a scratch coat over a metal lathe. Next, several thin coats of synthetic material (usually 4 – 6) are applied one after the other.
Finally, the topcoat is applied and it can be tinted or textured to your preference. However, EIFS installation can't handle deep textures like those required by tabby shell and pebble dash.
Due to the labor required, the costs for this installation are also quite high, ranging between $4.50 – $8 per sq. ft.
The thin coat installation is commonly known as the one-coat installation. The process involves applying just one coat (scratch coat), which is mixed and applied with fiberglass.
A metal lathe is used to ensure proper coverage of the stucco with your wall. Since only one coat is used, the process is faster and much cheaper than other installation techniques.
You can expect to spend anywhere from $3 – $8 per sq. ft for the installation job. Labor is cheap at around $2 – $5 per sq. ft while the materials are around $2 per sq. ft.
However, a big drawback with this installation is that just like EIFS, it can't be used with finishes that require thick textures e.g., Tabby shell and Pebbledash.
Three-coat stucco installation
The three-coat system or hard-coat technique involves the application of the three layers of stucco. The siding contractors will first have to install a water-resistant wrap across the entire house exterior then the metal lath.
Next, the three coats are applied in the following order;
Scratch coat – This is the first coat that is applied to roughen the siding surface to ensure the subsequent layers can adhere to it.
Brown coat – This second layer is applied to improve the integrity of the walls and siding. It also helps create a good surface for the topcoat.
Finish coat – This is the top and final coat. It's usually troweled or sometimes hand-troweled depending on the type of finish you want.
Due to the time wasted allowing each coat to cure, the labor costs for this installation are relatively higher compared to the one-coat. You can expect to incur around $4.50 – $11 per sq. ft in labor costs alone.
If you opt for the pre-mixed 3-coat stucco these costs could spike by an extra $2.50.
Note: Even though applying a 3-coat stucco is much cheaper than a 1-coat stucco, it takes longer to dry meaning more hours for the siding installers.
On the other hand, while the thin-coat stucco is more expensive, it dries much quicker thereby canceling the cost-savings of the 3-coat system through lower labor costs.
Stucco permits & inspection cost
According to the regulations of most states and local councils, installing, replacing, and repairing your siding with stucco may require a building permit from your local planning department.
Obtaining a building permit will cost you anywhere from $70 – $250 depending on your location.
If you're not sure about the implications of any damages on your siding, you may also need a stucco inspection which may cost anywhere from $100 to $400.
Stucco siding cost by finish
Your choice of stucco finish will also play a critical role in the overall stucco siding costs. This is because some of these finishes require special expertise and extra material hence, they cost higher.
Here's an overview of how much each finish adds to the overall costs.
| Type of finish | Average cost (per sq. ft) |
| --- | --- |
| Cat Face Finish | $6 - $8 |
| Smooth Finish | $8 - $14 |
| Santa Barbara Finish | $6 - $9 |
| Skip / Lace Finish | $4.25 - $9 |
| Dash Finish | $2 - $4 |
| Pebble Dash Finish | $6 - $9 |
| Float / Sand Finish | $2 - $6 |
| Worm Finish | $3 - $5 |
| Tabby Shell | $5.50 - $10 |
Dash finish or roughcast is a rough stucco finish that results in a textured gravel appearance. It comes in several variations with the most popular options being Pebbledash and Knockdown dash.
On average, applying a Dash finish will cost you anywhere from $6 – $9 per sq. ft. It's usually much cheaper than most other finish options since it requires less plaster.
The cat face or Montalvo finish features a smooth final appearance with several rough patches intentionally scattered on the surface forming a cat face look.
Applying this finish to your siding will cost you anywhere from $6 – $8 per sq. ft. However, the actual amount you'll spend will depend on the size of the rough patches and their proximity to each other.
The smooth finish is often the most beautiful of all. It gives a house an elegant and classic look with so many color options. However, it requires high expertise and may take longer to come up with the required finish.
This drives up the labor costs, making it one of the high-end stucco finishes and textures. As such, applying this finish will cost you anywhere from $7 – $14 per sq. ft.
If, however, the wall is already textured, you can expect to spend about $4.50 per sq. ft for the job.
This finish is characterized by a smooth but irregular texture giving it a semi-smooth look. Contractors use small sand particles with plaster to achieve its appearance.
It's more common in Spanish-style and adobe-style houses. On average, applying Santa Barbara finish costs between $6 – $9 per sq. ft.
Lace, also known as Skip trowel, is the easiest and most common stucco finish. It's very flexible allowing homeowners to choose from fine, coarse, or medium pattern appearances.
It's also loved because it hides most imperfections well. The average cost of applying this finish stands between $4.25 – $7 per square foot.
The sand or float finish is a mixture of stucco mix and sand resulting in a wet sand beach appearance. It's quite common on commercial buildings and offers a slightly rough texture but smoother than Dash finish.
Applying this finish will cost you anywhere from $2 to $5 per sq. ft on materials only, or around $4 – $9 per sq. ft including labor costs.
Worm, putz, or swirl finish is characterized by grooves and indentations that look like small worms pressed against stucco. The finish is often done by hand and requires synthetic stucco mix to achieve the right texture.
Applying this finish on your walls and siding will cost you between $3 – $5 per sq. ft. The true range may, however, be higher due to the extra labor required and the need for extra materials.
The tabby shell finish is a modern unique look that features oyster shells embedded within plaster. It results in a mottled texture on your walls and gives the surface some depth.
Nevertheless, this finish can't be used on thin-coated or synthetic stuccos.
Due to the high costs incurred in finding oyster shells, the total cost of applying this finish will be relatively high. Expect to spend anywhere from $6 – $10 per sq. ft for the job.
| Type of siding | Average cost per sq. ft |
| --- | --- |
| Stucco | $6 - $12 |
| Vinyl | $1.44 - $2.93 |
| Aluminum | $2 - $5 |
| Wood | $2 - $5 |
| Fiber cement | $5 - $13.50 |
| Engineered wood | $6 - $12 |
| Brick | $5 - $15 |
| Stone | $6 - $15 |
| Steel | $4 - $8 |
Besides the cost factors mentioned above, there are numerous other factors that will affect the total costs of your stucco project. These include:
State of the existing stucco – If the existing stucco is in great condition, your costs will be drastically slashed since the prep work and other steps required will be minimal. However, if the stucco is in bad condition, you'll spend more on repairs and prep work.
Scaffolding – For walls taller than 14 inches, scaffolding will be required. This means more work and extra costs when putting up the scaffolding and also when tearing it down.
Trims and other work – If you also want to add foam stucco trims around the windows and doors of your stucco siding, your labor, and material costs will be much higher. Depending on the shape of the foam trim, you can spend between $3 – $7 per linear foot.
Your location – Homeowners within city limits are likely to spend less on stucco and other materials due to the lower delivery charges. In rural areas, the prices could be higher because of the supply costs.
Quality of the stucco – High-quality grade stucco and materials add extra costs to the project. However, they offer better long-term value and savings compared to substandard stucco.
Licensed or unlicensed contractor – Hiring a licensed contractor will always charge you more than an unlicensed one. This is because they have greater overhead costs including, insurance premiums, worker's wages, among other fees. Unlicensed contractors are cheaper, but hiring them exposes you to shoddy and uninsured work.
According to the National Association of Realtors, stucco sidings average a return on investment of around 75%, although this could vary depending on your region.
This makes investing in stucco siding a profitable venture, increasing the overall resale value of the home. The fact that the siding can last for over 80 years with proper care also means that it's a reliable long-term siding solution.
Cost to re-stucco a house
The total cost to re-stucco your home may range between $9,500 – $20,000 depending on the condition of the stucco, and the type of finishing required. This is around $6 – $13 per sq. ft.
However, most homeowners spend between $3.50 – $7 for the job.
Re-stuccoing your house will also involve other labor-intensive activities such as stucco removal, repair, and resurfacing.
Stucco removal cost
Professional removing and disposing of the old stucco will cost you anywhere from $2.50 – $5 per sq. ft. Depending on whether you have metal or wood lath, the removal will cost you $1.05 and $1.20 per square foot.
Tip: If you have the necessary DIY skills, you can remove and dispose of the old siding yourself to save on costs.
Stucco repair cost
In cases where your stucco isn't severely damaged, stucco repair could be a cheaper alternative for your siding. Most homeowners report spending between $500 – $1,500 depending on the type of damage.
For cracks and patches, you can spend anywhere from $70 – $1,000. Fixing water damage on the stucco may cost anywhere from $900 – $3,500 and up to $4,500 on mold remediation.
Some siding contractors will charge you between $50 and $80 an hour for the repair job. In this case, repairing small cracks and holes may take 2 – 3 hours while the larger ones around 9 hours.
If you choose to paint or tint the stucco to ensure uniformity between the old stucco and the repaired stucco, your costs will be higher.
Stucco resurfacing cost
Resurfacing your stucco will set you back $3.50 – $6.50 per sq. ft, including the labor and material costs. It's, therefore, a much cheaper option compared to repairing if your stucco walls have small cracks or damage.
However, before applying this new coat of stucco over the old wall, ensure it's not trapping any moisture beneath and that the lathe is still firm.
Otherwise, you'll have to remove and replace the stucco.
Average cost to replace siding with stucco
The total average costs of replacing other sidings with stucco range between $4.50 – $12 per sq. ft. This practice is quite popular among owners in warmer locations where stucco offers the best results in appearance and performance.
Cost to Stucco over siding
If you don't wish to get rid of your old siding, stucco can still be applied over that siding material to improve its curb appeal.
Stucco over brick
Applying stucco over brick siding will cost you anywhere from $4.50 – $9 per sq. ft. It adheres well with brick and masonry surfaces without the need for a metal or wooden lathe.
Stucco over wood
Installing stucco over wood sidings and its substrates will cost you anywhere from $4.50 – $12.50 per sq. ft. For a 1,500 sq. ft home this could be between $8,250 – $18,750 including the materials, labor, and supplies.
Stucco over metal
Just like with wood, stucco can also be applied over metal and adhere without any issues.
Installing stucco over metal will however be more expensive, costing you anywhere from $5 – $7 per sq. ft.
This job is relatively expensive since it requires three coats of stucco and a metal lathe.
Stucco over cinder block
The average cost of applying stucco over cinder blocks ranges between $4.50 – $7 per sq. ft. Due to the strength of this material, you'll only need to apply one coat (brown coat) of stucco making the installation cheaper.
Cost to maintain stucco siding
Stucco is one of the easiest and cheapest siding materials to maintain. Cleaning it only requires a garden hose and a soft-bristled brush to get rid of the dirt or dust.
If there's a mold on the surface, simple water with bleach or a commercial cleaner will get rid of it quickly.
You should therefore expect to spend no more than $100 on the DIY maintenance supplies.
Keep in mind: Pressure-washing stucco is discouraged as it damages the stucco surface. Instead, opt for power washing which may cost you around $300.
Pros and cons of Stucco siding
Pros
It's durable and can last 80+ years
Weather, fire, mold, mildew, and insect resistant
Aesthetically pleasing and gives out a rich texture that improves curb appeal
Requires very little maintenance
Offers a good heat insulation value and faster ROI
Flexible and can be mixed to produce custom colors
Relatively good soundproof properties
Cons
Expensive compared to other options like wood, vinyl or aluminum siding.
Prone to cracking due to the temperature changes as the house expands and contracts
Requires expert installation for good results
DIY vs. Hiring a Professional Stucco contractor
The average cost to install stucco siding as a DIY stands at around $2 – $5 per sq. ft or around $5,250 for a 1,500 sq. ft home. This covers all materials and supplies for the job.
While this is much cheaper than the $9,750 you'd pay for a stucco contractor, you need to be really good with stucco to handle the job. You might also need a small team to help out.
Additionally, the job could take several days to weeks, meaning you'll waste a lot of time.
Hiring a stucco contractor is usually the best option for stucco jobs among homeowners. The experts can do it better and faster ensuring you get the final appearance that you wanted.
HomeGardenGuides.com is the fastest and easiest way to get three quotes for your stucco siding job from the best and most affordable contractors near you.
The service quickly matches you with the 3 stucco specialists voted #1 by previous users in your area. All you have to do is:
Scroll up to the top of this page and enter your ZIP Code in the blue form.
Give us a few details about your stucco siding job, plus some contact information.
We will then forward your drywall details to the closest three stucco contractors, all voted best priced, who will price your stucco job.
IMPORTANT: There is no obligation to hire any of the contractors. This is a free tool and service to be used at your pleasure.
The average lifespan of stucco sidings is usually around 60 years, but with proper maintenance, it can last up to 100 years.
Stucco is very brittle and it will develop hairline cracks if the house foundation settles. It's therefore not a good option in areas with clay soil.
Yes. Installing a stucco siding can increase the overall resale value of your house by around 75% of the total project cost. However, if a big reason for installing a new siding is to improve the home's value, vinyl siding is the best.