Siding installation or replacement is an expensive exercise for most homeowners. Even with budget-friendly siding options, average installation costs are usually in the thousands. As such, you need to be careful when hiring a contractor to install siding on your house.
Spend time researching siding first. After that, you can find reputable contractors, vet them, invite bids, shortlist, ask for estimates, choose one and sign a contract. Only choose contractors that are licensed, have a good portfolio, good reviews, and are ready to sign a formal contract.
Most homeowners don't usually put much thought or effort into finding and hiring the right contractor for home improvement projects like siding replacement or installation. This can work out half the time but can also be a grave mistake especially considering the costs of installing or replacing siding.
As you may find out during your search, there is a lot of competition among home improvement contractors across the United States. As such, pricing, quality of service, and other things can be significantly different from one siding installer to another.
Follow this structured process if you are looking to hire a siding contractor in the current market.
Define Your Needs - What Services Are You Looking For?
Are you looking for a siding installer or someone to help you:
Contractors usually specialize in either installation or repair so it is good to define what services you are after. This will help you in your search and save your time too as you will know exactly what kind of contractor you want. Drafting a rough outline of the project can help at this stage.
For instance, you can choose to narrow your search to small or individual contractors if it's a small repair job instead of hiring a big contractor whose pricing is bound to be higher. You may also need additional services such as gutter installation.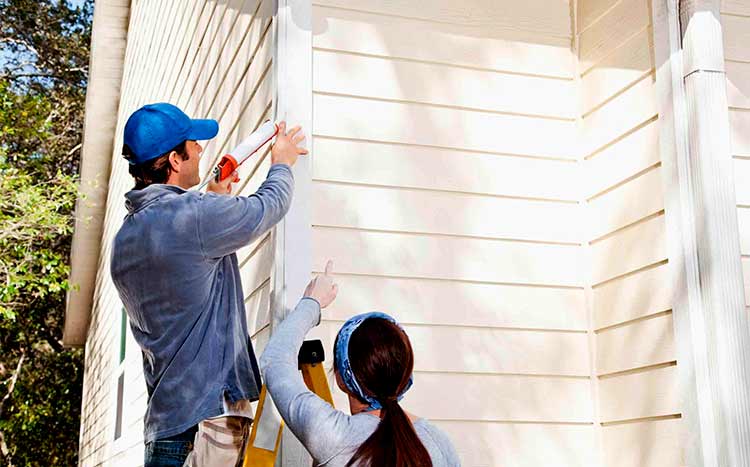 Understand what siding options are available in the market and the cost before you start looking for an installer or siding contractor. Installation costs usually depend on the type of siding and some contractors may have more experience with installing one type of siding. Some of the common siding options out there include:
Stone veneer siding
Cement fiber siding
Engineer wood
Cedar shingles
Brick
Clapboard siding- style/design
Board and batten- style/design
Shakes and shingles -style/design, among others.
The amount you will spend on siding installation will depend largely on the type of siding you go for and the exterior surface area of your house. A good understanding of the type of siding you want will be of great help when you are comparing bids or negotiating rates with siding contractors.
Find Siding Contractors: Where to Search
Searching for siding contractors will take a big chunk of your time but it's good to do it well and make sure you find exactly what you are looking for. Dedicate your search to a few reliable sources where you can find rich, insightful details about each of them.
Some of the places and portals you can use to locate siding contractors near you include:
You can find siding installers on local contractor listings. Some may advertise their services on billboards, print ads, city hall notice boards, company vehicles, etc. You may not find a lot of information about the contractor from such sources but you can use it as a good starting point. Use the information you find to dig up more details about them using other reliable, independent sources.
Google search, maps, and GMB pages
A simple Google search can help you find reliable siding installers near you. Search for siding installers in your location and the search engine will list relevant local business pages. For example, you can type "siding contractors in Fort Worth, TX" on Google or Google Maps if you live in Fort Worth Tx. This will ensure you only get results containing siding contractors near you.
Pay close attention to the business profiles and reviews to help you select a few siding contractors from Google. The business profiles are listed to the right of the search results with reviews and star ratings from previous clients.
Industry directories & Association listings
Social media is a good place to find information about local siding contractors. Search using their business name and visit their business pages to see what past clients are saying about them. You may also be able to view some of the projects they have highlighted in their post.
Referrals are the oldest and easiest way to find reliable contractors. However, you can only find a siding contractor through a referral if you know someone they have worked with. For instance, you can ask a neighbor or friend who has had their siding installed to refer you to their contractor. However, you still need to do your due diligence.
Use the FREE Home GardenGuides Tool
Homegardenguides has a free easy to use tool that can help you locate top-rated siding contractors in your location. It is one of the ways you can use to find and talk to siding contractors at no cost. Follow the instructions below to use our contractor search tool:
Scroll to the top of the page and enter your Zip Code
Answer questions about the installation or type of service you want
The information you enter will be forwarded to three local siding contractors. They will send you a price estimate for the job and some friendly advice
IMPORTANT: There is no obligation to hire. This is a free tool and service to be used at your pleasure
Invite and Get Multiple Bids/Quotes
Your next step after finding enough local siding contractors should be to invite bids from them. Make sure you provide as much information as you can about your project for accurate quotes. You should aim at getting at least five bids so that you can compare and see the price range.
Find and Read Contractor Portfolios
While cost is important when shortlisting contractors, it is important to go beyond it and find out what each of the bidders has to offer. Make sure you visit each bidding contractor's website or ask for their portfolios before you move to the next stage. As you probably know, the cheapest offer may not always be the best option.
Shortlist two or three Candidates
With all the information you have about the contractors and bids/quotes you received, you should be able to shortlist at least two or three candidates. The contractors you choose should have quotes in the same range and fairly match in terms of experience and reputation.
Make Formal Contact and Ask Questions
Use the contact information you received from earlier steps to get in touch with the three shortlisted contractors and ask questions. Share more details about your project and see if they can provide relevant helpful answers.
Here are some of the questions you should a siding contractor:
How long have you been installing siding in this area?
Have you done any projects within a mile or in the same neighborhood as mine?
Do you install (insert your preferred siding)?
Do you have insurance?
Do you offer installation warranties?
Can you help with building permit applications?
How will you handle errors or complaints after the installation?
Do you have any special requirements for materials or supplies?
How will you handle waste and debris after installation?
Request for Work Estimates
After contacting and discussing the project in length with the contractors, they should be able to come up with an accurate work estimate for your project. You can even invite them for a site visit so that they can understand what needs to be done and how much it would cost but make sure they visit on different days.
Apply for Building Permits If Required and Sign a Contract
Nearly all states require residents to apply for building permits or zoning certificates for major projects like siding installation and replacement. Make sure you obtain this permit from the relevant building codes office in your location before you sign a contract with a siding contractor. Licensed contractors should be able to apply for the permits on your behalf or help with the process.
What to Look for In A Siding Contractor
Make sure the siding contractor you hire has the following characteristics. You can get all this information as you go through the research and hiring process outlined earlier.
The contractor should be licensed and insured
The siding contractor must be near you for easier coordination and local experience.
The contractor should have good reviews and independent testimonials
The siding contractor should have a strong portfolio/work experience
The contractor should provide transparent payment and contract terms
The selected contractor must be ready to sign a written contract
The siding contractor should be willing to use your choice of materials or suppliers
They must provide material and service warranties
Should be willing to offer extra information and advice on the project.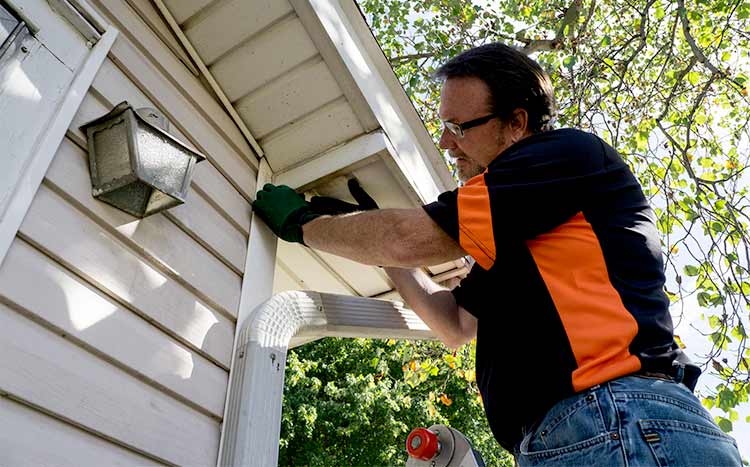 How Much Does Siding Labor Cost?
You will pay between 1.5$ to $5 per square foot for siding installation. Labor costs depend on the type of siding you are installing, the style or design of the siding, the shape of your house, and your location. Total labor costs range between $5,000 to $14,000 for a 1,500 sq foot house depending on these factors.
Can You Install Siding Yourself?
It is possible that you can cut your costs by a significant margin if you opt to install the siding yourself. However, not everyone has the skills or time to install siding on their house. At the same time, some types of siding like stucco, stone veneer, and metal can only be installed by experienced contractors.
Here is a comparison of these two options in case you have a choice of either DIY installing or hiring a siding contractor.
Pros
Cheaper
More flexible timelines
There are no contracts to be signed
You can get free help from friends and family
Cons
Riskier- you may make costly mistakes leading to wastage
No insurance
You will have to learn on the job
Pros
Expert workmanship
Expert advice on materials and design choices
Insurance
Installation warranty
Cons
A siding contractor is a professional outfit or business whose main business is to install, replace or repair siding on buildings or residential houses. Siding contractors also commonly known as siding installers are categorized under home improvement services and must be licensed to provide these services.
You need to first know what type of siding to go for based on your preferences, what is available, etc. Then you need to know how to find a good siding installer, where to purchase the materials needed, and what permits are required to install the siding.
You have the freedom to choose the siding that you want and find a contractor to install that type of siding. Sometimes the contractor might help you to choose the right siding and offer advice on the design and suppliers.