Cedar siding is the most popular siding wood due to its low cost, rustic appearance and durability.
The most popular styles have been always been shiplap and board and batten, but there are a few others worth looking at.
Cedar siding comes in a variety of styles and profiles. These styles enhance the natural appearance of cedar and make it more attractive and appealing. They include:
Cedar Tongue and Groove Siding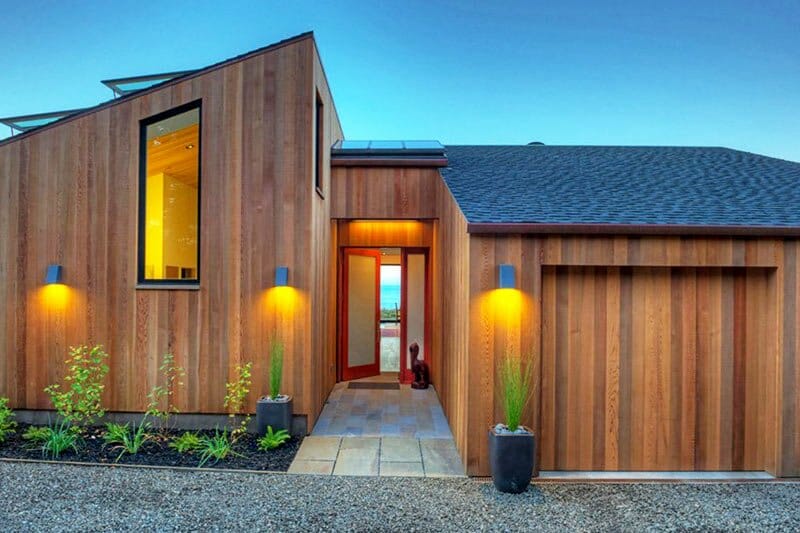 Cedar tongue and groove siding costs an average of $15 per square foot to install. Although tongue and groove panels are mostly laid horizontally, they can still be installed vertically and diagonally. They are also available in both smooth and rough faced panels. Their joints are normally either v-shaped, reveal shaped, radius cut or flush.
Such joints offer a unique shadowing that provides extra character and aesthetic beauty to your home. When being manufactured, individual cedar slabs are usually sawed with a tongue on one edge and a groove on the other. The slabs then intertwine to create a smooth surface. This design is relatively common in both siding wood flooring.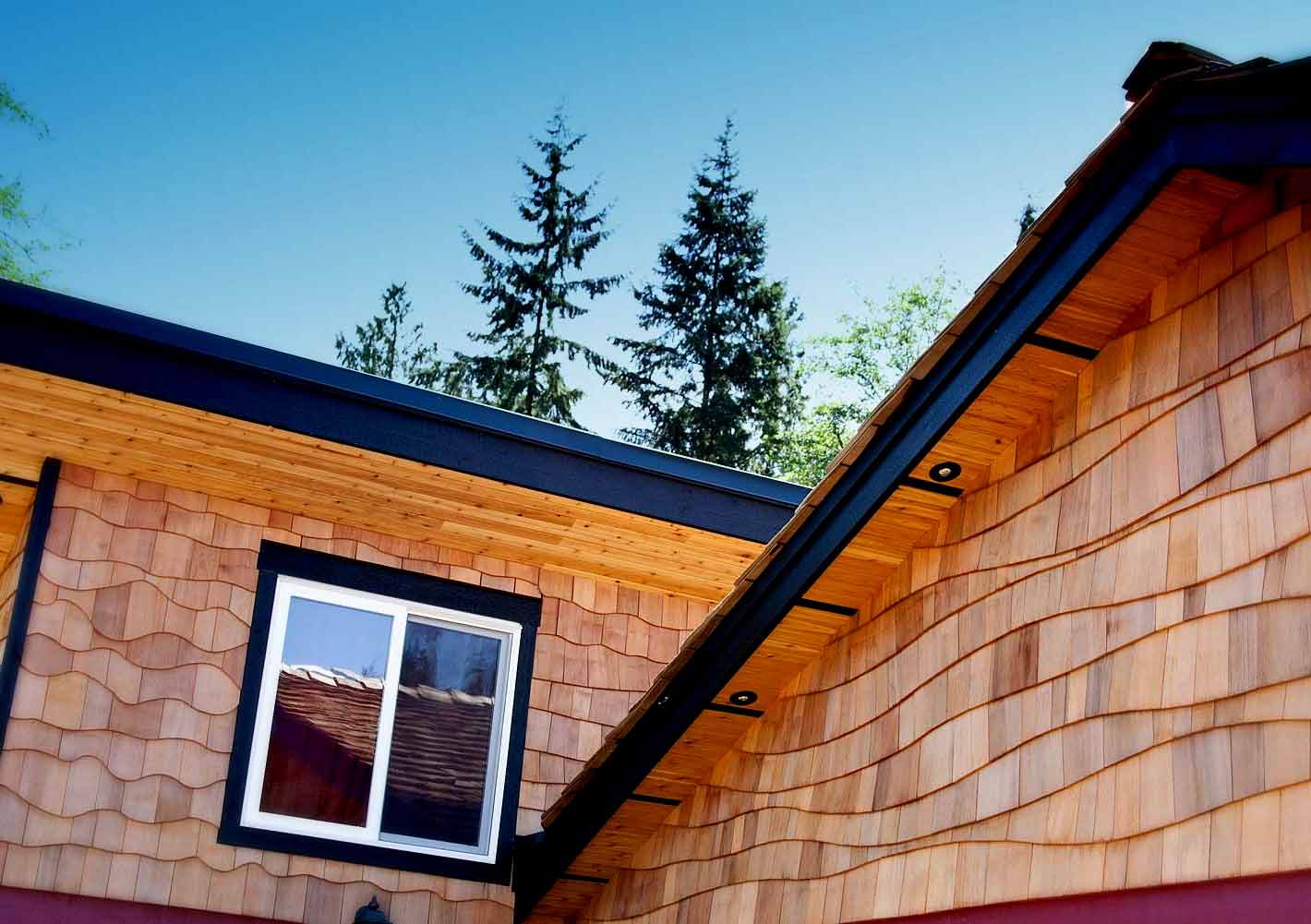 You will pay an average of $12 per square foot to install cedar shingle siding. Cedar shingles are perfect for siding applications because they are smooth and uniform. They are also simple to install and ideal for irregularly shaped walls. They take well to paint and stain hence the reason why they are often painted in bright hues on Victorian-style residences.
Cedar shingles are usually cut from any block of wood that is used in other siding techniques. They then undergo some special treatment that renders them fire-retardant.
When installing cedar shingles, homeowners are normally advised to examine their local building codes. This is because there are areas that are prone to frequent fires which do not allow the installation of cedar shingle siding.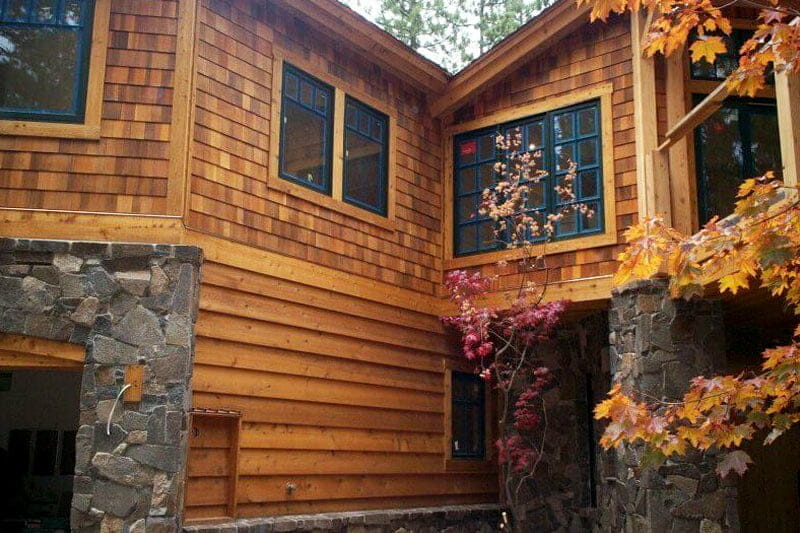 Expect to pay an average of $11 per square foot to install cedar bevel siding. This cedar siding profile is arguably the most common cedar siding technique. It is made up of diagonally cut horizontal boards. Two boards are normally cut from a single cedar plank with each having edges that differ in thickness.
Some manufacturers prefer saw-texturing the surface of these boards for additional character and smoothness. Apart from the relatively common plain bevel edge, some manufacturers also produce rabbeted and wavy edge bevel planks.
The most popular bevel siding thicknesses include 1/2-inch, 5/8-inch, 11/16-inch, 3/4-inch and 7/8-inch. Bevel board widths are available in 4,6,8,10 and 12 inches while lengths range from 8 to 14 inches.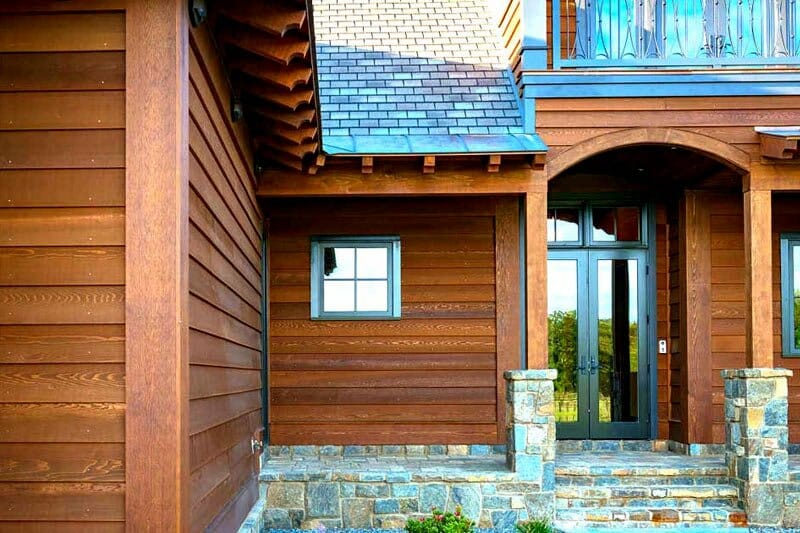 Cedar clapboard siding will cost you an average of $8 per square foot to install. This style of siding consists of uniformly thick cedar planks that are overlapped to prevent any exposed gaps. Although the planks are mostly installed horizontally, they can also be placed vertically and diagonally.
Diagonal clapboard siding installation is known to create unique aesthetics like a sunburst design on gables. Clapboard siding is usually available in 1-inch and 5/4-inch thick panels. Its most popular board widths are 6,8 and 10 inches. You can either choose smooth or saw textured board surfaces based on your preferred visual appearance.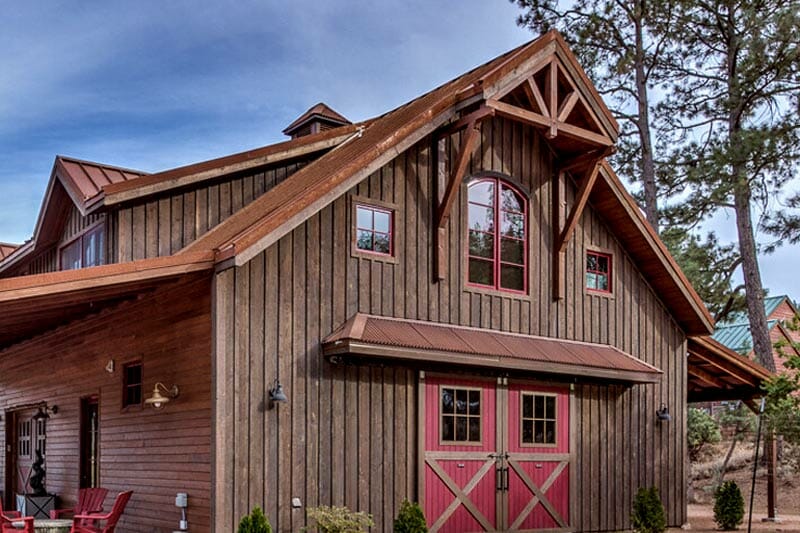 The average cost of cedar channel siding is $15 per square foot. This siding profile closely resembles tongue and groove siding in appearance. It however has deeper shadow lines because its boards partially overlap leaving a wider channel or gap between them.
Channel siding panels can either be mounted horizontally, vertically or diagonally. This makes it quite versatile and trendy among cabin owners. Cedar channel siding panels are usually unseasoned and saw-textured. They are mostly 1-inch thick and either 6,8 or 10 inches wide.
Cedar Board and Batten Siding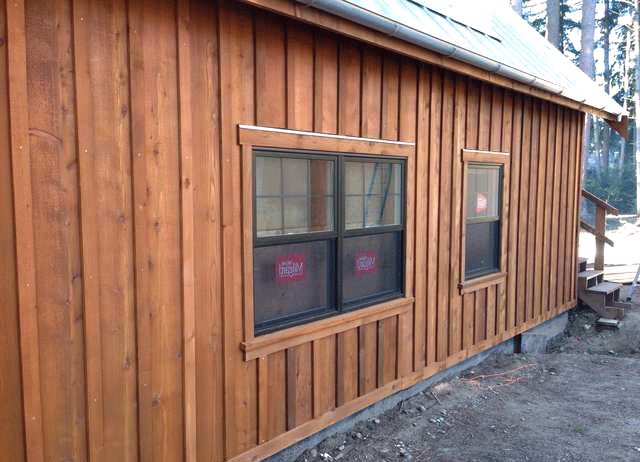 Expect to pay $11 per square foot on average to install cedar board and batten siding. Barns and other agricultural buildings have traditionally been built using cedar board and batten siding. The panels in this style of siding are vertically installed. They are made out of regularly spaced wide cedar planks with a batten fastened over them.
The batten is simply a little piece of wood. When placed this way, the planks are allowed more space for expansion and contraction. Board and batten siding is quite unique because it allows you to create different designs by using varied board and batten widths. Combining 10-inch wide boards with 3-inch wide battens is one of the most popular applications.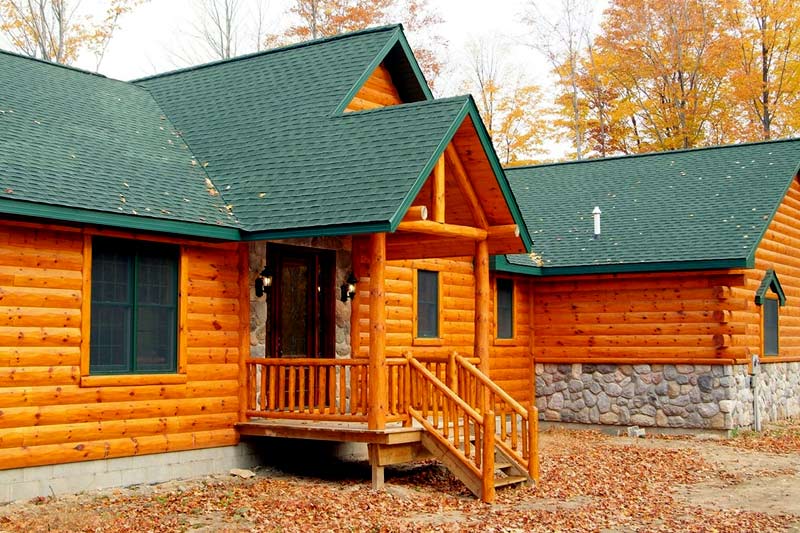 Cedar log siding will cost you an average of $19 per square foot to install. Hand-hewn cedar log siding can be horizontally installed on both an existing house and a newly constructed property.
The cedar logs normally range between 2 and 4 inches in thickness. They also have widths measuring between 6 and 10 inches. The logs come in a variety of lengths that even include tree-length siding which can cover an exterior wall's full width.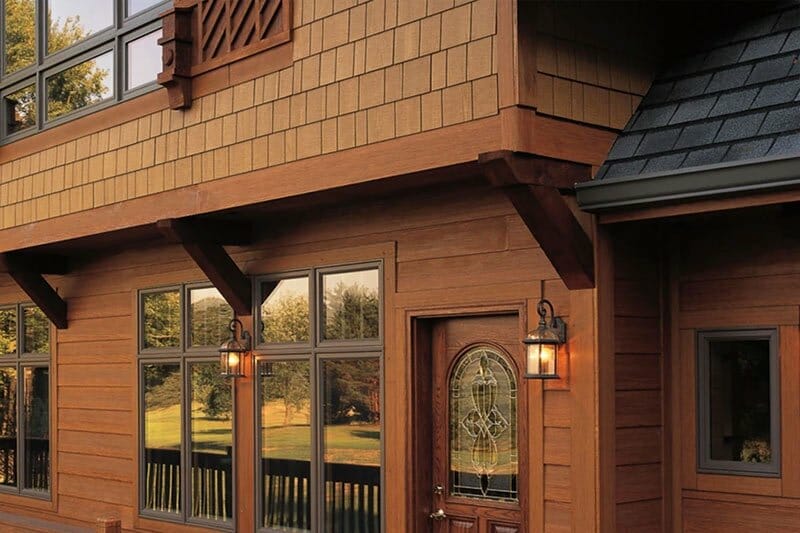 Homeowners pay an average of $13 per square foot to install cedar shake siding. Cedar shakes resemble shingles in appearance. They are, however, significantly thicker and more durable. They are normally sliced from hand sawn wooden bolts and blocks.
The shakes produced after this process normally have varying thicknesses thereby adding to their attractiveness. They are then attached to the sheathing from the bottom up with each layer sitting on top of the one before it.
If you are installing cedar shakes, make sure you check the local building codes in your area. This is important because there are some building regulations that prohibit cedar shake siding due to the risk of fire.
Factors to Consider When Choosing Cedar Siding
There are five very common cedar varieties that most people use for siding. they are;
Eastern Red Cedar
Western Red Cedar
Eastern White Cedar
Spanish Cedar
Alaskan Yellow Cedar
Red cedar generally lasts longer than its white counterpart and is available in more styles than white cedar. White cedar is however a great option for owners who desire a simple silver gray look for their home's exterior.
The highest graded cedar when it comes to appearance is clear grade. This type of cedar, commonly referred to as grade "A", has a fine-grained smooth appearance with only a few knots and other defects. The most well-known examples of grade" A" cedar are Clear Cedar and Clear Vertical Grain.
A wood that achieves the "Tight Knot" grade criterion is normally given the Select Tight Knot (STK) grade or the "B" grade. This is because they have knots and therefore have a more rustic appearance than the grade "A" cedar planks.
Apart from appearance, the structural integrity of cedar is also graded. Some cedar planks even go through processes like kiln drying to make sure that they are straight and split-free. A piece of cedar nearer to the center of the tree is graded #1. It usually has smaller and lesser knots than #2.
These knots are however "superior knots" which makes them less prone to distortion and falling out. Grade #2 cedar contains several knots of various sizes and many other flaws.
Solid vs Semi-transparent Finish
Although a solid finish protects your siding from weathering, its stain is known to change the cedar's natural color. You may therefore need two coats to achieve a fine finish. A solid finish is however perfect for homeowners who want their cedar's natural texture to show through.
Semi-transparent finishes are normally applied in one coat. They are known to protect the siding from weathering while allowing both the natural color and texture of cedar to shine through. The double-coat treatment of a solid finish makes it less prone to refinishing than a semi-transparent finish.
It is also possible to match the quality of your cedar siding to your preferred finish. A semi-transparent finish is best for clear grade cedar while a solid finish looks great on knotty grade cedar.
Water vs Oil-based Finish
Applying water-based stain is a great way to prevent the growth of mold and mildew. Technological advancements in UV resistance have also enabled water-based stains to last much longer when properly applied. This kind of stain often dries within 2 hours of application. Cleaning a water-based stained surface is rather simple since no strong chemicals are needed.
Oil-based stains are known to provide a consistent finish without any lap marks. They usually take a longer time to dry than water-based stains. This makes them simpler to blend through to achieve even finishing. Applying oil-based stain is relatively easy because it adheres better to the cedar siding than water-based stain.
According to siding experts, it is advisable to use oil-based stain on cedar instead of water-based stain. This is because oil-based stains usually fade away when deteriorating. This is unlike water-based stains which are prone to peeling off.
Cedar is easier to maintain than other types of wood. This is because it is naturally rot, insect and mold resistant. It is therefore one of the longest-lasting siding alternatives made of wood. Maintaining stained or untreated cedar siding involves conducting an annual inspection and pressure wash. Periodic re-staining is also recommended.
Painted cedar siding is a bit more difficult and expensive to maintain. This is because cedar is naturally prone to staining paint. It therefore needs to be primed first before painting. Such paint needs to be scraped off after a few years to make room for fresh priming and painting. Professional siding experts charge an average of $5200 to complete this task.
https://homegardenguides.com/siding/ is a great tool that quickly matches you with the best siding specialists in your locality. You can get three estimates from local siding professionals in a matter of two minutes. Kindly follow the steps below to enjoy this great service:
Scroll to the top of the page and enter your zip code
Answer questions about your siding job
Your siding details are forwarded to three local experts who will send you a price estimate for your job with some friendly advice.
Siding experts normally add trim boards on soffits, fascia, doors, windows, garages and all other openings to create a polished look for the siding. Trim boards usually come in thicknesses ranging from 1/2 to 5/4 inches and widths measuring between 2 and 12 inches. They are also available in both rough and smooth textured to add character and contrast.
Well-maintained cedar siding can last up to 30 years before needing replacement. This duration is however dependent on the climate in which the siding has been installed.
Yes, it is. Expect to pay an average $5 per square foot for horizontal cedar siding and $8.5 per square foot for vertical cedar siding. Vertical siding is more expensive to install than horizontal siding because it requires a layer of furring strips during installation. It is also more durable than horizontal siding