Metal siding comes in diverse shapes and sizes depending on the metal panels being used and the clients' aesthetic preferences.
Corrugated, batten, standing seam, box rib, all purpose and flat are examples of metal siding styles and installation techniques.
Metal siding usually consists of aluminum and steel siding panels. Such metal panels are extremely durable and easy to install. This makes them quite suitable for residential metal siding installation.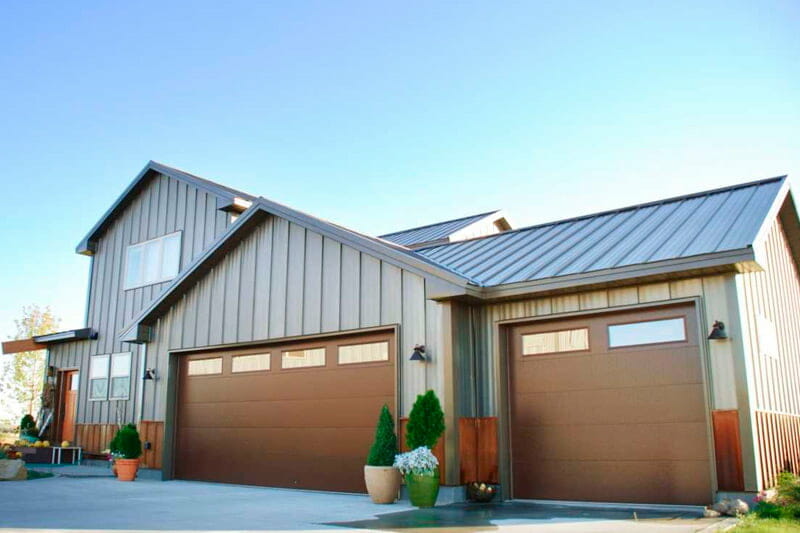 The wavy design of corrugated metal siding has made it one of the most popular forms of metal siding. This is because its metal panels usually hide any tiny flaws that may have been caused by harsh weather conditions and direct force.
It is also quite versatile and can be used for a wide range of spaces including residential, agricultural, storage and commercial buildings.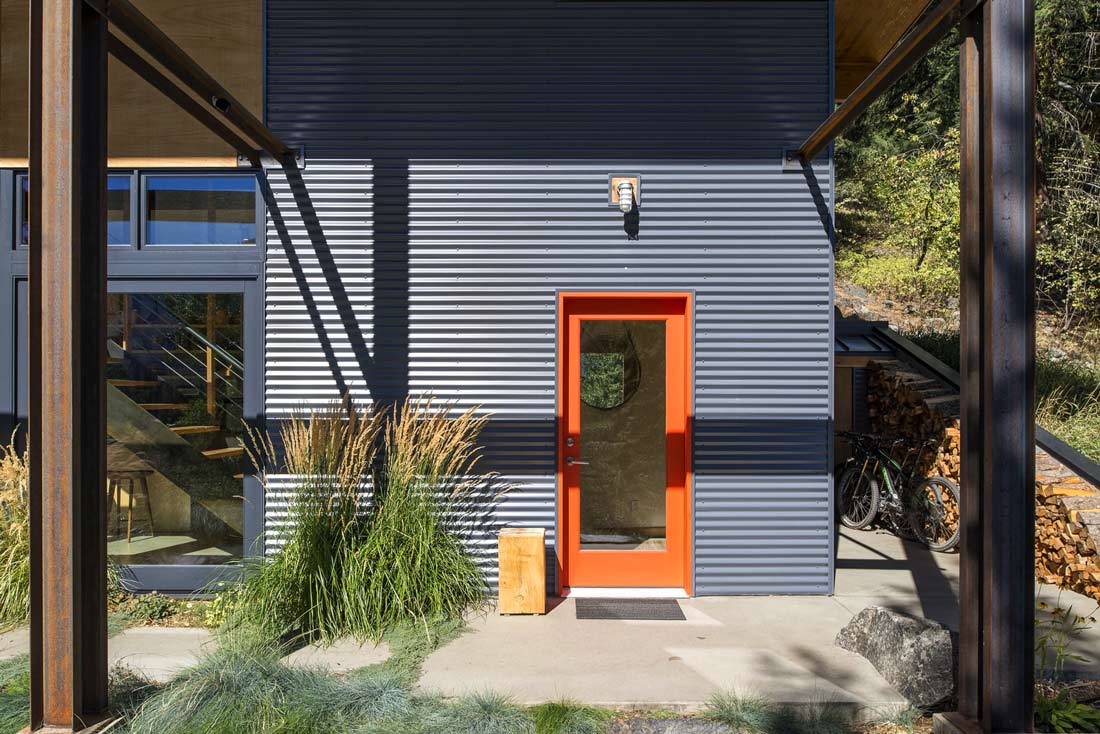 Standing Seam Metal Siding
Standing seam is an extremely popular residential metal siding technique. It offers beautiful clear cut seams that require very little maintenance. These seams are usually raised to join metal panels together.
This process usually produces metal siding panels that are both durable and visually appealing. Such metal panels are mostly created on site since their manufacturing process is relatively simple.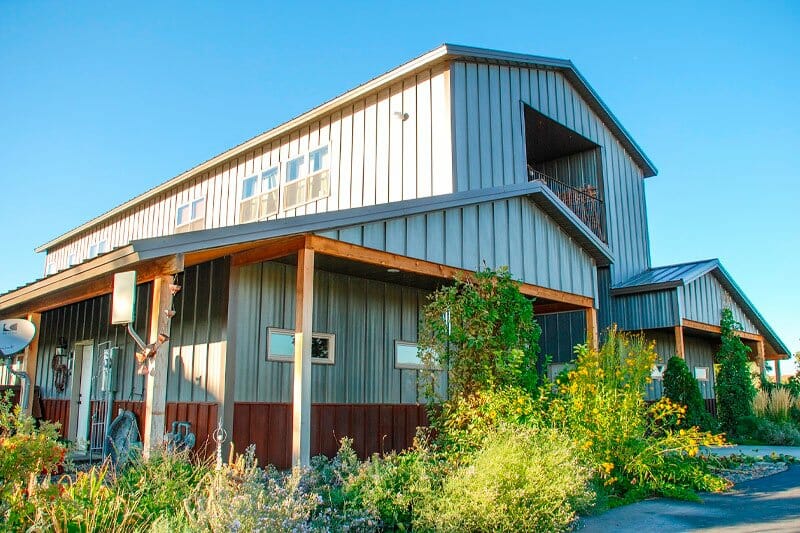 Batten metal siding panels are made to resemble those of the traditional board and batten siding technique. They are however more durable. This is because they are steel siding materials and not natural wood siding or vinyl siding materials.
They offer a clean and continuous look as a result of their large width and hidden fasteners that hold them together. This has made them more popular among clients looking for contemporary residential steel siding designs.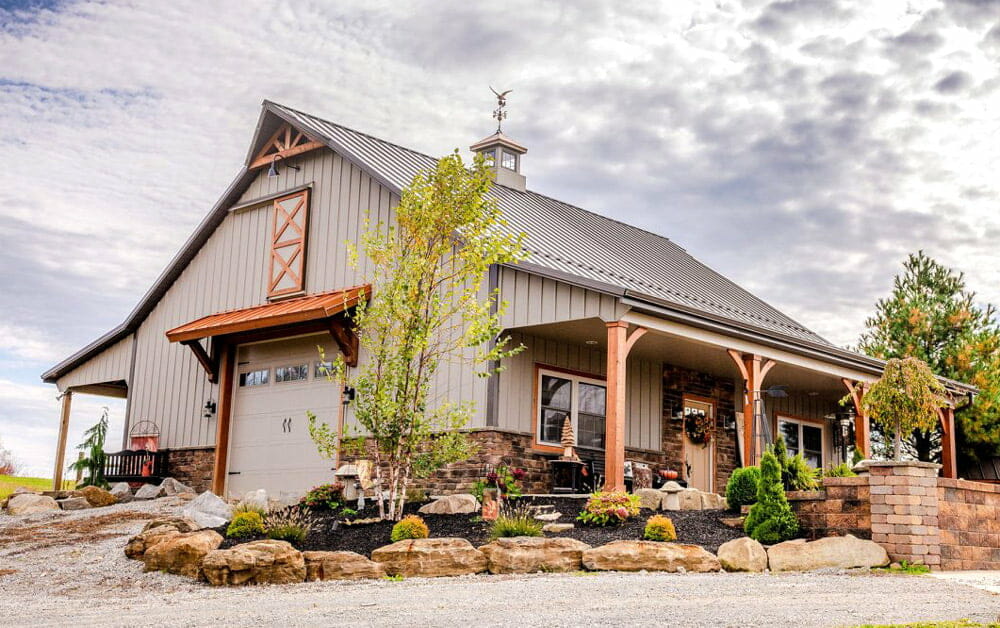 Box rib metal panels offer strength and visual appeal in equal measure. They have exposed fasteners which run along their replicated ribs. These ribs have a box shaped pattern in their appearance.

The sharp-edged angles of box rib panels often stand out in their folded pattern. This makes them quite visually attractive. They also have relatively easy installation.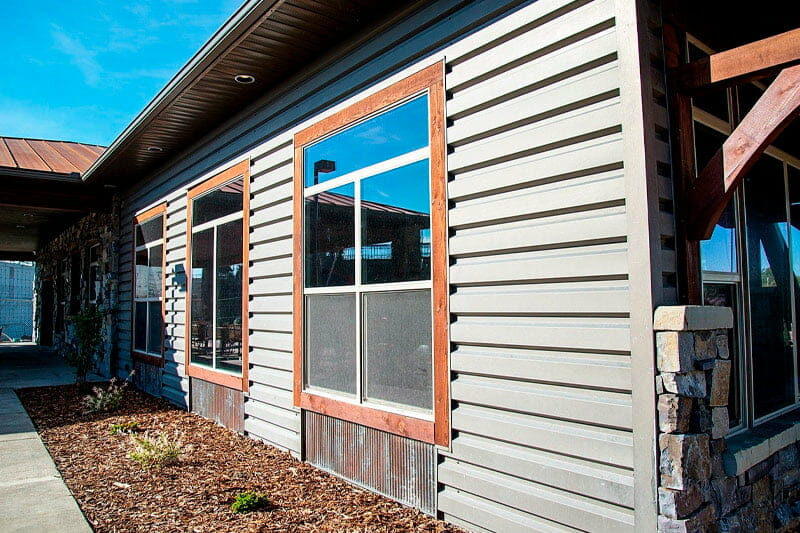 All Purpose metal siding panels are mostly popular among DIY installers since they are rather easy to put up. They also offer high degrees of durability and strength against adverse environmental conditions.
The numerous design styles they come in give them a unique adaptability that makes them extremely suitable for residential metal siding projects. They can however also be used for general purposes depending on the building designs in question.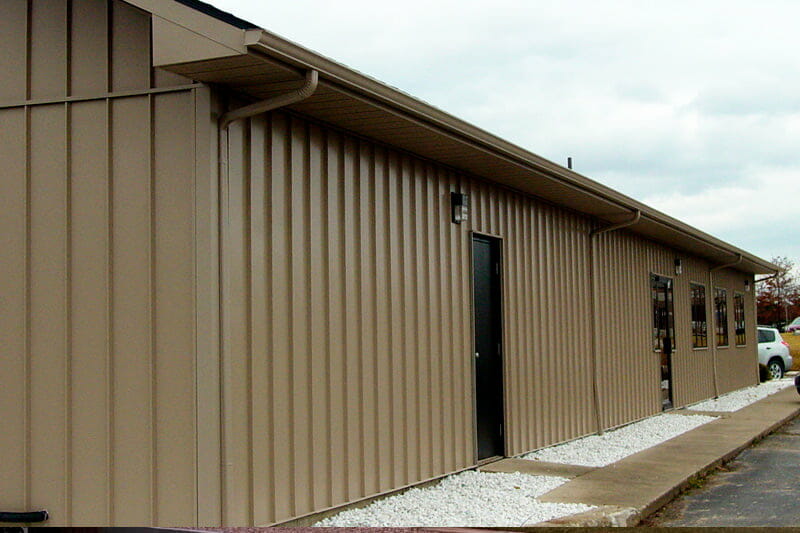 Flat panels usually offer a stylish contemporary look through their clean lines that run either horizontally or vertically along their width.
These lines coupled with their ability to create many different looks such as V Groove, Shiplap and custom flat options make them quite unique. They are therefore a great choice for clients looking for a modern residential steel siding material.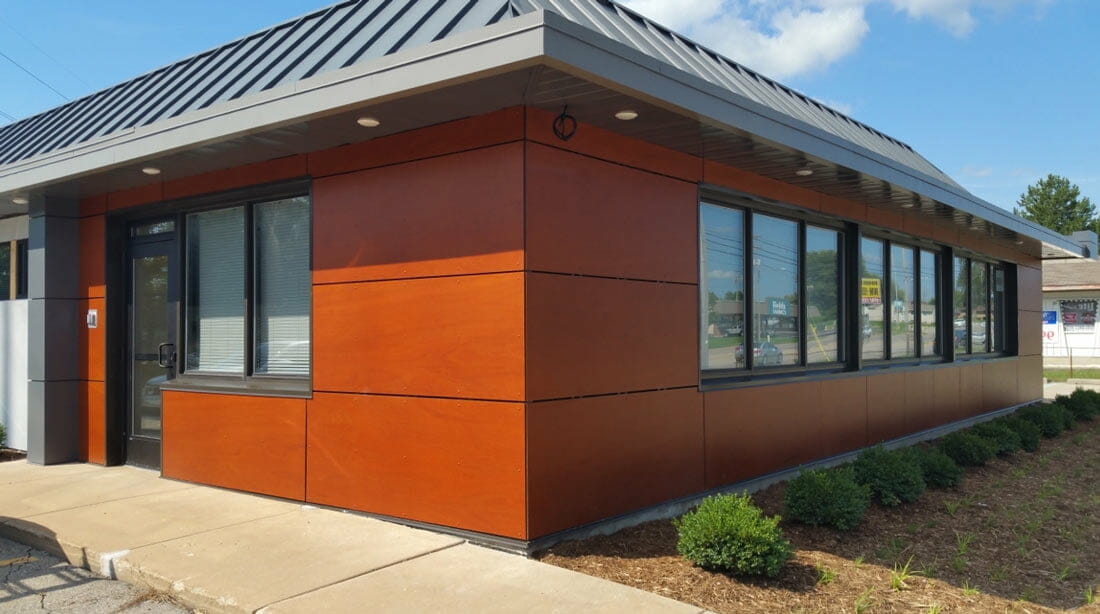 Most metal siding is quite easy to maintain. Such maintenance is however dependent on the type of metal the siding is made up of.
Annual hose pipe rinsing using a non-abrasive cleaning agent is normally recommended for aluminum siding. Painting at least once a decade using manufacturer approved paint also ensures that such siding lasts for up to 40 years. Power washing and painting steel siding annually is also a great way to keep it in shape. It is however important to note that priming and painting your metal siding voids all manufacturer attached warranties on it.
What are the Pros of Metal Siding?
Steel and aluminum siding are the strongest and hardest siding options available. They can withstand threats such as adverse weather conditions and direct force which easily damage other building materials like wood and vinyl siding.
A metal wall panel with a concealed fastener can last longer than one with an exposed fastener. This is because its concealed fastener makes it have better weather tightness.
Metal is the most low maintenance siding material available. Unlike other materials, it does not absorb heat and moisture. It, therefore, does not require sealing and staining to keep it in good condition. Well-installed metal siding only requires a quick yearly inspection.
This is because it is not affected by problems like mold infestation, rotting and warping. Residential steel siding is therefore the right siding material when low maintenance is a priority.
The reflective properties of steel and aluminum siding makes them quite energy efficient. This is because such reflection not only improves the degree of comfortability in a space but also reduces its heating and cooling energy bills.
It is Versatile and Aesthetically Pleasing
Metal panels can be applied in a variety of styles which include shiplap, corrugated, batten, and rib. They are also available in a wide range of colors and panel profiles. Exposed fastener panels can be utilized for both metal roofing and siding at relatively low costs.
Unlike materials such as wood, metal cladding is completely pest repellent. This makes it unable to harbor insects underneath its exterior because it is neither soft nor edible.
Owners of metal siding can thus save on the bug removal costs that are incurred by those who own other materials such as natural wood, composite and vinyl siding.
Metal is regarded as an eco-friendly siding material since it is entirely recyclable. Any waste from the constriction or demolition of metal siding can therefore be reused for an alternative purpose such as metal roofing and rain harvesting.
What are the Cons of Metal Siding?
Although metal siding is a durable and non-combustible material, it is still prone to denting. Denting normally occurs when sufficient force is directly applied on residential steel siding and aluminum siding wall panels.
The degree of denting depends on the type and gauge of the wall panels used. The lower the gauge, the thicker the wall panel and the higher the gauge, the thinner the wall panel. A thinner gauge material is therefore more prone to denting than a thicker gauge material.
It is Costly to Purchase and Install
Although metal wall panels are not the most expensive siding materials, their buying and installation costs are rather high. Aluminum and steel metal siding panels cost between $3 and $8 per square foot to purchase and install.
Zinc and copper which are also used in metal siding cost between $15 and $35 per square foot to purchase and install. Their high-end nature and superior rust resistance features make them more expensive than steel and aluminum siding
All these siding options have insulated versions which usually cost $1 more per square foot. Even though metal siding carries a high upfront cost, its low-maintenance and durable nature helps homeowners save money in the long run.
It is Difficult to Replace
Aluminum siding can be extremely difficult to replace when only a small section of it has been damaged. This is because it is prone to either losing color or becoming chalky after long-term exposure to the weather elements.
This makes it rather hard to obtain a replacement panel that matches the original siding in appearance. In most cases, owners are often forced to replace the entire siding with the help of professionals.
Home Garden Guides is a great tool that quickly matches you with the best siding specialists in your locality. You can get three estimates from local siding professionals in a matter of two minutes. Kindly follow the steps below to enjoy this great service:
Scroll to the top of the page and enter your zip code
Answer questions about your siding job
Your siding details are forwarded to three local experts who will send you a price estimate for your job with some friendly advice.
It is Prone to Rusting When Scratched
Rusting is known to occur on steel metal siding that has either been scratched or exposed to extremely salty conditions like those found in coastal areas. When scratched, steel siding metal requires immediate painting to keep it from rusting.
It is Difficult to Install
This is particularly true for steel siding since its panels are rather thick and heavy. This makes them quite time consuming and labor intensive to install.
It Does Not Insulate Well
Metal siding cannot effectively insulate against both unwanted sound and heat unless insulation is fitted underneath it.