Vinyl is one of the most versatile types of siding as it is meant to resemble the most popular wood siding styles.
Each style of vinyl siding comes in many different colors, different textures from a smooth finish to a rough cedar plank look. Deciding what style to install on your home is a big decision that will impact its look and curb appeal for many years to come.
Since every house is different, choosing the vinyl siding that brings out the best of your house is a trick. I hope that I will make that choice easier for you. Stay with me.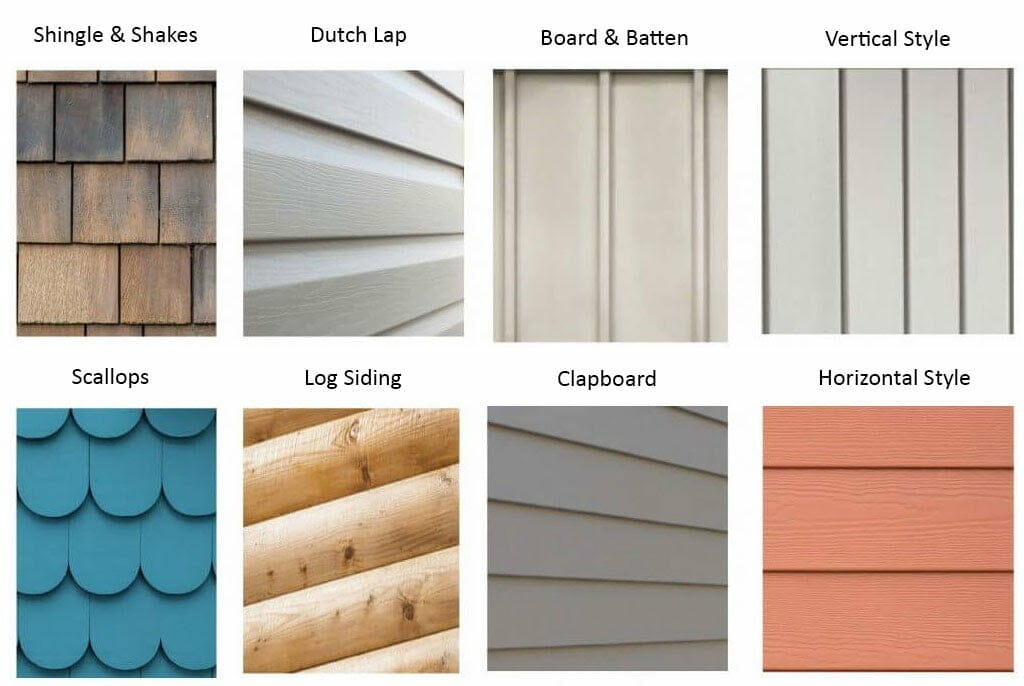 Type and style are generally used together. Styles are the different profiles, colors, and textures that each type has. Clapboard or horizontal type has three main styles: Dutch lap, beaded, and smooth. It also comes in different widths or profiles.
Board and batten or "vertical siding", comes in different widths from 10" to 13"+ and runs vertically from top to bottom of the house.
Cedar Shake comes in 'staggered' and 'straight edge', and textures that range from light grain to thick, rough-cut shakes.
These are few examples for the start just to get a picture of all the differences between these two terms. Your contractor for sure can help you understand.
HomeGardenGuides.com is a free service that quickly matches you with top-voted local Siding Specialists.
You can get 3 estimates fast by real certified experts in your area in just 2 minutes.
Scroll to the top of the page and enter your Zip code.
Answer questions about your siding job
Your siding details are forwarded to three local experts. They will send you a price estimate for the job and some friendly advice.
IMPORTANT: There is no obligation to hire. This is a free tool and service to be used at your pleasure.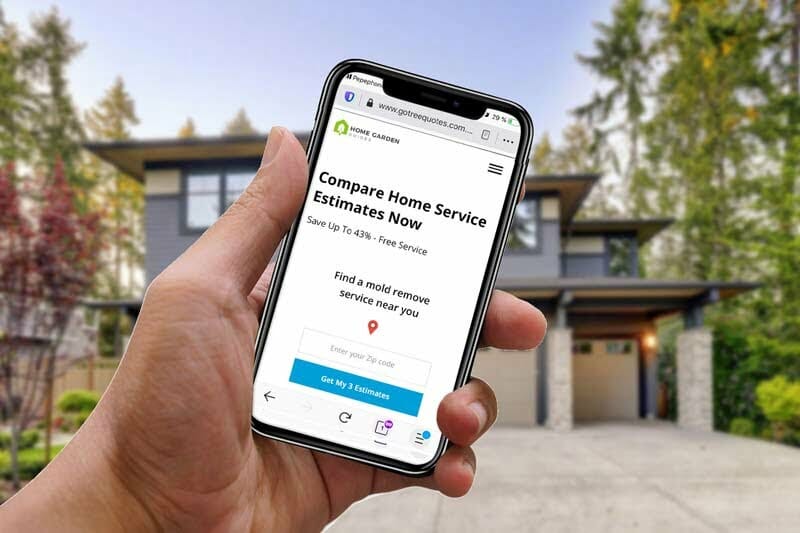 I will guide you now through the three most popular types of vinyl siding: Horizontal, Vertical, and Shake/Shingle.
When we think of vinyl siding, usually the first picture that comes to our mind is horizontal siding. By many thoughts, the horizontal siding will never become outdated. This is a simple and clean facade that is not unique but is timeless.
Horizontal siding comes in many different styles, which offers you more variety in terms of design. Dutch Lap, Beaded, Traditional Lap, Clapboard, Log-style siding are some of the styles that are available with horizontal vinyl siding. Like horizontal wood siding, vinyl siding is vulnerable to rainwater damage but is highly resistant to splintering, mold, and insects.
This is a budget-friendly type of vinyl siding compared to vertical or shake. It is also low-maintenance, eco-friendly, and energy-efficient siding.
Style
Characteristics
Smooth
Without shadow line like on beaded or dutch lap;

Look like freshly painted wood.
Dutch Lap
Real wood look-alike;

Decorative shadow lines at the top of the panels;

Decorations create images that panels are hand-made.
Beaded
Decorative shadow line with a rounded bead located at the bottom of the panels;

Similar to Dutch Lap, but here shadows are on the bottom of the panels.
From barns and farmhouses to the commercial office building. That is the simple way to explain the rising popularity of vertical vinyl siding. We must admit that it catches the eye at first sight because it stands out from the most horizontal siding in the neighborhood. However, compared to the horizontal siding it is a little bit more expensive due to the more consuming labor.
Low maintenance, looks like real wood, moisture, and pest-resistant, doesn't need painting. As you can see there are a lot of benefits with vertical vinyl siding.
Style
Characteristics
Shakes
The rustic look of natural wood;

Weather-resistant;

Low maintenance and low price;

Unique types: straight and staggered edges.
Scallops
You can use it for the whole house or just for decoration as accents;

Can vary in shapes
Shake/Shingle vinyl siding
Shake and shingle siding is one of the favourite among home designers and architects. Vinyl options of this style can give you the real look, texture, and color of shake and shingle but with a far fairer price. Often used on historic homes or gables this type of vinyl siding provides a distinctive and charming look. This is vertical siding and comes in many forms such as half-rounded, hand splint, or staggered edges.
A low-gloss finish gives the appearance of the real thing. Unlike cedar shingles, for example, the vinyl option gives you the desired look without having problems like uneven weathering, expensive maintenance, and high installation costs.
All these types of vinyl siding can come with a layer of insulation that gives your home energy efficiency, as well as increased sturdiness for the siding, itself.
Vinyl siding styles: Profiles and Textures
The texture of the siding refers to any pattern on the surface of the siding. On the other hand, profile refers to the different ways in which the panels are hung and the overall look of the finished product. Let's take a short tour through some of the most popular vinyl sidings styles.
Clapboard
This traditional method of siding a house is also known as lap siding or horizontal siding. Designed with long, narrow boards of around 4". Planks are nailed lengthwise to the wall and overlap each other from the top to the bottom and look like real wood in texture and profile. An absolute winner among other siding options that also overlap.
Traditional Lap
Traditional lap is similar to clapboard siding. Board planks are 6" to 7" and also overlap. Planks are wedge-shaped, being narrower at the top than the bottom.
Planks are installed from the bottom to the top of the wall, and the ticker bottom edge will overlap the bottom plank. This way you have high water repeal siding that protects the structure beneath. This pattern creates stronger shadow lines than regular clapboard.
Dutch Lap
With dutch lap siding, you have a sharper angle of the bevel that creates more contrast between the planks. Overlapped areas are deeper, creating an even stronger shadow line.
Dutch lap is creating a hand-carved look and this plank will create deeper shadows and smoother lines. Usually, these planks are 4" or 5" wide. Rather than going one plank at a time, it is installed one section at a time.
Smooth
When you consider vinyl siding, probably you visualize smooth siding. This is a texture-free surface. A great choice for modern architecture because of its clean lines and a wide range of colors.
Woodgrain
Natural wood can absorb moisture and rot. That's why this wood grain manufactured vinyl siding is an excellent alternative. It is more durable than wood. Can be installed both horizontal and vertical and looks like wood that has been stained.
Beaded seam
Beaded seam siding offers you an even more interesting shadow line. Each plank of siding has a rounded notch cut into the bottom edge. When siding planks were handmade, this was a very expensive feature and only found on very upscale homes.
Beaded seam has a very clean look, and is great for traditional homes. Any home looks nice with beaded seam planks, as the bead accents the lines well. This siding, also, is available in a wide choice of colors.
Board and batten
Board and batten siding, also known as barn siding, is the widest of all with the planks up to 12 inches wide. Both horizontal and vertical option is available, with narrow strips of wood nailed over the gap between the boards.
Cedar shake
Originally made by hand, cedar shakes are a traditional siding. Unique and very rough siding with a lot of texture. Real cedar shakes have rich color but over time it dries out and turns grey, and must be stained every few years. With the vinyl option, you are free of upkeep that frequently, just regular maintenance. Choice of colors is near limitless.
Traditional shake (Straight edge)
You get exactly what the name implies, straight edge. Once installed, this siding displays straight shadow lines, even if the edges are straight and even.
Hand-split shakes (Staggered-edge)
Staggered-edge siding looks like hand-split shingles. With shingle siding, the individual shingles are installed and the overall look shows complex shadow lines. Vinyl siding made with staggered-edge may be manufactured in panels.
Half-round (Scalloped)
"Finish scale" is another name for this siding. Half-round shingles create a picturesque look. It is especially nice in gables. The scallops are historic-looking and look great with a low gloss finish. A vinyl option is available in this profile.
Log vinyl siding
The rustic look of log siding with vinyl? It's possible. Since log cabins are expensive and require a lot of maintenance, a vinyl option is a good choice for you. This siding does not splitter and the colors will not fade.
Vinyl log siding is mold and insects resistant. It also withstands bad weather. With log vinyl siding, you can have the look of a log cabin without the outrageous expenses associated with the materials and installation of logs.
Vinyl siding VS Other siding options
Let's make a little comparison between vinyl and other siding options available:
Vinyl siding VS Wood siding
Vinyl siding gives you the look of real wood, but without the high maintenance that is common for wood siding and for half the price.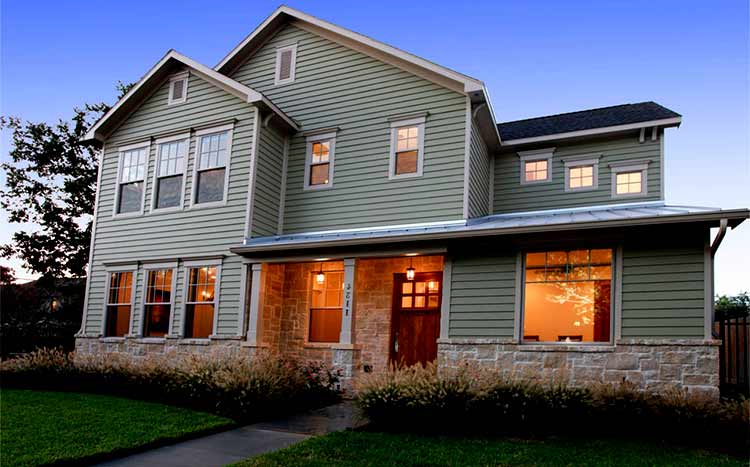 Vinyl siding VS Fiber Cement siding
Fiber cement is more durable than vinyl siding and will last longer. However, vinyl requires only low-maintenance cleaning while fiber cement needs to be caulked and painted regularly over its long lifespan depending on the weather.
Vinyl siding VS Brick and Stone siding
Both vinyl and brick and stone are relatively low-maintenance and provide good resistance to outside noise, but vinyl is cheaper.
Vinyl siding VS Stucco siding
Stucco is fire and insect-proof and can last up to 100 years, but can be x3 times more expensive than vinyl.
Vinyl siding VS Metal siding
Metal siding (aluminum and steel) has a powder-coated finish that eventually wears off, making it higher maintenance. Vinyl offers a better value even metal can last a little bit longer.
What is the best option for you depends on your taste and the style of your house. Take a ride in your neighborhood and try to find houses similar to yours that have vinyl siding on them and see if that works for you. Also, an exterior designer can help you choose. But don't rush, your choice will define your home and can affect its curb appeal and resale value. Good luck.