Seamless siding is a durable and beautiful exterior wall cladding. It is renowned for its functionality and aesthetics, making it applicable for residential houses and high-end commercial, recreational buildings.
Seamless siding is a full panel building siding cut to precise lengths to custom-fit your exterior home dimensions.
The design of seamless siding eliminates gaps and seams, enclosing your home in a rigid and durable shell.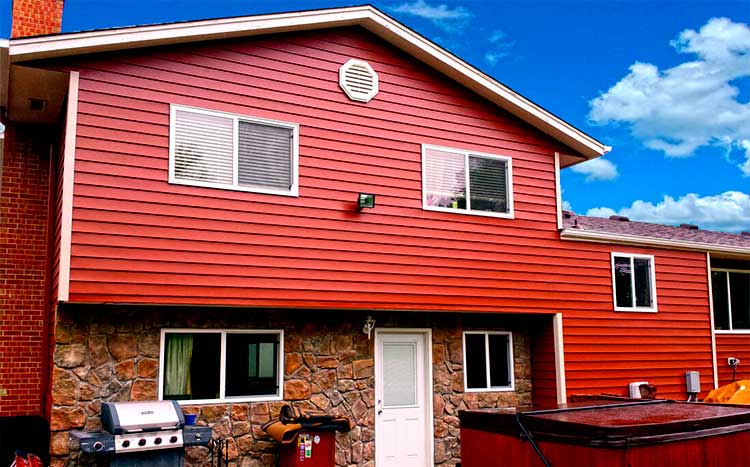 Seamless wood – Installing seamless wood siding successfully will depend on the size of your home. The whole point is a custom fit, but the length of timber is not endless, so larger homes may need to compromise.
Seamless steel siding – This is the most popular for modern homes or office blocks. Available in many finishes and styles.
Fiber cement – This is also a popular choice as it is one of the cheaper options and also very long-lasting. The classic look of fiber cement is a safe bet if you are reselling your home.
Vinyl – Vinyl siding has been very popular for the last 20 – 3 years as a seamless option as it is cheap to customize for any home.
How much does seamless siding cost?
Seamless siding costs more to install than short paneled siding. To get a more accurate price you will need to first decide on a material. The price of vinyl siding is the lowest for seamless followed by metal, wood then fiber cement which costs the most to produce. Below is a table illustrating the breakdown of seamless siding average and labor costs.
| Cost per square foot | $5.5 - $15 |
| --- | --- |
| Cost per 1,500 sq ft house | $8,250 - $22,500 |
| National Average Cost | $14,250 |
| Average Labor cost | $5,850 - 16,000 |
What are the advantages and disadvantages of seamless siding?
Seamless siding is a building solution that has become extremely popular with homeowners across America. While its practicality is not in dispute, seamless siding does have its limitations, as well as strong points. Here is a list of advantages and disadvantages of seamless siding.
Exceptional durability – close-fitting steel or vinyl seamless siding panels are highly durable and can withstand high-speed impacts from falling or tossed objects. Its lack of gaps and joints eliminates dust, dirt, and moisture, which causes corrosion in conventional metal siding. Professionals install each wall siding section from one solid roll of steel or vinyl instead of several small single panels, providing stronger protection against flooding, mold, mildew, pests, insects, extreme temperatures, and harsh weather conditions.
Cost-effective – seamless siding is a more cost-effective siding option that justifies its high installation costs. Steel and seamless vinyl siding have a lifespan of more than 35 years, meaning they can potentially last for the lifespan of your house. In addition, seamless steel siding has the advantage of being fully recyclable. You can monetize your seamless steel siding at the end of its useful cycle and not worry about disposal costs.
Energy efficiency – seamless siding (steel) has remarkable energy-saving properties. It deflects heat from sunlight keeping your home interior cool during hot summer afternoons. This feature works in reverse during cold winter months by trapping heat inside your home to keep you warm. In all, these features help keep your home interior temperatures within a reasonable level all year long, making your house a more comfortable place to live in and reduces your electricity bills.
Fire-resistant – both steel and vinyl siding have a fire-resistance rating. Although seamless steel siding has significantly higher fire resistance properties. You enjoy the following benefits by installing fire-resistant seamless siding.
You pay lower monthly premiums on your homeowner's insurance.
Your house has a lesser risk of catching fire as a result of a lightning strike.
A high fire rating aids your chances of getting a permit to install the seamless siding.
Maintenance-free ownership – seamless steel or vinyl siding is virtually maintenance-free, and apart from periodic cleaning to remove dust and dirt, needs no further care. Its sealed design means no gaps or joints to let water and ruin the wall structure underneath. Seamless metal siding is fade-resistant and does not require painting or staining. Seamless steel or vinyl siding is made from non-porous materials that are insect and pest resistant.
Relatively expensive: seamless siding is more costly than the conventional siding types, which can be a deal-breaker for most buyers. At an average price of $5.5 to $15 per square foot installed. Seamless siding is a higher-end construction material than conventional siding, which costs between $1-$8 per square foot. Seamless siding's high installation costs are due to the high level of experience and special tools required to perform the installation process. Every siding piece must be carefully measured and cut to fit each section of your home exterior wall.
You can't change the color: your color alternatives are virtually non-existent after installing seamless siding on your home exterior. Seamless siding is unpaintable and comes with a high-quality manufacturer's paint job that is literally guaranteed to last for its entire lifespan. This means you are stuck with the color unless you decide to rip out the old sliding and install a new one of a different color.
It can be difficult to install: seamless siding is complicated to install than conventional siding types. It is a reason why seamless siding is expensive to install, also why it is not an ideal DIY project. Installing seamless siding on your one is a time-consuming and laborious task. Professionals measure and cut the siding material to precise lengths to fit each wall section and eliminate gaps. Mistakes can cause the siding installation to develop gaps requiring expensive redos.
It is heavy and cumbersome: seamless siding panels are long rolls of solid material instead of several small panels. The extra length adds weight to each siding roll requiring a minimum of two men to install seamless siding properly. Also, seamless siding length makes it cumbersome to handle during installation and requires extra hands to cut and install. These are some of the challenges that lone DIYers face when installing seamless siding. However, these problems are absent when installing conventional siding.
How long does seamless siding last?
Seamless siding can last for the entire lifespan of your home if you care for it properly. An average lifespan of 30 years is typical, with most installations staying for more than 50 years. Seamless siding manufacturers offer lifetime warranties for their products which is proof of the longevity of the materials they use in producing seamless siding.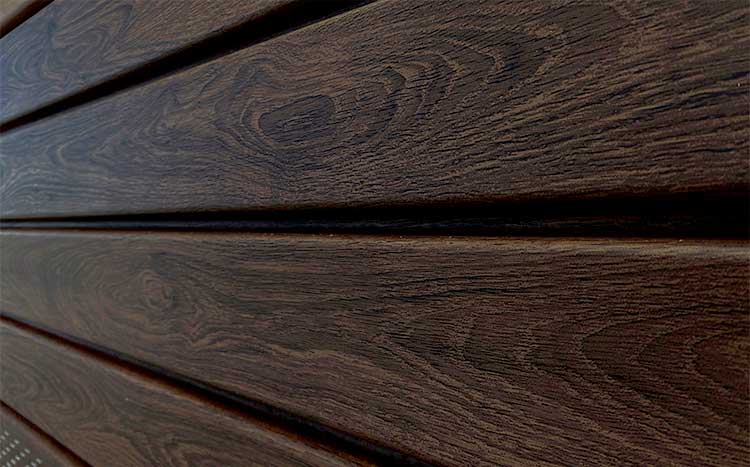 Does seamless siding add value to a house?
Yes, seamless siding adds to your home curb value in the following ways.
You make your house more desirable when you install the seamless siding. It creates a priceless wow factor whenever passersby notice, which increases the selling price when the time to sell comes.
Seamless siding is guaranteed to last for the life of a house. This is a significant bonus when selling your home because buyers know that seamless siding manufacturers' lifetime warranty is transferable.
The pleasure of having a fade-free color is tempting for several home buyers who would prefer owning a house where there's no need to go through the expense and trouble of repainting their home exterior.
When is seamless siding used?
There are several aesthetic and practical reasons why people choose seamless siding for their homes. You can use seamless siding for various applications with a demand for a premium quality product that can deliver superior performance regardless of the cost.
Seamless siding can prove to be an excellent siding option in the following situations.
When you desire a unique contemporary architectural look.
When building In windy locations.
In cold and wet climates, where you require materials with excellent moisture control properties.
Seamless stainless steel siding is the most durable siding you can buy. It is a tough, non-corroding, weatherproof siding with outstanding tolerance to extreme temperatures and fire-resistance capabilities.
Seamless siding makes your home stand out within the neighborhood. The sleek uniform structure of seamless siding is more rigid because it eliminates several small joints favoring fewer joints. It's a design feature that protects your exterior walls better than conventional siding.
Installing seamless siding costs $5.50 – $15 per square foot, depending on your material choice. The cost includes material and installation costs.