Wood is generally considered to be the best material for siding due to its homely and natural appearance.
Redwood and Western red cedar are commonly considered to be the best types of wood for exterior wood siding. This is because they are known to offer an appealing look that can last for long periods of time of up to 100 years if well maintained. Cypress, Oak and Pine are however also used for siding.
Wood siding maintenance is usually done in terms of chalking, painting and staining. These methods are known to prevent such exteriors from extensive climatic damage as well as wood-boring insects which can eat into your siding.
Which wood siding lasts the longest?
| Wood Type | Lifespan | Avg. cost per sq. ft. |
| --- | --- | --- |
| Cypress | 15 - 40 Years | $7.95 - $12.95 |
| Cedar | 15 - 30 Years | $6 - $12 |
| Redwood | 25 - 35 Years | $4 - $14 |
| Pine | 10 - 15 Years | $1 - $5 |
| Oak | 25 - 50 Years | $5 - $10 |
| Engineered Wood | 20 - 30 Years | $2.5 - $6 |
| Average | 25 Years | $5 - $10 |
Cedar takes the top spot due to it's great look, decent longevity and reasonable price as compared to other options. It is not the cheapest when compared to Pine or Engineered wood, but the curb appeal makes up for the extra price.
Pros
Visual Appeal
The Cedar's visual appeal is based on its ability to increase in beauty over time. The wide variety of styles, shapes and sizes it can be cut in also enables it to offer an outer external flair that other sliding forms struggle to emulate.
Architectural Flexibility
Cedar is extremely suitable for homes that require thermal and sound insulation. It can also be used to construct green homes due to its entirely biodegradable nature.
The simplicity of its installation also adds to its flexibility by making it suitable for both do-it-yourself projects and almost all architectural styles.
Cons
Biodegradable
The biodegradable nature of Cedar also acts as a disadvantage since it makes it more prone to rotting and damage by insects than other siding alternatives.
Flammability
Untreated Cedar may be extremely dangerous for houses that are periodically exposed to fire.
Runner up 1: Cypress siding
It was a tough choice between cypress and cedar for the top spot as they are close on price and lifespan, but the cedar look is a little more popular in general and will help with the resale value of your home. Nonetheless, Cypress is a great siding choice.
Pros
Durability
Cypress siding is known to last for long periods of time of between 15 to 40 years. This is because it is usually able to withstand challenges such as fungal infections and insect infestation which generally affect other types of wood.
It also contains a protective oil otherwise known as Cypressene which is able to protect it from the aforementioned threats for long periods of time.
Weather Resistant
Cypress siding is often used for houses and buildings located along the coastline. This is majorly because it is widely known to be able to resist weather patterns for long periods of time.
Cons
Fading
Cypress siding has a tendency to fade after being exposed to different weather patterns over long periods of time. This limits its suitability as far as external appeal and appearance are concerned.
Cracking
Cracking usually takes place on Cypress siding especially in cases where a sealant has not been applied for long periods of time. This in turn means that Cypress siding needs to be periodically maintained through sealant application.
Another contender for the top spot due to it's longevity and low cost, but Cedar edges out oak with overall style and curb appeal.
Pros
Eco-friendly
Durable oak can be reused in different projects whereas decomposed oak may be used as manure.
Cons
Prone to Rotting
It is biodegradable and can therefore quickly rot if not well-maintained through sealing.
Honorable mention: Redwood siding
Redwood is a bit of an acquired taste and not for everyone. It is a great choice if you want to make a statement or even just for a feature like in the entrance or a single wall.
Pros
Long-lasting
This quality makes Redwood one of the best long-lasting wood siding alternatives. This is because it enables it to maintain its structure and joints without any curving distortions.
Aesthetic Quality
Redwood is commonly known to provide a visually attractive exterior finish that can be able to last for about 25 to 35 years without too much maintenance.
This is because of the tiny amounts of pitch it possesses unlike the large quantities of resins found in other alternatives.
Cons
Cost
Redwood normally costs about 2 to 3 dollars more per square foot than other wood siding alternatives. This is largely due to its limited availability and high demand.
Maintenance
The initial cost of Redwood is most likely to increase in the long term since it requires periodic sealant application to prevent mold growth and retail visual appeal
Budget option: Pine wood siding
It's hard to go past pine for the budget option as it is the go-to timber for most building works and furniture these days. Another benefit is its light color which can be stained to whichever look you are after. The downside is the stain will fade over time and need to be reapplied.
Pros
Cost-Effective
Pine is generally considered as cheaper to either Redwood or Cedar.
Quality Finish
Pine is known to produce a great finish especially when horizontally painted or stained.
Cons
Structural Distortion
Pine can easily bend and crack especially when exposed to adverse weather conditions over time.
Prone to Rotting
Pine is normally prone to rotting which means that it must be regularly maintained through sealing.
Long Lasting: Engineered wood siding
This is a great alternative to real timber as it lasts longer than regular timber and requires little to no maintenance.
Pros
Cost-effective
Engineered wood is generally cheaper when compared to natural wood.
Natural Look
Engineered wood often retains the natural wooden look despite going through artificial processes.
Zero maintenance
There is no need to seal engineered timber. It is good to go for the lifetime of the product. There is also no chance of termites or other bug infestation.
Cons
Fading
Engineered wood is largely susceptible to fading when exposed to dynamic weather cycles over long periods of time.
Environmentally Unfriendly
The binding substances which are normally found within this type of wood are largely non-biodegradable.
What is thermally modified wood siding?
Thermally modified wood siding is usually altered through an oxygen deficient eating process otherwise known as pyrolysis. It is normally more durable for external use after this process when compared to raw wood.
Rot, insect and water resistance are among the greatest advantages of thermally modified wood. Its chemical-free nature coupled with structural stability and relative lightness also make it a suitable alternative for exterior siding.
Its major disadvantages include minimal curving strength and color darkening both of which also result from the heating process. Sunlight exposure may also turn it into a rather dull grey color especially in cases where it has not been well-finished.
What is engineered wood siding?
Engineered wood siding is basically composite modified wood. In other words, it is manufactured by combining a variety of fiber and wood strands with a view of coming up with a type of siding that is both cheaper and stronger than available alternatives.
Its major advantages include greater mold and insect resistance when compared to natural wood. It also has immense dimensional strength as far as stability is concerned which means that it can be able to withstand numerous adverse weather cycles without getting warped.
It can however lose visual appeal over time as a result of fading. It can also crack over time thereby enabling moisture to get into its structure.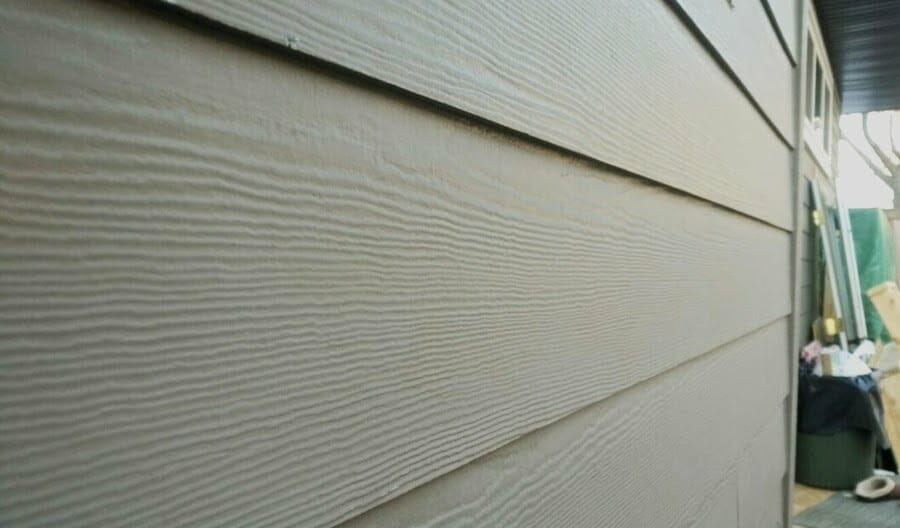 The following are the various siding styles:
Lap siding
Lap or shiplap siding generally refers to the horizontal installation of planks in such a way that the upper plank overlaps the one immediately below it. Shiplap can also be installed vertically.
Tongue and groove siding
This type of siding typically fits planks together by matching their edges. It is normally used when looking to strongly join two flat planks together to form one flat surface.
Drop channel siding
This kind of siding usually involves either horizontal, vertical or diagonal placing of plank. The planks are placed in such a way that they are joined together through either tongue and groove edge joint, a shiplap joint or a rabbeted joint.
Board and batten
Board and batten siding is commonly known for joining wide boards and narrow battens in an alternating fashion either horizontally or vertically.
Split logs
This siding method normally utilizes dried and treated cypress, pine, redwood or cedar logs to give an exterior wall a rustic appearance.
Shingle siding
Shingles are often used to provide a uniform but visually appealing external look. This is generally because they are thinner when compared to shakes. This in turn means that they can be cut into distinct shapes and sizes for outer beauty
Shake siding
Shake siding offers flexibility in design by creating a distinctive architectural look through the use of split-off, thick pieces of wood otherwise known as shakes.
Vertical
Vertical orientation usually involves attaching wide and straight boards to the wall in a tongue and groove fashion. Tongues are usually located on one vertical edge with grooves being placed directly across them.
Horizontal
Horizontal siding techniques are known to engage lap siding which is a method that usually overlaps the plank edges so as to draw attention to the length of the building in question. It is however also possible to utilize log, clapboard and butt-edged siding in a horizontal manner
Diagonal
Diagonal siding is often able to place planks in either opposite or similar directions depending on your preference. This siding orientation normally utilizes a semi-vertical technique which is a crossbreed between vertical and horizontal siding.