Costs for wood siding materials vary depending on the type of wood and siding design.This brief guide goes over some of the cheapest quality wood siding options available out there.
Some of the cheapest wood siding options include plywood, pinewood, engineered wood, composite wood siding, cypress, and hardboard siding. The cost of wood siding usually depends on its thickness, design of the wood, and where you buy it. T1-11 plywood (cheapest) siding roughly costs between $1 to $4 per sq ft installed.
Wood siding is an excellent choice especially if you can source the wood locally or go for a simple design like board and batten. You could even cut your costs further if you choose thin wood and install insulation.
These are the least expensive wood siding options out there.
Type of Wood Siding (Pocket-Friendly options)
Est Cost Per Sq Foot
The average cost for a 1,500 sq foot House
Low
High
1
Composite siding
$3
$7
$7,500
2
Engineered wood siding
$2.50
$6
$6,375
3
Pinewood siding
$2.50
$5
$5,625
4
Cypress Siding
$1.5
$5
$4,875
5
Masonite wood siding
$2
$4
$4,500
6
Plywood Siding
$1
$4
$3,750
Composite is a popular engineered wood made from natural wood particles or sawdust glued together, heated and pressure-treated to create a strong and durable wood. Composite wood siding is an affordable option for those who don't have access to locally sourced lumber. It can be purchased in a variety of shapes, sizes, and designs to cater to various siding styles.
Costs for composite wood siding per square foot range between $3 to $7 depending on the manufacturer, thickness of the pieces, and quality of the wood. Being an industrial product, composite wood siding materials can be purchased from any hardware store across the country.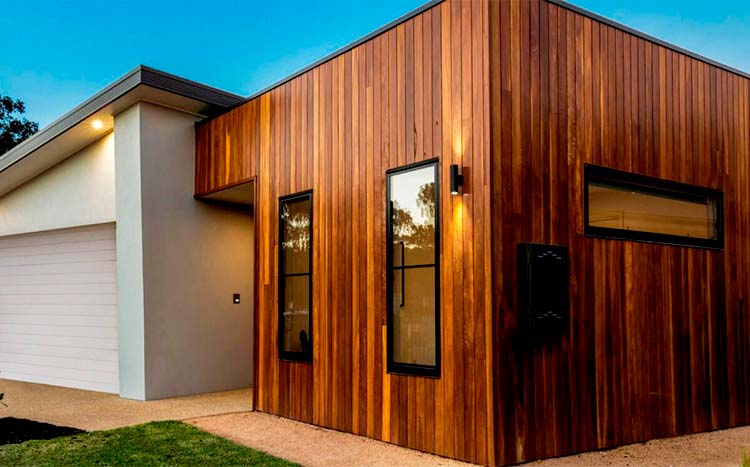 Engineered Wood (Other affordable options)
There are other affordable engineered wood siding options out there including generic products from different local and foreign manufacturers. With a bit of digging and shopping around popular hardware stores, you can get good quality engineered wood siding for as low as a dollar or two per sq foot. The durability and longevity of engineered wood siding vary from one product to another.
Costs per square foot for engineered wood siding ranges between $2.5 to $6 depending on the quality of the wood and design. Engineered wood siding is more rot and pest resistant than natural wood because of the way it is manufactured and the additives it contains. Despite this, it is usually cheaper and more sustainable than natural wood.
Pinewood is a softwood and very popular because of its affordability and availability. With proper maintenance and care, pinewood siding can last for many years. However, the cheapest pinewood may not have the rot resistance that more premium wood siding has.
Costs per square foot for pocket-friendly pinewood siding range between $2.5 to $5 depending on the thickness of the wood, size, and shape/design. It's easy to find pinewood in all hardware stores across the country.
If you are on a very tight budget and don't mind using less premium wood, then cypress siding is your best option. It is softwood with similar characteristics as pine and other softwoods. Pressure-treated cypress can offer the same durability you could get from more expensive lumber. Cypress is the most affordable option for those in the southeast because cypress trees are locally available.
Expect Cypress siding to cost between $1.5 to $5 per square foot, if you can source the materials locally and go for a simple style of siding such as board and batten, shiplap, or tongue and groove. Costs may also depend on the thickness of the wood you choose.
Masonite/Hardboard Siding
Masonite or hardboard is an excellent siding option if you are on a tight budget but looking for durability. Masonite or hardboard is a type of engineered wood made from a mixture of wax, wood fibers, and other additives depending on the manufacturer. Masonite siding has been around for many decades and is loved because of its durability.
Per square costs for affordable hardboard siding range between $2 to $4 depending on the quality of the wood and manufacturer. You can even get cheaper hardboards if you go for generic imports or if you have a local hardboard manufacturer you can purchase materials directly from.
Plywood Siding -T1-11 OSB
Plywood is one of the cheapest and simplest wood siding styles you can go for if your budget is very low or if you are installing siding on a garage, barn, or temporary structure. It is rare to find modern homes, especially in urban areas with plywood siding. Plywood siding also known as T1-11 does not hold very well in wet weather and may need to be repainted or stained frequently.
Plywood siding is very economical with per square costs ranging between $1 to $4 depending on the quality and thickness of the plywood. You will also spend the lowest amount to install plywood siding in most places although costs can go up if there is a lot of wastage.
What is the Cheapest Wood Siding to install?
Plywood is the cheapest siding to install. A professional installer will charge between $3 to $8 per square foot to install T1-11 OSB plywood siding depending on the style of siding, the shape of your house, and other factors. The average cost to install plywood siding is $2,450 but you could pay as low as $1400 or high as $4000 depending on the above factors.
Tip: Looking for an affordable siding installation service? Our free contractor location tool helps homeowners to find and connect with top-rated siding installers near them. All you need to do to use this free tool is scroll to the top of this page, enter your zip code, and answer a few questions about your project. We will link you with at least three reliable siding installers in your location.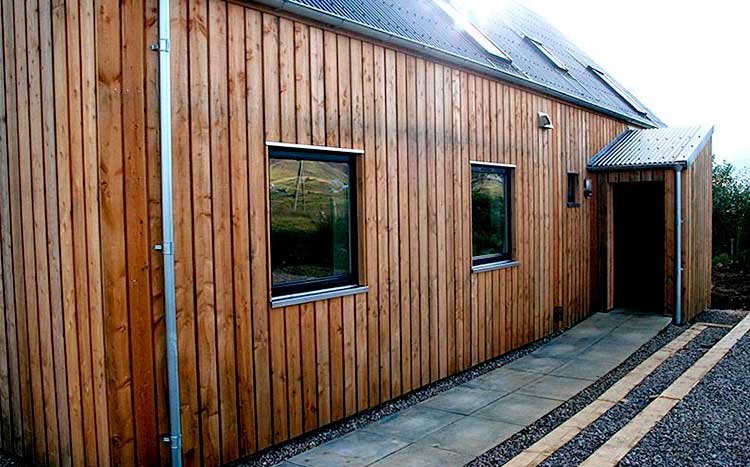 You need to know the measurements of your house exterior in square feet or linear feet to properly estimate the cost of siding. Measure each wall length in your house and then multiply it by the height of the house on each side to get the entire measurement. You may also need to factor in other costs such as the cost of installing insulation, removing old siding, and cost of materials.
Vinyl siding is the least expensive siding option currently with costs per square foot ranging between $1 and $3. Vinyl is a synthetic material used to make various products including siding. It can be made to look like real wood siding and is available in a variety of colors and designs.