Wood siding is highly durable but can start to fail after 10 or so. The repair cost will largely depend on the type of wood siding you have. Redwood and cedar are more expensive than Pine for example.
On average, wood siding repair costs around $250 to $1,700.  The average cost per square foot is $4 to $12. The cost will depend on the number of boards that need replacing and the type of wood used.
It is essential to do repairs immediately, however small, and replace boards when necessary to avoid escalating the problem. Also, ensure you maintain your siding properly to boost its longevity.
Wood siding repair cost per square foot
The average cost to repair wood siding is around $4 to $12 per square foot. The cost can be lower or higher depending on the extent of the damage, type of wood, and type of damage. For instance, it will cost more to replace boards than repairing cracks or holes.
When looking for a siding repair contractor, it is essential to consider cost factors such as the size of the job, location, job complexity, etc. This will help you get the right estimate for the job. Also, ensure your contractor provides you with a detailed estimate for the repair job.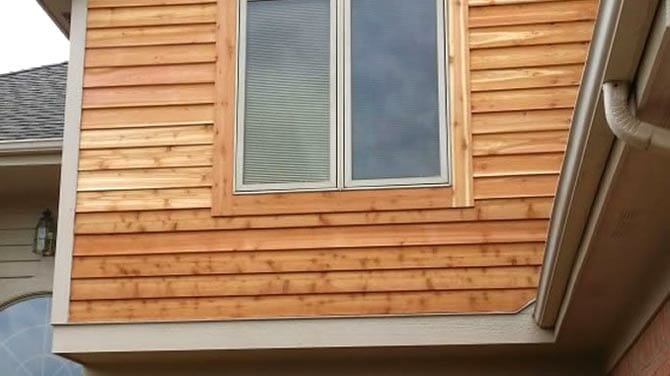 Average labour cost for wood siding repair
The average labour cost for wood siding repair ranges from $1.25 to $6 per square foot. For a 1,500 square foot project, expect to pay between $1,875 t0 $ 9,000.
Before you choose a particular contractor, you should do your homework first. Look for at last three to five estimates and compare the rates to know the right price range of the project. More so, make sure you get a contractor that will meet your specific needs.
Some contractors will charge you hourly rates of about $40 to $50 or more for small repairs. If you are replacing boards or the entire wall, fixed rates will be more reasonable.
Whether you plan to DIY the repair or hire a professional, it is essential to know the cost of materials. On average, materials cost about $0.75 to $4 per square foot. So, buying materials for a 1,500 square foot project will set you back by about $1,125 to $6,000.
While you can DIY small repairs such as filling holes and cracks, larger repairs should be handled by an experienced professional. Professionally done repairs enhance the curb appeal of the property and boost its resale value.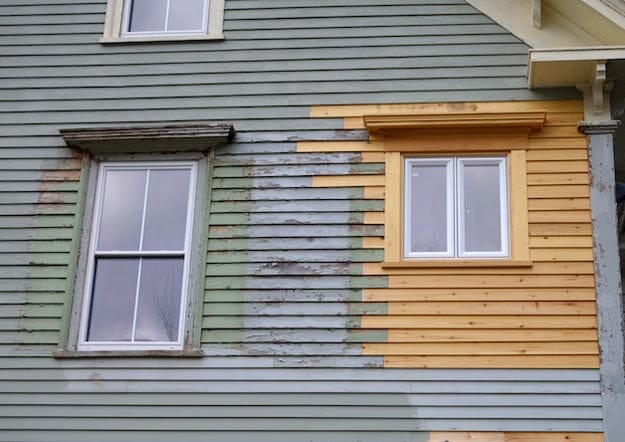 Wood siding repair cost by repair type
The table below provides you with costs to repair wood siding by type.
| Repair type | Cost |
| --- | --- |
| Mould | $500 to $700 |
| Water Damage | $500 to $600 |
| Rot | $120 to $350 |
| Dents | $100 to $300 |
| Leaks | $100 to $200 |
| Cracks | $50 to $150 |
Wood siding is usually mould-resistant, but it can start to develop mould and rot if exposed to water for too long. On average, removing mould from siding costs about $500 to $700. Mould grows in shady and wooded places, and areas with poor drainage. If you notice some parts of your siding have black spots, mould may be growing.
You should pressure wash your siding at least once or twice a year to avoid mould. You can also use a vinegar-water solution or diluted bleach to treat mould. Inspect your house regularly to determine the cause of the mould. If there are leaking pipes, repair them immediately to prevent the problem from escalating.
The average cost to repair water damage in wood siding is around $500 to $600. Water damage can be a big deal as it can lead to mould growth if not dealt with immediately. Besides your siding, water damage can also lead to mould and mildew growth in your drywall.
More so, your wood siding can eventually soften and start to rot if exposed to water for a long time. This may lead to structural damage and increase the repair bill. To be on the safe side, ensure you repair all leaks immediately.
Rot is common in wood and aluminium siding, and it should be repaired immediately to prevent it from spreading. Expect to pay between $120 and $350 to repair rot in your siding. Mostly, you will need to replace the board or panel at about $1,000 per piece.
If you maintain your wood siding properly, you will not have issues with rot. You should reapply a water-resistant coating every three to four years to protect your siding from moisture.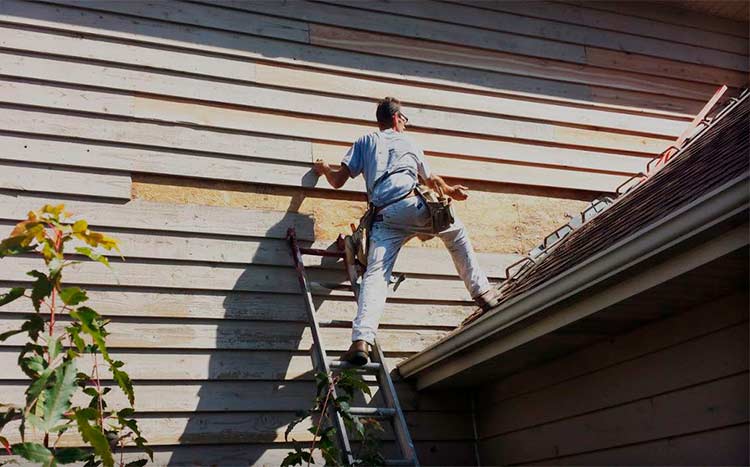 If you notice dents on your siding, you can pay about $100 to $300 to repair them. Dents are common in aluminium and vinyl sidings. Your siding can dent if it is hit by things like falling tree branches, pinecones, acorns, hail, or baseballs. In wood siding, the boards may crack and form holes when hit by debris. Dents make the siding look unsightly and should be repaired to maintain the appearance of your home.
The average cost to repair leaks in wood siding is around $100 to $200. Wood siding is the most susceptible to leaks, but other types of siding can also develop leaks. Leaks usually happen due to improper installations or contraction and expansion of the boards due to fluctuating weather.
You should repair leaks immediately to avoid costly siding replacements. Leaks may interfere with the insulation of your siding and lead to rot and mould growth.
Repairing a crack on your wood siding will set you back by about $50 to $150. Cracks may be caused by falling debris or household accidents. Cracks pave way for rainwater, insects, moisture, and rodents, which may ruin the siding and interfere with the insulation.
Repairing cracks immediately is essential to protect your home from pest infestation and contamination from rainwater. If the crack is small, you can use caulking, but bigger cracks will need patching or replacement of the affected boards.
How do I estimate the cost of wood siding repair?
Before you hire a contractor or buy the materials for DIY repairs, it is essential to know how much you are likely to spend. To correctly estimate the cost of your wood siding repair, you should consider the following factors.
Location: if you intend to hire a professional to repair your siding, you should consider your location. Most contractors charge depending on the location you live in. You should also keep in mind that low-income areas get lower rates than high-income areas for the same job.
Project size: prices will vary based on the size of the project. A larger project will cost more than a smaller one.
The extent of the damage: the extent of the damage will dictate the extent of the repair. Sometimes the damage may not be noticeable until you remove the old siding. Extensive repairs will be costlier than minor repairs.
Prepping costs: before the repair begins, the surface and worksite will need to be prepped. You may do this job yourself to cut on the costs or leave it for the pros at an extra fee. You can also hire a handyman at a cheaper rate to help you move items from the worksite.
Materials: you should know how much the materials will cost whether you plan to DIY the repair or hire a professional. This will help you plan a budget for the project. The cost of materials will depend on the nature of the repair and the type of damage. If you need to replace some parts of your siding, you will need new boards. Paint, caulking, stain, and nails are some of the items you will also need to buy.
Is it better to repair or replace siding?
Siding protects your home's interior from weather elements, insects, and debris. Wood siding is durable, and it can last for over 20 to 50+ years based on the wood type. Harsh weather such as sun, rain, and snow can damage your siding over time.
When your siding starts to show signs of damage such as warping, cracking, or fading, simple repairs can restore its integrity. However, extensive damage such as large cracks, spreading rot, mould, or water damage may call for new siding. Your contractor will inspect your siding and advise you whether you need to repair or replace it.
DIY vs. Hiring a Professional
You can DIY your wood siding repair to lower the costs, but it is best to leave extensive repairs to professionals. Pros know the right materials to use and will repair the siding professionally. More so, repairs that are professionally done tend to increase the value of a home. Below are the advantages and disadvantages of both DIY and Professional repairs.
Pros
It is cost-effective as labour costs are not included
Homeowners get a chance to perfect their skills
You will get a sense of satisfaction and fulfilment
You will have total control of the project
Cons
Extensive wood siding repairs are not ideal for DIY
The repair may last for a long time, which may expose your home to further damage and infestation
The repair will be costly in the long run due to mistakes and imperfections
You may expose yourself to danger
Pros
Professional repairs are time effective
Pros are experienced and will handle the repairs with expertise
Pros will come with all the materials needed for the repair
Cons
You will incur high initial costs
You are not guaranteed the results