There are plenty of wood siding contractors out there, so finding a good one shouldn't be difficult, but finding a GOOD one is not always easy.
This guide will give you questions to ask as well as prices you can expect to pay. It's good knowing the lay of the land, so you don't get taken for a ride.
The large gap in prices accounts for the different types of timber and the different states you live.
| Cost per square foot | $2 to $34 |
| --- | --- |
| Cost to fix holes | $50 to $200 |
| Cost to replace boards | $750 to $1,000 |
| Average cost by material | $100 to $2,000 |
| National Average Cost | $200 to $5,000 |
| Average Labor Cost() per hour) | $40 to $50 |
Choosing a good wood siding repair service near me
There a few things you need to look out for when hiring a wood siding repair company. Not doing it right can void insurance claims, as well as leave you right open to litigation if something goes wrong. They include:
Licensing
Insurance
Reputation
Free Estimates
Experience
State licensing
Before you choose any wood siding repair contractor, you should ensure that they have state licensing. Whether you are hiring a professional to repair holes or replace siding, always ensure they are licensed. Most states require repairers to have a license to operate in the state.
A licensed contractor shows that they take their work seriously and offer transparent services. Although contractors who perform exterior finishing work may not need a license, it is paramount to ensure their work is standard. If the professional does not adhere to the state's requirements, they may not take your siding repair work seriously.
Insurance
Insurance is one of the most important things to check before you hire any contractor. Most states require wood siding repair services to have proper insurance. Before choosing a particular repair service, find out whether they have public liability and worker's compensation insurance.
Sometimes things may go wrong during the installation, which may render you financially liable for any damages or injuries. To avoid more expenses, check whether the repair company is insured. You can even contact the insurance provider and ask for a copy of the coverage.
Reputation
The reputation of the repair experts you are about to hire also matters a lot. You can find out if the professional is reputable by asking for referrals. A reliable company should provide you with referrals of their past work. Past clients can tell you whether the expert can be trusted or not. You can also find out the nature of the expert's services through referrals.
Customer reviews are also another excellent way to find out whether the professional is worth a try. Most clients tend to leave reviews after working with a particular professional. Many positive reviews are an indication that the contractor is reputable. Review platforms such as Yelp and Angie's list can tell you whether the siding contractor is reliable.
Free estimates
A reputable wood siding contractor will give you a free project estimate even before you ask for it. The expert will inspect the project and come up with an estimate to help you plan your budget. During the brief interaction with the expert, you will know whether they are the right match for the job or not. Avoid any professional that charges you for an estimate as they may con or overcharge you.
Experience
Experience comes with many years of practice. The more years a company has been operating, the more experienced it is. Find out whether the contractor you have eyes on has enough experience.
Typically, a professional that has been practicing for over 4 years will know the ins and outs of the industry. Such a contractor will be in a better position to do all types of wood siding repairs, including the most complex ones.
Although there are many promising new companies, they may not have the expertise to handle complex repairs yet. You can hire such companies for minor repairs if their quality and presentation are impressive.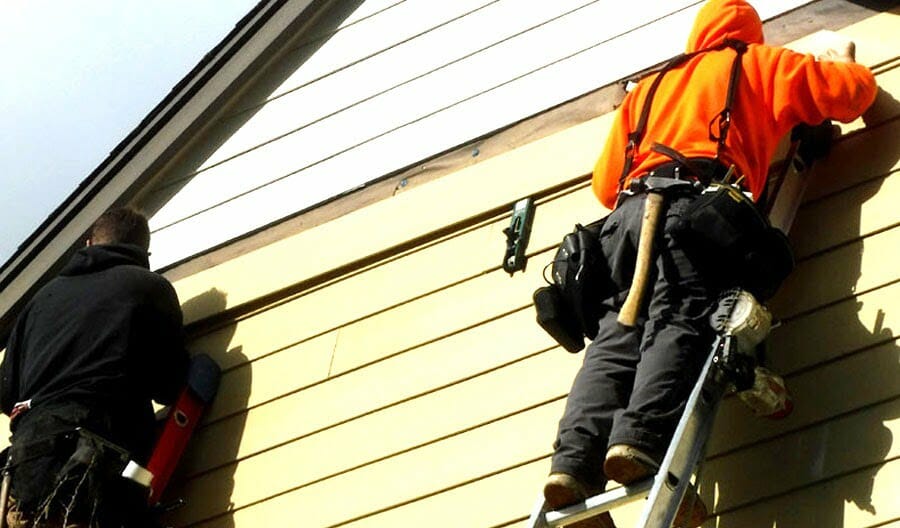 Questions to ask wood siding repair service
When looking for a wood siding repair service, it may be hard to tell whether the expert is genuine or not. During your informal meeting with the expert, you can ask them several questions to determine whether they are the right match for the job. Asking the right questions will help you rule out unreliable experts.
Here are the top 6 truth-revealing questions to ask contractors before you hire them.
How long have you been repairing or installing wood siding?
Most siding professionals specialize in a particular siding material like wood, vinyl, aluminum, etc. Asking this question helps you know whether the experts are experienced in installing and repairing wood siding. More so, it will help you know whether they have enough experience to handle the job.
It is recommended to choose professionals that have been installing and repairing wood siding for a long time. This is because the experts will know what materials will be best for your home and deliver high-quality results.
Insurance is one of the most important things to check when looking for a repair contractor. Before you hire any professional, ask them to provide you with a copy of the insurance certificate. You should verify whether the certificate is genuine and up to date. Also, you should phone the listed insurance company to ask for another copy to cross-check.
Insurance protects you from liabilities caused by damages and injuries that may happen during the job. So, always ensure the expert you wish to hire is insured with a renowned company.
Can my siding be repaired, or does it need replacement?
If your wood siding has lasted for more than ten years, it is essential to know whether it is worth repairing it. A failing siding may be dangerous as it may cause insulation problems and expose the house to mold and rot. It may be difficult to tell whether it is time to replace the siding or repairs are still a workable option.
The contractor you pick should tell you whether the siding should be repaired or replaced. The decision is often determined by the age of the siding and the extent of the damage. Also, if there is visible rot on the siding, replacement may be the best option.
How long will the project take?
A reputable siding repair contractor can provide you with an accurate estimate of the period the project will take. Since the experts have extensive experience, they can calculate the time needed for the repair based on your home's size and architecture and the intensity of the repair.
Knowing how long the job is likely to last helps you prepare adequately. For instance, if you may be needed to vacate your house temporarily, you will need to find short-term housing for the entire period.
How much will the repair project cost?
Knowing how much money you are likely to spend on the repair project is extremely important. This is because you will need to set aside enough money for the repairs.
Sometimes you may not have enough cash on you, which means you may need to borrow from your bank, family members, or friends. With the correct cost estimate, you will know how much money you need to put together.
Make sure you ask the contractor whether they offer warranties for their services. Also, find out whether the siding material is warranted and for how long. Typically, siding comes with a manufacturer warranty, but the period differs from manufacturer to manufacturer.
The contractor should also offer a guarantee of the services for a certain period, mostly about 10 years. This is to protect you in case of improper installations or premature damage to the siding.
Hiring wood siding repair service in my area
Your home's siding is essential as it provides invaluable protection against the weather. It also protects animals burrowing animals, pests, and insects from invading your home. It is, therefore, important to ensure that it remains in good condition at all times.
Damages are, however, inevitable, but when they happen, you should ensure you hire the most qualified contractor for the repairs. Below are a few tips for hiring a reputable repair contractor in your area.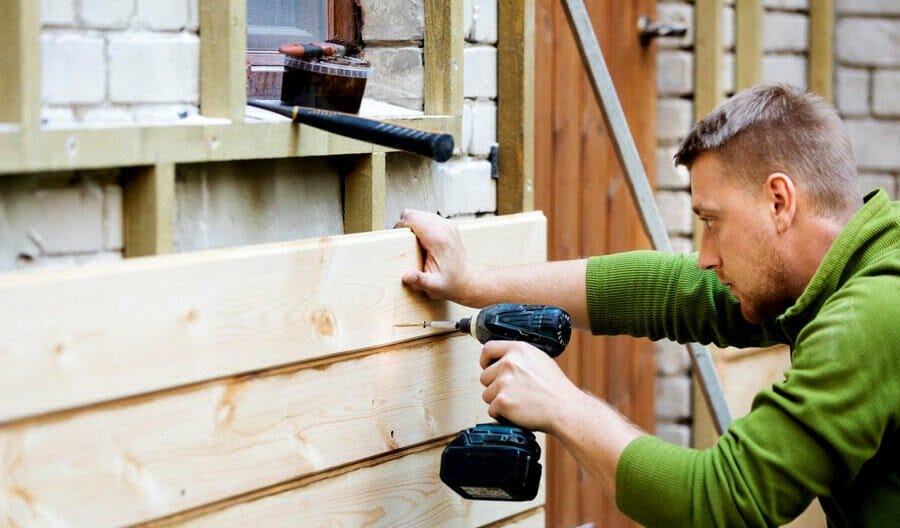 The internet provides you with numerous options when it comes to siding repair services. However, having many choices may make your search stressful and challenging. To find the best professional, you must be ready to research extensively.
Word of mouth is an excellent way to find reliable contractors in your area. Your neighbors, friends, and family can provide excellent references of reliable siding contractors near you. If a particular contractor gets many referrals, it means their services are excellent.
Online reviews can also tell you a lot about the contractor you are interested in. Choose a contractor with a reasonable number of positive reviews.
However, do not rely on reviews alone because some of them may just be marketing tactics.
During your search, ensure you create a list of the contractors you find most interesting.
Once you come up with a list of the best contractors, you should narrow down the list and remain with about three to five options. At this point, you can meet with the professionals and interview them one by one. This will give you an idea of their personality and whether they are the right fit for the job.
During the meeting, ensure you ask the professional all the questions you want. For instance, you can ask them about their experience and whether they have a license and insurance. Also, ask them questions related to the project and gauge their knowledge in their work and the industry.
Check their portfolio and certifications
Most siding contractors will have a detailed portfolio on their websites. Here, you can find testimonials and many photos of their past work. The professional can also provide you with their portfolio if it is not available on their site. Portfolios give you an idea of the quality of the professionals' work and what to expect.
The expert should also have proper certifications such as license, bond, insurance, and academic documents. Take the time to go through all the paperwork and ask questions if you need clarification.
At this point, you will probably have an idea of the contractor you are going to hire. However, ensure you get several bids first to compare the rates. Each professional should give you a detailed estimate of the job and its duration.
Do not choose a contractor based on their low or high rates because you may be disappointed. Instead, select the most reasonable estimate as long as the professional meets all the other requirements.
Request for a written agreement
When you finally hire the best contractor from the list, ensure they provide you with a written contract before the project commences. The contract should entail every aspect of the job, including the tentative start and finish date, and the overall project cost. Having an agreement ensures both parties meet their end of the deal.