Lawn mowing services cost varies depending on the size of your yard, type of the grass, and the specific services you need, these include lawn mowing, aeration, dethatching, fertilizing and weed control.
However, lawn care service costs range from $0.01 to $0.05 per square foot. Hourly rates are between $40 and $80. Costs vary depending on the services required and the size of your lawn.
Price break down for lawn services in more detail below.
There are three common methods used by lawn mowing services to charge for their services. Those methods include per square foot, per hour, or per acre.
| Payment method | Cost range |
| --- | --- |
| Per square foot | $0.01 - $0.05 |
| Per hour | $40 - $80 |
| Per acre | $120 - $220 |
Lawn care cost per square foot
If you are charged per square foot expect to pay between $0.01 and $0.05 for lawn care. Lawn maintenance services This billing method is usual for smaller yards that are easy to maintain and measure, but as the size of your area approaches a full acre, the method could be changed to acreage for simpler estimates.
However, your contractor may still charge you by the square footage even if your yard is bigger than an acre if you have large landscaped areas with only a small portion that requires mowing.
Lawn care costs by the hour
Common situations when lawn care companies charge their clients by the hour is when the property has fences, trees, and children's playing equipment. The price range varies from $40 to $80 per hour, depending on the obstacles and the number of workers hired.
Lawn care costs by yard size
This is the main cost factor that forms the final price of the lawn care service. The prices in the table below are for regular, recurring services. The price for a one-time service is 50% to 100% more. The average lawn is 1/4 acre.
| Lawn size | Mowing cost per service | Full-service cost per month |
| --- | --- | --- |
| 1/8 acre | $45 - $75 | $90 - $150 |
| 1/4 acre | $115 - $155 | $230 - $310 |
| 1/2 acre | $150 - $240 | $300 - $480 |
| 1 acre | $240 - $310 | $480 - $620 |
| 2 acres | $300 - $460 | $600 - $850 |
Lawn services cost by frequency
| Frequency of visits | Quantity | Cost range (mowing/full service) |
| --- | --- | --- |
| Weekly | ¼ acre | $30 - $65 / $65 - $100 |
| Monthly | ¼ acre | $90 - $200 / $200 - $400 |
| Yearly | ¼ acre | $935 - $1,700 |
Just for weekly mowing, you will have to pay between $30 and $65. For full-service lawn care on a ¼ acre yard, you will have to pay from 65 to $100, depending on the maintenance needed. Usually, weekly and biweekly plans include mowing and basic maintenance.
For 2 to 3 mows during the month you need to pay between $90 and $200 or $200 to $400 for full-service on a ¼ acre yard, depending on the service required.
For this contract, you will have to pay from $935 to up to $1,700 for a ¼ acre, depending on the services included. Depending on the climate, a professional lawn mowing service works 8 to 12 months a year. With this type of contract, discounts are available.
Additional costs and consideration
Besides the already mentioned factors that determine the average lawn care price, some other factors have a significant impact on the cost.
Time of year changes – Season changes also influence the cost of lawn care. Changes in weather conditions mandate special lawn maintenance like winterization, which adds to the overall lawn care cost. Lawn grass deteriorates during extreme weather conditions, and periodic lawn treatments must be paid to revive and boost grass growth.
Location – Location is another factor impacting lawn maintenance costs. Lawn maintenance will generally cost more for upscale neighborhoods and commercial properties, than low and middle-income locations. Areas with plenty of demand for lawn care companies will have higher prices than places with low demand.
Experience and expertise – Highly skilled professionals with a remarkable knowledge of lawn management techniques and impressive credentials will charge homeowners higher prices, than an amateur with much less expertise. Hiring someone with an informal setup might save more money, but they are prone to commit costly errors which will require expensive repairs.
Landscaper insurance – A lawn service firm with liability insurance and/or workers' compensation will charge more for its services to pay for insurance premiums.
Discounts – It is very likely that you will get some discount for regular visits (weekly or biweekly mowing). Some companies off discounts if several neighbors arrange for services provided at the same time.
Chemical restriction – Check with your community to find out if there are any restrictions in your area about the type of fertilization and chemicals that can be used on your grass.
Inspection – An inspection includes a professional estimate of the condition of your lawn to determine the service your lawn need. Usually, these inspections are free but if you had to pay expect to pay from $40 to $80.
Gas mower rates – If the company you have chosen uses a gas mower, then fluctuating gas prices will impact the cost if your contractor does not have yearly rates and apply temporary surcharges based on high gas prices.
Permits – Sometimes professionals may have to obtain permits for tree trimming in certain locations and permits for the chemicals used. Maybe they will factor these costs into your bill.
HomeGardenGuides.com is a free service that quickly matches you with top-voted local lawn care specialists.
You can get 3 estimates fast by real certified experts in your area in just 2 minutes.
Scroll to the top of the page and enter your Zip code.
Answer questions about your lawn care job
Your details are forwarded to three local experts. They will send you a price estimate for the job and some friendly advice.
IMPORTANT: There is no obligation to hire. This is a free tool and service to be used at your pleasure.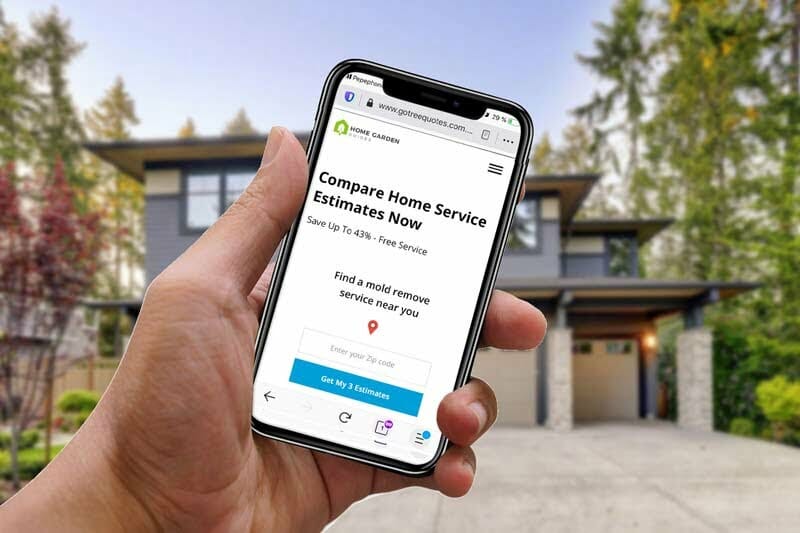 What to ask when hiring a lawn care company?
There are some common questions that it is good to ask in advance so you can have a clear picture of the company you are hiring.
Do you provide free estimates after the initial inspection of the property?
Years of experience;
Ask for the list of references and if possible photos of previous works;
Minimum price and what is included;
Do you have a degree in horticulture?
Which plants are recommended for my soil?
The amount of weed needed to be removed.
Do I get a discount with an ongoing maintenance plan?
How long the project will take?
Do you use chemical or organic fertilizers?
Are cleaning and waste disposal included in the price?
Does the quote include all materials, labor, and equipment fees?
Do you use subcontractors to do the job?
What do you do in the case of bad weather?
Grass types and frequency of mowing
The usual division of grasses is into cool-season grasses and warm-season grasses. In the group of cool-season grasses are Kentucky bluegrass, ryegrass, and fescue, which are most active in spring and fall when they need more attention. The Bermuda, Zoysia, and centipede are considered warm-season types of grasses and grow the most in summer.
Since different types of grasses require different heights when cut, lawn care companies tailor their schedule and mowing style to accommodate the needs of the grasses they cut.
| Type of grass | Frequency of mowing | Mowing height |
| --- | --- | --- |
| Ryegrass (Cool-season) | Bimonthly | 1.5 - 2.5 Inches |
| Kentucky Bluegrass (Cool-season) | Bimonthly | 2 - 3 Inches |
| Fescue (Cool-season) | Bimonthly | 3 - 4 Inches |
| Zoysia (Warm-season) | Weekly | 1 - 2.5 Inches |
| Bermuda (Warm-season) | Weekly | 0.5 - 2 Inches |
| Centipede (Warm-season) | Weekly | 1 - 1.5 Inches |
Lawn care services provide other services such as aeration, weed control, fertilizing, etc, in addition to basic yard care.
There are situations when companies provide these services "à la carte", and the homeowner can choose from a list of services which are then billed together. Also, you can get a discount on these services if they are combined with similar services, like mowing and fertilization for example.
| Type of service | Cost |
| --- | --- |
| Aeration | $80 - $250 |
| Weeds control | $65 - $150 |
| Fertilizing | $200 - $500 |
| Seeding | $700 - $2,000 |
| Leaf removal | $150 - $550 |
| Pest control | $350 - $1,000 |
Aeration revives aging lawns and gives them a fresh and luxuriant look. This important element of lawn management is done by punching holes into the ground to allow air, water, and soil nutrients to get to the root zone. Like other yard care costs, aeration prices are determined by several factors, including yard size. Average aeration costs are around $165.
Weed control – $65 – $150
This is an ongoing service that homeowners can either do by themselves or hire the services of a lawn professional. Weed control can be done manually by simply pulling out weeds by hand. However, some people prefer to use synthetic weed-killing chemicals to achieve more lasting results. Weed control costs range from $65 – $150 per hour. The average hourly rate is $107 per hour.
Fertilizing – $200 – $500
This is a service that helps to improve the quality of yard grass and the overall lawn appearance. Fertilizers contain important nutrients that help grass and other lawn plants thrive. The key to getting the best results from this service is by hiring an experienced lawn expert to apply the fertilizer. Average fertilizing costs are around $75, excluding the price of the fertilizer bag.
In this process, seeds are added to an existing lawn to increase its thickness and health. Lawn seeding is helpful when the overall condition of your lawn is good but still needs a little help. How much you will pay, depends on the type of grass being used.
Leaf removal – $150 – $550
This is a periodic task that most property owners prefer to do by themselves. However, when DIY leaf removal isn't practicable, a lawn service can also be used for leaf removal duties. The lowest charge for leaf removal is around $150, and depending on the lawn size, the price goes up.
Pest control – $350 – $1,000
The most common services to control pests include mosquito prevention, earwig treatment, tick treatment and etc. The cost varies depending on the size of your yard and the pest type.
Why lawn care and is it worth it?
Lawn care is definitely worth it because there are many benefits if you keep your lawn regularly maintained and your grass healthy. First of all the appearance of the yard will be noticeable, adding beauty to the whole property and gaining resale value.
Also, regular lawn care provides healthy grass without unsightly bare and burnt patches. If your yard is properly mowed and weeded, you lower the risk of pest presence because it removes their popular hiding spots.
If you take a DIY route, you will save on labor costs, but you must invest your time and money in the equipment. Skills are required too. Tasks like mowing or removing the leaves from your yard are easy to DIY.
Lawnmower options for DIY lawn care are practically inexhaustible. There is a huge range of lawnmower types, and prices vary according to a long list of requirements.
For DIY use, I recommend using a self-propelled electric lawnmower. This is a powerful and quiet alternative to the noisier petrol-powered versions, and they eliminate fuel and maintenance costs associated with petrol lawnmowers. Average prices are around $500.
Sharp blades are meant to cut lots of grass quickly because that's what they're created to do. However, dull blades frustrate the lawn service process and damage lawn grass. The average price of replacement blades is $25.
Lawn edgers come in different varieties and options. Brand new electric edgers cost around $100, and it is a great tool for DIY large-sized lawn maintenance.
The extension cords are great and allow homeowners to unlock the full potential of electricity-powered garden devices. An extension cord is required to power electric lawn equipment unless you have enough power outlets in the right place.
A heavy-duty retractable extension cord sells for about $45, and it should be suitable even for the most demanding DIY lawn maintenance duties.
A leaf blower is an essential tool in any DIY equipment collection. A leaf blower can be powered by either petrol or electricity. Diesel fuel lawn blowers are designed for more demanding tasks and can be overkill for routine yard work. To save costs, a battery-powered 3 in 1 LEAF blower that performs blowing, vacuuming, and mulching tasks is recommended. The average prices of this equipment are $300.
Calculating time costs for DIYs can be especially tricky. Homeowners are prone to spend more time than necessary caring for their lawns because, well, it cost them nothing. The standard hourly rate for groundskeeping is $50.
Homeowners can save up to 15% if they decide to DIY instead of hiring a professional. The average price of a 4kg bag of fertilizer is $16, and the cost savings can be huge If the lawn is large-sized.
Hand pulling and herbicides are common methods of DIY this task. Homemade herbicides made from natural ingredients are more environmentally friendly and cheap. Average prices of chemical herbicides range from $15 – $300, while the average price of homemade weed killers is $6.
DIY VS Hiring a pro - pros & cons
DIY lawn care enables the homeowner to engage in outdoor activities. Several health benefits can be derived from working on various lawn maintenance activities.
DIY lawn care gives the homeowner the chance to do research, and learn about new and unique lawn care methods. Homeowners can attain enough proficiency to undertake experimental lawn treatments and also share the results.
Saves money and labor costs.
Homeowners can incur extra costs from renting special equipment for special procedures like aeration.
Creating and maintaining a healthy and perfect lawn requires time and commitment, which may come at the expense of other personal activities.
DIY lawn care requires homeowners to purchase and maintain gardening tools and equipment.
Lawn maintenance is regular and consistent. Schedules are adhered to.
Homeowners enjoy the services of experienced and competent lawn professionals.
Homeowners save time that should have been spent working on their lawns.
Scheduling conflicts can occur when a prearranged lawn care service clashes with homeowners' activities.
Lawn products can get marked up by the lawn service resulting in higher lawn costs.
A lack of careful selection can result in hiring the wrong lawn professional.
Lawn mowing services costs can be reduced, and there is always a way to save money. Here are some tips on how to reduce lawn care prices even if you hire a lawn care professional company.
Negotiate with your lawn care provider and as for discounts about prepayment plans or seasonal contracts;
Choose native plants tolerant to drought and save on watering and maintenance;
If possible, add patios, decks, or planting beds with low-maintenance native perennial plants to reduce the size of your lawn;
Save up to 50% on plants and buy them during the fall sales.