A gap under a fence can allow pets to escape. It can also allow wild animals to enter a home. Therefore, fixing it should always be a priority.
You can fix a gap that is under a gate or a fence by filling it with a variety of different materials and techniques.
Below are our top picks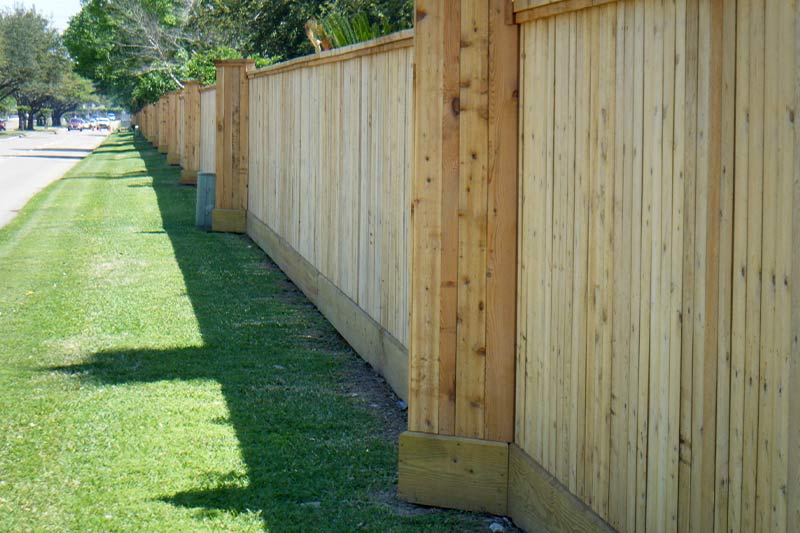 There are a number of ways in which you can seal fencing gaps. Generally, their effectiveness depends on whichever fencing options a given homeowner has settled for.
Here are the 6 most effective fence gap sealing ideas.
#1. Galvanized steel mesh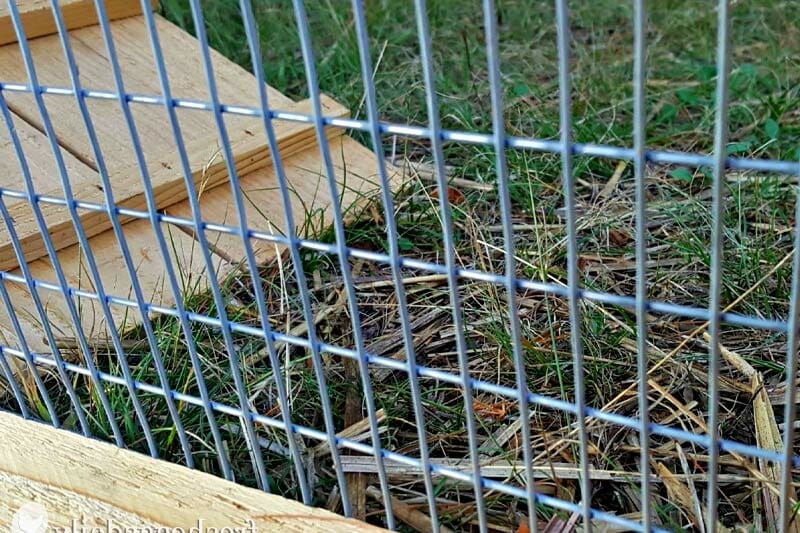 Hardware cloths are incredibly effective at sealing gaps under a fence. Therefore, if you have a gap that needs to be fixed, using a hardware cloth should be at the top of your list of potential fixes.
Start off by first measuring the fence panel length. Do so before you even buy the hardware cloth as it will give you a good idea of the size that you should buy.
Create room for inserting the hardware cloth by digging along the gap.
Remove dirt from the area and create a trench that will allow you to insert the cloth about 3 inches into the ground.
After you are done digging, place one end of the hardware cloth into the trench.
Use heavy-duty staples to install the other end to the wooden fence.
Fill back the trench with a layer of dirt. And after you fill it, tamp down the dirt. Use a shovel to pack the soil to ensure that the cloth is properly secured underground.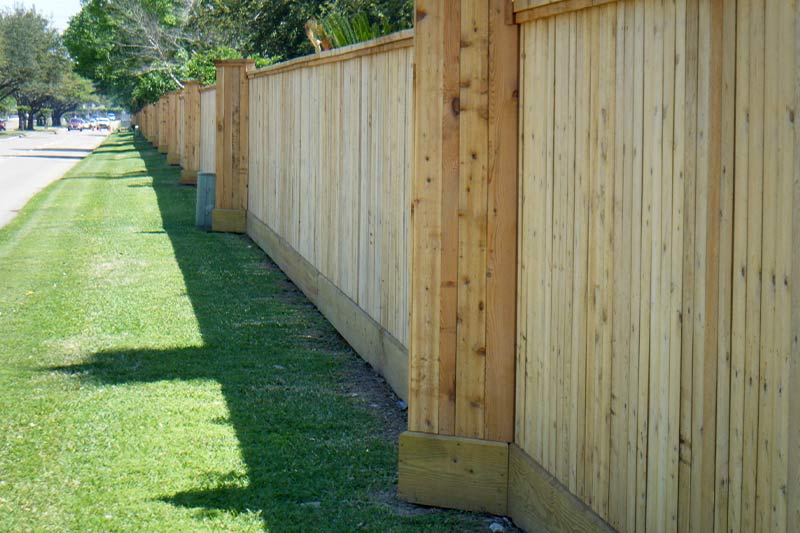 Cedar is durable, resistant to termites, and is generally great at withstanding the external environment. Cedar pickets come with the same qualities, and so if you have a wooden fence that has a gap, cedar pickets are a great option.
Cut the timber planks to fill the length of the gap.
Place them horizontally
Use a drill to attach them over the unwanted space.
You may have to dig under it in order to create enough space to install the pickets. And if you do so, make sure that you remember to fill and pack in the soil after installing the pickets.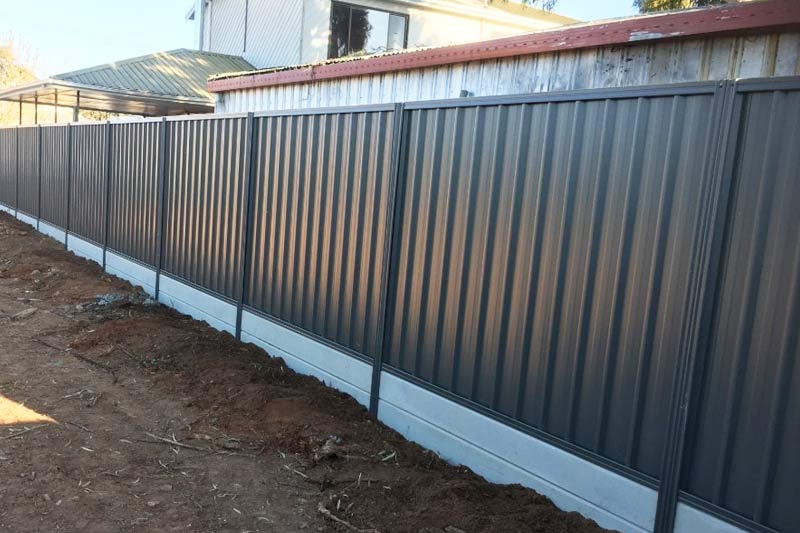 You can also use concrete wall stones or blocks to seal gaps under chain-link, or any other, fencing types.
Here are the steps that you should follow.
Start by digging right under the gap area.
Use a tamper or a hoe to level and tamp down the layer of dirt at the bottom of the trench
Create a good base for the blocks by pouring some sand into the trench. Putting enough sand into the trench until it is about an inch in thickness will also help to create a better base.
Lay the concrete blocks on the sand, and then stagger subsequent layers on top until you completely fill the gap.
Finally, shore up the concrete wall with the dirt that you dug up when preparing the trench.
#4. Washed river rocks or decorative stones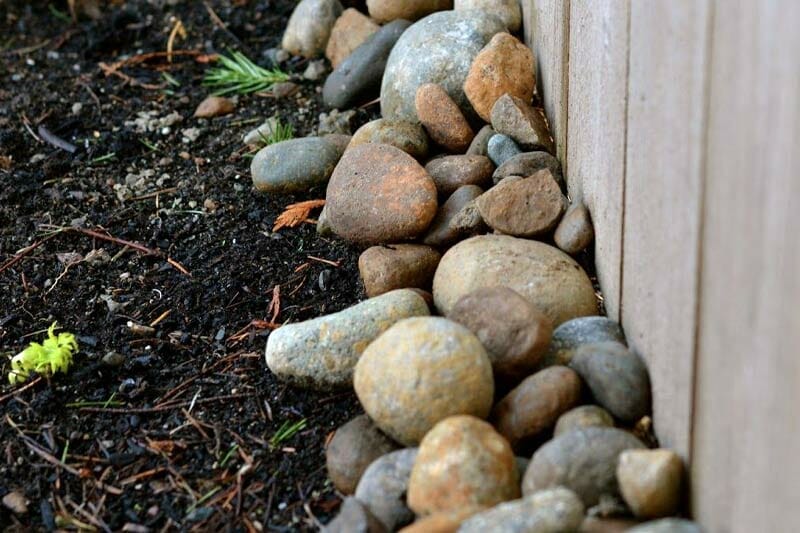 If you are looking for an easy solution that does not involve digging, then you should opt for decorative stones and washed river rocks.
To get the best results:
Start by collecting ones that are at least more than an inch in diameter
Pile them on one side of the fencing. Do this until they cover the unwanted space.
After you are done, take a bow rake, and then use it to evenly spread them over the gap.
Note: Wall stones can work just as effectively as river or decorative stones when it comes to blocking gaps.
#5. Chicken wire or wire mesh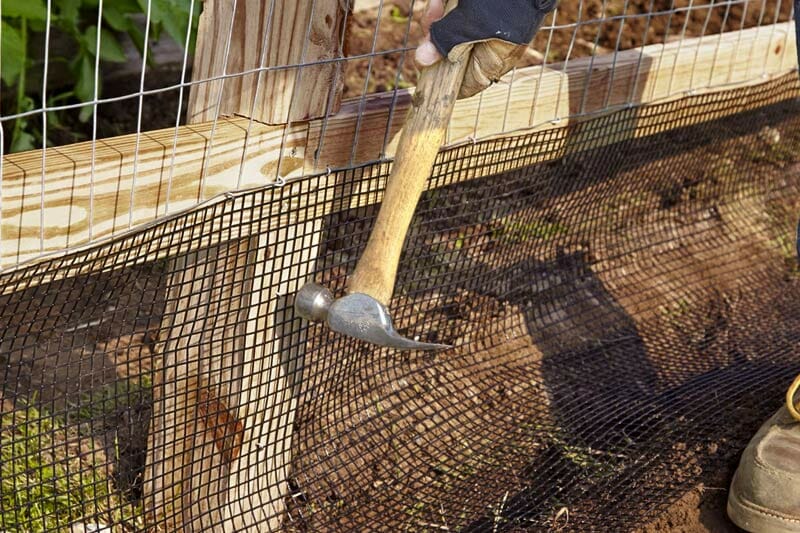 Wire mesh or chicken wire is perfect for fixing gaps under chain-link or wood fences.
To fix the gap, you need to do the following.
Start by digging a trench.
Cut a piece of the wire mesh, making sure that it can cover both the height of the gap and the depth of the trench.
Attach the chicken wire or wire mesh to the bottom of the fencing. You can use staples if you are dealing with a wood fence.
With part of the wire in the trench, and the other end securely attached to the bottom of the fence, fill it back with the soil that you dug out so as to hide the bottom part and to make it more challenging to dig under it. Use a shovel to do this.
Place a few rocks, on top of the filled trench – for added support and to discourage digging.
How do you fix a gap under a chain-link fence?
If there is a gap under your chain-link fence, you can seal it in a number of ways. Here are some of the most effective ways of fixing chain-link fence gaps.
Decorative garden fence sections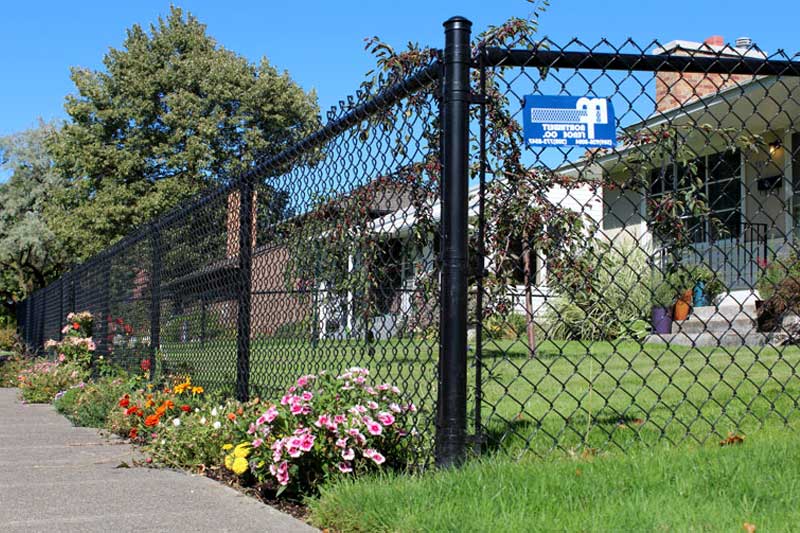 While decorative garden fence sections are primarily designed for use in a yard, they can come in handy in helping to repair chain-link fence gaps. All you have to do is to drive the sections along the length of the area in question. You can thereafter use zip ties to secure the fence in place.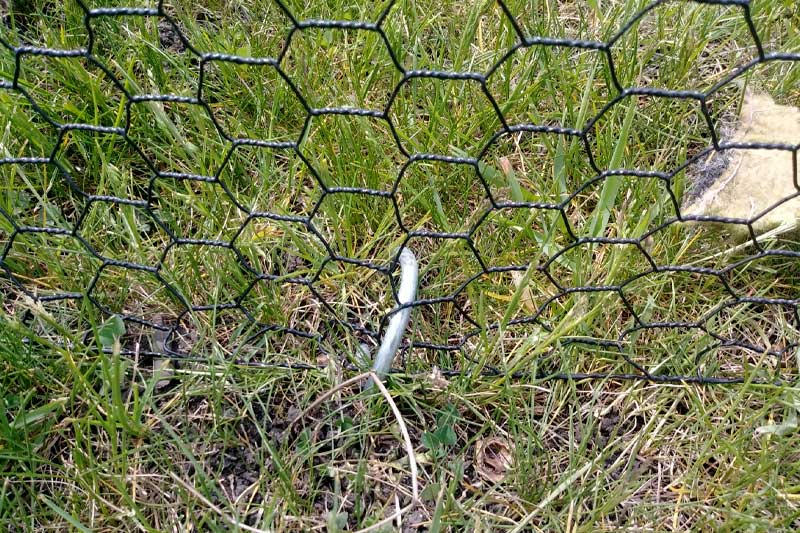 It is easy for a dog or wild animal to push themselves right under a chain-link fence. To secure the bottom of the fence, and to ensure that it is foolproof against invasion, use stakes – that are intended for tents — to give the base additional support. And for the best results, make sure that you drive them at an angle.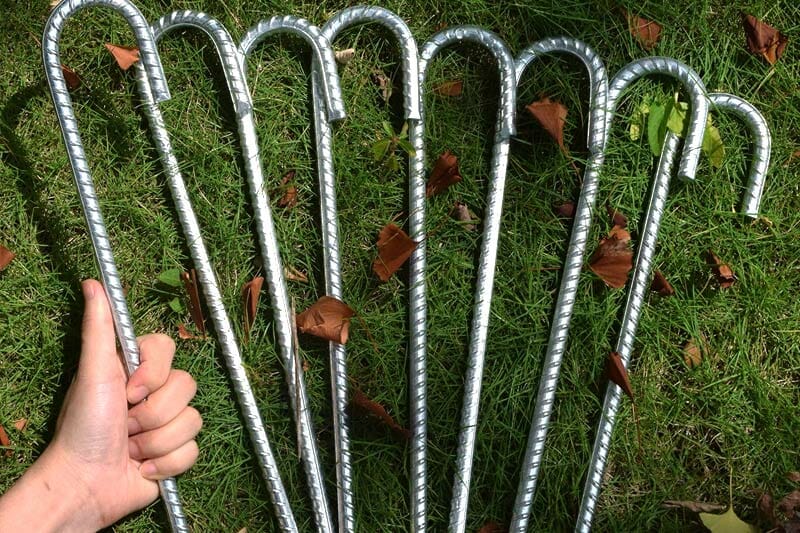 J hooks are j-shaped metal rebars that can be used to secure a chain-link fence. To use them, you simply drive them into the ground and then use the j-shaped end to hook the fence into place.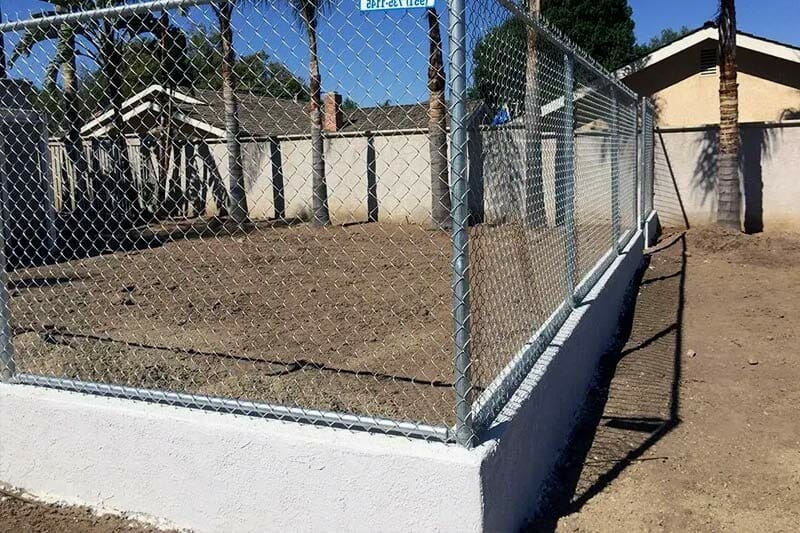 If you have a couple of cinder blocks, you can simply pile them next to the gap. While this may not discourage digging under the fencing, it is a pretty good temporary solution.
Use this free service to find a fencing expert near
If you need help installing or fixing a fence, you should use HomeGardenGuides.com. The site offers a free service that allows you to easily explore and rate the quality of services that fencing experts in your area provide.
Whether your interests extend beyond trying to get a burglar-proof security fence, or whether they are just limited to sealing problematic fencing gaps, you can easily get experts that match your needs.
The service that they provide quickly matches you with the top-voted local expert fence repair services.
Using the website, you can get 3 estimates fast by real certified experts in your area in just 2 minutes. Doing so will give you the mental security of knowing that your project will be handled by qualified experts who have a respectable wealth of experience.
Here is how it works.
You scroll to the top of the page and enter your Zip code.
Answer questions about your fencing needs and preferences
Your details will be forwarded to three local experts.
You will then receive a price estimate – in writing – for the job and some friendly advice.
IMPORTANT: There is no obligation to hire. This is a free tool and service to be used at your pleasure, whether you just need more information on fixing a fence or you need an expert's advice.
What causes gaps under a fence or a gate?
How exactly do gaps under fences and gates end up forming?
Here are the most common causes.
A pet, like a dog, can dig under the fence. And if the fence isn't properly grounded, it can create a wide-enough space that can be problematic.
Sometimes, the natural terrain of a place can make it difficult to have gap-free fencing. These gaps can get worse due to erosion.
If your fencing is built on sandy or clay soils, you might notice a gap developing over time. This is because these soils tend to settle over time. They also tend to periodically contract and expand. And they are more likely to do so if you live in an area that experiences extreme weather changes.
Contraction, expansion, or settling can create gaps in two main ways. The shifting can cause tilting or movement of fencing posts. The soil can also move downwards and hence creating significant space between the ground and the bottom of the fence.
Poor fence installation is a common cause of an under-the-fence gap. This may be as a result of errors in taking measurements, not making the appropriate allowances for the terrain, and using poor installation techniques.
Why should you seal the gaps?
The following are the main reasons why most homeowners need to seal fencing and gate gaps.
To contain pets like dogs
Sealing gaps is necessary because of the following reasons.
A dog can sneak through a fencing gap. This can be potentially dangerous as the dog can be run over by a car or get lost.
Avoid lawsuits and liability
If you have an aggressive dog, giving it a ready escape route is often a lawsuit waiting to happen.
Keep dangerous pets away from your loved ones
In cases where a neighbor's dog is unfriendly, an existing fence gap can put your loved ones in danger.
Therefore, for any homeowner who has a pet, fixing the gap by filling it with lumber, stone, posts, blocks, or bricks, is very important. Doing so will go a long way towards enhancing the chances of an amicable coexistence with their neighbor.
To keep unwanted wildlife off a property
Wild animals can take advantage of gaps to enter your property. And when they do, they can ruin any plants in your yard. They can damage fixtures in your yard. They can make a mess of your garbage. And they can sometimes be a danger to you and your loved ones.
Covering any holes or openings in your fence with stone, blocks, bricks, lumber or posts, is thus often a way for homeowners to not only protect their pets, but also their loved ones.
Gaps can ruin the aesthetic appeal of a fence. A gap, whether in the backyard or front yard, is often an unattractive sign of poor fence installation techniques. Therefore, fixing gate or fence gaps is sometimes necessary in order to make a yard look more aesthetically pleasing.