The cost of a chain-link fence per acre depends on the height of the fence, the quality of the chain-link wire used as well as the type of terrain on your property. Chain link fences are available in 4, 6, and 8-foot heights as well as materials like galvanized and black vinyl coated.
The cost to install an acre (836 linear ft.) of chainlink fence will be $16,720 on average. The lowest price for chain link fencing installed is about $10,993 per acre for a 3 ft. high, 11 gauge, 3 ½ in. by 5 in. diamond, galvanized steel chain link fence installed in a yard.
Let's break down the various sizes and types of chainlink fencing and their cost per acre installed.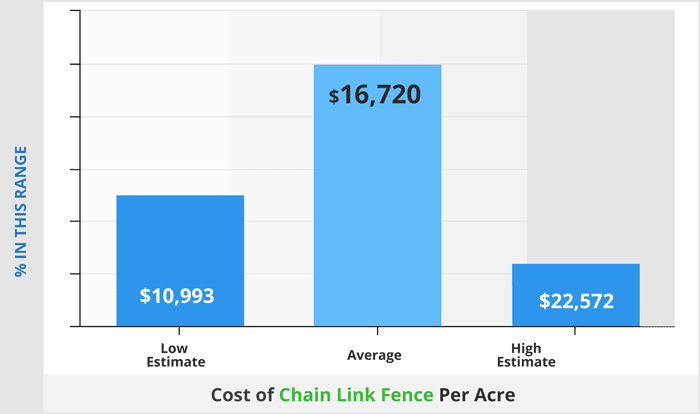 Cost of a Chain Link fencing by type
Cyclone fencing prices in the table below shows 4 feet high fence with 9 gauge wire and 2 in. diamonds.
Chain Link Type
Cost Per acre (Installed)
Low
High
Galvanized Chain Link Fence
$10,993
$18,550
Aluminum Coated Chain Link Fence
$13,167
$21,400
PVC or Vinyl Coated Chain Link Fence
$15,550
$25,607
Aluminum Chain Link Fence
$15,880
$27,250
Stainless Steel Chain Link Fence
$18,880
$29,551
Types of Chain Link Fence
1. Galvanized Chain Link fence
This is the most popular style of chain link fence in the market. Since chain-link fences are entirely made from metal, they are susceptible to rusting over time. Galvanization is the best way to go in order to prevent rusting of chain link fences. This makes the fences more durable and typically much more attractive too. The most commonly used material for galvanization is Zinc and many other materials are also being used. It costs $10,993 – $18,550 to install a galvanized chain link fence around an acre property.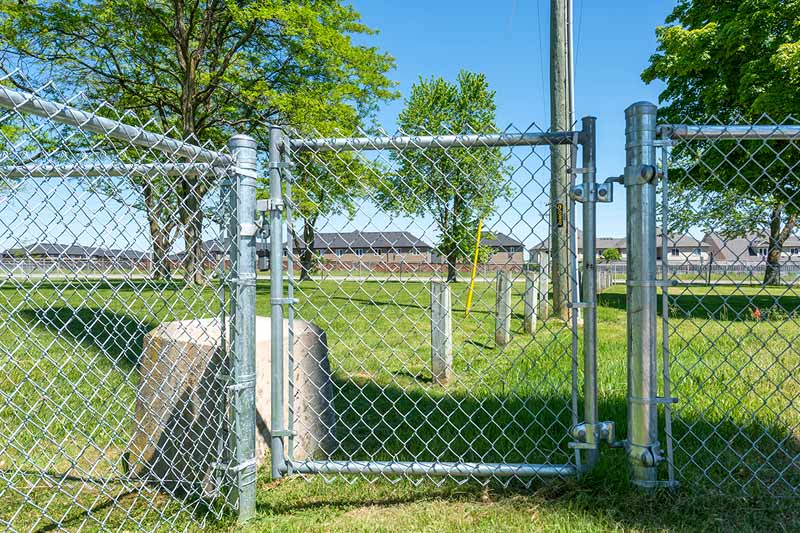 While galvanized zinc is a cheap and effective way to protect chain link fencing, vinyl and polymer coatings are gaining more popularity. Black chainlink fences are quite popular as well as green and gray. They are much more aesthetically pleasing and this makes them better suited for residential fences. PVC coatings are more costly than standard galvanized steel fences.

Polymer is a powdered coating and PVC is a vinyl coating. Both of these options provide rubberized coating across the metal to give it a nice look and touch and also protect it from rust and weather damage. It costs $15,550 – $25,607 to install a unit foot of galvanized chain-link fences.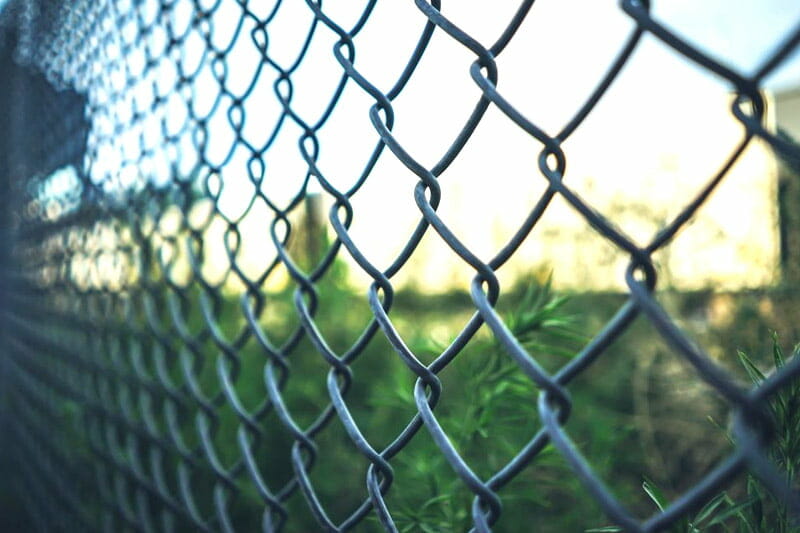 Aluminum chain link fences have the raw classic look of a chain link fence, but are lighter and will stand the test of time. Do you remember trying to swing open the gate of an old galvanized chain link fence? They weigh a tonne! You won't have that issue with Aluminium.
If you need strength, then steel is probably the way to go, but if you're just after a good-looking fence that is light and durable, then aluminum is probably the way to go. To fence a 1 acre lot with an aluminum chain link fence will cost $15,880 to $27,250.

Aluminum is also a great idea anywhere within 3 miles of the coastline. Salt in the air can degrade steel fences quite quickly, but you won't have this issue with Aluminum.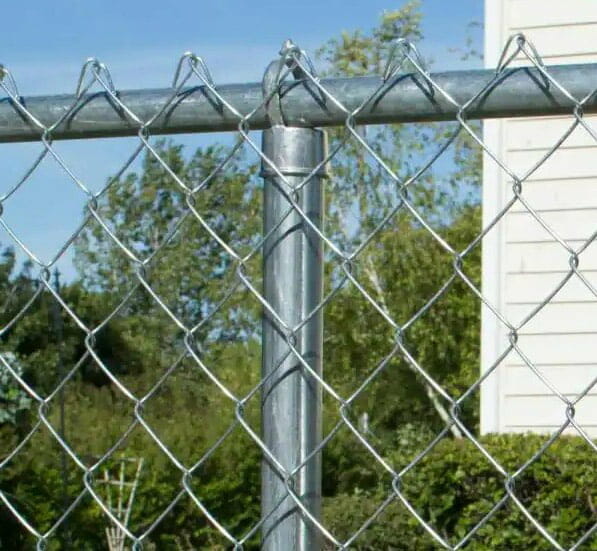 Stainless steel chain link fencing is probably the most expensive option. There is no real advantage over galvanized steel, except it does look a lot nicer. Stainless steel like aluminum will not degrade as fast as the other options, and it is very strong.
It will cost $18,880 – $29,551 to fence a 1 acre lot in stainless steel chain link fence. Stainless steel is also a good idea if you live near the coast or salt water.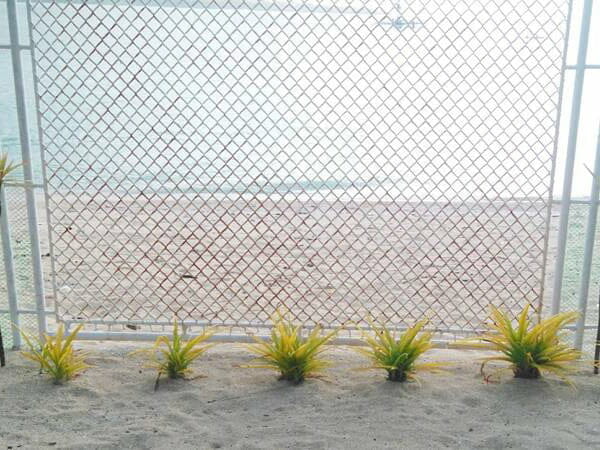 4. Slatted Chain Link Fences
The size of the holes in chain link fences doesn't guarantee privacy. The most popular solution to this issue is the slatted chain link fence option. It is becoming an increasingly popular style of chain link. These fences simply involve adding slat inserts into the linked material to provide additional coverage and privacy for homeowners.
The slats make the chain link fence a much more visually appealing style for many people. These slats are made from materials like PVC that come in various colors and finishes and this makes them one of the very versatile style options available.
A chain link fence with slats costs approximately $2 to $3 per linear foot for installation plus the cost of materials. A box of slats covering 10 linear feet of a 6 ft. tall fence costs about $55.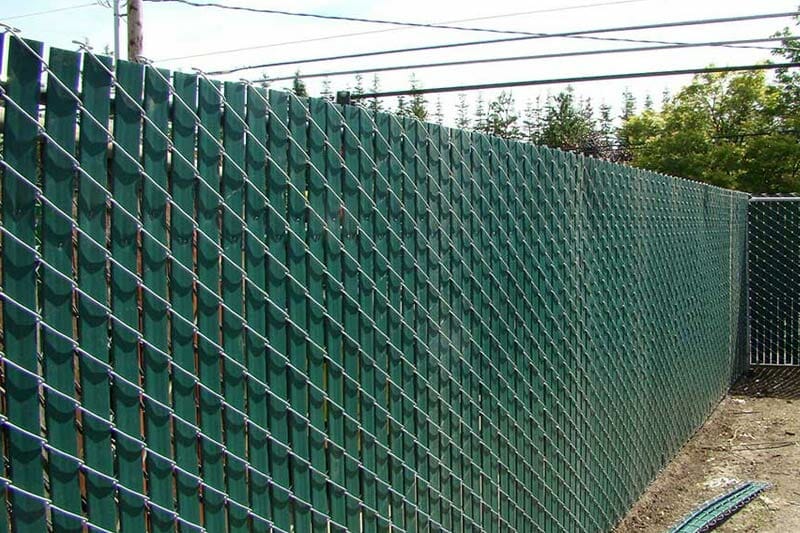 Labor cost to Install a Chain Link fence
The labor costs for installation of a chain link fence cost an average of $10 to $20 per linear foot. When material costs are included, the chain link fence cost per foot installed is between $12 and $40. The factors that determine the actual cost are the chain link material, height, and the average labor cost of the area where you live. Larger fencing costs more in materials and installation costs, while smaller fencing can be faster to install and will therefore cost less.
Chain Link fence gate cost
Adding a gate to your chain link fence will allow entry into your yard and this is an essential part of your chain link fencing. Depending on several factors you need to consider, there are many types and sizes of gates you can choose from. Most walkway openings are between 3 ft. and 6 ft. wide. For these widths, a swing gate is used. The height also depends on the height of your fence. Larger openings are needed for vehicles. Gates for larger openings are either double swing gates or rolling gates. Most people choose a gate that matches the style and material of the rest of their fences.
Gate prices for chain link fencing differ based on the style, size and materials used. The table below shows the prices of a basic 9-gauge galvanized stainless steel gate. Prices increase significantly when using heavy-duty rolling systems, automated systems, or more expensive materials than galvanized steel.
| Type and Size | High | Low |
| --- | --- | --- |
| 3' x 3' Swing Gate | $100 | $90 |
| 6' x 6' Swing Gate | $275 | $175 |
| 8' x 6' Double Swing Gate | $350 | $300 |
| 12' x 6' Double Swing Gate | $450 | $350 |
| 12' x 6' Rolling Gate | $900 | $650 |
| 16' x 8' Rolling Gate | $900 | $2,600 |
| 20' x 8' Rolling Gate | $4,400 | $1,200 |
Benefits of a Chain Link fence around acreage
Chain link fences are durable and can resist extreme weather.
The material is fairly easy to maintain, and it resists both pests and rot.
Chain link is less expensive than many other types of fencing and this makes it a good choice for those who want to keep pets and kids in the yard without spending a large sum of money on fencing.
Tips on hiring a fence installer
If you want to install a fence, you are better off hiring a fence installation company than doing it yourself. You may be at crossroads as regards choosing the best Fence Installation Company for your fencing job. Here are useful hints on how the hire the best and the most affordable fence installation company.
Ask for referrals from friends and family
Look for reviews online
Hire within your local community
Get multiple quotes
How to get free quotes for your fence installation
HomeGardenGuides.com is a free service that quickly matches you with top-voted Fence Installation Specialists.
You can get three estimates fast by real certified experts in your area in just 2 minutes.
Scroll to the top of the page and enter your Zip code.
Answer questions about your fencing job
Your fencing details are forwarded to three local experts. They will send you a price estimate for the job and some friendly advice.
Chain Link vs Vinyl Fence Cost
A vinyl fence is much more expensive than a chain link fence on average. Vinyl fences come in various textures, designs, and colors and it provides better privacy. Like chain link, vinyl fences requires lower maintenance. However, it can not withstand high winds and intense weather. Chain link is made of metal, so it is able to hold up better than vinyl, although it does not look as nice or improve the curb appeal of your home. Some people opt for a nicer-looking vinyl fence in their front yard and install a chain link in the backyard where curb appeal doesn't matter.
Maintenance of Chain Link Fence
The chain link fence generally requires very low maintenance. Some of the ways to maintain your chain link fence are:
Yearly application of rust protection
Regular cleaning
Avoid growing plants in your chain link
Make repairs as needed
Avoid climbing on-chain Link
Cleaning Chain Link fences
Chain link is very easy to clean. It requires only water to remove mild dirt and debris and simple dish soap for removing likely bird feces and other stuck-on stains. All you need to do is use your hose on a high-powered setting to spray down your fencing for easy cleanup. You can also use a cotton towel or scrub brush and soapy water to clean tougher areas.