Chain link fences are also called wire mesh, cyclone, hurricane, or diamond fences. They are highly popular and inexpensive to install. They are a popular choice for people living in places with extreme weather.
The average cost to install a chain link fence is about $2,350. The minimum cost is typically $1,000, while the maximum cost can go up to $7,200. 
Chain link fences are relatively easy for DIY installations, but hiring pros is a better option for professional results.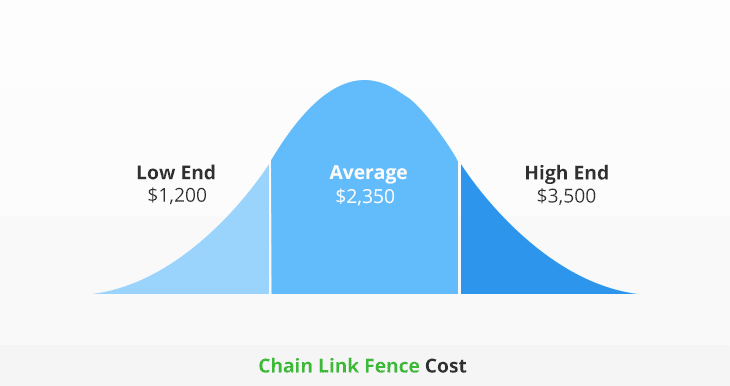 The table below summarizes the average cost to install chain link fences.
| Cost per linear foot | $10 to $20 |
| --- | --- |
| Galvanized chain link fence (per foot) | $5 to $15 |
| Black chain link fence (per foot) | $13 to $40 |
| National Average Cost | $1,200 to $3,500 |
| Average Labor cost (per hour) | $25 to $50 |
Chain link fence cost per foot
The average cost to install a chain-link fence per linear foot is about $10 to $20. Chain link fences are more affordable, making them popular for most homeowners. They are ideal for back and front yards. If you are looking for a fencing option that will protect your home without hiding its aesthetics, chain link fences are a great option.
The installation prices for these fences differ depending on the height you want, material, and finish option. For instance, a 10-foot fence will be more expensive than a 5 foot one because more materials will be used. Also, a thicker chain link fence will also be more costly to install than a thinner mesh because it is stronger and more durable.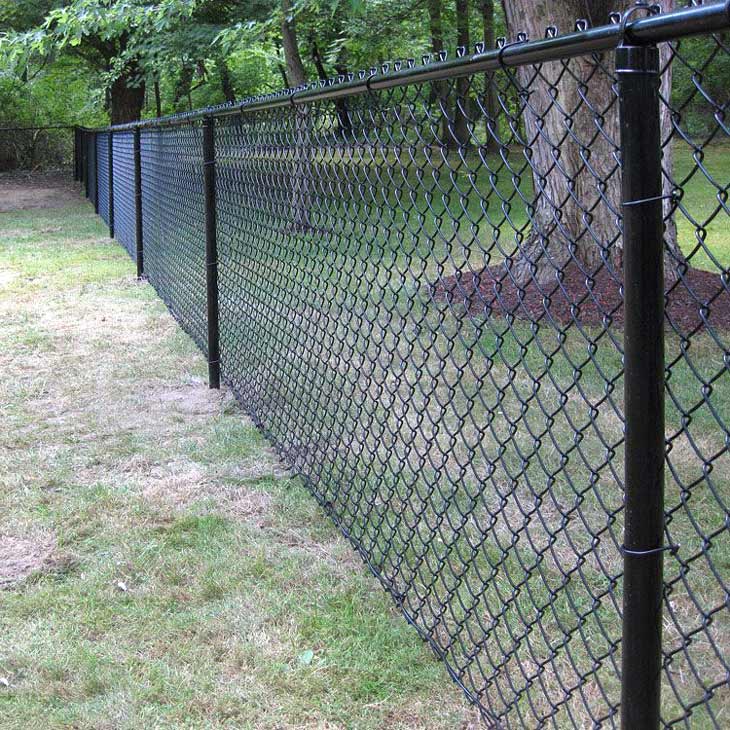 Cost of galvanized chain link fence
Galvanized fences cost about $5 to $15 per linear foot to install, including labor. You can spend between $1.50 and $5 per linear foot for the mesh alone, depending on the fence's height. This fence type is the cheapest option, making it highly popular for homeowners.
Galvanization allows the chain link fence to last longer. It protects the fence from scratches that may cause the fence to start rusting and corroding. Rust eats away the fence bit by bit and may cause it to break down eventually. However, this fence type has an industrial look that makes homes attractive.
Cost of Black chain link fence
Black chain link fences are designed by fusing and bonding PVC vinyl to the wire mesh. This makes these fences stronger and more durable. They can be extruded, glued, or powder-coated. Installing black chain link fences will set you back by about $13 to $40 per linear foot, including labor.
The PVC material added to the wire mesh makes the material cost increase to approximately $5 to $20 per linear foot. This type of fence is ideal for marine or coastal application as it is rust and corrosion-resistant. It is available in several colors, including black and green.
Labor cost of chain link fence
On average, the labor cost to install chain link fences is approximately $5 to $20 per linear foot. Labor cost usually accounts for about 50% to 70% for any project. That is why DIY installations tend to be way cheaper than professional installations because labor costs are excluded.
Some contractors may occasionally offer per-hour rates depending on the type of job. For instance, if you supply the materials, a pro may charge you approximately $25 to $50 per hour. Hourly rates tend to be higher than fixed rates. More so, the price may be unreasonably high if the job lasts for a longer time.
For this reason, you should ask your contractor to give you fixed rates as they are more reasonable. More so, the cost will not change even if the project takes longer than expected, unless for special occasions.
Chain link fence cost by height
Chain link fence installation cost varies by height. Below are the prices for different heights of the fence.
| Height | Cost per linear foot |
| --- | --- |
| 4 ft. | $8 to $20 |
| 6 ft. | $10 to $30 |
| 8 ft. | $12 to $35 |
| 10 ft. | $17 to $40 |
Chain link fence cost by length
Besides height, the installation cost of chain link fences also differs by length. The table below gives you prices for different fence lengths.
| Length | Cost per foot |
| --- | --- |
| 100 ft. (small front yard) | $1,000 to $2,000 |
| 200 ft. (small backyard) | $2,000 to $4,000 |
| 300 ft. (medium backyard) | $3,000 to $6,000 |
How do I estimate the cost of a chain-link fence?
When estimating the cost of a chain-link fence, there are several factors that you should consider. These include:
Materials – chain link fences come in different material types. For instance, installing a galvanized chain-link fence may be cheaper than a black-coated PVC vinyl fence. Knowing the difference allows you to select material that suits your preference and budget.
Height–chain link fences are available in different heights, ranging from approximately 4 feet to 10 feet high. The cost for materials and installation increases as the height increases. So, expect to pay more for a higher fence than a lower one.
Labor – labor costs may vary from one contractor to another. Some pros may offer cheaper quotes, while others may offer very high quotes. The difference in prices may depend on the marketing cost and experience of each company. To get the correct price range of the installation, it is best to get at least five quotes from different contractors.
Location – another factor that you should determine when estimating chain link installation cost is the regional differences. If you live in places with a higher property value, you may pay up to 50% more of the installation cost for other regions.
The job's complexity – flat areas are easier and faster to work with because there will be no obstacles. However, if your compound is rocky, hilly, or bumpy, expect to pay more for the additional challenges the professionals will encounter during the job.
Permits – you should check with your local authorities whether you need a permit to install a chain-link fence. Primarily, any home improvement project that will change the structure of the house may require a permit.
All the factors named above should guide you through creating a budget for your project. They are all important and will determine the overall cost of installing your chain link fence. Your contractor should provide you with a detailed estimate that is clear and easy to understand. For DIY projects, you will only exclude labor costs from the above factors.
Chain link fences are easy to install, making them excellent for DIYers with experience. However, there may be some complications, especially if your compound is bumpy or rocky. For such scenarios, it is best to hire a pro to handle the installation. While DIY projects are cost-effective, there are several aspects where pros would be a better option for the job.
If you have experience and time, you can install a chain link fence without a hassle. However, it may be challenging to complete the project in time if you are a weekend warrior. Before you decide to DIY the project, check out the advantages and disadvantages first.
Pros
DIY projects are cost-effective because the cost is not inclusive of labor.
You will get a perfect opportunity to improve your skills.
You will have control of the project and make decisions that favor you.
Completing a project on your own gives you satisfaction and confidence.
Cons
The project may be expensive in the long run due to poor installations.
You may waste materials due to inexperience.
You risk harming yourself or damaging your property.
The project may take too long to complete.

If you are busy or unsure of your skills, it is best to hire a professional to install the fence for you. Pros have enough experience and will provide you with excellent results. The pros and cons of hiring a pro include:
Pros
The fence will have a professional and appealing look.
Pros work fast and will complete the project on time.
You will not worry about damages or material wastes.
Pros will handle clean-up as part of the job.
Cons
The installation cost will be much higher due to labor costs.
Finding the right installer may be challenging.
You will not have the assurance that the results will be satisfactory.
How to find a good chain link fencing contractor
If you plan to install a chain-link fence around your back or front yard, you should find a reputable contractor to handle the installation. However, you cannot easily tell whether a particular contractor is reliable or not by just looking at them. Below are several tips to help you find a contractor you can trust with your project.
Before you hire any professional installer, you must determine what you want first. This will help you choose the right professional for the job. For instance, you should evaluate your budget, the type of fence you want, the type of your property, and what you wish to enclose or protect. Without properly outlined needs, you may end up wasting your time and money.
Once you know what your needs are, you should consider your budget. Budgeting is crucial as it keeps you within the range. Decide how much money you wish to invest in the fence and look for the fencing options within your range.
However, your budget should not affect the quality of the fence. It is better to wait a little longer to get enough cash for the project than choosing low-quality materials or labor.
Another essential factor you should not overlook is the reputation of the contractor you have eyes on. While many big companies offer customers great offers, do not fall prey to installers with suspicious offers.
The reputation of the company will tell you whether it is reliable or not. You can check online reviews and star ratings. You can also contact a few past clients to get honest feedback about their experiences with the company you are interested in.
The experience of a fence installation company matters a lot. A company with many years of experience may offer better services and high-quality installations than a newer company. This is because the professionals have been in business for a longer time and will be in a better position to handle complex installations.
Some newer installers may have incredible skills as well. If you have a complex project, you can hire experienced experts. However, if your project is simple and straightforward, you can try newer companies as they may offer lower rates.
Another essential element that will help you find a good chain link fence installer is insurance and licensing. A contractor that is serious and dedicated to their work will have proper insurance and license. Ask the expert to provide you a copy of the certificates and ensure they are valid.
Working with a licensed professional keeps you on good terms with your state or federal government. Insurance ensures your property is safe in case of damages. Also, the coverage will cover all medical bills in case the contractor gets injured during the job.