A fence can show damage in many ways, including rot, mold, holes, cracks, loose panels, or unstable posts. It is essential to repair it immediately to maintain its integrity.
On average, homeowners spend about $500 on professional fence repairs, with a range of $250 to $1,750. The cost will vary depending on the type of timber that needs repairing and which section of the fence. (post or boards)
The actual cost depends on the material, extent of damage, location, labor cost, and finish option.
| Fence type | Low | High |
| --- | --- | --- |
| Cost per linear foot | $15 | $32 |
| National average cost | $250 | $750 |
| Holes, cracks, missing boards | $150 | $550 |
| Replacing panels/Fixing leaning | $250 | $950 |
| Gate | $100 | $400 |
| Wooden fence | $100 | $600 |
| Metal fence | $250 | $1,000 |
| Vinyl/PVC fence | $250 | $800 |
| Electric fence | $200 | $800 |
| Average Labor cost | $100 | $150 |
Fencing repair cost per linear foot
The average cost to repair a fence per linear foot is about $15 to $35. The price may vary depending on your location, fence height, and material or extent of the damage. The contractor you hire will visit the worksite and estimate the cost for the project. If you decide to DIY the repair, you will only incur the material cost. So, the overall price will be cheaper.
Cost to repair fencing holes, cracks, or missing boards
Fixing fence holes, cracks or replacing missing boards cost about $200 to $550 depending on the level of damage and material. After the repair, you will need to repaint or restain wood or vinyl fences to match the surrounding boards. This will increase the overall cost of the project.
Your contractor should provide you with an estimate covering the repair and refinishing price. This will help you prepare adequately before commencing the project.
Cost to repair fencing gate
Repairing a fence gate costs about $250 on average, with a typical range of $100 to $400. This cost may include everything from replacing faulty hinges and latches, resetting the supports of your gate to prevent it from sagging or installing a brand new gate. You may also need to repaint the fence at an extra cost of $1 to $3 per square foot or $3 to $10 per linear foot.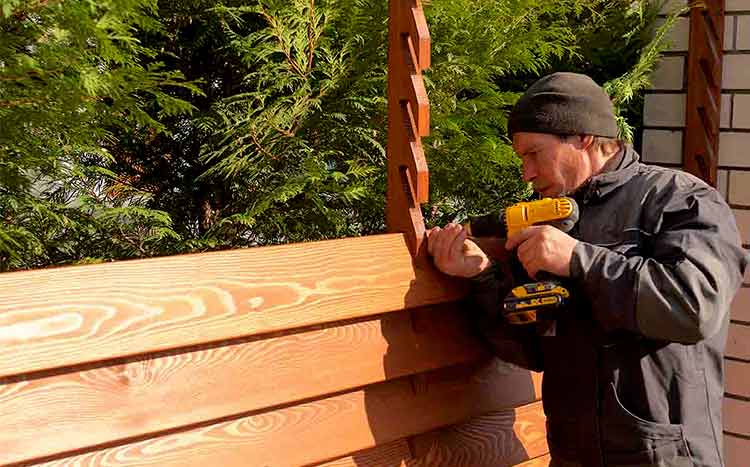 Cost to replace fencing panels or fix leaning
On average, you can pay about $250 to $950 to fix a leaning fence. The task includes:
Resenting the poles.
Stabilizing the ground to prevent shifting.
Rehanging fallen panels.
Replacing panels or posts.
Replacing panels alone can cost approximately $150 to $400 depending on the material, the extent of damage, and the height and width of the panels. Vinyl fences may require replacing the whole section or board, which may be a bit costlier.
Wooden fencing repair cost
The average cost to repair a wooden fence ranges between $130 and $600. The price of the repair per linear foot can range between $13 and $27. The overall project cost will, however, depend on the type of wood. The common wood fencing types include pine, redwood, cedar, cypress, and oak.
Pine fence: pine fence is the most popular because of its affordability. The wood is easy to acquire, so transportation costs will be minimal. The fence parts such as panels and gates are also inexpensive. Repairing a pine fence will set you back by about $200.
Oak fence: oak is one of the most expensive wooden fences because of its rarity. The cost of repair will, therefore, be the most expensive compared to other wood fencing options. Expect to spend at least $500 for common repairs on this type of fence.
Redwood fence: these fences are built using softer wood, making them more prone to breakage and damage. Most homeowners use redwood fences for small areas such as pools and patios. The cost to repair a redwood privacy fence costs about $300.
Cedar fence: cedar fences are expensive, but not like oak fences. The wood can last for a long time when well maintained and cleaned. More so, cedar's grain is very tight, which makes it durable. The average cost to fix this type of fence is about $325.
Cypress fence: these fences are highly durable, just like cedar fences. They are, therefore, a worthy investment for a privacy fence. The repair cost is similar to cedar fences and averages at about $350.
The overall repair cost also depends on the type of repair. Smaller repairs will be much cheaper than repairing a large area. For instance, replacing hardware, filling holes, or supporting braces may cost about $50. On the other hand, replacing posts, boards or gates may cost up to $800.
Metal fencing repair cost
The average cost to repair a metal fence is about $15 to $100 per linear foot. The national average cost for the project is about $475, with an average range of around $250 to $800. The minimum cost is around $150, while the maximum price can be as high as $1,200.
The type of metal fence will affect the repair cost. This is because different types of metal fencing require various accessories and tools for repair. This also makes metal fences costlier to repair than other fences. Below are repair rates for different metal types.
Aluminum fence: repairing an aluminum fence will set you back by about $15 to $20 per linear foot. If you need to replace panels, you can buy one aluminum panel at around $65. Decorative/ornate panels can cost about $100 each. Warping, weathering, or physical damages are the main causes of aluminum fence repair.
Steel fence: expect to pay about $20 to $30 per linear foot to repair a steel fence. A damaged steel fence may be fixed by welding and repainting, making it costlier than aluminum fences. They are highly durable but can be damaged by accidents or storms. The steel panels will not need replacing unless they are severely damaged.
Wrought iron: this is the most expensive metal fence type, and its repair costs about $40 to $100 per linear foot. This kind of fence also requires welding and painting like steel fencing. However, the welding process may be more complicated than steel because wrought fences are more ornamental. This fence is also highly durable and will not need replacing unless severely damaged.
The total repair cost will depend on the type and extent of damage and the type of repair. Painting wrought iron fences can cost about $7 to $10 per linear foot. Gate repair is, however, more expensive, and it can cost about $50 to $200 per linear foot, inclusive of labor.
Vinyl/PVC fencing repair cost
On average, you can spend about $525 to repair a vinyl fence, with a typical range of around $250 to $800. The cost per linear foot ranges between $25 and $35. The minimum repair price can be about $100, while the maximum cost hikes to around $2,000. Common replacements such as slats cost around $5 each. Posts are more expensive and can cost about $3 and $12 each.
Vinyl fences are highly durable and can last for up to 30 years if properly installed and maintained. Besides, they offer a higher degree of privacy compared to split-rail or chain link fences.
The overall repair cost will depend on the extent of the damage. Minor repairs like patching cracks and holes will lean on the low end, while extensive repairs will be on the high end. A professional contractor will give you a quote that includes labor and materials. You should contact at least three contractors to get the best quote.
Vinyl fence repair may require several replacement parts that may range from $3 to $170. Make sure you are aware of all the components needed and their prices to avoid surprises. The contractor you choose should include every aspect of the cost in the estimate.
Labor cost to repair a fence
The labor cost for fence repair largely depends on the type of repair and the extent of the damage, and the fence material. Repairing wood, aluminum, and chain-link fences can cost about $40 t0 $80 per hour. Metal fences that require welding may cost up to $75 to $200 per hour.
Sometimes the project may last for more than one day, which means hourly rates may be unreasonable. For this reason, you should ask the professional contractor to estimate the period the project may take and give you a fixed rate. Also, ensure the costs are transparent to avoid being tricked.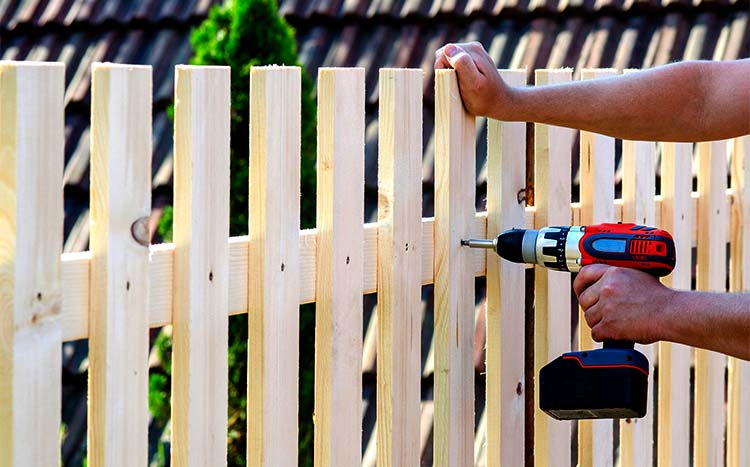 Fencing repair cost factors
There are several cost factors that may affect the overall price of the repair project. It is essential to know all these factors to ensure you set aside enough money for the task. The main price factors include:
Labor – the actual labor cost depends on the extent of damage, fence type, and job complexity. Large and complex repairs may require more time and contractors, which may increase the labor cost.
Material – the cost of fence materials varies widely, so is their repair cost. Wood and chain link fences tend to be cheaper to install and repair than vinyl, brick, stone, iron, and metal fences. Besides, wood, composite, and vinyl fences come in ready-made panels that make the installation or repair of large areas easy and fast.
Height – typically, taller fences will use more materials, so their installation cost will be higher. Non-standard heights will need more labor to complete the project, unlike standard fences. So, if your fence is higher than standard, be ready to spend more on the repairs.
Length – the extent of linear feet damage will determine the overall repair price and the number of boards or panels required. If multiple panels are needed, the total cost will be higher. However, it may take less time to replace a fence than to repair sections with complex damages.
Several other factors can affect the overall repair cost. These include, your location, project size, and finish option. Ensure you also budget for miscellaneous expenses in case of emergencies.
DIY vs. Hiring a Professional
The choice to hire a professional or DIY the project depends on your budget, skills, time, and preference. Most homeowners prefer DIYing repair jobs to reduce the costs. However, people with busy schedules may prefer hiring a pro.
The average cost for DIY fence repairs ranges between $100 and $300, depending on the extent of the damage. You will need to buy all the materials and paint the repaired section to match with the rest of the surface. However, this option may be unreasonable for small repairs because you will still need to buy materials.
Pros come with their own materials and can get bulk discounts. They will also ensure the repair meets the local building codes.
Pros
DIY repairs are typically cheaper than hiring a professional.
It helps you perfect your skills. So, you may not need a contractor for all future repairs.
DIY repair gives you freedom and satisfaction because you can choose your own materials, styles, and designs.
Cons
The outcomes may be poor due to lack of proper tools and expertise.
It is time-consuming because you will be doing trial and error.
You may risk injuring yourself, especially for complex repairs such as welding.
You may end up spending more money because you will buy all the required tools.
A pro will inspect your fence and recommend the best repair method. They can also replace the fence if it is damaged beyond repair.
Pros
The results will be better, and your fence will have a professional look.
Pros have the right tools, and their experience/expertise promises fast outcomes.
Contractors also offer advice regarding the best fence time to match your property.
Repairs done by professionals boost the resale value of your house, which is great if you intend to sell.
They will handle cleaning as part of the job and leaves the work site clean.
Cons
Hiring a pro is quite costly, so you must prepare adequately before commencing the project.
Finding the right contractor may be time-consuming and stressful.