Metal fences are a great investment and can boost the resale value of your home. They effectively protect your home and make it look beautiful and appealing. Many people are now turning to metal fences because of their durability.
On average, homeowners spend about $4,250 to install a metal fence. This cost ranges between $3,000 and $5,500. The minimum price for the project can range around $1,600, while the maximum cost can go up to $7,000. This cost can be higher for high-end metal fences such as wrought iron.
The cost may vary depending on the project size, location, type of material, complexity of the job, and finish options.
Cost of a metal fence linear per foot
The average cost to install mental fencing is about $15 to $75 per linear foot for materials alone. The average labor cost for the installation is approximately $8 to $40 per linear foot. The actual price for the project varies widely depending on the material used.
When installing a metal fence, it is essential to look for about three to five quotes. This is because different contractors may provide slightly different costs. Also, some may hike the price if they realize you have no prior knowledge of the range. To avoid being duped, get several quotes and estimates for the job.
Also, ensure you hire a reputable contractor for the installation to go smoothly. Any professional that offers you a free estimate even before you request it should be on the top of your list.
Cost of a metal fence by type
Metal fences are of different types. These include aluminum, steel, wrought iron, and chain-link fences. The cost for aluminum and steel fences is the same. However, wrought iron fences are much more expensive because the material is more durable. Below are the average costs for different types of metal fences.
Installing a chain-link fence costs about $10 to $20 per linear foot for a 4-foot high project. The overall cost will depend on the height of the fence and the gauge wire. If you choose to install a chain-link fence of about 5 or 6 feet high, the cost will be higher.
The wire gauge for this type of fence is either 9 or 11.5. 9 gauge wire is typically costlier to install than the 11.5 because it is stronger and more durable. If you choose to install the 9 gauge wire, expect to pay almost twice the price of the 11.5 gauge wire.
Chain link fences are appropriate for any area and climate and are normally used for garden and pet fencing. They are relatively cheap and easy to install and are highly durable, but they are not great options for privacy. However, if you want to keep off intruders without entirely covering up your home's aesthetics, chain link fences are an excellent choice.
Aluminum fences are sold in panels or by the foot. The average cost of the fence is about $13 to $75 per linear foot or $50 to $75 per panel. These fences are available in various colors, designs, and sizes. They are very popular options for metal fencing because they are good-looking, durable, and relatively cheap to install.
Aluminum fences are also recyclable, making them an eco-friendly option. They effectively resist rust and corrosion, making them a great pick for people looking for low maintenance fences. However, these fences can dent and warp over time. So, the panels should be powder-coated to prevent them from developing a patina which makes them unsightly.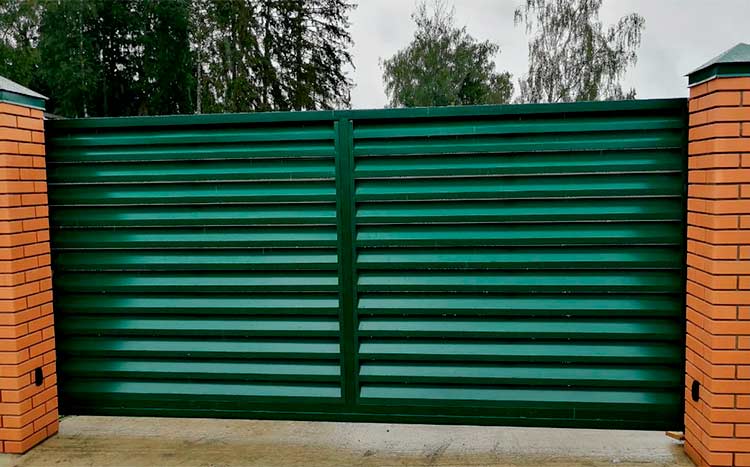 Wrought iron is the most expensive fence to install, but they are a worthy investment as they can last a lifetime. The average cost to install this type of fence is about $25 to $90 per linear foot.
Many homeowners love wrought iron fences because of their beautiful appearance. More so, they can increase a home's value and offer privacy and security to your property while leaving the compound visible enough. They are excellent choices if you do not wish to cover the aesthetics of your home entirely.
These fences are typically used for front yards as many homeowners would not want to hide all that beauty in the backyard. They are sturdy and highly durable, which makes them a great pick for people looking for durability. They are, however, prone to corrosion and rusting, so they require proper care and maintenance. Also, you may need to repaint and refinish them after every 10 years.
On average, you can pay about $10 to $12 per linear foot to install a corrugated metal fence. These fences come in panels designed with valleys and ridges that give them a ribbed appearance. This design makes them stronger than smooth metal panels.
Corrugated fences are galvanized using zinc. This protects them from rusting and corroding. They can last 25 to 75 years if properly installed and maintained. Their lifespan, however, depends on the thickness of the panels.
Corrugated metal is an excellent choice if you are looking for durable and lightweight fences. They are easy to install, and the ridges can funnel water from the property.
How do I estimate the cost of a metal fence?
You cannot start to install a metal fence or any other fence blindly. This is because you will not know the total installation cost, which means you can either spend too much or get stuck on the way.
For this reason, you must look for a professional contractor to assess the project and provide you with a detailed estimate. You can get several estimates to make comparisons if you wish. However, do not substitute the estimate for a written quote. A cost estimate should include the following:
The average cost for materials and equipment required for the job.
Transportation cost of the materials and equipment to and from the job site.
Prepping costs for the installation. Prepping usually includes. protecting your property, cleaning the worksite, and moving any items from the work area.
The labor cost, including setup and mobilization. The contractor should indicate either hourly or fixed rates.
The cost estimate will not include the following:
Local permits and inspection fees.
Sales tax that may apply to the materials used for the project.
The cost to repair, relocate, move or modify any plumbing, surfacing, electrical, or HVAC systems on the worksite, or bringing any of the systems to comply with the building code.
Testing and remediation costs for hazardous materials such as lead and asbestos.
Knowing the estimate of the project helps you to prepare adequately. More so, you will have an idea of all the costs involved to avoid being conned by cunning contractors.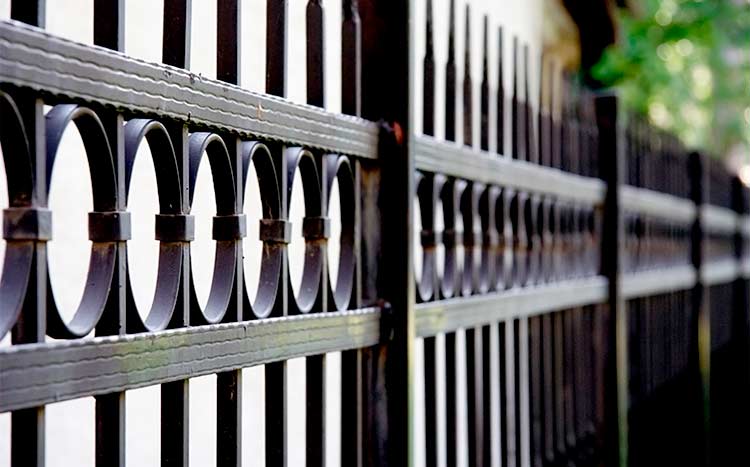 Factors that add to the cost of metal fence installation
There are several factors that may influence the total cost of installing metal fences. These include grade, height, and color, among others. Also, the style and type of metal fence you want will affect the total cost. Below are some of the cost factors you should keep in mind.
Height of the fence
Metal fence panels come in different heights. These include 36, 48, 72, and 96 inches. Usually, the panels are priced according to their height. Taller panels will be costlier to install than shorter panels. Your contractor should advise you on the best height for your home.
If you are fencing your front yard, you may need to use taller panels to keep off intruders effectively. Shorter panels are suitable for pet, garden, and pool fencing.
Permits
Before installing a fence, you will need to acquire permits from your local authorities. Ask your contractor whether you require a permit or inspection before you commence the project. You can also contact your local authorities to find out the paperwork required. Usually, you may spend about $200 to $400 for the permit or inspection fees. Failure to acquire permits may land you in trouble, and you may be forced to pay a huge fine.
Grade of the land
The grade of the land may make the installation to be straightforward or challenging. If the ground is flat, contractors will have an easy time installing the fence. However, sloping land or uneven areas may pose a challenge to the installers. Therefore, the professionals may charge more for sloping and uneven areas because the work involved is substantial. Also, the installers may be forced to flatten bumpy places, which will increase installation costs.
Rocky land
Besides uneven land, installing a fence on rocky land may be very difficult. This is because the ground is hard, and it may take more time and energy to dig holes for the posts. More so, more labor may be required, which may increase the overall installation cost. So, if your compound is rocky, you should be ready to pay an extra price for the additional work involved.
Using a pro vs. Doing it yourself
When it comes to home improvement projects, most homeowners prefer DIYing the jobs to save some money. Others like keeping themselves busy, and handling such tasks give them great pride. However, installing a metal fence may be hectic for DIY projects, especially if you are a beginner. Such tasks are best left to pros to avoid creating messes or harming yourself.
While you can handle some fencing jobs yourself, metal fencing should be left to the pros. Professional contractors will install the fence with a high level of expertise. Besides, they have enough experience to handle challenges that may come up during the installation.
Pros
Pros are experienced to install metal fences and are better able to work through any job difficulty.
They will install the fence professionally, which means they will paint and finish it.
Professional installations are aesthetically appealing, which can boost the house's resale value.
They will prep the worksite and handle clean-up after the installation as part of the job.
Pros will give you expert advice on what material to use on your property and ways to lower the installation cost.
Installations done by pros will last longer, and there will be fewer wastes.
Cons
Professional installations are costly because labor accounts for about 1/3rd of the total installation cost.
Finding a reliable, professional contractor may be daunting and time-consuming if you do not have referrals.
You do not have any guarantee whether the installation will be professional.
Pros may not visualize exactly what you want.
DIYing the job is good if you are trying to save money. If you cannot install the metal fence, there are other things you can do to lower the cost. For instance, you can prep the worksite or remove an old fence and dispose of it before the new contractors arrive. If the materials are still in good shape, you can donate them to eliminate disposal fees.
Pros
You will save lots of money as you will only need to buy the materials for the project.
DIY installations give you a chance to sharpen and perfect your skills.
You will have the final say about the project, and you can put your vision into reality.
Cons
Installing metal fencing is not a task for beginners as you may harm yourself.
The installation will not have a professional look, which may hurt your home's value.
You may waste materials due to lack of experience, so you may incur more costs for additional materials.
It is costly in the long term because you may be forced to hire pros to do repairs due to unprofessional installations.
It costs about $4,250 on average to put up a metal fence, coming in between $3,000 to $5,500. The cost can go as low as $1,600 and as high as $7,000, depending on the material. Chain link fences can cost lower, but wrought iron fences will cost a lot more to install.
The actual cost for the installation will depend on the size of the project, location, type of material used, finish options, and the complexity of the job.
Yes, a fence adds value to your home. The fence itself may not add much value, but the materials used and the construction cost will make a huge difference. Materials such as polyvinyl, wood, and cast iron can bring a Return on
Investment of about 50% or more when you sell a house.
So, the value a fence adds to a home depends on the material used to make it. Also, if there is a true need for a fence, it can hugely enhance the home's value.
Some types of metal fencing are cheaper than many types of wood, but not all. For instance, aluminum and chain-link fences may be slightly cheaper to install than cedar and oak fences. The maintenance and installation costs of wood are more compared to aluminum. In fact, the long-term maintenance cost of wood can be up to 40% higher. However, wrought iron fences are expensive to set up because of their strength and durability.
Metal fences are a great investment because they are highly durable. When installed and maintained properly, they can last 100 years or more. They can also boost a home's aesthetics and attract a good ROI when sold. They are, however, susceptible to rust and corrosion. So, you will need to repaint and refinish them every few years.