Both aluminum and metal (steel, iron) fences are popular because of their strength and durability. Materials for both fences are readily available across the United States and are relatively inexpensive as compared to alternatives like wood (lumber) or concrete.
What would you have to consider if you had to choose between these two fence types?
Aluminum fences are less expensive, lightweight, and cheaper to maintain as compared to steel, iron, or any other metallic fence. On the other hand, metallic fences like steel or iron are strong, durable, and can be customized in various ways to improve curb appeal.
The key difference between aluminum and other metals is strength or weight. Aluminum is a fairly lightweight metal that can also be bent, cut, and formed quite easily as compared to other stronger and heavier metals such as steel. Metallic fences (steel, iron, and other heavy metals) are mainly erected for security while aluminum fences can double up as privacy fences.
As fencing materials, the key difference between the two is appearance. In most cases, aluminum fences may consist of thinner more closely arranged bars while steel or iron fences consist of thick, fairly distanced bars. Both fences can, however, be formed, cut, and customized in various ways depending on your aesthetic needs.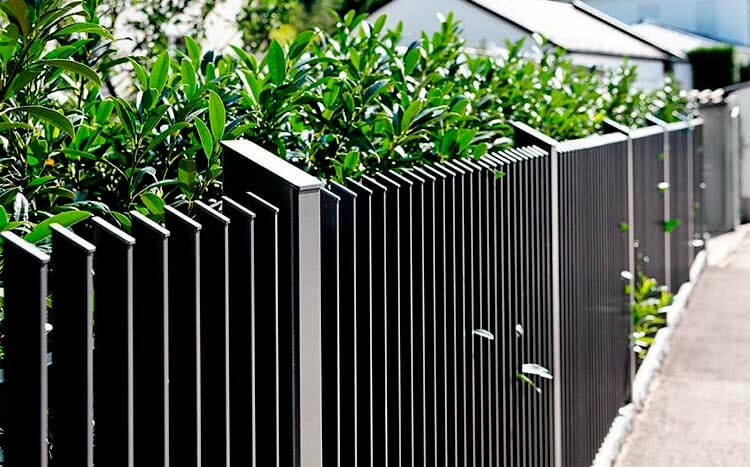 Durability
Durability is one of the key factors differentiating aluminum and steel or iron fences. Hollow steel or iron fences have an expected lifespan of between 20 to 50 years depending on factors such as climate and design of the fence. Solid steel and cast iron fences can last for 50 years or more even in places with bad climates or coastal areas with high salt content.
Aluminum fences can last between 20 to 50 years depending on the type of aluminum and other factors like weather and maintenance. Aluminum fences are less durable than other metallic fences but they require less maintenance over their lifespan. Also, note that aluminum is recyclable and can be reused or restored.
Style
Aluminum is easier to bend and form into intricate, ornate, or ornamental designs. It is possible to bend and form other sturdier metallic fences into different designs and shapes although at a slightly higher cost. In terms of style, aluminum fences generally give you that modern or contemporary look while iron and steel fences give your home an ornate, elegant, and classic look.
Cost
Aluminum is less expensive than steel, iron, and even wood as a fencing option. In comparison, aluminum can be considered a standard, budget option while steel and cast iron are considered premium.
Maintenance
Both aluminum and iron or steel require some maintenance over their lifespan to prevent surface corrosion, rust, or discoloration. However, in comparing the two fences, iron fences may require more frequent maintenance through repainting and rust protection.
Lifespan
Aluminum has a slightly shorter lifespan than steel or iron. Steel fences can last for many decades or a lifetime depending on the type of steel and climate in your location. However, aluminum fences have fairly good longevity
Rust consideration
Both fences are closely matched when it comes to rust. Good quality coated aluminum does not rust while galvanized steel or cast iron fences can go for decades without developing rust.
Strength
Aluminum is more malleable as compared to other metals used in fences such as steel or iron. It is harder to breach steel or cast-iron fences without the help of power tools. This is why steel or iron fences offer better security.
Aluminum Fencing Pros & Cons
Aluminum as a fencing material is best known for its versatility, durability, and low installation and maintenance costs. Aluminum fences are popularly used in residential and commercial areas where fences are allowed. They can last for many years without developing rust especially if the aluminum is coated or painted.
Aluminum is one of the most available metals in the world. This makes it quite inexpensive and easier to source than any other metal. Aluminum fencing materials can be found in any local hardware store. It is also recyclable which makes it an environmentally friendly option for fences.
| Pros | Cons |
| --- | --- |
| Affordable | Not strong- Aluminum bends easily |
| Lightweight (easier to ship and handle) | Takes longer to install |
| Corrosion-resistant | Not ideal for security and privacy |
| Durable | Conducts electricity if in contact with electrical installations. |
| Versatile/customizable | |
| Recyclable | |
| Less maintenance | |
Metal Fencing – Steel/Iron Pros and Cons
Steel or iron fences are ideal for security fences in residential areas. These metallic fences are known for their strength and durability. Expect to get at least six or more decades from a metallic fence made of steel or iron and even more if the metal is coated or galvanized to prevent rust and corrosion.
Metallic fences made of steel or iron are harder to breach or break as compared to corrugated aluminum or wooden fences. This is why they are favored for medium to high-security installations across the world such as military bases and high-end properties.
Owing to the cost of manufacturing and transporting these metals, such fences are not cheap to install but worth the investment nevertheless. Installing an iron or steel fence can significantly increase the value of your property in addition to improving security and curb appeal. However, most metallic fences do not offer much in terms of privacy.
| Pros | Cons |
| --- | --- |
| Strength | High material and installation costs |
| High security | Low privacy |
| Significantly durable | Need professional installers |
Aluminum Vs Metal Fencing Cost
Aluminum fences are more affordable to install and maintain as compared to other metallic fences like steel or iron. Sometimes, the cost difference between the two fences can be double or triple depending on the design of the fence and the type of metal used. At the same time, installation costs for aluminum fences are slightly lower as compared to installing other metallic fences because aluminum is easier to work with.
The table below compares the cost of installing aluminum and other metallic fences.
| Fence | QTY | Avg. Cost |
| --- | --- | --- |
| Aluminum fence cost | 1 linear ft | $20 |
| Metal fence cost | 1 linear ft | $50 |
| Aluminum fence | 250 ft. | $5,000 |
| Metal fence | 250 ft. | $12,000 |
Costs may vary slightly depending on when and where you install the fence and other factors. Talk to a professional fence installer in your location for a more up-to-date quote before you decide between the two.
Tip: Use our free tool to find top-rated fence installers near you by scrolling to the top and entering your zip code on the search box. You will get three estimates from local fence installers at no cost. There is no obligation to hire any of the recommended installers.
How To Make The Right Choice?
Some of the things you should consider before deciding to install an aluminum or steel fence include:
Intended Use/ Purpose Of The Fence
Are you looking for a high-security fence or can you do with a medium security fence? Understanding what you want to achieve with the fence can help you choose between the two options.
Your Budget And Size Of The Fence
Costs to install steel or iron fences can be very high if you are enclosing a fairly large lot. Consider your budget and see if going for either option makes sense. You may also consider other options such as stone, wood, or chain-link fences. Get an estimate from a local fence expert before you make a decision.
It's always good to install a fence that is commonly installed in your location to match the surroundings. For instance, it wouldn't make sense to install an iron fence if you live in a community where all other homeowners have wooden or stone fences.
Availability Of Materials
How easily can you source the needed materials for your fence and at what cost? Steel and iron fence materials are heavy and cost more to transport so it is easier to source them locally if available.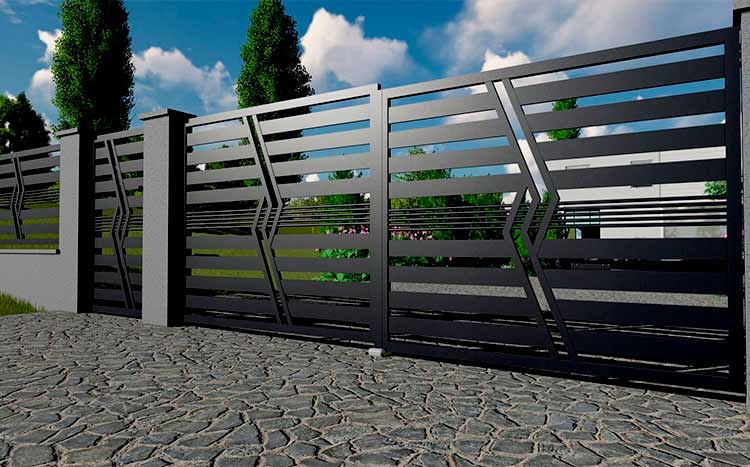 Does The Place Where You Put The Fence Affect Your Choice?
Where you install the fence matters. If you live next to a busy street, a neighborhood with frequent home invasions, then you can go for a high-security iron or steel fence. At the same time, you may decide to install the stronger fence on exterior boundaries and use other materials for interior boundaries to save costs.
Which Is Easier To Repair?
Aluminum fences are generally easier to repair than other metallic fences. This is because aluminum can be cut or bent easily as compared to steel or iron. You may need to remove or replace entire sections of steel or cast iron fences to do simple repairs.