By a residential fence is meant a structure or a barrier erected in a residential district intended to provide security, mark a boundary, or as a means of landscaping with the centerline of such barrier to be located inside the designated property line.
The types of residential fences can be divided into several groups such as wood fences, vinyl fences, ornamental iron fences, aluminum fences, chain link fences, and privacy fences. Which is best for you is a matter of taste, but many environmental factors can also influence your choice.
This article will help you choose a residential fence that will suit your needs, complement your home, be gentle with your budget, and provide the most security.
Let's get to work and analyze the different fence types and their styles.
Wooden fences are the most popular type of residential fence among most homeowners. A wood fence is an attractive and secure option that will ensure your privacy, and with proper maintenance, it can last for decades.
Wood fencing is an affordable option that gives a classic, welcoming feeling to your home. Wood privacy fences are very versatile with various types of wood planks to choose to build your fence. The cost of the wood fence will vary depending on the type of lumber you select.
This style of wood fence is not a straightforward privacy style fence, but still, the view to the other side is possible when viewed on an angle. With the board on board wooden fences, there is a possibility for adjoining property owners because this style of fence shares a similar look on both sides of the fence so it has the same overall appearance.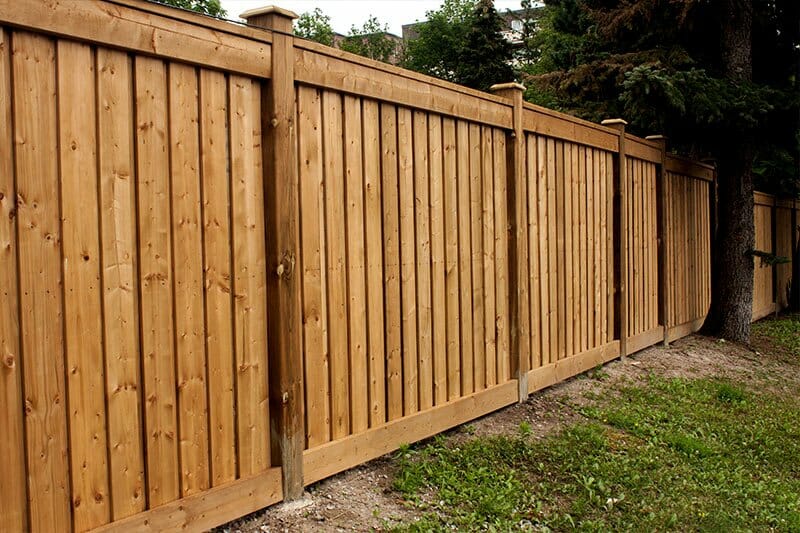 This type of fencing, also made from natural wood, is durable as its predecessor in this section and is stick-built and well-suited for steep grades. The addition of a lattice top, arch or dip, contributes to the enhancement of the standard fence appearance. In addition, upgrading to the standard post style can improve the fence's overall appearance.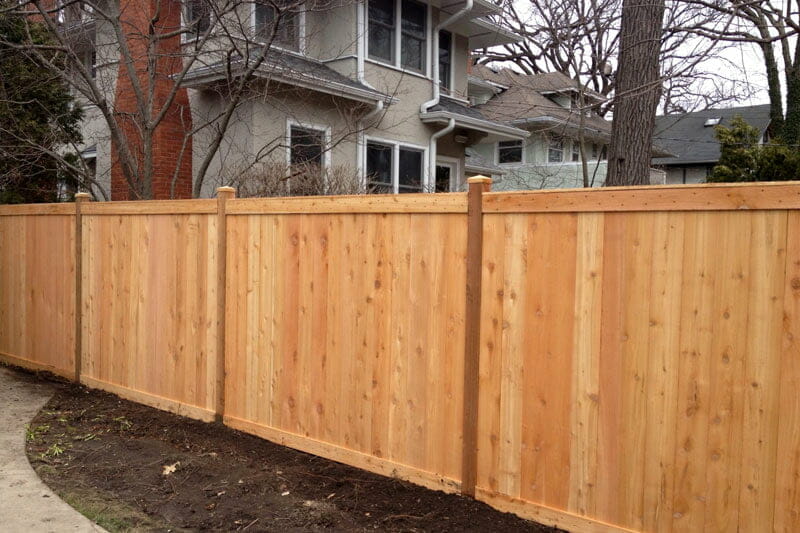 Along with barn houses and green lawns, split rail fences are part of American culture and history since colonial days. A split rail fence as a structure is used to enclose livestock and designate the property.
From rural farmland to urban parks and homes, split rail fences can be used to complement many kinds of properties due to their effective and simple design.
In addition to being customizable and highly versatile, the simple design and little amount of material needed make the split rail fence a popular choice for many property owners who want to fence off their property at a low cost.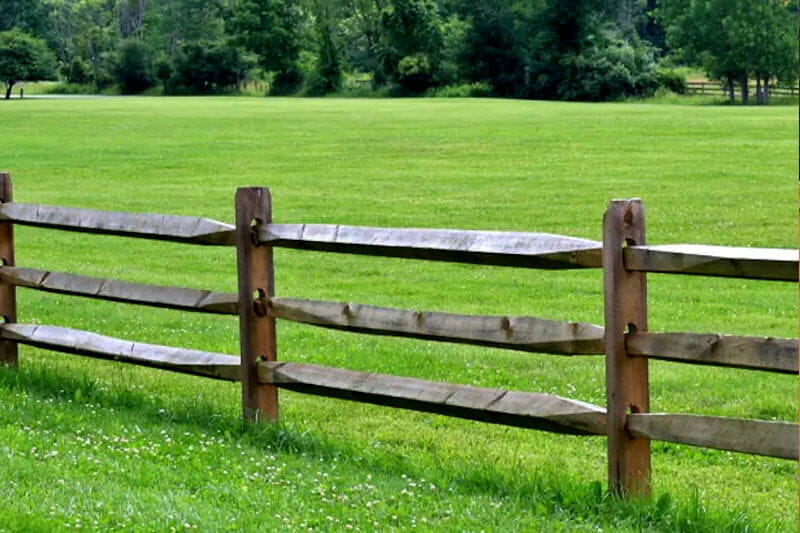 Stockade fencing tightly places wood boards side-by-side. Often, the panels have pointed tops for security and style. Horizontal runner and sturdy fence posts give structure to the wood panels, providing strength and stability.
A stockade fence can provide an optimal balance of beauty, security, and value. Think about your fence as the container for your life – your property, your pets, and loved ones, and the space you inhabit for your daily activities and special occasions.
Given the value of the stockade fence, the quality matters. It should match the aesthetic of your space. It should beautify your home in its style and construction. It should protect what you love and offer you a sense of that protection in the time you spend within its walls. This container's structure should match your values in preserving the environment in addition to your budget.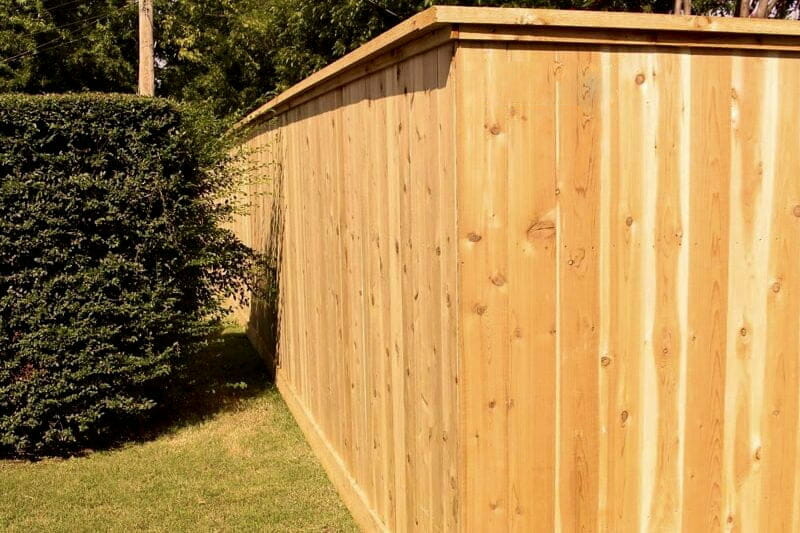 Spaced board fencing shares a similar look to a traditional picket fence but without a picket top. Flat edge boards are the basis of all constructions of the spaced boards.
If you want to add a warm look to your yard, a wide selection of space board fencing products can satisfy your need.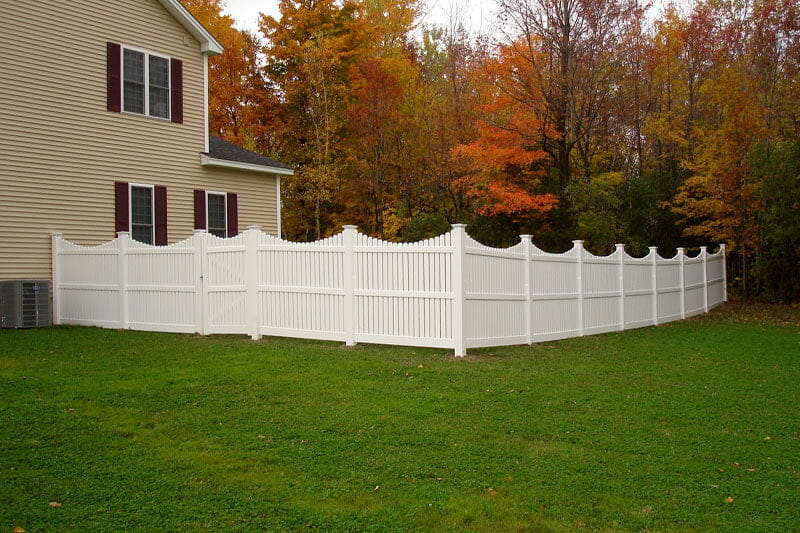 White picket fences are as American as apple pie and backyard barbeques. Since colonial days, livestock and lawns have been fenced with a white picket fence. They are still popular these days, with many homeowners associations making them the go-to fence for residents.
Their design is simple but very effective and gives a charming and inviting feel to the home and beautify the property.
With picket fences, you have more advantages than just curb appeal. They are cost-effective because they require relatively little wood and are easy to install. Given their popularity, a well-maintained picket fence will add value to your home which making it an excellent investment for any homeowner.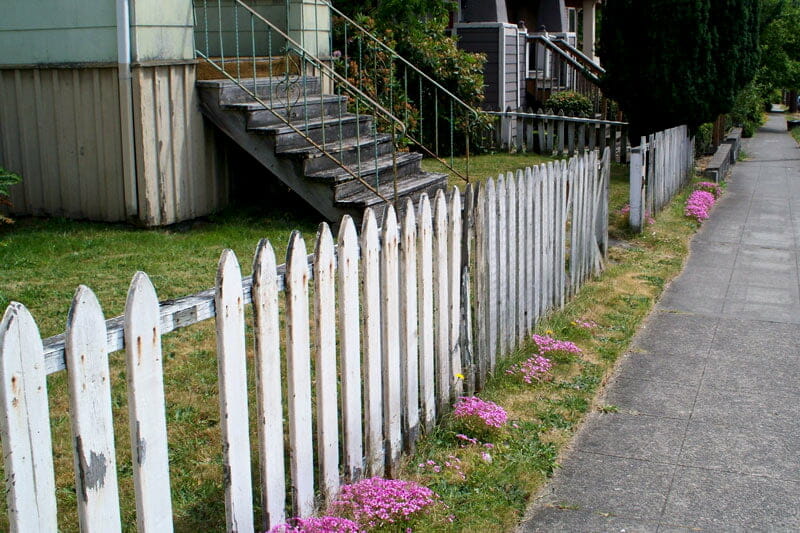 In this particular style of fencing, the boards that comprise the fence section are placed adjacent to each other, but given that all lumber shrinks, some will develop between the vertical boards over time, hence it is considered to be virtually private.
The vertical board also creates a safe, private environment for your family to enjoy. Vertical board fencing is a durable fence option that is stick-built and well-suited for steep grades. Enhance the appearance with a cap board, lattice top, arch, or dip. In addition, there are a variety of fence post and cap options available to further enhance the look of the fence.
HomeGardenGuides.com is a free service that quickly matches you with top-voted local Fence Specialists.
You can get 3 estimates fast by real certified experts in your area in just 2 minutes.
Scroll to the top of the page and enter your Zip code.
Answer questions about your fencing project
Your details are forwarded to three local experts. They will send you a price estimate for the job and some friendly advice.
IMPORTANT: There is no obligation to hire. This is a free tool and service to be used at your pleasure.
Residential fences can work their way in so many directions, and they are practical and can add some curb appeal to your property.
Fences are great for security purposes and for keeping children and pets safe and secure inside your property, and intruders and uninvited guests out. Certain residential fences can inhibit outsiders from being able to see into your home, these fences are known as privacy fences.
In one sentence, a fence defines your property boundaries and helps protect everything within those boundaries, including your privacy.
Another important role of the residential fences, and fences in general, is keeping your landscape safe. A beautiful garden with bright flowers or a finely trimmed lawn can be easily harmed and destroyed by animals, unscrupulous people walking through your yard. You must admit that a beautiful landscape and charming fences go hand in hand.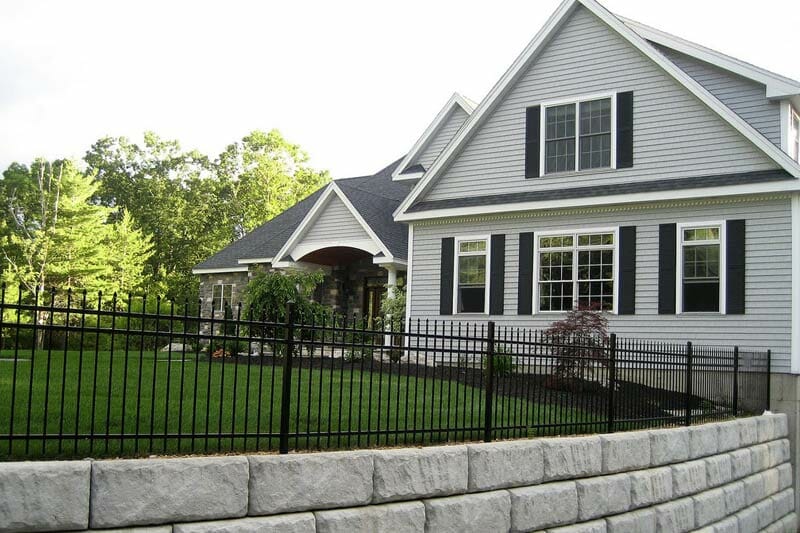 The popularity of vinyl fences is because they are strong, flexible, and secure. Maintenance of the vinyl fences is another advantage. They are almost completely maintenance-free and resist decay and most tough stains are removed easily with soap and water.
Vinyl fencing is a worthwhile investment in itself through its long-lasting and low-maintenance nature. Usually considered as a wood substitute, vinyl is a great choice if you are looking the best of both worlds, looking like wood but with low maintenance. Vinyl fencing is prone to rust and comes in a variety of colors and styles.
Despite the visual appealing of vinyl picket fencing it also offers security for pets and children. A wide selection of vinyl picket fence options available on the market these days can help you add charm and beauty to your yard.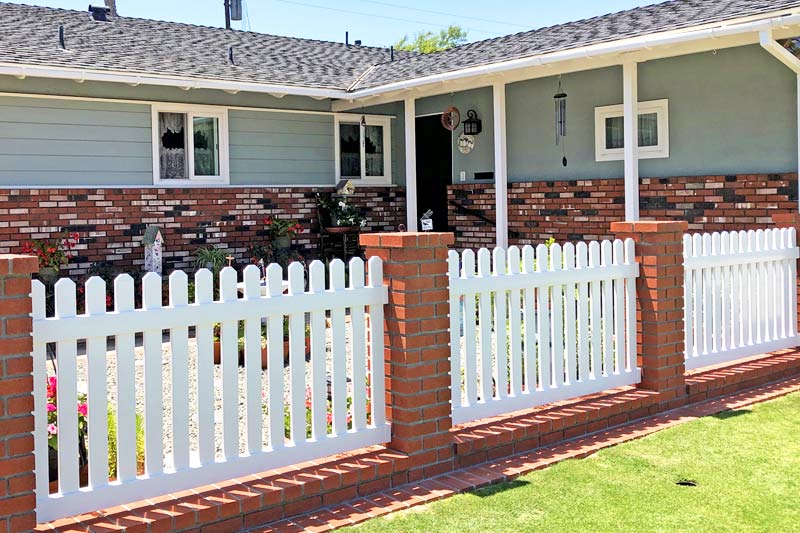 Privacy fencing can help you increase property security, and minimize unwanted sights and unwanted visitors. Vinyl privacy fences are an ideal choice for people who live in populated areas, near a busy road or highway, or close to businesses and industrial centers.
Swimming pools and hot tubs go well with the seclusion that these fence styles offer. By installing vinyl privacy fences around a deck or patio can create a more intimate space for relaxing and entertaining.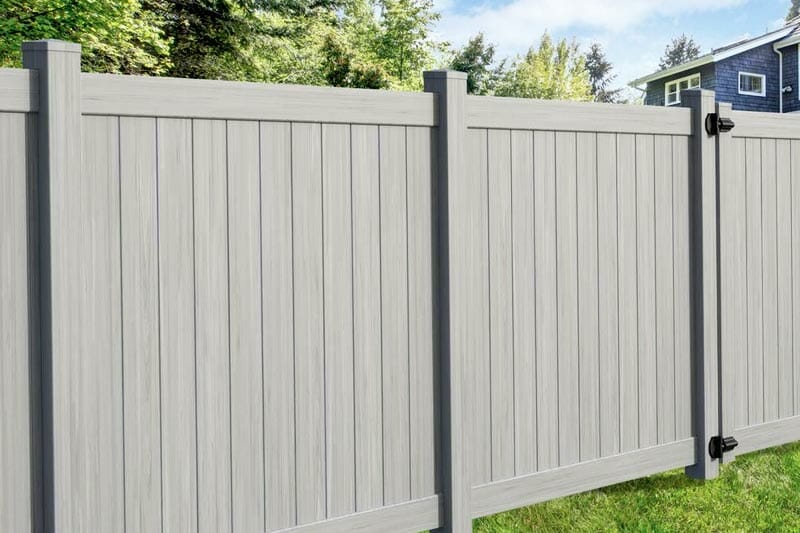 Crossbuck estate vinyl fencing will provide a traditional look to any property without the regular maintenance of its wood counterpart.
This style of vinyl fencing imposed itself as a standard choice for farm or ranch fencing needs and is perfect for defining large property lines. Splinter-free surfaces and environmentally friendly make this an excellent choice for homeowners as well.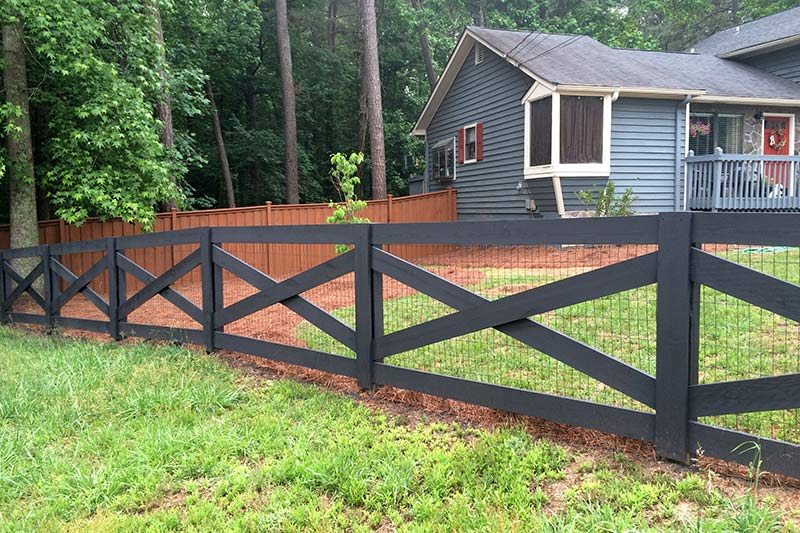 Ornamental iron fences, aka wrought iron fences, are increasing curb appeal and making your property more secure. Because of their elegant and high-security qualities, they are often used for both residential properties and governmental and commercial buildings. Like other types of fences, there are plenty of styles to choose from for your ornamental fence.
Styles of ornamental iron fences
An outstanding value for large projects. This style of ornamental iron fencing comes with a powder-coated finish to provide superior protection.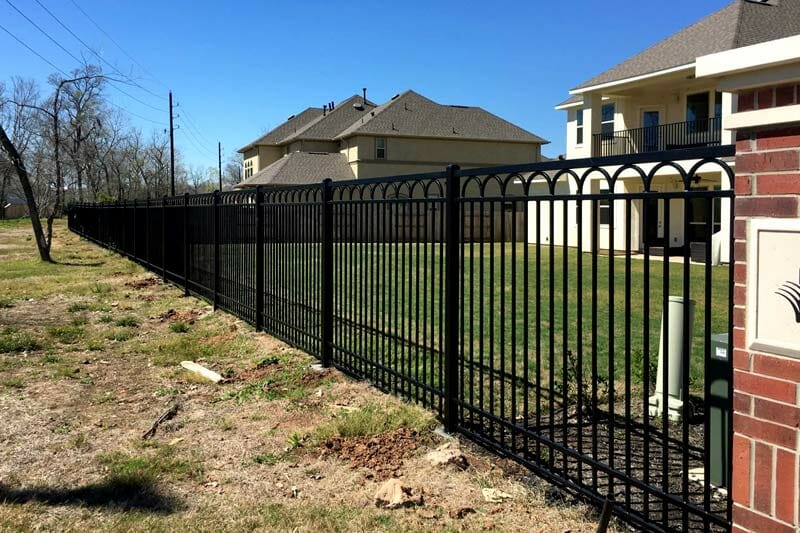 Diplomat ornamental iron fencing
This type will meet all of your fencing needs. This style comes with a flat top-rail with no protruding pickets. Also comes in a powder-coated finish for superior protection against elements.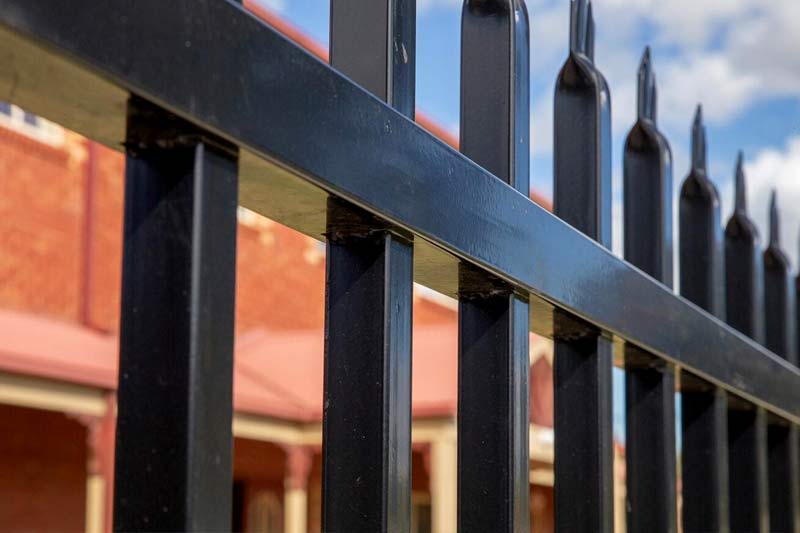 A popular and attractive choice for providing security. It features flat-top pickets that come with a plug-like cap or finals that can be added for a look of distinction. Sovereign is not a short fence.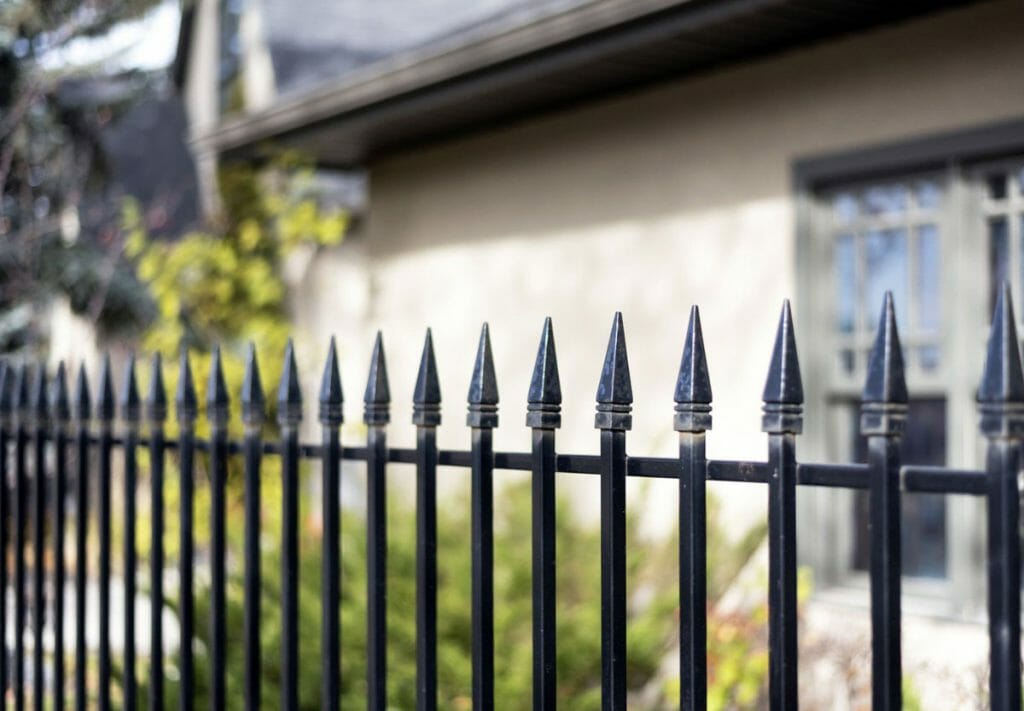 Regency is a simple but at the same time strong design fence, which is in line with most swimming pool enclosure codes. This style of iron fencing has no exposed picket on the top or at the bottom of the rail for added safety.
Regency-style gates can be equipped with a pool safety latch.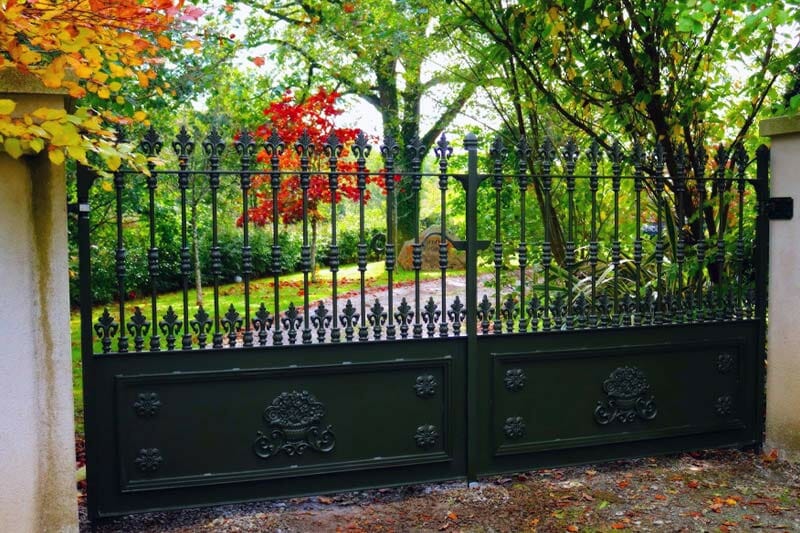 The monarch fence is well suited for large-scale perimeter projects. Monarch iron fencing offers traditional protruding flat or pressed point pickets. However, the pickets heights alternate, adding visual interest and aesthetic appeal.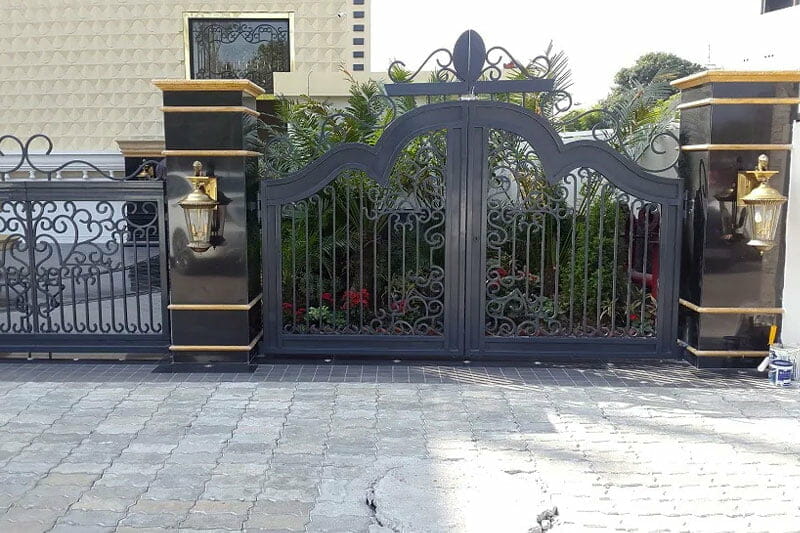 Aluminum residential fences are a very attractive and low-maintenance type of fence. The low-maintenance nature of the aluminum fences is due to their naturally rust-resistant qualities.
This fence type provides a barrier and defines your property. It is easy to paint and decorate to make it look like any type of fence you want.
Styles of aluminum fences
Each Hancock section comes with tree rails, consisting of a flat top rail and protruding pickets below the bottom rail.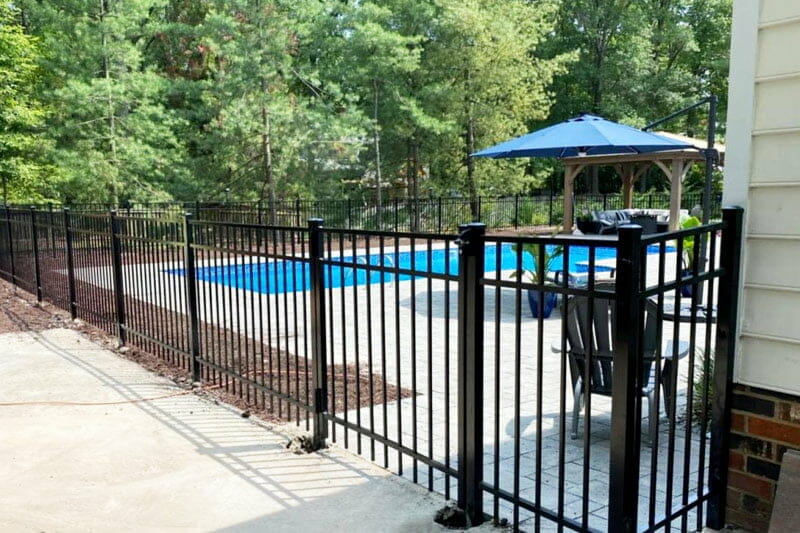 Antietam ornamental aluminum combines the safety of a smooth top-rail with the traditional look of alternating pressed point pickets below.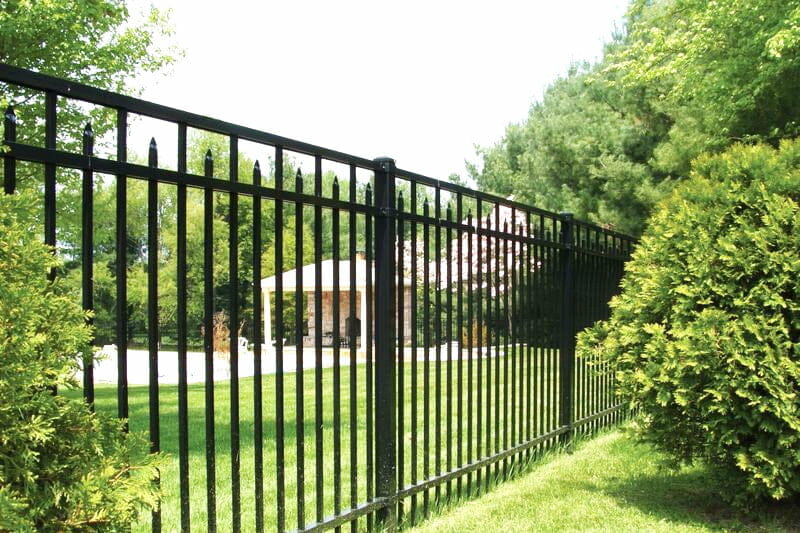 Fredericksburg ornamental aluminum was designed to meet strict pool enclosure codes that require a 45" spacing between horizontal rails.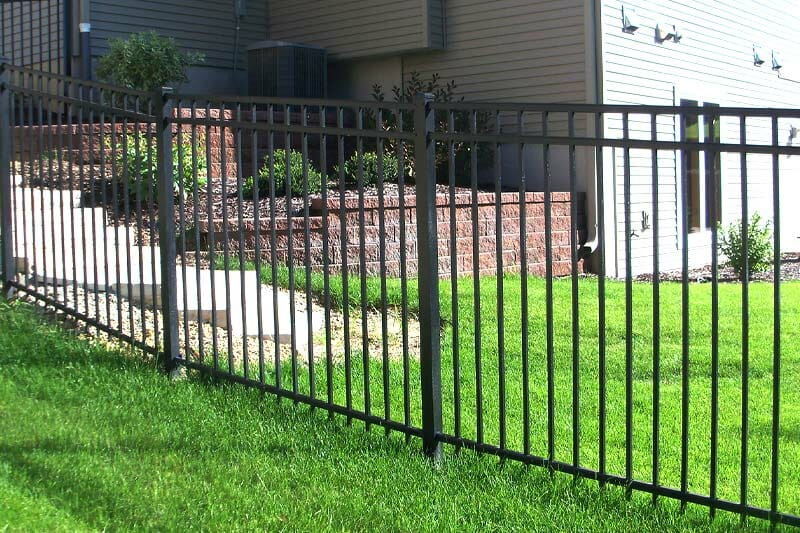 Charleston ornamental aluminum style of fencing offers protruding flat-topped pickets that are capped with a black plug cap. Anyway, decorative finials can be added in place of the caps to create an ornate look that adds beauty and sophistication.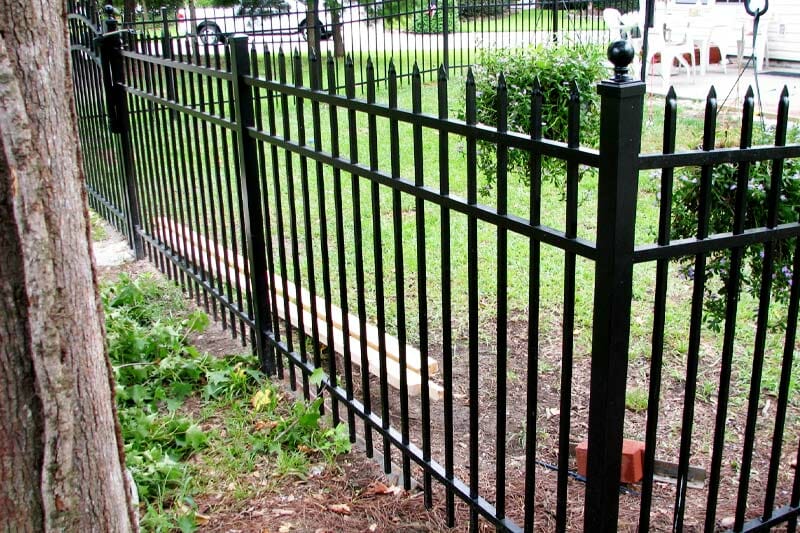 Chain link fencing is an affordable option for defining your property and keeping everyone safe within the boundary lines. Chain link fence as construction is safe from elements because of the aluminized and galvanized framework.
Chain link fences provide security because are hard to climb over while at the same time providing visibility for you to see any unwanted visitors. Animals and solicitors will be prevented from wandering through your property. A chain-link fence is one of the most budget-friendly choices for residential fencing.
Styles of chain-link fencing
Aluminized steel fabric on galvanized steel framework is your best choice for strength and durability. Aluminized steel fence fabric is self-healing given it minimizes patina and is environmentally safe.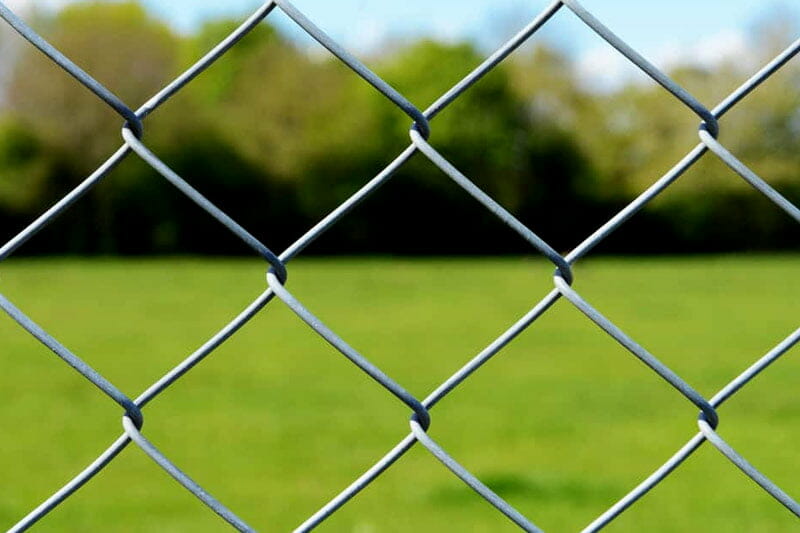 Polymer coated fabric on galvanized steel framework is a lower cost option to having a durable fabric without the added expense of coated framework. Fabric is available in black, brown, or green. Closely matching colored PVC stats can be added for a degree of privacy.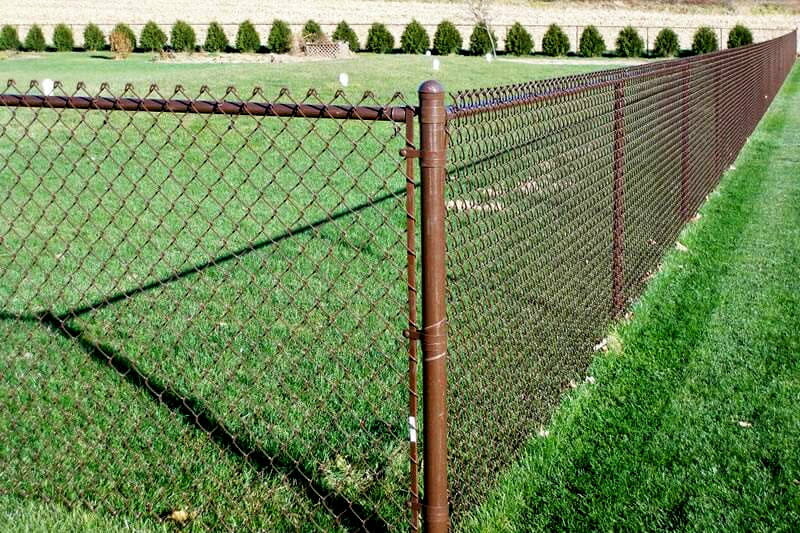 Privacy fences aid in blocking out any unwanted sights, guests, and even sounds. If you live in a crowded area with a lot of traffic noise, lots of passers-by who want to peek into your property boundaries, a privacy fence will be the best option for your property.
Material of privacy fences
Features for residential fences
If you want to improve or beautify your residential fence plenty of optional features are available.
One of the most popular options is a residential fence gate. Most of the residential fences have the option for vertical board gates that comes with a flat top, archtop, or dip cut so your taste can be satisfied.
A walkway or driveway gate is a popular type of fence gate that comes in a variety of widths suitable for pedestrians or any type of vehicle.
Garden and pool residential fence gates are also popular options for improving the residential fence curb appeal. Garden fence gates will keep any unwanted visitors or animals from accessing your property lines, while pool gates make it difficult for young children to enter the pool area and that way avoid accidents.
Benefits of residential fence
The following are some of the benefits of owning a fence:
Child safety
Pet control
Property protection
Architectural enhancement
Define property boundaries
Privacy
Increase the resale value of the property