Wooden fences are a durable and affordable fencing option beloved by millions of homeowners for their natural beauty and timeless elegance, which cannot be easily replicated by the more expensive vinyl and aluminum fences.
Cedarwood fulfills all the requirements for being the best wood choice for most fencing projects. Cedar is an excellent wood option that delivers outstanding value at bargain prices. Its natural insect-repellent attributes, in addition to rot and water-resistant qualities, contribute to its long lifespan.
Cedarwood strength makes it an ideal candidate for outdoor applications. And unlike Pine, Cedar doesn't tend to warp or sag. Overall, carpenters view Cedar as the right choice for building long-lasting fences.
WOOD TYPE
LIFESPAN
(Years)
AVG. COST
(Per linear ft)

Score
Pine
10 -15
$17.50
7
Oak
25 - 50
$42.50
7.5
Redwood
25 - 35
$37.50
6.5
Cedar
15 - 30
$22.5
9.5
Cypress
15 - 40
$25
9
Below are the 6 most popular wood fences readily available from most fencing contractors and retail outlets.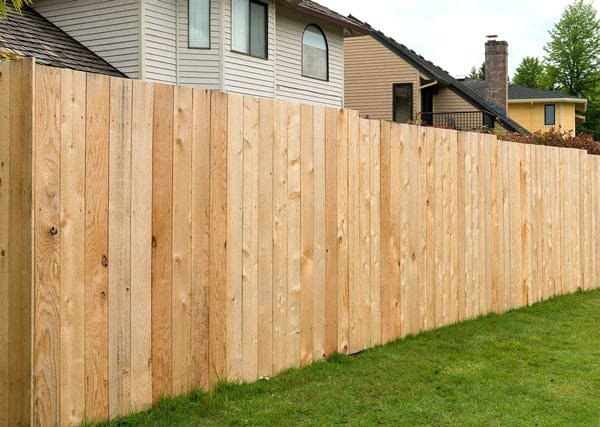 Pine is a durable and lightweight, low-cost wood that is used for construction and furniture. It is cheaper than most hardwoods and doesn't require reinforcements. Although Pine is not naturally water-resistant, it can be pressure-treated to prevent rot. Pine can be treated with chromated copper arsenate to prevent termite infestation, thereby increasing its lifespan.
Cost: $25 – $60 per foot.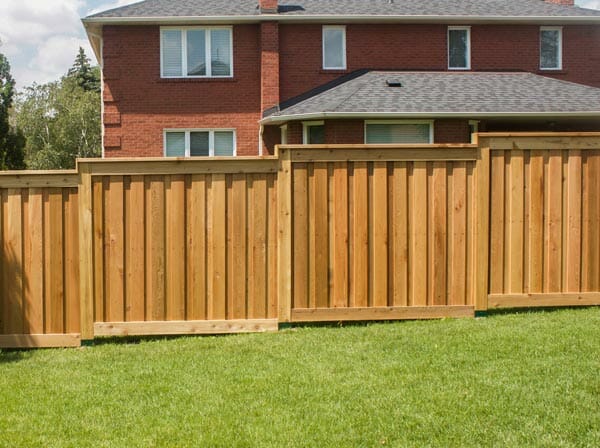 Oakwood opened up the American frontier. It is a highly durable, water-resistant hardwood fencing option with a wide range of industrial, commercial, and domestic applications. And it remains a popular choice for agricultural fencing due to its durable attributes and longevity. Oak consists of more than 600 wood species. The most commonly known are White Oak and Red Oak. Of the two, White Oak is ideal for fencing because it is highly resistant to decay depending on the Oak species.
Cost: $15-$30 per linear foot.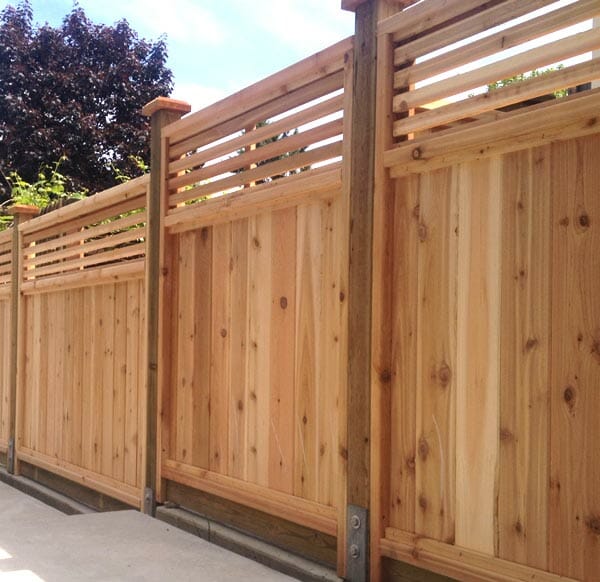 Cedar is a softwood with a high water resistance rate and durability. Cedar is an aromatic and beautiful wood used primarily for building homes, and its water-resistant properties make Cedar a natural wood choice for constructing saunas and closets. Cedar fencing has a long lifespan and, if properly maintained, can last for more than a couple of decades without rot and warping. Cedar's highly waterproof properties allow it to thrive in wet climates with high moisture. Naturally, it acts as an insect repellent, which can be used as a form of pest control to prevent the spread of termites and carpenter ants.
Cost: $25 – $50 per linear foot.
Redwood is an expensive and highly durable wood renowned for producing natural chemicals responsible for its anti weathering and insect resistance attributes without the need for chemical treatments. Untreated Redwood can be used for fencing construction, and it can last for up to 20 years with little maintenance. Besides, it is 100% biodegradable and ultimately breaks down without releasing chemical toxins into the ground.
Cost: $20 – $30 per linear foot.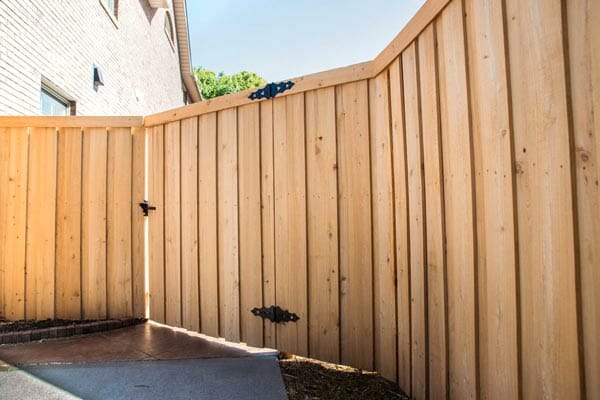 Cypress is a light yellowish-brown wood with a slightly coarse texture. Like Redwood, Cypress generates cypressene, a unique preservative oil that offers natural resistance to insects, decay, and chemical corrosion, making it an excellent wood choice for fencing.
An experienced fence builder can put up a fence in less than a day, but choosing the best lumber for your fence requires a more meticulous approach. In addition to the seemingly limitless wood species available, there are also several wood grades to choose from when selecting the appropriate wood for your fence.
Wood grades: are determined by quality and appearance. The best grades to choose from are:
Clear
Premium
Select
Construction
The wood grades above offer superior quality and better performance over cheaper but inferior grades like standard or better wood grade, which have aesthetic Imperfections and are vulnerable to rot and insect infestation.
Local climate
Local weather conditions play a significant role in determining the wood choice for your fence because not all types of wood can withstand extreme weather conditions. For example, high-grade Redwood, Western Red Cedar, and White Oak are water-resistant and thus suitable for use in wet climates.
Budget
Most homeowners who work within a fixed budget have limited wood choice options. However, there are several inexpensive but good-quality wood varieties for individuals with a limited budget. Treated Pine is a famous example of durable, cheap lumber that fits most budget fencing projects.
Pests
Wooden fences are highly susceptible to pests that attack and weaken wooden fences. Choosing pressure-treated lumber is the best way to prevent termites from attacking your fence and reducing its lifespan.
Are you looking for the best rates available?
HomeGardenGuides.com is a free service that quickly matches you with top-rated local fence builders in your area.
You can get three estimates fast by real certified experts in your area in just 2 minutes.
Scroll to the top of the page and enter your Zip code.
Answer questions about your fencing project.
Details of your fencing project will be forwarded to three local experts. They will send you a price estimate for the job and some friendly advice.
IMPORTANT: There is no obligation to hire. This is a free tool and service to be used at your pleasure.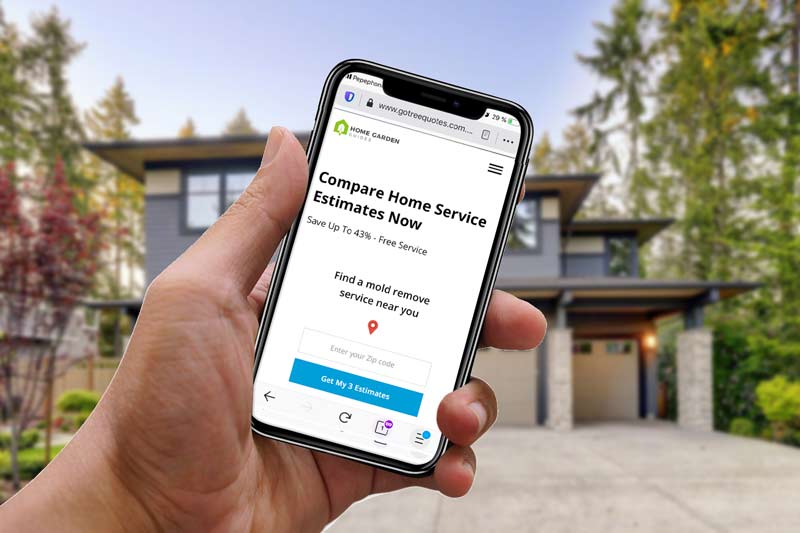 Cheapest wood fence per linear foot
At $10 – $25 per linear foot, pressure-treated pine is the cheapest wood fence. Pressure-treated Pine provides excellent value for money, meaning that you don't have to break your bank account to install a decent-looking, good-quality fence. However, Pine requires regular maintenance, and it can rapidly deteriorate if neglected.
How long do wooden fences last?
The lifespan of a typical wooden fence range from 10 – 50 years, depending on the following factors:
Type and quality of wood.
Local climate.
How well it is installed and maintained.
Type of posts used in the construction.
Local soil composition and fence usage.
The lifespan of different types of wood used for fencing:
| Wood Type | Lifespan |
| --- | --- |
| Pine | 10-15 Years |
| Oak | 25-50 Years |
| Redwood | 25-35 Years |
| Cedar | 15-30 Years |
| Cypress | 15-40 Years |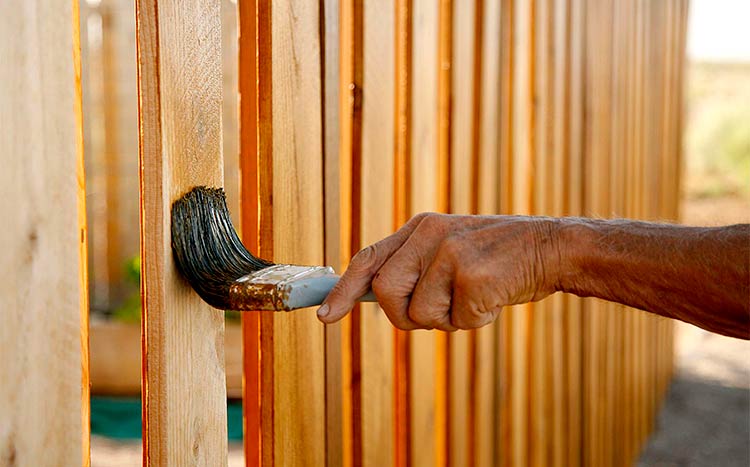 Although wooden fences are highly durable, they require periodic maintenance to keep them in good shape. You must perform annual inspections to identify and resolve problems that can reduce your fence lifespan. Here are some maintenance and care tips that can prolong the life of your wooden fence.
Allow the chemicals on newly installed wooden fences to dry out before staining. If you stain the fence before the chemicals dry out, you will trap moisture in the wood resulting in decay and rot.
Beware of wood deterioration and rot. Quickly repair or replace damaged boards and pickets. Hammer in nails and tighten loose screws.
Inspect the locks and hinges on your gate to ensure that they remain secure. Check if they align correctly, and apply grease to ensure smooth movement.
Check if the fencing posts are secure in their foundations. Inspect the foundations for severe moisture and erosion, which can wash away topsoil and expose the foundation.
It will help if you aim garden sprinklers away from your fence to deter the growth of moss and also prevent the wood from rotting and discoloration.
Clear any vegetation growing on your fence to remove the extra weight and the threat from moisture and insects.
You must clean your fence every couple of years, spray the wood with a cleaning agent, and leave it to soak for an hour before using a pressure washer to remove the ingrained dirt, moss, and mildew until the wooden surface is visible.
Allow the fence to dry for a week before you paint, re-stain, or re-seal with a UV inhibiting coating to prevent greying.
Repaint or restain your fence every 3-5 years with exterior oil-based latex paint that's formulated to prevent moisture accumulation.
Real wood fence vs. composite wood
Although wood fences retain a near-universal appeal among homeowners due to their sturdiness and durability, wood composites have emerged in recent decades to become a competitive – albeit pricier alternative to natural wood. Both fencing options provide excellent value, and they are good choices when considering the materials for your next fencing project.
Below are the pros and cons of natural wood fences and composite wood fences.
Natural wood fences remain the typical choice of millions of homeowners. Wooden fences are available in a broad spectrum of styles ranging from affordable to expensive. Wooden fencing materials can be easily sourced. The installation process is quick and requires minimal skills.
Pros of wood fences
At an average price of $15 per foot for materials, compared to $25 per foot for wood composite, a wood fence is cheaper to install.
Wood fences have a timeless natural appearance that can't be replicated easily in composite wood.
Wood fences are versatile and are available in several designs and color options.
Wood is easy to shape and install.
Cons of wood fences
Wood fences have a short lifespan if they are not well maintained.
Wood fences require annual preventive maintenance.
Wood fences are highly susceptible to moisture.
Termites and carpenter ants can attack an untreated wood fence and damage the wood.
Composite wood fences are an environmentally sustainable alternative to a natural wood fence. It is made from a blend of recycled plastic and trace amounts of real wood to create a fence with the look of wood without its flaws.
Pros of composite wood fence
It lasts longer than a wooden fence, with an average lifespan of 20 years.
Composite wood fences require minimal maintenance. All it needs is a good wash.
Extremely durable, it is also insect and water-resistant
Homeowners have a choice of numerous varieties of composite wood materials in different colors.
Cons of composite wood fences
It is expensive when compared with wood fencing.
The colors tend to fade with age. A composite wood fence isn't easily repainted, and you'll either tolerate the faded shade or install a new fence.
Treated vs. untreated wooden fence
The question, "treated or untreated?" might sound unimportant, but it defines a vital detail to watch out for when sourcing raw lumber for your fencing project. Ignoring it may mean the premature failure of your fence.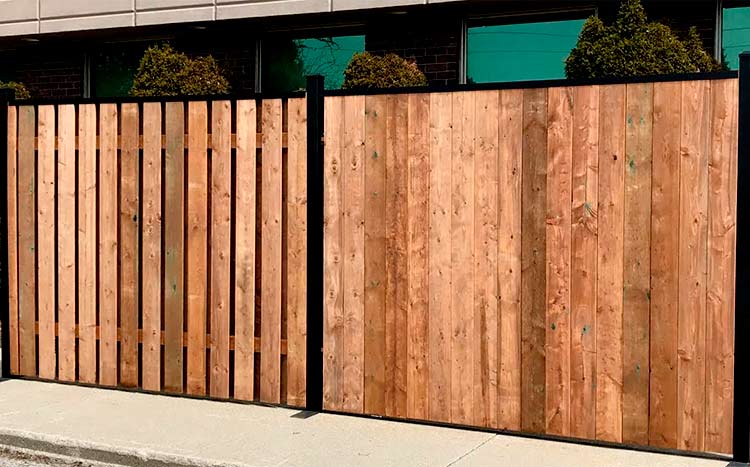 Treated wood fence.
Wood treatments have existed since the ancient Roman engineers discovered that swabbing wood beams with olive oil repels moisture. Fences built with treated wood enjoy the benefits of more sophisticated methods that use chemicals to prevent decay and repel destructive pests.
Longevity: is a significant advantage of treated wood fences. On average, treated wood fences last about 10 – 25 years longer than untreated wood.
Durable: a treated wood fence is more durable and can weather extreme weather conditions better than an untreated wood fence.
Cost-effective: treated wood fence delivers more excellent value over time because it requires less repair and lasts for several decades.
The chemicals used in preserving wood are toxic, and you must handle treated wood fences with extreme caution during installation and repairs. Use protective goggles and masks when cutting treated wood, and dispose of the wood in the trash. Do not burn it.
Untreated wood fence.
Natural wood is especially vulnerable to moisture and insect infestation. Fences built with untreated wood deteriorate faster, and they have a shorter than usual lifespan when exposed to the elements. Untreated wood fences are cost centers that require more repair and maintenance than necessary, which impacts your finances.
Yes, there are. Wooden fences built from treated wood deliver significant cost savings over vinyl or an aluminum fence. They require less capital outlay, and they are easy to maintain over time. A well-built and maintained wooden fence adds incredible value to your house.
Cedar and pressure-treated Pine delivers excellent value at reasonable costs. Pine is particularly preferred for picket fences due to its lower prices. Treated Pine has better soil resistance than the more expensive Cedar, and Pine is often used as posts on Cedar fences to save costs.