There are tons of reasons why you'd want to install a fence around your home. A good fence gives you more than privacy, it increases the home's overall aesthetics, adds curb appeal, and increases its market value.
Wooden fences are among the best and most popular choices of fence for American homeowners. The average cost of installing a wooden fence in the country is about $2,850, with the actual price ranging between $1,700 – $4,000.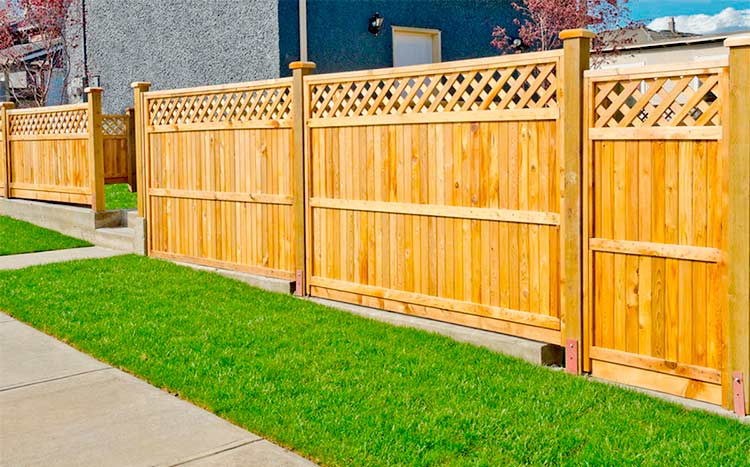 There are many factors that will determine how much you'll spend on your wooden fence installation. Factors such as the type of wood, design, area to be covered, and the labor costs will all add up to the total costs.
On average, you can expect to spend anywhere from $12 to $30 per linear foot for the installation.
The cost of materials (wood) ranges between $17 – $45, while the lumbering costs start as low as $7 to around $15.
| Service | Quantity | Low | High |
| --- | --- | --- | --- |
| wood Fencing cost (Material) | Per foot | $17 | $45 |
| wood Fencing cost (installed) | Per foot | $12 | $30 |
| wood Fencing labor cost | Per hour | $30 | $60 |
| wood Fencing cost 200 ft. (installed) | 200 ft | $2400 | $3600 |
Cost of a wood fencing by type
| Service | Quantity | Low | High |
| --- | --- | --- | --- |
| Picket | Per foot | $5 | $13 |
| Post and rail | Per foot | $3 | $5 |
| Lattice vinyl | Per foot | $12 | $24 |
| Louver | Per foot | $21 | $30 |
| Vertical board | Per foot | $10 | $60 |
Labor cost to install a wooden fence
Labor costs will vary depending on how your contractor chooses to charge you (per hour or per linear foot).
Typically, most contractors who charge per hour may cost you around $30 – $60 per hour. If they charge per linear foot, expect costs between $10 and $20 per foot.
Other cost considerations homeowners should account for include extra features like the gates, extra fence heights, and the cost of paints and stains.
Depending on the material you choose, your gate may cost you anywhere from $200 – $750. If you want taller fences (more than 6 feet), you're likely to spend 20 – 30% more on the cost of that material.
For the paint, expect to spend around $30 per gallon of paint.
Wood fence cost by material
| Service | Quantity | Low | High |
| --- | --- | --- | --- |
| cedar | Per foot | $2 | $3 |
| Red Cedar | Per foot | $6 | $8 |
| White Cedar | Per foot | $4 | $7 |
| Oak | Per foot | $5 | $10 |
| Pine | Per foot | $1 | $5 |
| Composite | Per foot | $6 | $10 |
| Black locust | Per foot | $5 | $10 |
| Western Red Cedar | Per foot | $6 | $8 |
| Douglas Fir | Per foot | $6 | $7 |
| Bamboo | Per foot | $10 | $16 |
| Hardwood | Per foot | $8 | $15 |
Other cost considerations
Besides the cost of materials, equipment, and labor, there are several other common factors that most homeowners ignore then later have to worry about. This includes:
Fencing permit – Before making any major renovations to your home, including installing a wooden fence, you'll need a permit. Most states impose a zoning permit requirement to ensure that all home renovations are designed up to code.
On average, expect to spend around $300 on local permits, but the figure can be much higher ($1,000+) or lower ($100). It all depends on how your state calculates the permit.
The entire process may take anywhere from two weeks to a month before you get the permit.
Grand of land – The slope of your yard can also rake up extra labor and material costs for your fencing project. This is because standard wooden fence installation techniques won't work on a sloppy area.
The contractors will have to come up with special techniques like hand-making pickets or leveling the yard to balance the posts and ensure a sturdy fence.
Overall, doing this increases the labor costs and demands more material, which is costly.
Rocky land – Your yard's terrain is also a key cost factor. Given that fence posts need to be 2 – 3 feet in the ground for stability, rocky yards make it harder to dig posts. This forces the contractor to do more digging and hence adds up the labor costs. They may also need to hire better equipment if the yard is too rocky. All these extra costs will feature in your final project quote.
Access – How accessible is your home for the contractors? Most contractors carry their equipment by hand or on a truck. If the worksite is far from their premises, you can be sure that they'll drive up their labor charges.
Security and lighting – Any extra design component you add to your fence will jack up your overall expenses. So, if you're planning to add some lighting on the fence, or security features like CCTVs or motion sensors, be ready to bear the cost.
Tips on hiring a fencing contractor
As earlier mentioned, fencing is a great way to improve your home's curb appeal without spending too much on the exterior makeover. However, this will only be possible with a good fencing contractor.
Whether you're doing a simple fence repair or replacing the whole thing, you need a good contractor to be assured of quality results.
Here are some critical things you should look for in a fencing contractor.
Figure out what you want first
Most homeowners usually have their hearts set on a specific fence material and design right from the start. Find out what yours is. How do you want your fence to look like? What designs do you prefer?
Doing this is important because different contractors deal with different fencing materials. The information will help you shortlist the contractors who only deal with the materials you're interested in.
The general rule of thumb when looking for any professional service for your home is to get at least three quotes.
Having multiple estimates gives you the true range of the fencing service in your area. It allows you to compare prices, ensuring that you're not overpaying for specific installation services.
Well-detailed quotes will also make it easier for you to choose the contractor with the best combination of cost and quality.
Tip: Scrutinize the quotes keenly to identify what's missing from the quote. Some contractors usually leave out the cost of removing the installation waste – which becomes a headache later.
Look for online reviews and recommendations
Online reviews may not give you the best reflection of a contractor's services, but it's a good place to start. Contractors with good online reviews are more likely to offer you better services than those with negative ones.
Nevertheless, don't be too trusting with the reviews you read online. Look for past clients of that contractor and ask about their experience with them.
You should also ask for word-of-mouth recommendations from your family, neighbors, or friends.
The contractor you choose should also have their papers right with the authorities. He/she should be licensed and have insurance to protect you in case anything happens during the installation.
Licensed contractors are usually more professional, trustworthy, and likely to do a better job than those without qualifications.
For any project, you need to have an agreed timeline with your contractor to avoid future arguments and disputes. For your fencing project, ask your contractor how long it would take them to complete the job.
This will help you keep them accountable during installation. (Some contractors purposely waste time to increase their billable hours for the project).
Payment terms and guarantees
You need to ensure you're comfortable with the contractor's terms regarding payment. Ask them how much they require as the down payment and when they require the balance.
Walk away from any contractor who demands the full payment upfront. You should also take note of their payment options.
Lastly, ask if the contractor offers a warranty for their service and for how long. Having a warranty shows that the contractor has faith in the quality of their services.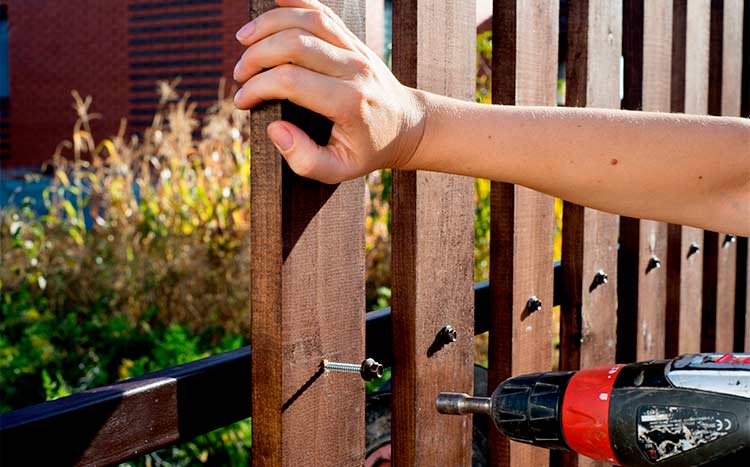 Composite wooden fence cost
Composite wooden fences are the newest and probably coolest fences in town today. Composed of 50% recycled plastic and 50% recycled wood, this fence is the most durable form of wood fence.
It costs anywhere from $20 – $45 per linear foot, depending on the type of fencing you need. Despite being fairly expensive, a composite fence saves you hundreds in stain and painting costs.
It'll also last more than four decades, which is great news for any homeowner.
Wood fence replacement cost
When it comes to wood fence replacement, most homeowners report spending anywhere from $1650 – $4000. This is because there's a lot of work involved.
Contractors will charge you between $2 – $5 per linear foot to remove the existing fence and then charge you around $12 – $30 per linear foot to install a new one. For a 200-foot yard, this is around $2,800 – $6500 for the job.
Wood fence vs. vinyl fence
Vinyl fencing is more durable than wooden fencing. It can easily last longer than 30 years with minimal maintenance.
It's much easier to clean and maintain – it doesn't require painting or staining, making it a cheaper option long-term.
Better privacy since vinyl doesn't expand or contract and leaves gaps for people to peep through.
Vinyl is lightweight and easy to work with, making its installation quick.
Vinyl fencing is relatively expensive upfront – even though they save you more later.
Limited style and color choices – Compared to wood, vinyl fencing offers fewer choices for colors and style, which may not suit most homeowners. You also can't repaint vinyl.
Vinyl fences are not resistant to extreme weather conditions. It can bend or expand under extreme temperatures.
Repairing vinyl fences are expensive and harder since you'll have to replace a whole section instead of just one affected spot.
It gives your home a beautiful natural look that most homeowners are after. It also blends well with the environment.
Upfront costs are cheaper compared to most other materials.
Wood fencing gives you more flexibility for style and colors. The fence can be re-stained painted to suit any color you want.
With good maintenance, the fence can last for decades.
Repairing wooden fences are easy.
Maintenance is hard and very expensive, i.e., cleaning, staining, painting.
Wood deteriorates faster due to harsh weather, insect attacks, etc.
Most wooden fences last for around 10 – 15 years, which is almost half the lifespan of vinyl fencing.
Poor installation could lower your house's market value.
How long do wooden fences last?
Between 15 – 20 years with good maintenance care. Wooden fences are known to be very durable and strong.
Depending on the type of wood you use and your maintenance habits, your fence can last way past the 30-year mark.
Common wood types such as Cedar have a lifespan of around 15 – 30 years. Pinewood fences last up to 15 years, and Spruce can last to around 10 years.
To extend the lifespan of your fences, you can also try using treated wood.
Although wooden fences are more durable than most fencing materials, the only way they will last past the 10-year mark is with proper maintenance. You should inspect your wooden fence at least once or twice each year to monitor its condition.
The inspection should tell you what kind of maintenance your fence requires. Among the most common maintenance tips include:
Every year many homeowners clean their wooden fences to get rid of mildew and improve their appearance. To do this, apply the cleaner on the fence and let it sit there for around 20 minutes. Next, rinse it out with pressurized water or a long-hand brush, then leave it to dry. Finally, apply a polyurethane sealant on the fence to protect it from sun damage.
If there are some missing pickets, rotten wood, or broken timber, make a habit of repairing or replacing them early. If the damage is still small, use glue to seal off any cracks and crevices. For loose wood, remove the old nails and use new stainless-steel nails to tighten the boards.
Re-staining or painting your wooden fence with water-proof paints gives it a fresh look. There being numerous paint colors, test out several paints on a small part of your fence to see if you like it. Always let the paint dry and pay more attention to the bottom of the fence.
Other key maintenance tips to ensure that your sprinkler doesn't spray water on your fence. Water easily discolors the paint leaving the fence looking old and grey.
Additionally, remove any bushes growing close to your fence. Bushes are a good habitat for insects, which can easily start tearing down your wooden fence.
Treated vs. Untreated wooden fences
If you've been in the market for a wooden fence for a while, you've probably come across these two terms on several occasions.
Treated wooden fences are simply wood that has been permeated with chemicals to make it resistant to decay and insects like termites. It is sometimes known as pressure-treasured wood (PT).
Untreated wood is the regular lumber wood.
Both these fences are suitable for fencing and construction, but the treated wood is largely preferred for fencing today. This is because its resistance to harsh weather and insect attacks makes it very durable.
It's, however, worth noting that treated wood fences are more expensive than untreated fences. Expect to pay approximately $6 more per linear foot for treated wood.
The classic farm fencing found on ranches is generally made of wood. These are normally split rail or post and rail fences.
Although more costly than hog wire fencing or an electric fence, they are classic and well worth the extra money.
Farm fencing costs between $4 – $12 per linear foot. The cost varies depending on the type of timber used.
There are numerous types of wood fences, each different in lifespan, style flexibility, and cost. Among the most common wood fences include:
Cedar, despite being a softwood, is a very durable fence. It possesses a natural chemical that resists insects and rotting, allowing it to last long.
Drawback: It's quite expensive compared to other wood types.
One of the most beautiful fences. It's strong, naturally durable, and has natural oils that make it resistant to mildew and insects. It's perfect for outdoor living.
Drawback: Red Cedar comes with a specific natural scent, which can be a problem for asthmatic homeowners.
White Cedar is a strong, durable material dominant in the Northern parts of the country. It's lighter than red Cedar, hence easier to install, and glues easily. It's also resistant to decay and insect attacks.
Drawback: It's soft – doesn't hold nails well, and has a cedar-smell, which affects people with respiratory problems.
Oak is hardwood, making it one of the strongest fences. It has a distinctive light color and is popular for its wavy grain fences. The white oak is the most popular fence in the US. It's middle-priced, but the finishing makes it expensive.
Drawback: It's resistant to weather but wears down easily over time.
One of the cheapest fencing options. The softwood is tough and but still very easy to work with. Treated pine is also very strong in the soil and takes on paint and stain very well.
Drawback: Gets damaged easily.
Arguably the most durable fencing material. It lasts at least 30 years and requires very little maintenance. Composite also offers a variety of styles and colors to choose from.
Drawback: More expensive than most fencing materials. It also tends to fade after a while.
Black locust is known for its strength and decay resistance. It's the most durable hardwood fence and can withstand adverse weather conditions easily.
Drawback: Very expensive fencing option.
Most popular fencing choice for homeowners. It's very durable, rot and insect resistant, and very flexible with colors. It's best for fencing as well as garden features, decks, and outdoor furniture.
Drawback: Very expensive compared to other softwood fencing options.
Builds a very strong softwood fence. It's resistant to decay and insect attacks and has a great fragrance. It also doesn't need painting or staining.
Drawback: High cost.
Bamboo fences are beautiful, long-lasting, and very durable. They're resistant to adverse weather like snow and heat and are good for the environment as they absorb excess carbon dioxide in the atmosphere.
Drawback: It's expensive and not available for every climate.
Known to be the most durable outdoor wood. They have a high density, are extremely hard, and very beautiful. Hardwood is among the best performers for fencing and decking.
Drawback: More expensive and not the best for the environment.
Benefits of a wooden fence
There are numerous benefits of choosing a wooden fence for your home. For instance;
Wide style variety – Wooden fences come in many different styles. You can choose from a variety of wood types and styling options. Among the many styles you can choose include: pickets, paddock, board on board, split rail fencing, etc.
Cost-effective – Wood fencing is among the cheapest options available for homeowners. The material is less costly compared to aluminum and wrought iron, and its maintenance is also quite cheap.
Easy to install – Installing wood fences is easier than most materials. It, therefore, takes less time to install and gives a lower margin for error.
Very flexible – Wood fences allow you to change your home's entire appearance by simply painting or staining the wood.
Durable – With minimal maintenance, wood fences can last for decades and outlive most materials.
Environmentally friendly – It's very easy to dispose of wood without harming the environment.