Split rail fences are popular fences and have been used for ages in rural neighborhoods. They are popular for their affordability and how easy they are to build. They can have wire mesh included or left with open spaces between the rails.
Split rail fences have different types of gates. Some of the gates used with this fence are posts placed in holes. Or, you can make a wooden or metallic gate. Additionally, you can choose to have a 2,3, or 4 rail split rail fence.
You can install a split rail fence gate in any type of compound. You will enjoy a range of benefits from installing this type of fence.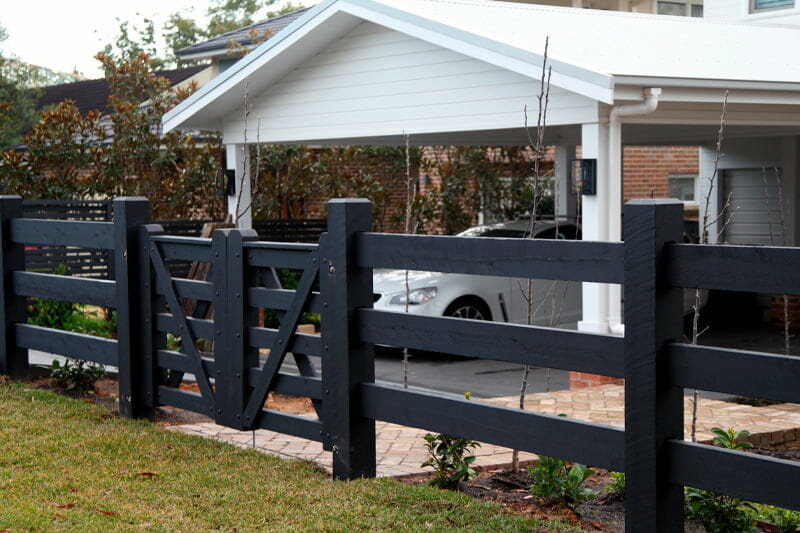 You can make as many types of gates on a split rail fence. Here are some of the basic foundations of the type of gate you can build.
Standard Split Wood Fence Gate
A split wood fence gate is one of the most common and easiest gates you can make on a split rail fence. It is most suitable for rural regions. It is easy to construct and use.
As its name implies, the split wood gate is made from split wood just like the fence. When you decide where to install your gate, you will leave enough space for the splits. You will then add holes on either side of the fence panels.
Insert your wood splits into the holes. Ensure that the wood can be pushed back through the holes to leave enough space for people and vehicles to pass through.
Ensure that both ends of the splits are in their respective holes on the fence to close the gate.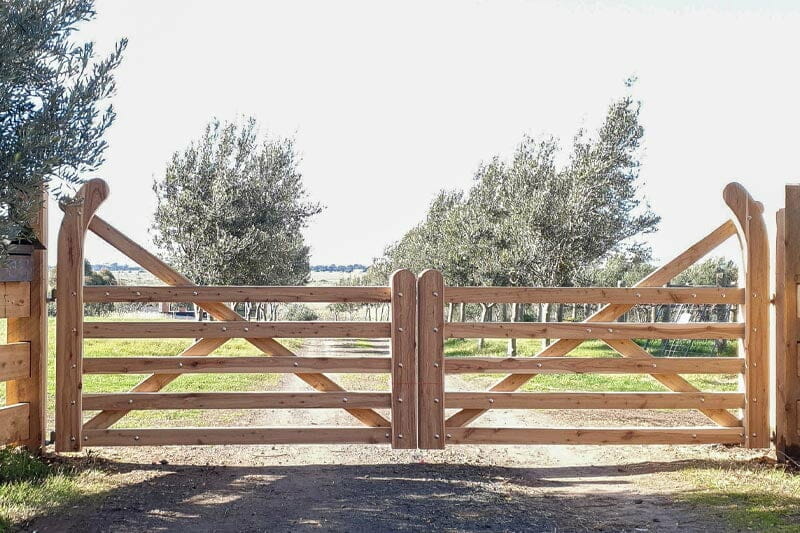 A single swing gate is a common gate design idea for split rail fences. A single swing gate is a gate design composed of only one gate door.
The gate is attached using hinges on the panels of the fence. You can build the gate to any size. The single swing gate is easy and cheap to install. Also, it is easy to operate on a split rail fence.
The downside of a single swing gate is that it has to cover the whole space left for the gate. This will make the gate heavy and cover a large opening radius to fit people and vehicles.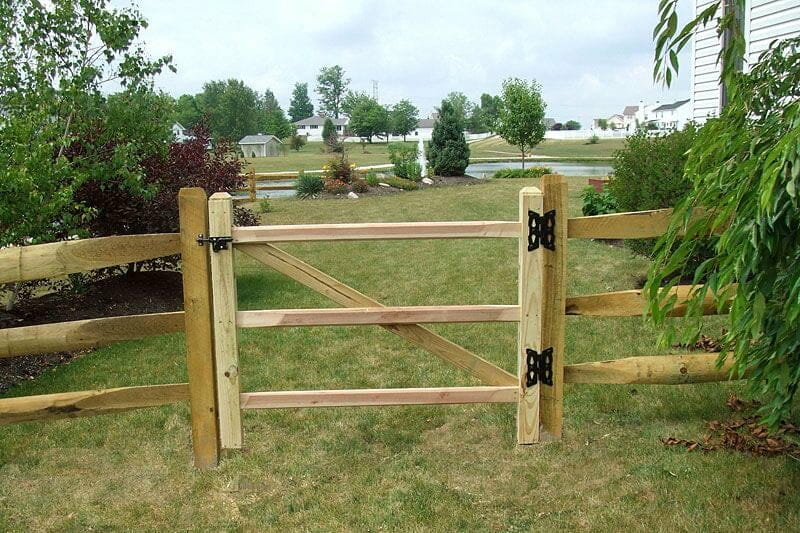 A double swing gate has two gate doors, hinged on either end to fence panels. The gates meet at the middle where they latch.
They are also a common and easy type of gate to install on a split rail fence. Depending on the material you use to make the gate, double swing gates are attractive.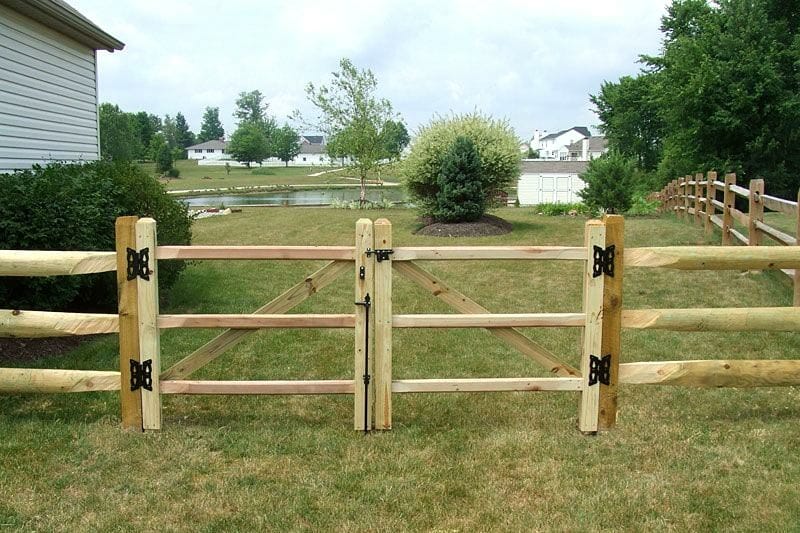 A sliding gate can also be installed on a split rail fence gate. It is suitable for an urban split rail fence. It is easy to operate and provides an easy to recognize path. It is mostly automatic and can be operated via remote control or by a proximity sensor.
A picket-style gate is a fine gate for the split rail fence. It can be installed in both rural and urban gates. Picket gates add elegance to your split rail fence and make the entryway easy to spot. Further, it is available in a range of designs.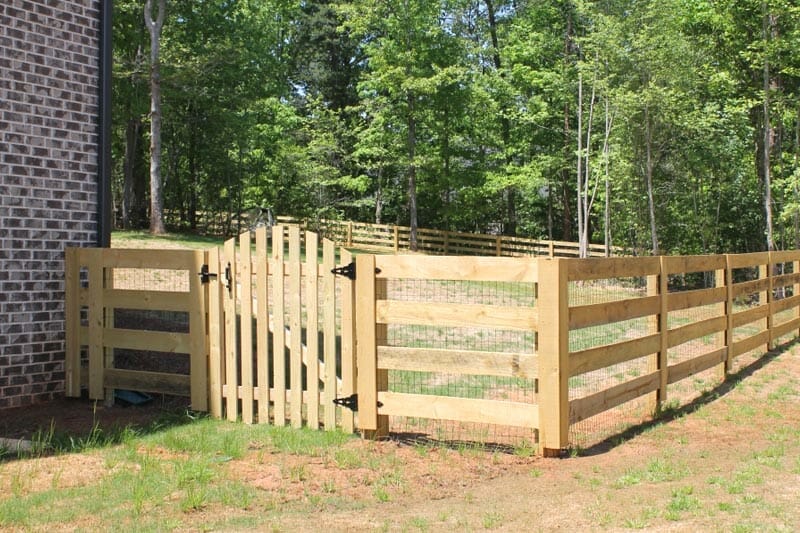 How To Build A Split Rail Fence Gate
You need to have all your tools and supplies ready before you start building the gate. You will need a measuring tape, a hole digger, an acid level, and a shovel. For the materials, you will need posts, hinges, latch, and other materials fit for the design of the gate you want to install.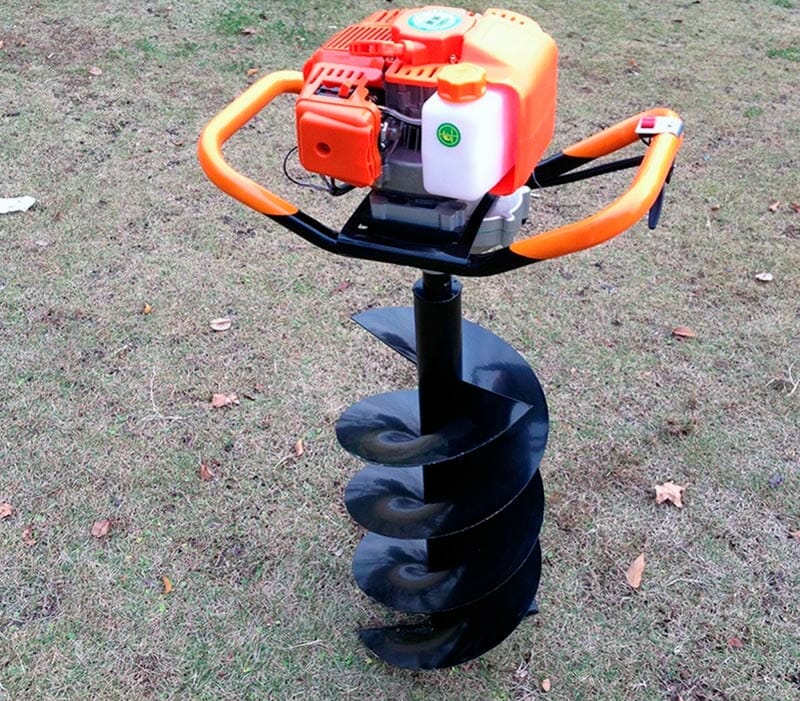 Plan it out. This will involve marking and measuring your yard to ensure that you have enough materials for your fencing project. Also, determine your gate size. Will it be the same height as your fence or longer, or shorter? Make sure to measure and plan out everything well to ensure it results in a perfect gate.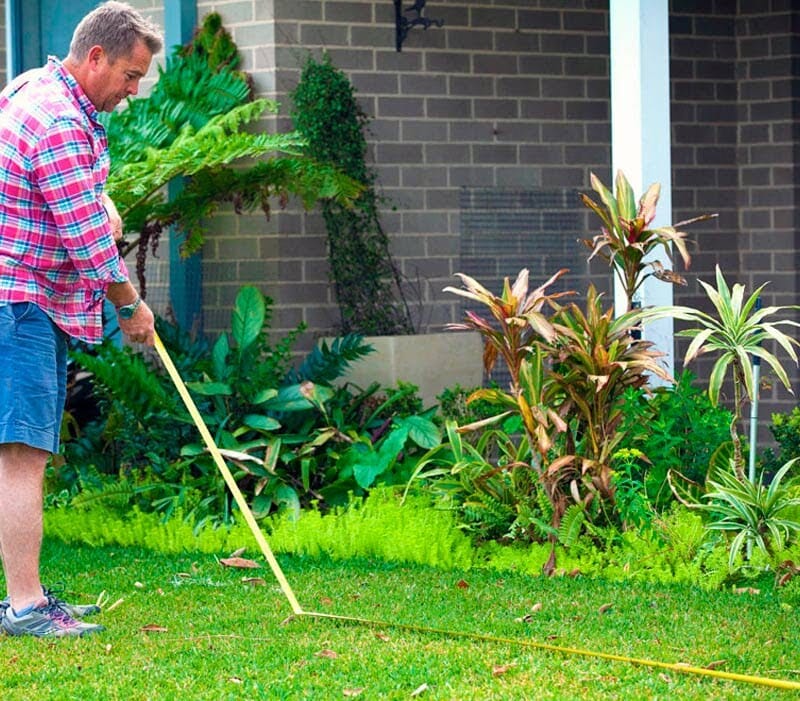 Build the frame for your gate design. Then, attach the frame of your gate to the posts of your fence by the hinges. Ensure that it is firmly in place.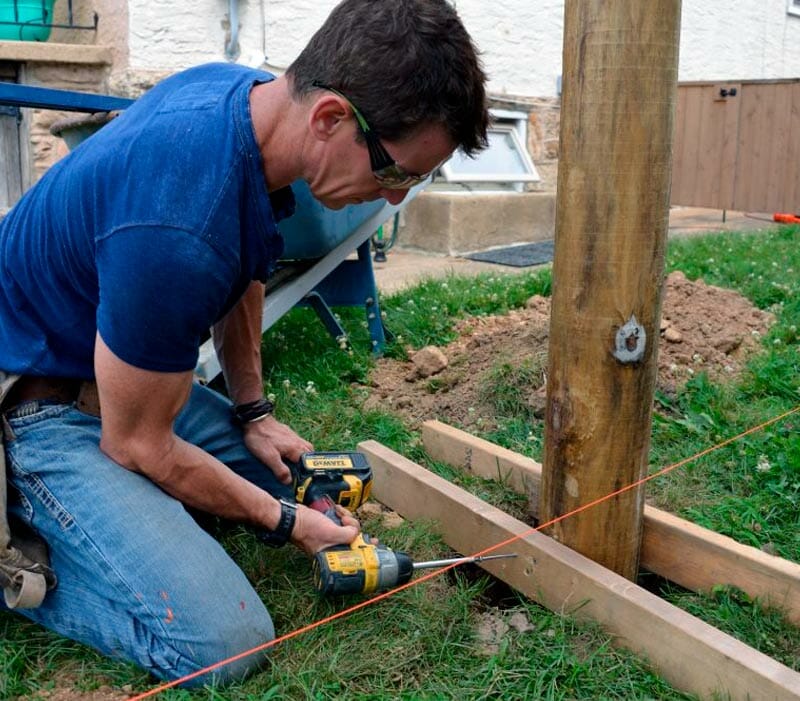 Attach the rails to the frame.
Attach the latch. Make sure it attaches to the gate properly. Both sides of the latch should line up properly and be properly attached. It enhances the security provided by the gate.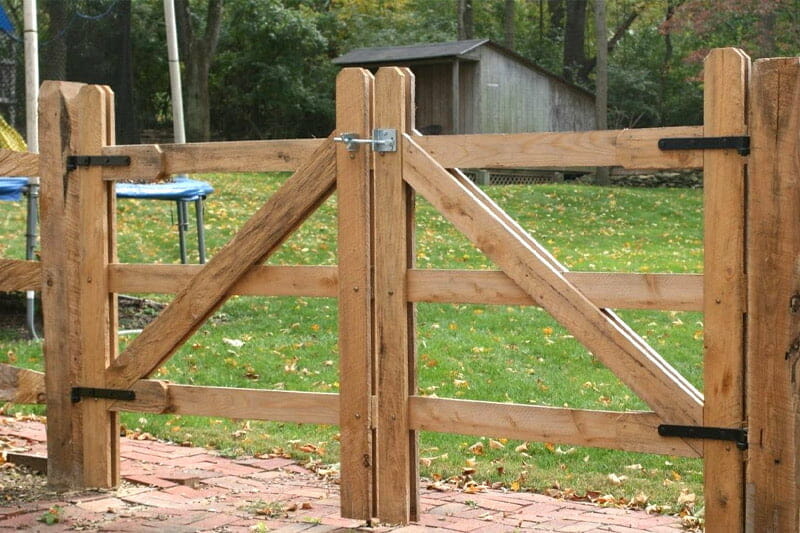 Make sure that the gate is firmly attached to the fence. You have finished building and installing a gate on your split rail fence.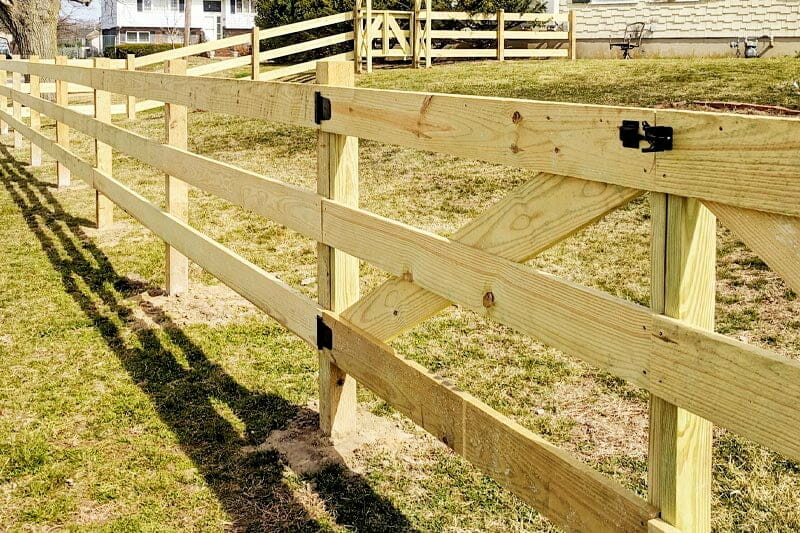 How Much Does A Split Rail Fence Cost
The cost of installing a split rail fence varies depending on the type of material or wood used for the fence and the size of the land to be fenced.
It costs between $1,700 and $ 4,000 to install a split rail fence.
If you hire a professional to install the fence and gate, they will charge you by the square foot. You can expect to pay $11 to $29 per foot depending on the material of your fencing rails.
If you are fencing a ranch with a split rail fence, it may cost you up to $24,000 to install the fence. For a small homestead, you may pay up to $1000 to fence your yard.
If you DIY your split rail fence installation, you could spend up to $1500 and the time it takes to complete your installation. You are likely to save a significant amount if you can install the fence for yourself.
Cost To Install A Split Rail Fence Gate
For each fence, you install you need to fix a gate. Depending on the design and type of gate you use, your costs are likely to increase significantly. On average, you will pay $400 to $600 for a fence gate.
Depending on the material, design, and size of the gate, your costs are likely to increase to $2,000.
Further, depending on the type of gate you want to install, if you have the DIY skills, you can save a significant amount if you forego a professional installer.
Split Rail Fence Contractors
If you are looking to install a split rail fence and gate, is it better to use a professional than to DIY?
This will depend on the size of the land that you want to fence and your fence and gate installation DIY skills.
If you can't do it by yourself, you have to get a pro to do it for you.
The homegardenguides.com tool makes it easier for you to get a professional to advise and install your split rail fence gate for you.
All you need to do is enter your zip code in the space provided. Then, fill out a form to offer more information on your project.
You will then receive three quotes and advice from professionals. The quotes are sent to you with no obligation to purchase their service.
You can decide to hire one of these service providers to install the fence on your land. Professionals from this tool offer high-quality services with a guarantee of durability.
You can negotiate the services and the costs quoted to get one who will work within your budget and offer expected services.
Benefits Of Installing A Split Rail Fence Gate
A split rail fence gate is significantly cheaper to install than other types of fences. A split rail fence gate requires you to have wood or metal fence rails. The larger the space you have, the more rails you need.
Wood is the most common material used to make a split rail fence gate. The price of the wood used for the fence depends on the type and size of rails you need. You can easily DIY a split rail fence installation or contract an installation company to do it for you which will cost you more.
Split rail fence gates are long-lasting. The wood used to make the split rail fencing is pressure treated. This ensures that once you plant your posts in the ground, they will not start rotting and decaying.
Wooden posts naturally absorb water from the ground. The water then makes them swell, attract mold and mildew and start cracking. In a few years, you will have to change these posts due to rot.
The pressure treatment prevents the gate and fence rails from absorbing moisture from the ground. This prevents the gate from rotting ensuring that it serves you over a long period.
The split rail fence gate is a beautiful fence. The wood used to make the rails is attractive. Cedar and pine are some of the commonly used wood types to make a split rail fence. Once treated and stained, the wood has an attractive appearance.
Split rail fences and their gates are easy to repair. Depending on the type of fence you or gate you have, all you need is wood similar to your gate. If you used nails to build the gate, you can use nails and new rails to repair the broken parts.
If you used assembled rails, you can easily reassemble the railings to repair any broken part of the fence or gate.
Disadvantages Of Split Rail Fence Gate
Due to the split between the rails making up your fence, it doesn't provide as much privacy. You can see through the fence, your small pets can easily get through the fence and get lost.
You can use more rails to reduce the amount of space in the fence or, add a wire. This will enhance the privacy provided by the fence. You can also plant flowers alongside it to cover the split.
Your posts should be at least six feet deep in the ground for proper support. However, you need to dig at least 8 feet of holes. Add gravel until you only have 6 feet left on the hole. Now insert your post and fill the hole with soil for enhanced support.
Strongly held posts ensure that your fence is strong. A strong fence is attractive and saves you money. You don't have to repair it regularly and it serves you longer with little maintenance.
Your split rail fence gate should be the same material as the rest of the fence. If you use wood or vinyl to make your fence, make sure that your gate is the same material. In this way, you can be sure that your gate is as strong as your fence. This ensures that you can maintain them both easily and in the same way.
Mixing materials will cause a point of weakness in the fence since the materials are not equally strong.
Vinyl fencing is the most durable fence material you can use. Wood lasts about 20 years before you have to replace it. Wood is affected by the weather in different ways and may rot and decay and start sagging before the 20 years are over.
Vinyl is a strong and durable fencing material. It is not affected by extreme weather changes or pests. Once installed, vinyl fencing requires no maintenance. It maintains its color and luster for longer than a wood fence. You don't need to repaint, treat or seal vinyl to ensure it lasts long.