Picket fencing normally comes in prefabricated sections these days so they are pretty quick and easy to install.
Installing picket fencing will cost you around $1,650 to $2,250 per 100 linear feet. The national average price is approximately $1,950 so far this year. This price includes materials, labor, and one gate.
The actual cost to install picket fencing will depend mainly on the type of material, the size of the fence, the complexity of the project, and the amount of prep work required.
| Cost per linear foot | $23.50 - $38.00 |
| --- | --- |
| Average Material cost | $14.30 - $19.90 |
| Average Labor cost | $9.2 - $18.1 |
| National Average cost | $1,950 |
Picket fencing cost per linear foot
The average cost of picket fencing per linear foot is around $23.50 to $38.00. The price can be as low as $10 for some types of picket fencing like wood. Composite and PVC picket fencing tend to be more expensive to install.
Some of the factors that affect picket fencing installation include the size of your lawn, the type of terrain, location, and type of materials. Also, if you plan to paint your fence, the overall cost will be higher.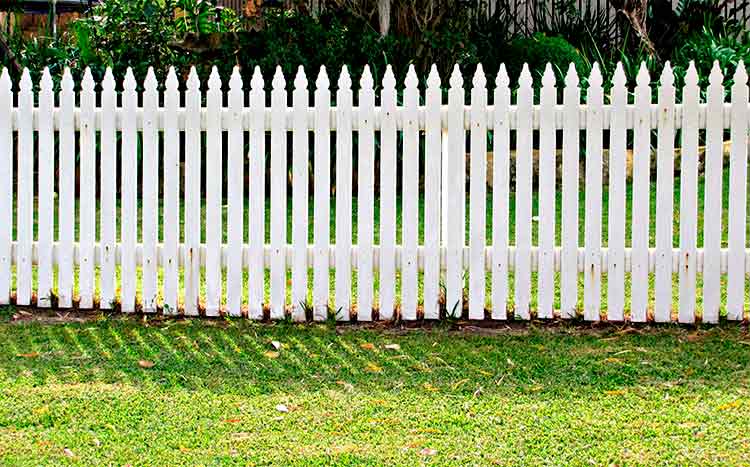 Average Labor Cost to install a picket fence
The labor cost to install picket fencing averages $9.2 to $18.1 per linear foot or $40 to $60 per hour. Most contractors offer fixed rates after calculating how many hours they are likely to spend on the project. Some contractors will, however, charge by the hour, depending on the nature of the project.
Keep in mind that hiring a contractor that offers hourly rates may lead to many unexpected costs, and the rates can be unreasonable for large projects. For this reason, it is best to get fixed rates, as budgeting will be easier when you know the actual cost upfront.
Your location, project size, job complexity, and the type of picket fencing you want will determine the overall project cost. Also, labor rates tend to be lower in low-income areas and higher in high-income regions.
Picket fencing cost by material
There are various materials used to build picket fences. Below are some of the materials and their costs per linear foot.
| Material | Cost by linear foot |
| --- | --- |
| Wood | $10 - $20 |
| Metal | $16 - $25 |
| Vinyl | $14 - $22 |
| Bamboo | $14 - $19 |
| Composite | $28 - $35 |
Traditionally, picket fences are made of wood. Wood is an excellent choice for picket fencing because it is inexpensive and easy to work with. More so, it comes in various shapes and can easily be stained or painted.
However, wood picket fencing requires more maintenance than other materials. It needs regular cleaning and repainting to keep it in good shape. More so, wood is more susceptible to rot, mold, and insect damage and can break easily under high impact.
The average cost for installing a wood picket fencing ranges between $10 and $20 per linear foot.
Metal picket fencing adds a peculiar quality and enhances the curb appeal of a home. Metal is highly durable and can last for many years with proper care and maintenance. It requires low maintenance, making it an excellent pick for homeowners looking for maintenance-free fencing.
Nevertheless, metal picket fencing rusts easily and should be painted using moisture inhibitive paint from time to time. More so, it is more difficult to install, and the materials are pretty costly.
The average cost to install a metal picket fencing is around $16 to $25 per linear foot.
Vinyl picket fencing is fast becoming popular because of its durability and versatility. More so, vinyl fencing requires low maintenance, unlike wood, and is resistant to rust. It does not need any painting or staining, and cleaning it is quite easy.
Vinyl picket fencing can be designed to look like wood to offer a rustic look. This material can be recycled and does not splinter, which makes a durable fencing option.
However, cold weather can make vinyl fencing brittle. Besides, this fence is prone to expanding and shrinking due to weather changes. Installing this fencing type is also costly upfront. Vinyl fencing is susceptible to mildew, mold, and algae build-up that may make it look unsightly.
On average, you will spend between $14 and $22 per linear foot to install vinyl picket fencing.
Bamboo picket fencing adds uniqueness to your property because of its beautiful natural look. Bamboo is environmentally friendly as it grows quickly, so harvesting it does not lead to deforestation. More so, bamboo is beautiful and turns into a beautiful silvery or gray color when it ages. You can paint or stain the bamboo to protect it from weather elements.
Nevertheless, finding bamboo can be challenging, and it is prone to rot and mold. More so, it can crack and split easily, which means it may need more repairs. This fence also needs to be stained yearly to maintain its integrity.
Installing bamboo picket fencing will set you back by about $14 to $19 per linear foot.
Composite picket fencing is the most expensive to install on the list. It mimics wood texture and can be prefinished in a stained tone. Composite picket fencing requires low maintenance and does not splinter. With regular care and maintenance, this fence can last for over 20 years.
Composite picket fencing is, however, prone to expansion and shrinking due to weather fluctuations. It also attracts mold, algae, and mildew, and its color fades over time. The initial installation cost of this fence is also high.
The cost to install composite picket fencing ranges from $28 to $35 per linear foot.
Picket fence cost by style
Picket fencing cost also varies depending on the style you choose. The following table provides you with the average price for installing picket fencing by style.
| Style | Cost per linear foot |
| --- | --- |
| Classic | $12 - $15 |
| Flat top | $9 - $11 |
| Pointed top | $17 - $19 |
| Dog ear | $10 - $12 |
| French Gothic | $10 - $12 |
Classic – A classic picket fencing is one of the best styles that add to a home's aesthetics. The pickets are usually square and are pointed at the top. Installing classic picket fencing will set you back by around $12 to $15 per linear foot for pine wood.
Flat top – A flat-top picket fencing is another popular style loved by many homeowners. This fence looks like a board having a flat top, and it costs between $9 -and$11 per linear foot to install for western red cedar.
Pointed top – Pointed picket fencing features a simple point at its top part. This fence is also called functional spear picket fencing, and it costs about $17 – $19 per linear foot to install for western red cedar.
Dog ear – The dog-ear picket fencing is usually flat at its top and corners that look like they have been clipped. Installing a western red cedar fence will set you back by around $10 to $12 per linear foot.
French Gothic – French gothic picket fence features a pointed arch, and it has been around for many centuries. This fence was popular from the 1100s to the 1500s in France. Installing this fence costs between $10 and $12 per linear foot for cedar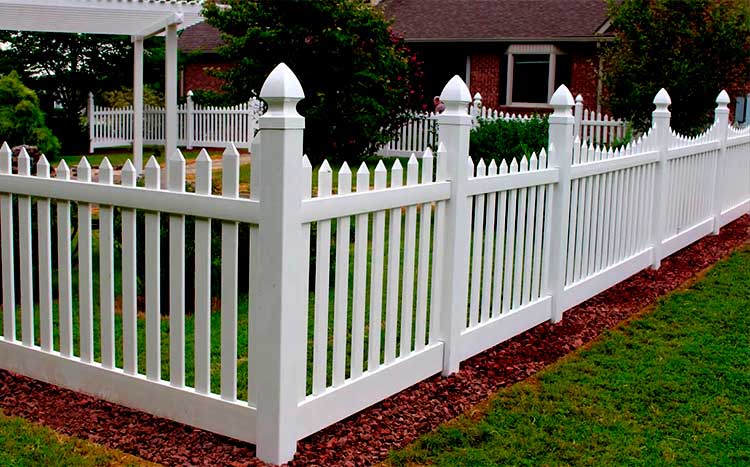 Cost factors to install picket fencing
There are several cost factors you should consider before installing picket fencing. These include:
Old fence: if you need to remove an old fence before installing a new one, expect to pay an additional $1 to $2 per linear foot to the overall cost.
Terrain: installing picket fencing on rough and bumpy land is challenging, so the overall installation cost will be higher.
Prepping cost: before the project begins, the worksite will need prepping. If there are plants, trees, or stumps, removing them will add to the overall project cost. Removing a stump will cost around $320 while clearing and removing debris and vegetation will cost about $200 to $600.
Permits and inspection fees: most states require homeowners to obtain permits before installing a new fence. Ensure you check with your local authorities to find out the details and requirements. Mostly, fencing permits cost around $30 to $60. Your contractor should also possess the proper insurance and license. Once the fence is built, the authorities will inspect it to check if it meets the code. Inspection fees should be included in the permit.
Local building codes: it is essential to check with your city and HOA about the building code in your locality. Most HOAs and municipalities have rules and regulations regarding fences installed in the front yards. The heights can also be regulated, while some HOAs and cities do not allow homeowners to build fences in the front yard.
Staining or painting: picket fences may need to be stained or painted depending on their type. The average cost to paint or stain a picket fence is about $3 to $5 per linear foot.
These cost factors will make the total cost to be higher or lower. It is, therefore, essential to take note to determine how much money you are likely to spend.
How do I estimate the cost of picket fencing?
Before you begin your picket fencing project, you need to estimate the total cost to come up with a proper budget. Below are some of the elements you should consider when estimating the cost of picket fencing.
Labor: labor cost is one of the main elements you need to consider when estimating the cost of installing your picket fencing. On average, labor costs between $5 and $18 per linear foot. The cost varies depending on location, size, and job complexity.
Materials: if you intend to DIY the project, you will need to know the cost of materials. Materials average at around $14.30 to $19.90 per linear foot, depending on the material type, quantity, and availability.
Fence type/style: picket fencing comes in many types and styles. The material you choose will affect the overall cost of the project. Also, the style of the picket fencing will determine the actual project cost.
Height: picket fencing also varies depending on the height. So, the overall cost will also depend on the height you want.
Project size: typically, installing picket fencing on a large yard will be costlier than on a smaller one. The larger the project, the more expensive it is.
Once you include all the elements, planning a budget will be easy, and you will avoid surprises during the job.
DIY vs. Hiring a Professional
If you have the necessary tools and experience, you can install picket fencing on your own. However, a professional will do a better job and ensure the fence is installed professionally. Fences that are not installed correctly are prone to damages and may need costly repairs.
Pros
DIYing the installation will save you lots of money
You will be able to improve your skills
You will choose the materials, styles, and colors you want without any influence.
Completing a task on your own gives you satisfaction
Cons
You may not have the necessary tools and materials
DIY installations are costly in the long run due to incorrect installations
The job will take too long due to inexperience
You may injure yourself during the project
Pros
Pros have the necessary skills and knowledge to install a quality fence
Pros will come with their own materials, tools, and job supplies
The job will be professionally done and completed on time
Pros will offer professional installations that will enhance your homes curb appeal
There will be a lower risk of accidents and material wastage
Cons
Hiring a professional is quite costly
You will not be guaranteed or excellent results
Looking for and finding a reliable fence installer can be frustrating
Picket fencing lasts around 15 years, but the fence can last for over 20 years with proper care and maintenance. These fences are used to distinguish boundaries and are excellent choices for homeowners who do not want to cover their homes entirely.
The value that picket fencing adds to a home depends on whether there is a genuine need for the structure. Also, the materials used to design the fence will determine how much value it adds to a home. Nevertheless, picket fencing enhances a home's beauty and can be an excellent addition to your home.
It is essential to maintain picket fencing to prolong its life. Here are a few tips to help you maintain your structure.
Clean the fence after every 3 – 5 years using a pressure washer
Remove the accumulated dirt, mildew, moss, and graying when cleaning the fence
Recoat the fence after every two to three years using a UV inhibiting and water repellent paint/stain. Ensure you eliminate any loose or peeling paint before applying a fresh coat
Repair the fence immediately you notice damages
The frequency of cleaning and repainting/restaining the fence will depend on your climate and fence type. For instance, if you live in a highly humid or cold area, you may have to clean and repaint your picket fencing more often.