Wrought iron fence offers you more than just privacy and high-level security; its Victorian-era decorative elements add classic elegance and value to your property, which is unmatched by any other fencing type making it the preferred fencing choice of well-heeled homeowners.
Installing wrought iron fencing starts from $3,500 – $5,000 for labor and materials. On average, most homeowners pay $3,750 for 100 feet of fencing. A fully installed wrought iron fence ranges from $35 – $50 per linear foot in labor and materials.
Wrought iron fencing is expensive for a good reason. It is made from pure iron alloy shaped by extraordinarily skilled craftsmen into durable fence designs that last forever. Although, materials like steel and aluminum are not as expensive as the original wrought iron. They can still be pricey, and some elaborate design options can cost more than $10,000 for a typical fencing job.
Expect to pay average prices of $29 per linear foot for wrought iron fencing materials. Fencing companies charge an average of $37.50 per linear foot to install an iron-wrought fence. Galvanized iron wrought fencing with elaborate custom designs can cost more than $10,000 for a hundred feet of perimeter fencing.
| Service | Quantity | Low | High |
| --- | --- | --- | --- |
| Wrought Iron Fencing cost | per foot | $24 | $34 |
| Wrought Iron Fencing cost (installed) | per foot | $34 | $50 |
| Wrought Iron Fencing labor cost | per hour | $35 | $70 |
| Wrought Iron Fencing cost 200 ft. (installed) | 100 ft | $3,400 | $5,000 |
Average Estimate: $37.50 per linear foot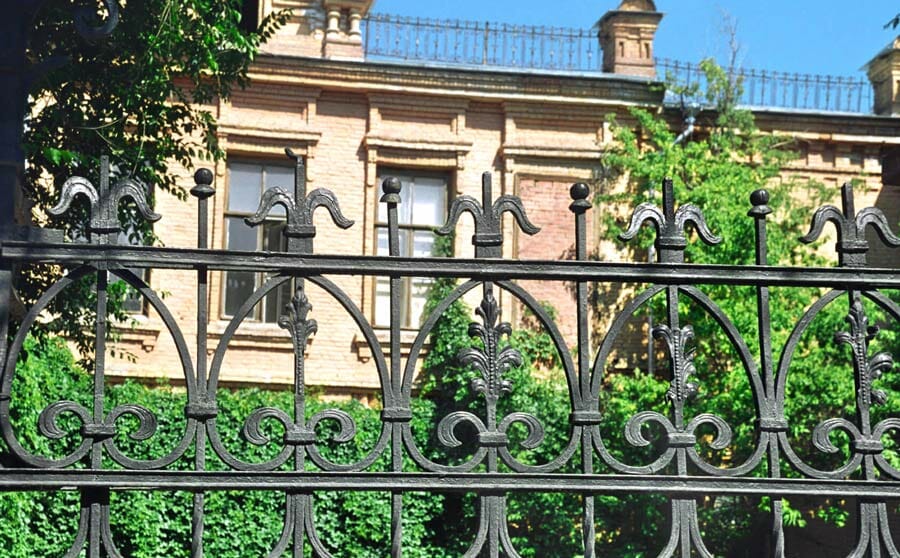 Cost of metal fencing by material
Modern substitutes like steel and aluminum can create the look of wrought iron without compromising on strength and functionality. Plus, they require little or no maintenance when installed. However, they can also be expensive. Installing 100 feet of wrought iron fencing costs between $2,400 – $3,400 in materials. While aluminium and steel materials cost $1,200 – $3,200, and $700 – $1,500, for 100 feet perimeter fence.
Below is a table showing the low and high cost per foot for materials:
| Service | Quantity | Low | High |
| --- | --- | --- | --- |
| Steel | per foot | $7 | $15 |
| Aluminum | per foot | $12 | $32 |
| Wrought Iron | Per foot | $24 | $34 |
Best value = Wrought Iron Fencing @ $29.00 per ft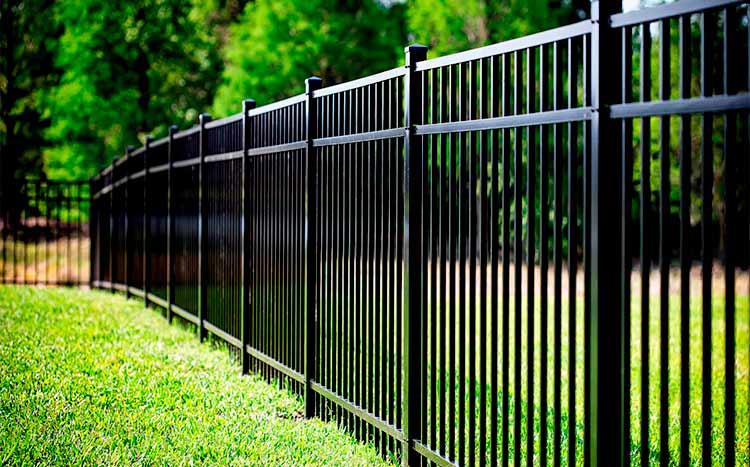 Wrought iron delivers the best value compared with the two other materials because of its strength and longevity. Though the most expensive, wrought iron has more than twice the lifespan of different materials, which makes up for its high price over time. Also, wrought iron has a higher residual value, retaining a minimum of 50 percent of its initial value at resale, which is higher than steel.
Labor cost to install a Wrought Iron fence
The average cost for labor to install wrought iron fencing is $47.50/hr. Hourly rates range from $25 – $70, depending on your location. However, most fence installers charge per foot when installing metal fencing to streamline the billing process. The average flat rate for labor for wrought iron installation is $24 per linear foot. Typical rates for labor range from $8 – $40 per linear foot, depending on your location. It is essential to have a contractor perform an onsite inspection before giving you a quote for the job.
How to calculate Wrought Iron fence cost
It's never a pleasant experience when the cost of a fencing project exceeds initial estimates. And more often than not, when it happens, you will end up paying for more than the actual price of your wrought iron fence. You can avoid fencing cost overruns by hiring a qualified and experienced contractor or following the steps outlined in the comprehensive guide below.
Clarify what you're allowed to build
Identify code restrictions on fencing height, and post spacing in your area. Locate any utility and property lines that may obstruct the construction of your proposed fence.
Select your fencing type & grade
Decide on the wrought iron fence type that fits your needs. The costs of the different materials of wrought iron vary according to their quality. These include:
Black iron
Galvanized
Ornamental
Wrought iron fencing is produced in two grades; commercial grade and residential. The heavier commercial grade wrought iron fence costs 50% uninstalled than residential grade wrought iron fence.
Determine your fence size
Now, you have to calculate your fencing dimensions and determine how many materials you will need. Measure carefully the entire length of the area you want to enclose, starting from the spot where you want your fence to start.
Place a marker at the spot where your proposed fence will begin, and measure the distance to the end where you intend to place the corner post.
Put a marking on the spot, measure the distance to the next corner, and repeat the process until you complete the whole area.
Note down the distance of all the sides of your proposed fence on paper.
Add together the length of all of the sides.
Subtract any gaps or such as gates.
The total sum is the length of your proposed fencing.
Ensure you have the correct estimate by performing the measurements at least twice.
Calculate cost of fencing materials per linear footage
The next step is to determine the cost of the fence sections, posts, gates, and the hardware (screws, nails, brackets, post caps, gate hinges, and latches) required to install your wrought iron fence.
An excellent way to determine your labor costs is to determine what homeowners with similar fencing paid for their fence installation. This will give you an idea of what to expect, though no two fencing jobs are the same. Expect higher labor costs if your gate has elaborate decorations or requires onsite welding.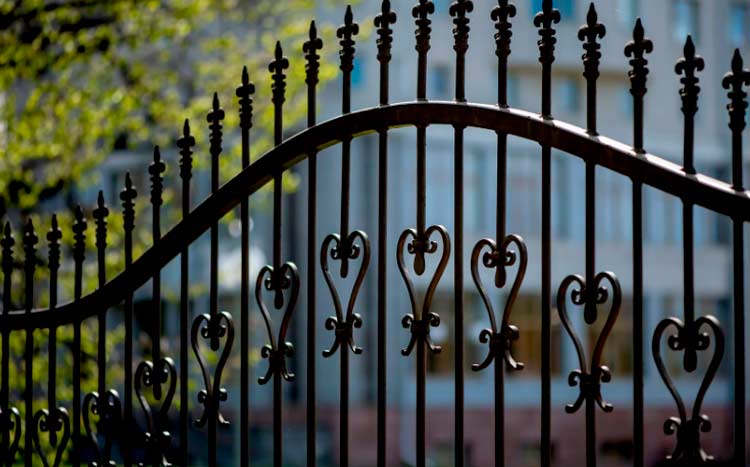 Tips on hiring a fencing contractor
Putting up a new wrought iron fencing is a tedious and time-consuming process. And it is generally easier for homeowners when they hire a professional to handle the job. At an extra cost, some fencing companies offer services that go beyond more than just digging. They help you process permits and pull up municipal plans that mark the location of utility lines on your property.
Below are a few tips that could help you make the right choice when interviewing contractors for the project.
Do you help with permits?
You must ask this important question when interviewing contractors. Most fence installation companies generally have permitting techniques that help homeowners secure fencing permits. Find out if they offer these services and ask about their processes
Inquire around for different quotes.
Having several contractors submit fencing quotes is an excellent strategy if you wish to get competitive pricing for your fencing project.
Demand for proof of licensing and insurance.
A fencing professional must be able to produce the following on-demand;
A license number.
Proof of liability insurance.
Membership in a professional body.
The difference between contractors operating reputable outfits and scammers who never complete jobs or perform low-quality work is their ability to produce government-approved certifications and other required documents.

Reading online reviews is an excellent way of getting to know your contractor's reputation. Customers reward quality work and professionalism with sterling reviews, and they let the public know if a contractor is a con or is prone to cut corners. Reviews can also protect you from unscrupulous contractors who overcharge on low-grade materials. Ensure you view pictures of their previous work to know their work quality before making a final decision.
Verify the terms of their CPL.

Find out if the contractor's professional liability insurance is enough to cover any damage to your property. If the contractor will be hiring a third-party professional to work on the fencing, it is a good idea to check if your contractor's liability coverage includes errors or damage caused by third-party contractors.
You must set realistic work deadlines and job milestones. Communicate your expectations on how quickly you want the job completed before commencing.
Ask questions and discuss your concerns about the project with the contractor. A professional must be willing to respond to any questions clients might have about a particular project. A reluctance to respond to questions and requests should raise red flags.
A signed document defining the terms of your contract with the fencing company protects you from any future legal disputes. Signing a written contract is a norm for most companies, and it shouldn't be a problem for a respectable contractor.
HomeGardenGuides.com is a free service that quickly matches you with the top-voted local fencing companies.
You can get three quick estimates from certified experts in your area in just 2 minutes by following the steps below.
Scroll to the top of the page and enter your Zip code.
Answer questions about your wrought iron fencing project.
Your project details are forwarded to three local experts. They will send you a price estimate for the job and some friendly advice.
IMPORTANT: There is no obligation to hire. This is a free tool and service to be used at your pleasure.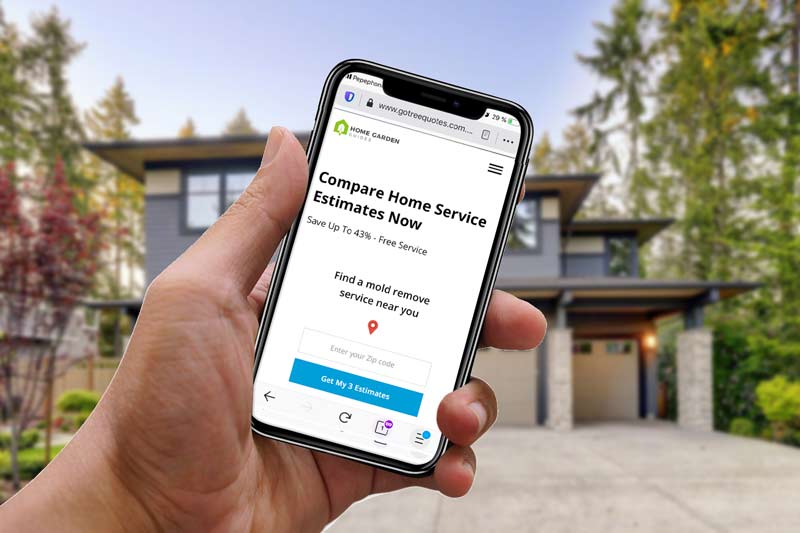 How long do wrought iron fences last?
Modern decorated metal fencing is available in different types of materials, all with different lifespans.
Below is a table detailing the life-span (in Number of years) of each material.
| Metal Fence Type | Lifespan |
| --- | --- |
| Wrought Iron | Above 100 years |
| Cast Iron | Average of 70 years |
| Aluminum | Above 70 years |
| Tubular Aluminum | Average of 50 years |
| Steel | Average of 50 years |
| Tubular Steel | Average of 30 years |
Wrought iron fence maintenance expectations
A wrought iron fence is an excellent investment for homeowners who desire beauty, elegance, and long-lasting fencing. Longevity is a significant attribute of wrought iron fences, and it is no secret that a properly cared for wrought iron fence will last forever. Here are few care tips that will make your wrought iron fence outlast you.
Keep your fence clean and free from dust and grime by washing it once a year with a dishwashing detergent and soft brush, rinse afterward with a high-pressure garden hose and wipe completely dry with a cloth to prevent rust from forming. Wash your fence during a hot and dry day.
Repaint and reseal every five years.
Repaint your fence every five years with waterproof rust-inhibiting paint to protect the wall from rust by following the steps below
Prepare the fencing by sanding and cleaning the surface.
Apply a metal primer to the fence before painting to allow the paint to bond with the iron surface.
Spray paint the entire fence with oil-based paint. Ensure you get paint in between all the corners and crevices.
Coat the fence with a protective sealant.
Apply a wax-based protective sealant to your wrought iron to protect the surface against moisture damage.
Avoid planting climbing shrubs near your wrought iron fence.
Climbing plants like vines and junipers may add an extra layer of privacy and make your fence look pretty to visitors. But they pose a lot of harm by trapping moisture and dirt on the surface, which erodes the fence coating and paints that protect the wrought iron against rust. Clear away all shrubs growing on or around your fence.
Aluminum vs. wrought iron fences pros & cons
Both aluminum and wrought iron fences are excellent choices for perimeter fencing. They offer attractive but secure alternatives to the definition of home security. Can't decide which option is ideal for your needs? Then continue reading to know about the strengths and weaknesses of both.
Wrought iron fence is an attractive and robust fencing option with historical antecedents. It has been the fence of choice for nobility, and it has protected the powerful and wealthy for more than three centuries. Now, apart from being a secure perimeter fencing choice. Wrought iron can be bent and shaped into different patterns and designs for various decorative fencing purposes, including enclosing your backyard swimming pools and garden.
Pros of wrought iron
Wrought iron has superior weather-resistant capabilities, even after several decades of exposure to the elements.
Doesn't require constant maintenance checks for damage.
Pest and rot-resistant, doesn't decay, bend or warp.
Wrought iron is a durable and practical security fencing that can be used for commercial security applications.
Its incredible strength almost makes wrought iron practically impossible to destroy.
Pointed decorative spikes on top of the vertical posts add an extra layer of security.
Wrought iron can be combined with brick or concrete fencing to create a visually appealing fence.
Wrought iron incorporates highly decorative elements that encourage artistic expression not seen in other fencing types.
Cons of wrought iron
It is more expensive than other fencing types.
It requires some level of periodic maintenance.
Wrought iron fences are vulnerable to oxidation and rust.
Unlike wood or metal privacy fences, wrought iron fencing doesn't offer total privacy.
Shipping costs for wrought iron fencing materials and gates are higher than average rates charged for other fencing materials because of their weight.
Wrought iron offers few color options.
An aluminum fence is a worthwhile alternative fencing option to wrought iron. However, some aluminum grades are cheaper than wrought iron. But overall, both metal fences share several similar characteristics.
Pros of aluminum fence
Aluminum fencing is easy to maintain. It doesn't require painting. And all it needs is an annual wash to keep looking great.
Aluminum fencing is rust and corrosion resistant, enabling it to sustain its strength over its useful lifetime.
Aluminum fencing sections are lightweight and easy to handle during installation.
Aluminum fencing is durable, and it lasts for several years.
Aluminum fence is moisture resistant, and it offers superior performance in environments with high humidity.
Aluminum fences offer a timeless charm and superior quality that distinguishes your home within the neighborhood.
Aluminum fencing is available in several designs and color options to suit your taste.
Aluminum fences can be used for both residential and commercial applications.
Cons of aluminum fence
Aluminum lightweight design makes it susceptible to dents from impacted objects.
Homeowners regard aluminum fences as a second class fencing option because it lacks the prestige and historical significance of wrought iron fences.
Several factors influence the cost of your iron wrought fencing. Here are some examples:
Fencing permits cost between $50 to $150, depending on where you live. A typical permit takes about 2 to 4 weeks for approval. Fencing laws vary for each location, and it is always a good idea to be acquainted with them before beginning construction. Homeowners unfamiliar with fencing codes for their district can talk to an official or check online for information on how to obtain one.
Installing a fence on uneven or inclined ground is difficult and can leave homeowners with a crooked or bent fence. Hence, homeowners whose property is on a sloped land should hire the services of an experienced contractor who has the skills and the right tools to build a functional and long-lasting fence.
The decorative elements in your fencing design choice play a huge part in how much you will end up paying for your wrought iron fencing. Heavily ornate designs are much more expensive than simple picket-styled wrought iron fences.
Fencing should have unhindered access to the work area. Any obstacles such as buildings, trees, or existing fencing, may add to the work difficulty resulting in higher labor costs. Movable obstructions will need to be removed, which adds to the time required to complete the job.
811 Is a federally designated call-before-you-dig number in the USA. Homeowners must call the number at least three days before commencing their fencing project to avoid hitting underground utility lines.
Gates for wrought iron fencing are pre-manufactured, and they range from $200 – $7,000, pre-installed. Installation costs start from $300 for a single-person backyard gate and can get as high as $9,000 for an automatic opening high-security gate.
Your property soil type and condition can influence the labor and material costs of your project. Sandy soils are easy to dig, but they are often loose, and posts in sandy soils need additional concrete reinforcements in their ground holes to stay firm. This results in extra costs for buying, hauling, and labor costs for mixing and pouring concrete. Clay soils, on the other hand, provide a stable base for fence posts. But they are harder to dig, and their high moisture content causes rust in buried poles resulting in higher labor and repair costs.
The best time to install new fencing is during the fall and winter months because fencing contractors have large amounts of downtime after the end of their busy summer months. Homeowners can enjoy the competitive rates offered by professionals who provide discounts to attract business during the slow season.
Benefits of a wrought iron fence
By installing a wrought iron fence, you profit from many unique advantages wrought iron fences offer over other fencing types.
They include:
Wrought iron fences have one of the lowest maintenance costs than other types Of fencing. This makes wrought iron fencing more cost-effective than other fencing types because its high installation costs are offset by low-cost maintenance if you take its long lifespan into account.
The truth about wrought iron is that it rarely needs to be replaced. Wrought iron can stand the test of time despite daily exposure to the elements.
Wrought iron fences are highly durable and can withstand forceful impact from vehicles and falling trees without much damage.
Offers high-level protection
Wrought iron is an excellent choice for remaining animals and small children within the safe confines of your property. Wrought iron vertical rails have sharp pointed tips, which is impossible for pets and adventurous children to climb.
Wide range of design options
Wrought iron can be made into any design imaginable. And it is the reason why wrought iron fences are available in virtually unlimited decorative styles. Most homeowners commission custom-made fences incorporating decorative elements based on their family mascot or coat of arms or their wrought iron gates.