If your home-improvement priorities include installing a new fence you have to make a good plan with the timeline as the first thing on your agenda.
According to my research winter and fall are the best time of the year to install a fence. Fall and winter fence installation offers several benefits to your budget and your property.
Let's go together on this journey where you can find out everything you want to know about when is the best time to start your fence installation project.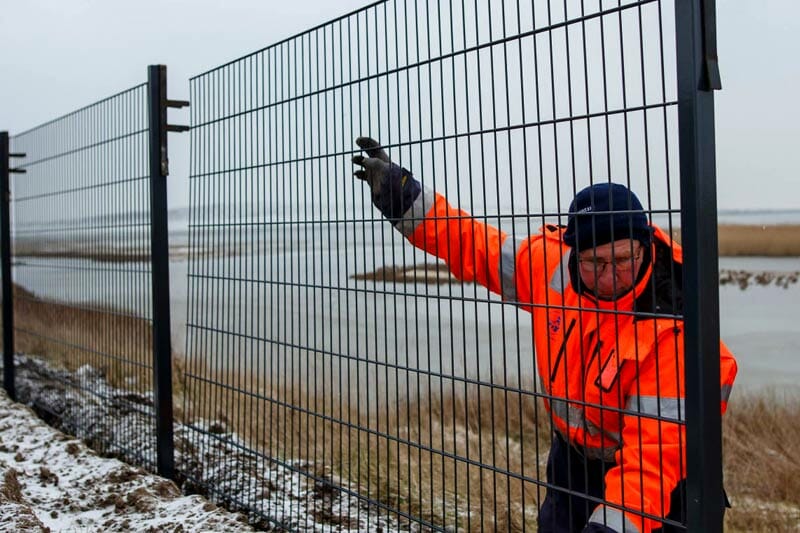 There are several reasons why fall and winter are the ideal time to build your fence. As long as the ground is not frozen, there is no reason to wait until spring to transform your backyard into your private oasis.
You will save money in the off-season
If your fence project is scheduled when your fencing company isn't as busy, you will be in a position to ask and get a bigger discount which is almost impossible during peak seasons.
With this comfort, you can stretch your fence installation budget into getting a custom-made fence rather than a standard privacy fence.
The best is to call a professional fence company and get a free estimate.
Winter installation is landscape-friendly
Because most of the landscape is dormant during the winter months fence building will be far less damaging to your plants.
If you need to replace some plants or re-landscape areas where the fence was installed, getting the fence project done during the winter will give you a head start in getting new plants on the ground come spring.
Ready for spring outdoor activities
If you set up a new installation process in the early winter you will have enough time and a new beautiful fence will be ready when warmer months start.
A winter fence installation won't interfere with outdoor work, whereas a spring or summer installation will prevent you from kicking back and relaxing in your backyard wherever you want.
Wood fence maintenance during winter
Direct sunlight and UV rays can make severe damage to wood fencing so it is best to protect them with a UV inhibiting sealant. Fall and winter are a bit tough for outdoor activities and working outdoors, but is actually the best time for all types of new fence installation.
Moist weather allows wood planks to acclimate themselves to being outdoors, and it helps the wood to form a protective layer. Stains and sealants should be also applied during the late fall and early winter. This will give them plenty of time to sleep into the wood and bond properly for a high protective seal.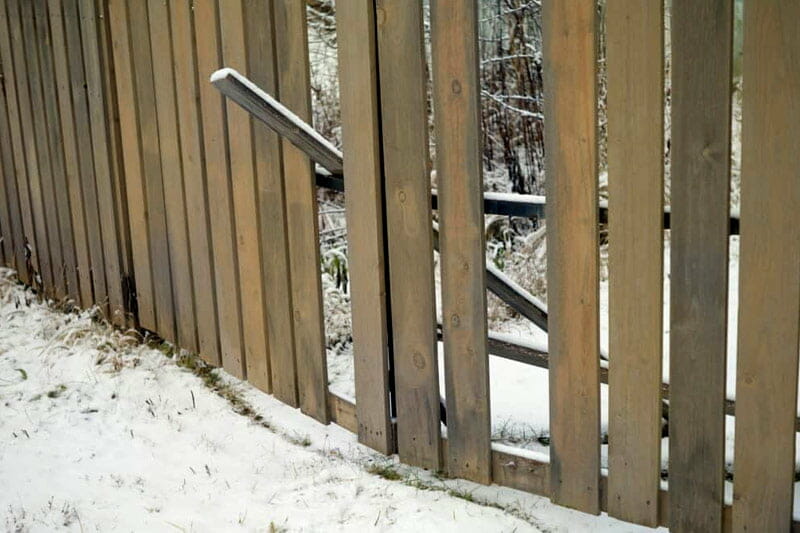 Vinyl fencing maintenance during winter
Vinyl fencing system during the winter is relatively simple to take care of. Here are a few useful tips for you for maintaining your vinyl fence, especially if you live in an area that experiences snow:
Use a broom to brush snow off the top of your vinyl fence;
Shovel snow away from the vinyl panels;
Use a snowblower, if possible, to blow away the snow from the fence;
Install plow markers to prevent damage.
Vinyl is a great option because is cheap and will add value to your home.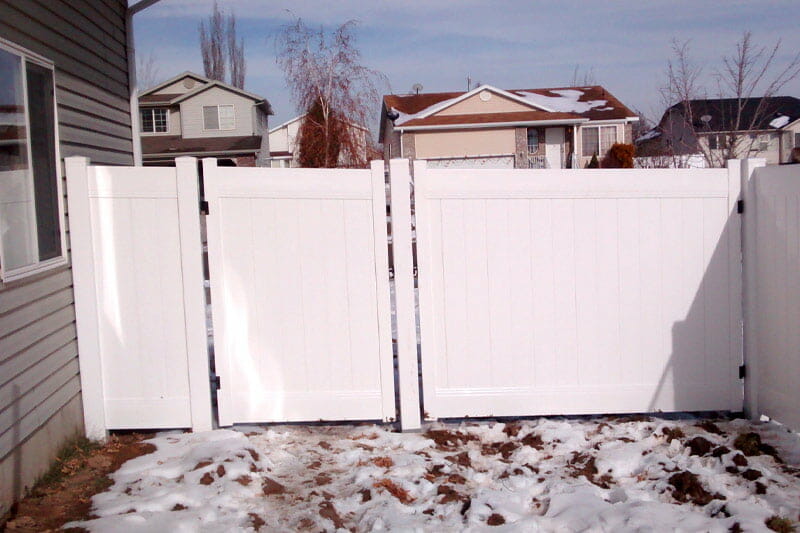 HomeGardenGuides.com is a free service that quickly matches you with top-voted local fencing specialists.
You can get 3 estimates fast by real certified experts in your area in just 2 minutes.
Scroll to the top of the page and enter your Zip code.
Answer questions about your fencing job
Your fence job details are forwarded to three local experts. They will send you a price estimate for the job and some friendly advice.
IMPORTANT: There is no obligation to hire. This is a free tool and service to be used at your pleasure.
How the cold affects fences
The material of the fence installed is always the question for almost every homeowner. Fences come in an array of materials:
Vinyl
Metal
Wood
Chain link…
Another question with the winter fence is which material will hold the best. If you install wood fencing you will have to prepare the wood before cold weather start so your fence could stand well.
On the other hand, a vinyl fencing system doesn't require any preparation before the winter season.
Even a vinyl fence has a long lifespan, drastic and sudden temperature changes can make your winter fence brittle, making it prone to cracks. Avoid hitting your fence with snow shovels, or blowing, throwing, or piling snow against it.
Few more reasons to install your fence in winter
The fence will have time to season
Warpings are not so common for wood pickets during cooler months. Wood fences will have enough time to "season" during fall and winter, allowing slow and more even drying. The heat and UV rays in the summer can dry the wood out too quickly, causing warping and splitting.
You won't have to wait long for your project to start if you schedule your project during the winter because crews aren't so busy in that period. In addition, it is more likely to commit a larger crew so your fence will be done faster.
Also, when contractors are less busy it will be faster to get all building permits to make sure your project meets all city codes.
Yes, you can set fence posts in the ground if the ground is wet. Just follow these quick tips for setting fence posts in the rain:
Digging the ground as much as you can and pour out wet soil;
Use pressure-treated posts (avoid redwood in the rain);
Make sure to crown the top of the concrete base by setting more concrete near the post.
Compared to the laborious process of setting posts, vinyl fencing system install is pretty easy. It typically involves snapping pieces together by hand with minimal need of tools.
There are 4 common fence myths and some of them can cost you thousands of dollars if you are uninformed. Here is what you need to know:
One of the most widespread myths about fences is that aluminum fences will eventually rust. However, the truth is that aluminum will never rust because it can't rust.
When it is exposed to air, aluminum molecules on the surface will instantly react with oxygen, creating a thin coating of aluminum oxide that shields the aluminum piece against corrosion.
The fence represents the boundary between two properties
Even if your property fence was installed years ago, it doesn't mean that the fence is your actually property line. The only way to know your real property limits is through a survey, and your neighbor has to agree that the survey is accurate.
Vinyl fences will crack and fade over time
This wasn't a myth in the past when vinyl fences were known as the "cheap plastic fences". Today's modern vinyl fences have evolved and are as strong and durable as any other type of fence.