A privacy fence adds an essential layer of security and privacy screening.
The best privacy fence types are durable, inexpensive, and low-maintenance fences that provide excellent screening and security. Wood and vinyl are the most popular privacy fences and are available with an extensive range of customizations to suit your personal style.
some common materials for making privacy fences:
Wood
Vinyl
Aluminum
Brick
Concrete
Stone
Bamboo
Vegetation
Scrap or recycled materials
Below are lists of fence types as well as their cost and suitability.
A privacy fence is a closed barricade enclosing the defined boundaries of any property. Homeowners use them as a privacy screen to block unwanted public views and prevent unauthorized people, vehicles, and animals from accessing their property. A typical privacy fence is between 6 -8 feet high.
Benefits of a privacy fence
It allows you to conduct your private affairs in complete seclusion from the outside world.
It enhances your safety and security.
It increases your home's curb appeal and value.
It reduces street noise and the racket coming from your neighbors.
It protects your home from invasion by wild animals.
It protects your property from flying debris and objects during extreme weather conditions.
It provides clear identification of property boundaries.
Examples of the best privacy fence for your yard
Homeowners may feel the pressure to install the most expensive private fence or go for the popular fencing type in their neighborhood. Professionals recommend selecting a private fence based on several factors:
Your personal needs, i.e., your purpose for installing the fence.
Your budget.
Your location requirements.
| Privacy Fence | Cost per linear foot |
| --- | --- |
| Board on board | $7 - $10 |
| Shadowbox | $10 to $40 |
| Lock board | $0.5 - $17 |
| Stockade | $10 - $20 |
| Lattice | $4 - $27 |
| Horizontal | $13 - $25 |
| Picket | $9 - $15 |
| Bamboo | $10.50 - $25.00 |
| Wood pallet | $0.10 to $1 |
| Brick | $55 - $250 |
Here are some of the most common and popular types of privacy fences for your yard.
1. Board on board privacy fence
$7 – $10 per linear foot
Wooden and vinyl board-on-board fences are excellent types designed to provide total isolation for homeowners when installed correctly. Board on board fence construction is a unique fence design where two vertical boards overlap each other on both sides of the horizontal rails to produce a fence that looks good from both sides. Fence installers will leave a tiny gap between the boards, allowing light and breeze, but the gaps are usually too small for your neighbors to peep through.
Benefits of a board-on-board fence include:
A board-on-board fence provides you with long-term privacy.
It is firmer than a single-board fence due to its overlapping design.
The straight lines of a board-on-board fence look the same on both sides.
The overlapping design of a board has a universal appeal among homeowners, and it enhances the curb appeal of any property.
The tiny gaps between the boards allow light fresh air to pass through, unlike other privacy fences.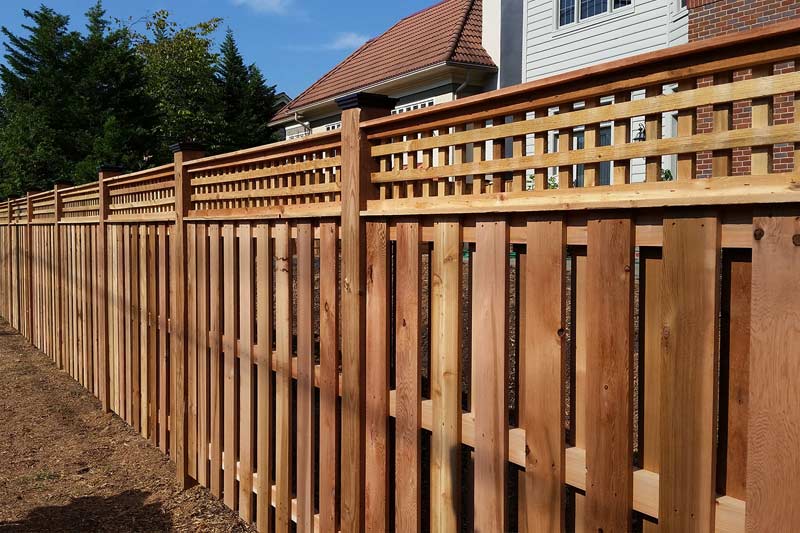 2. Shadowbox privacy fence
Cost: $10 to $40 per linear foot
Although identical, shadowbox and board on board fences are not the same. A conventional vinyl or wooden shadowbox fence layout has two alternating rows of vertical panels installed on opposite vertical rails providing the fence with two good sides. But the gaps between the boards are visible, unlike the sight obscuring gaps in a board-on-board fence. Additionally, shadowbox fences are more technical to install than a board-on-board fence, making them more expensive.
Homeowners can derive the following benefits from a shadowbox fence.
It allows more light and airflow into your property than other conventional privacy fences.
The alternating gaps create a striking visual interest which adds an aesthetic value lacking in a traditional privacy fence.
Shadowbox fences have a dramatic impact on property prices and can give your home a 25 percent boost in value.
Your children and pets can satisfy their natural curiosity by peering through the gaps in the shadowbox fence while staying safe within your property.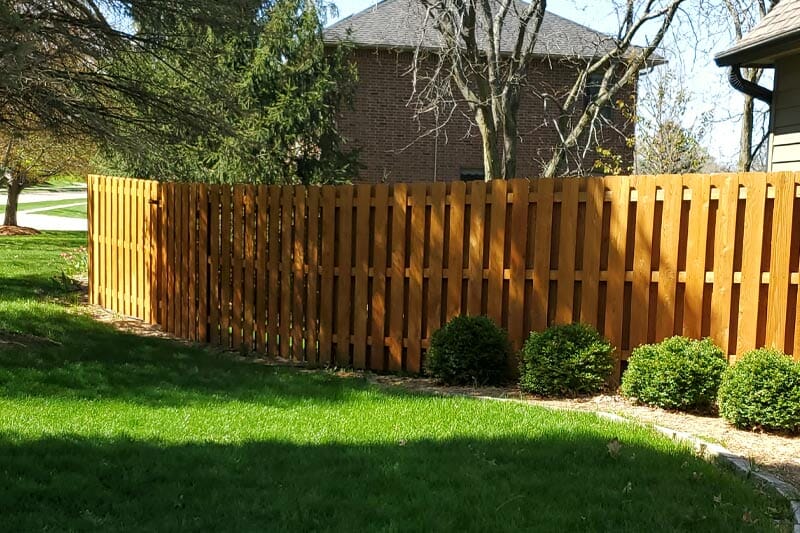 3. Lock board privacy fence
Cost: $0.5 – $17 per linear foot
A lock board fence is an excellent example of privacy fencing that provides complete and lifelong privacy for homeowners at reasonable costs. They are made from wood, vinyl, steel, or aluminum panels installed in a tongue-and-groove technique to create a solid and consistent look. Lock board fencing is a standard privacy fencing option among homeowners who love its sight-obscuring design, allowing them to perform their daily activities in absolute privacy.
Below are a few of the several benefits of a lock board fence.
It has a uniform and clean design that fits nicely with your home style and your nearby surroundings.
The solid design of a lock board fence blocks airflow, which is an advantage if you live in windy areas and during windstorms.
Lock board fencing is stronger than the average fence due to the lack of gaps in its construction.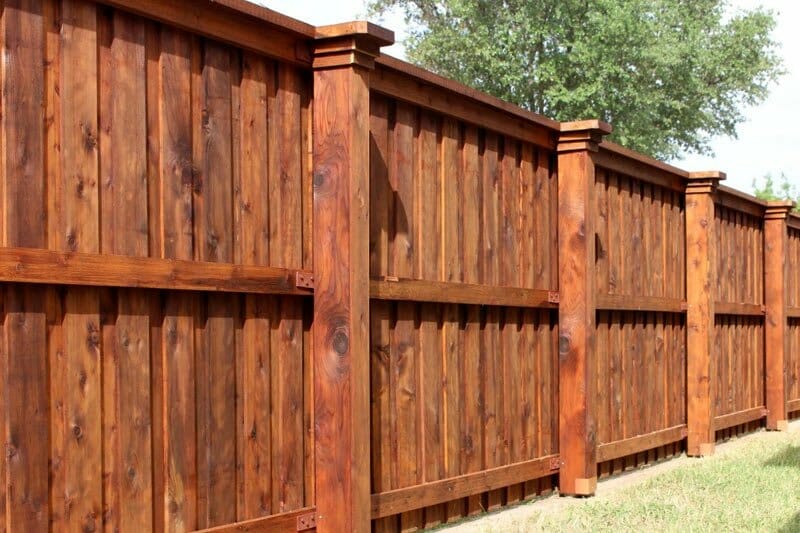 4. Stockade privacy fence
Cost: $10 – $20 per linear foot
A stockade fence is an excellent option for the security-conscious homeowner who wants the isolation provided by a privacy fence alongside guaranteed security. Stockade fencing construction uses pointy end vertical boards stacked tightly side-by-side to create a serrated fence top that deters would-be burglars and other dangerous criminals. Sharp bamboo poles are a common material used for stockade fences in rural locations.
Benefits of a stockade fence include:
It is an inexpensive privacy fencing option.
The tightly packed boards guarantee more privacy than other privacy fences like shadowbox and board-on-board fences.
Stockade privacy fences are easy to repair.
The fortress-like appearance of stockade fencing looks intimidating to trespassers and gives your property a rustic appeal.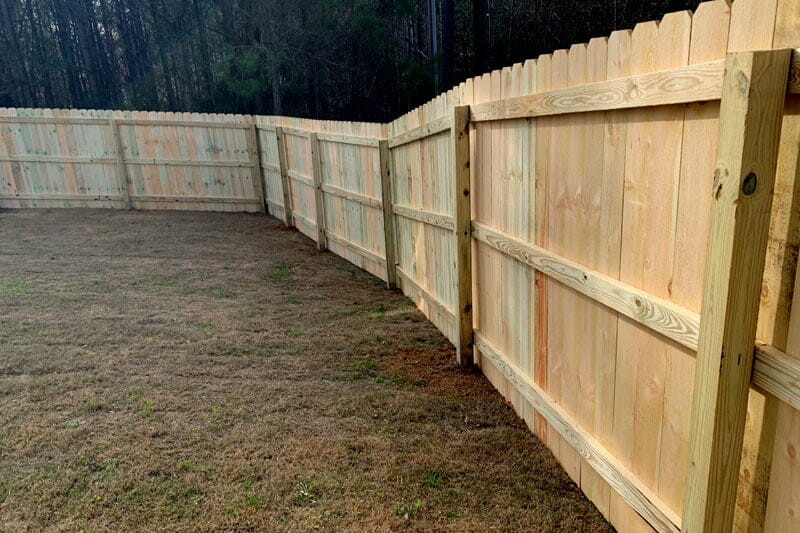 Cost: $4 – $27 per linear foot
Homeowners consider lattice fencing as a semi-privacy, decorative fencing type. It consists of prefabricated open crisscrossed wood or vinyl lattice fence panels. Although the privacy provided by lattice fencing is somewhat inadequate, homeowners can opt for panels with tighter weaves or combine lattice fencing with a trained climbing vine for more privacy and as well as natural aesthetics.
Homeowners can also incorporate the decorative element of a lattice fence with the seclusion provided by conventional privacy fences by installing 2-foot lattice detail panels on top of a shadow box or lock board privacy fence.
Benefits of a lattice top fence include:
Lattice fencing can be used for residential and commercial applications, including yard fencing, garden screening, and spa pens.
The aesthetics of lattice fences make them suitable for homeowners looking for an exquisite privacy fence.
Lattice fencing is highly customizable.
It allows space into your yard with lots of natural light.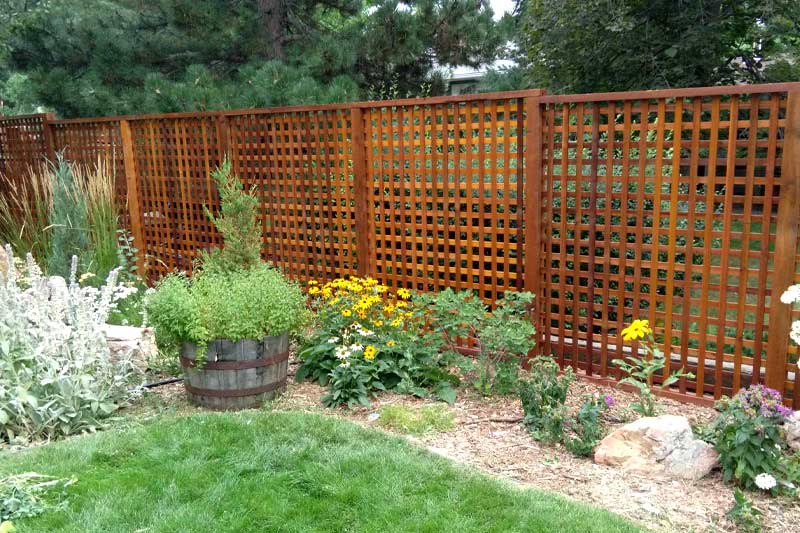 6. Horizontal privacy fence
Cost: $13 – $25 per linear foot
As its name implies, a horizontal fence consists of fence boards fixed longitudinally to each vertical fence post instead of installing them in vertical rows. This technique guarantees a more robust fence because there are no gaps between the horizontal boards, and homeowners enjoy more privacy.
The advantages of horizontal privacy fencing include:
They lend a contemporary air style to your property.
They provide unparalleled privacy and security for homeowners.
Horizontal fencing is highly customizable
It is durable, and because it is often well-built, horizontal fencing has a longer lifespan than other fences.
Cost: $9 – $15 per linear foot
A picket fence is not the average homeowner's choice when selecting a privacy fence. Traditionally picket fencing serves a more decorative function, but a recent trend of moving individual pickles closer together to create a partial privacy fence is gaining popularity.
Benefits of a picket fence include;
It is cheap and easy to install.
A picket fence encourages neighborly relations while guaranteeing a measure of privacy.
The gaps between each picket in a picket fence promote airflow.
Vinyl picket fencing is one of the most cost-effective fencing available. However, a wooden picket is a more common fence type.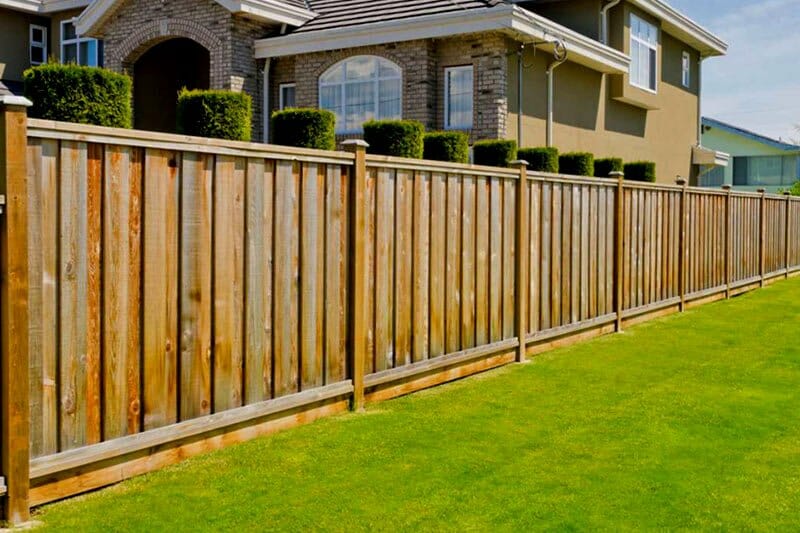 Cost: $10.50 – $25.00 per linear foot
Bamboo privacy fencing acts as a cost-effective but functional boundary marker for homeowners who do not want real wood but desire attractive and eco-friendly privacy fencing around their property. You can combine a bamboo fence with hanging planters to provide excellent privacy for your backyard and pool areas.
There are several advantages to having a bamboo privacy fence. They are:
It is inexpensive compared to other privacy fences. An average bamboo fencing costs less than $10 per linear foot.
It is easy to install, and it is an ideal DIY project for homeowners.
Bamboo privacy fencing is available in a wide range of colors.
Bamboo fencing is entirely biodegradable, making it the most environmentally friendly privacy fence available.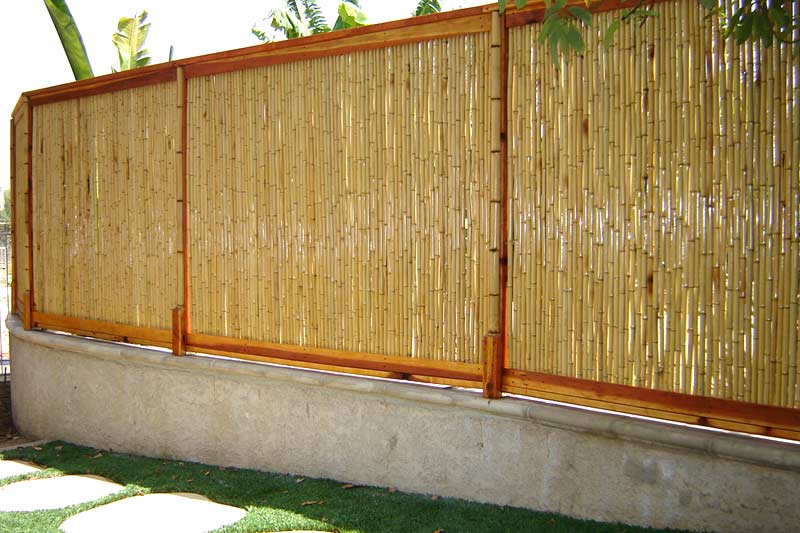 9. Wood pallet privacy fence
Cost: $0.10 to $1 per linear foot
A pallet fence is an excellent choice for homeowners who do not want to spend lots of cash installing a conventional fence and are willing to get their hands dirty. You can source used wooden pallets, the primary material for building a pallet fence, for free from the warehouse or pay for the cost of hauling them to your location. Installing a pallet fence allows homeowners to recycle materials that would otherwise end up in a landfill, thus protecting the environment.
The many advantages of installing a pallet fence include:
Zero or very minimal installation expenses.
Wooden pallets are highly durable materials, making them ideal fencing boards.
Recycling used materials to make a wood pallet fence a compelling environmentally friendly privacy fencing option.
You can combine a twining vine or other vegetation with a pallet fence to create a living modern privacy screen for your yard.
You can use it as a temporary fencing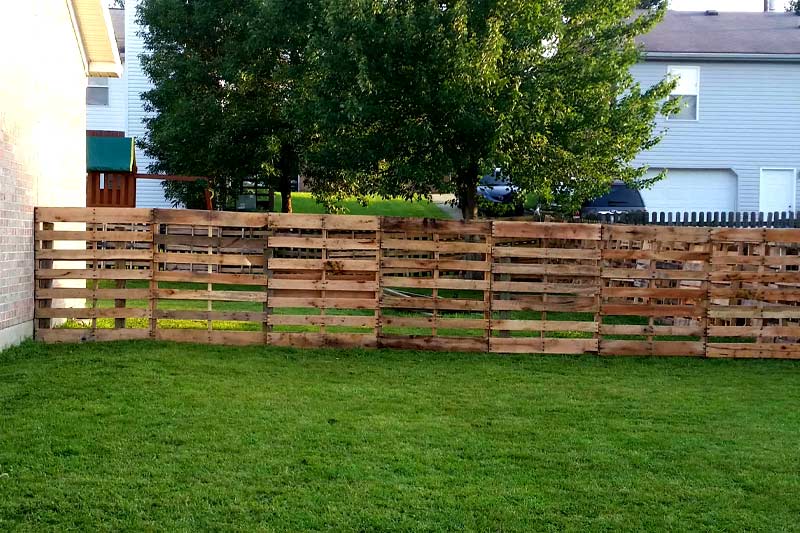 Cost: $55 – 250 per linear foot
Brick privacy fencing offers homeowners a lifetime of complete isolation and protection. However, professional installation costs make a brick fence unattainable for most individuals. The cost of materials and hiring a professional to build a brick fence is probably the most expensive of all fencing types. Homeowners can perform DIY installation of a brick wall, but experts recommend hiring a contractor to avoid costly mistakes.
The several benefits of brick fencing include::
The aesthetic appeal of a properly built brick fence adds character to your landscape design.
It offers a solid protective barrier against intruders.
Brick is a durable material that can last for centuries.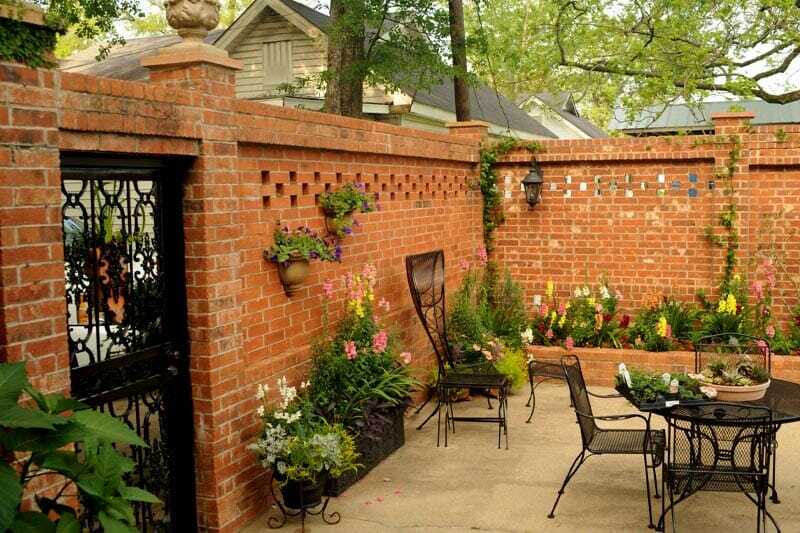 A partial privacy fence can consist of a solo panel from a complete privacy fence or thick shrubs bordering a gate on both sides. Homeowners often confuse a partial fence with a semi-privacy fence because some partial fence types have open slats that you can peep through. However, the most common partial privacy fence is the stand-alone panel type commonly seen in backyard gardens areas requiring partial screening. Installing a partial fence is significantly cheaper than putting up an entire fence and requires less effort.
Below are five common examples.
This partial privacy fence incorporates one or two-inch spaced slats, giving neighbors a tiny view of your property.
Homeowners can place fence panel sections in strategic areas to block neighbor views depending on their yard layout. These may be smaller or large fence panels that act as a screen obstructing public views in places where you desire intimacy. These panels come in various styles and sizes.
These are fence panels with checkered patterns along the top edge, middle, or bottom areas providing outsiders with partial views. The designs are typically 2 to 3 inches high and run the entire panel length.
Using a stand-alone gate with shrubs or evergreens on both sides is common on large and rural properties.
The idea of using vegetation to create a privacy fence is not new. Homeowners can also incorporate greenery in a partial privacy fence design by alternating fence panel sections with shrubs or hedges to create a semi-living wall.
The best privacy fence material
There is a wide range of materials used for privacy fencing. These include wood, vinyl, bamboo, brick, steel, brick, and stone. The most popular fence materials are wood and vinyl, with steel and aluminum less sought after.
Material
Cost per linear foot High
Cost per linear foot
Low
Wood
$10
$45
Vinyl
$18.50
$35
Aluminum
$20
$45
Bamboo
$10.50
$25.50
Vegetation
-
-
$10 – $45 per linear foot
Natural wood is the most common fencing material due to its widespread availability, durability, and low installation costs. Wood fences date back to the historical period, and the primary aesthetics comes from their rustic nature and ability to blend with natural landscapes. Wooden boards and posts are tough material that provides safety and privacy but is easier to maintain and repair than other fencing materials.
Homeowners can choose between several wood species depending on their budget and fencing requirements. These include pine, cedar, oak, spruce, and cypress. Wood has a vast range of customization. These include sawn lumber (finished or unfinished) and prefabricated (decorative and non-decorative) wooden boards.
$18.50 – $35 per linear foot
Vinyl is a fencing material produced from Polyvinyl (PVC), a synthetic compound that gives vinyl durable, waterproof, and weatherproof capabilities. Homeowners have embraced vinyl as a fencing material over the last few decades because of its almost zero maintenance costs. Vinyl fencing does not rust, fade, corrode, and require annual painting or coating.
Vinyl fencing panels are available in various colors, designs, textures, and build kits from hardware stores. They have low installation costs and a long life span making vinyl a cost-effective fencing material for homeowners.
$20 – $45 per linear foot
Installing an aluminum fence is the best way to make neighbors take notice of your new metal fencing. Aluminum fences come in sleek and stylish designs and finishes that look right at home in upscale neighborhoods, such as an aluminum iron wrought iron fence. The metal panels and posts used for aluminum fences are durable, rust-proof, and low-maintenance fencing types with an extensive range of great colors.
$10.50 – $25.50 per linear foot.
Homeowners who do not want real wood but desire a low-budget and environmentally friendly fence material should take a good look at bamboo. Bamboo is a good material for garden fences and backyard privacy screens, and they offer superior aesthetics. Plus, bamboo creates a relaxing tropical atmosphere around your backyard pool.
Brick, concrete, and stone
$25 – $340 per linear foot
A brick, concrete, and stone fence are virtually impregnable, and they provide exceptional security fencing for homes and private spaces. These materials have been around for centuries, with a long and distinguished history of being the primary construction material for forts and citadels during ancient times. Installing a brick, concrete, or stone fence is expensive and costs several thousand dollars. But what you get is a low-maintenance and efficient fence that will last for a lifetime.
Free
Planting shrubs, evergreen hedges, climbing vines, or low bushes around your property lines is an effective and completely natural means of screening off your backyard from intruding eyes. In areas where vegetative fencing is not prohibited, they offer attractive, simple, and cheap natural fencing. Their downside is they do not provide the same level of protection from intruders, and they require more maintenance than conventional fencing materials.
Privacy fence maintenance tips
You can extend your fence lifespan through proper fence maintenance methods. Outdoor fences take a lot of beating in both wet and dry weather conditions, which can degrade the material and weaken the fence structure. Below, we take a look at the different ways to take care of your privacy fence.
A wood fence tends to rot and fade when exposed to outdoor weather conditions. Insects and pests also eat away at the wood panels and posts, damaging the wood and compromising the structural integrity of wood fencing. Some wood species like cedar, redwood and cypress have naturally resistant chemicals protecting them against moisture damage, insect infestation, and damage from extreme temperatures.
Using high-quality wood for your fence increases the lifespan of your fence while reducing your maintenance costs. Here are a few maintenance tips for a wooden privacy fence.
Inspect your wood fence regularly for rotting posts and boards. Replace rotted posts and boards with treated wood to prevent rot.
Stain the wooden surfaces of your wood fence with oil or varnish stain after installation to reduce wood rot. Clean the surface with water, allowing it to dry for a couple of days before applying the stain with a paintbrush, roller, or spray equipment.
You can paint your wood fence to lengthen its lifespan. Using oil or water-based paints provide excellent protection against moisture or sunlight. Ensure you prepare the wood surface before applying to allow the paint to adhere better to the surface. Wooden fences must be painted annually to remove any surface cracks or peels.
Inspect your wood fence for mildew if you live in a cold and wet area. Remove all mildew with a mildew cleaner.
Remove bird nests and debris from surrounding trees to minimize rot and mildew.
Clean your fence every few months with a power washer or vinegar solution to remove accumulated dust and dirt.
Vinyl fences are considered low-maintenance because they are not susceptible to wood fences' numerous problems. It does not require stain or coat paint like wood fences. However, vinyl fencing needs regular maintenance to keep it in excellent shape.
You should rinse vinyl fences frequently with a garden hose to remove dirt and grime.
Avoid damage from human activity, wild animals, and objects impacting the fence. Damaged vinyl posts and boards can not be repaired.
Use a detergent or bleach cleaner with a soft brush to gently remove stubborn stain spots on vinyl fencing panels.
You can use Trisodium Phosphate, Sodium Hypochlorite, and detergent solution to remove mildew from a vinyl fence.
Aluminum privacy fencing requires little maintenance to retain its lustrous and impeccable look. However, taking care of your aluminum fence does increase its useful lifespan and functionality and prevents the expensive cost of fence restoration. Here are some aluminum fencing maintenance tips.
Clean your aluminum fencing annually if you live in a dry environment or monthly in a damp and humid atmosphere.
Check for broken rails and loose posts to avoid potentially costly repairs. Also, inspect the fence regularly for dirty hinges and fasteners.
Check the aluminum gate for alignment issues. Oil and tighten the hinges and any loose screws after every winter.
Although the professional installation of an aluminum fence may increase your overall fencing costs, they do add value and longevity to your aluminum fencing.
Use a lint-free towel to dry your aluminum wrought iron fencing after washing.
Performing regular maintenance on your bamboo fence can prolong its lifespan and protect the fence surface. It is a popular low-cost fencing option among homeowners living in dry climates. Here are a few care tips to keep your fence looking good after installation.
Remove piles of dead leaves, grass, and branches from your fence to prevent debris accumulation resulting in moisture damage during weather conditions.
Trim the hedges and shrubs around the tour bamboo privacy fence.
Wash and re-seal your fence a year after installing it.
Wash and reseal your fence every 2 or 3 years, depending on your local climate conditions.
A vinyl privacy fence is virtually maintenance-free, and apart from the occasional washing, it does not require any extra upkeep from homeowners. The vinyl fence is the best fencing choice across all neighborhood segments.
Pressure-treated pine wood privacy fences have the lowest installation costs of any privacy fence. The cost of installing a 6-foot high pressure treated privacy pine fence ranges between $3 – $6 per linear foot. Pressure-treated pine has had chemical treatments protecting it from pest, mold, and water damage resulting in increased durability and a longer lifespan than untreated pine.