Adding a fence to your house or property can add more privacy and security. It can also help keep your family members and pets feel safer. Having a fence also adds a design element that upgrades the look of your home.
Homeowners can expect to spend an average cost range of $5 to $12 per linear foot for the materials, and an average cost range of $15 to $22 per linear foot for installing a horizontal fence.
While it was more common to have a vertical fence, installing a horizontal fence has slowly gained popularity because of its modern look. Aside from that, it makes properties appear longer and bigger, without forsaking the added privacy.
Often, homeowners or property owners can already assume to pay more or less based on the height and length of the fence. However, one cost factor that is often overlooked is the type of wood selected for the fence.
Most of the time, fences are made from treated redwood, cedar, pine, or other water-resistant lumber material. Some homeowners also prefer to seal and apply something to it to not let it warp and rot.
Below are some of the most preferred types of lumber used for installing a 6-foot-tall fence, their pros and cons, and their average costs per linear foot of material.
Type of wood
Pros
Cons
Average cost (per linear foot)
Cedar
Insect and rot repellant if it is pressure treated

Cost-friendly
Requires yearly maintenance such as sealing, sanding, and wood-staining

Can be dented and scratched easily

Turns gray over time if not properly sealed and stained.
$3 to $7
Spruce or Whitewood
Cost-friendly
Can decay in 8 to 10 years

Prone to graying or darkening

The pickets tend to shrink wherever it dries
$6 to $7
Redwood
Best for staining and repainting

Naturally fire-resistant and pest-repellant

Do not easily warp
Can easily develop mold and damage by the sun if not properly and regularly maintained
$4 to $7
Pressure-Treated Pine
Cost-Friendly

Insect-repellant and does not easily rot if pressure-treated
Can warp, split, and shrink especially in dry environments

If burned, the pressure-treated pine will release harmful chemicals if burned
$3 to $7
Cypress
Durable and dense type of wood that is similar to pine

Has natural components that can be insect and pest-repellant

Rot-resistant and can last for a long time, especially in areas that experience rain and snow
Costly
$10 to $15
White Oak
Can last for a long time, especially when you treat the wood

A popular choice due to its light finishes

Can be resistant to rotting

Is on the pricier side

Can warp and bow especially in extremely damp and humid environments
$15 to $40
Black Locust
Very durable and does not require extensive maintenance

Ideal for agricultural purposes where maintenance is not as frequent
Due to its rarity compared to its counterparts, Black Locust wood panels can be expensive and hard to procure
$20 to $40
Horizontal fence post price
Normally, fence posts are made from wood, metal, or concrete that is then grounded in gravel, cement, or soil. Ultimately, the choice of your fence post depends on your liking and the construction requirements.
As a ballpark cost, purchasing a fence post can run up to $5 to $75 each, which excludes the fee for its installation or additional treatment.
The cost relies heavily on the type of material used in the fence post. Usually, property or homeowners opt for wood posts for their wood fences to match the look. However; there are still other options available.
Below are the other options for fence posts, their average price per material, and their average cost of installation.
Fence post type/ material
Average Cost
(per material)
Average Cost
(including installation)
Wood fence post
$5 to $20
$10 to $50
Concrete fence post
$10 to $50
$30 to $100
Metal fence post
$5 to $30
$10 to $60
Brick or stone fence post
$25 to $75
$50 to $150
Hiring a fencing contractor
Before hiring a professional fencing contractor to help you have a quality horizontal wood fence, there are a few checklist items to tick before you have them start on the project.
The grade of material used for the fence
Normally, your price will depend on the quality of the wood you have chosen. Make sure that the contractor knows your needs and preferred option of wood and sticks to it when the project starts.
Sometimes, some wood types look similar to one another but are not necessarily the same, especially in their characteristics.
Ideally, your hired contractor must use stainless steel fasteners/nails. They should also avoid non-galvanized steel that can darken or bleed black in your fresh fence.
As a rule of thumb in using steel posts, you should not have them install less than schedule-20 steel posts. Any type under that standard will easily break, especially in heavy winds.
Warranty and quality of service
Your hired contractors should have a history and certification in honoring labor warranties.
The hired professional should also have the necessary experience and expertise in constructing and installing horizontal wood fences.
Before signing a professional on your fencing project, you should make sure that the terms are clear and not vague. Items such as labor fees, additional costs, warranties, and others should be agreed upon.
Doing so does not only protect your interests but would also assure the hired contractor that the project is arranged and will be worthwhile.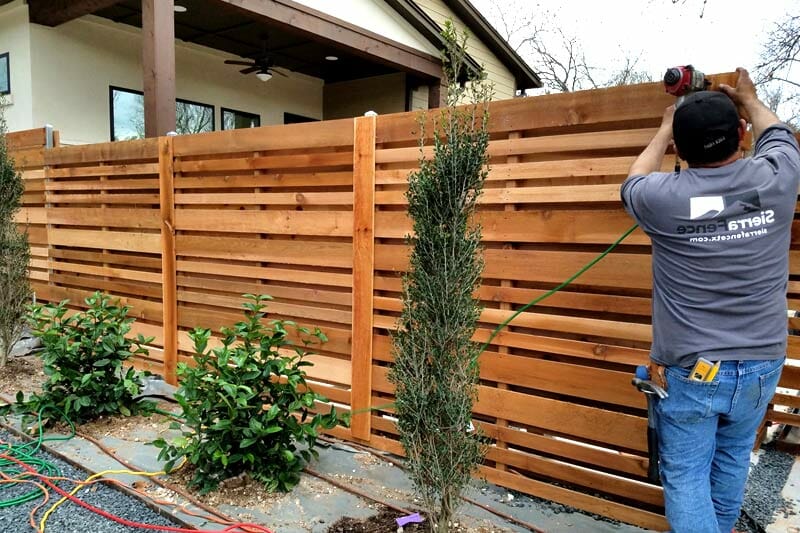 Cost to DIY a horizontal wood fence
Homeowners that are familiar with home improvement and have power tools will find the building and installation of a wood fence easy. Doing so can save money since it does not require paying for a professional's service.
However, having zero experience in home improvements can make the task very difficult. In this case, hiring a contractor to handle the fencing project might be the smarter choice.
If you are unsure if you can do it yourself, you might end up spending thousands and loads of hours, only to have an unsatisfactory fence for your property.
Necessary tools/factors to consider before DIY horizontal wood fence installation
Below are some of the necessary items and factors that you need to have and consider before doing a DIY horizontal fence:
Normally, you would need tools to build a horizontal fence. If you already own some of these, you won't need to spend on another one. If you don't, below are some of the tools and their average prices.
| Equipment / Tool | Average cost |
| --- | --- |
| Work Gloves | $5 |
| Protective Safety Glasses | $16 |
| Paint Brush | $15 |
| Spray Paint | $5 |
| Mason's Line | $15 |
| Tape Measure | $18 |
| Hand Saw | $16 |
| Claw Hammer | $20 |
| Post Hole Digger | $50 |
| Power Drill | $80 |
| Level | $21 |
| Total | $266 |
Typically, the cost for the materials will depend on the type of wood that you will use, and the size of the area where you will install your fence. Below are the ballpark costs of the necessary materials:
| Materials | Cost (per item) | Cost (per 150-foot wood fence) |
| --- | --- | --- |
| Box Nails | $12 | (not applicable) |
| Deck Screws | $23 | (not applicable) |
| Concrete Mix | $20 | (not applicable) |
| Gravel | $400 | (not applicable) |
| Wood Stain | $125 | (not applicable) |
| Pickets | $5 | $1,640 |
| Horizontal Rails | $13 | $1,640 |
| Fence Posts | $28 | $560 |
| | Total | $3,300 |
Horizontal fence vs vertical fence
Aside from providing additional privacy and security to your home, horizontal and vertical fences can help define the borders of your property, regardless of whether yours is a residential or commercial property.
Below are some of the differences between horizontal and vertical fences:
Vertical fences can have boards with spaces in between boards that can offer visibility of your backyard. This variation can be best if you want your space not to be entirely closed-off.
If you want your property to have total privacy, horizontal fences may be the best pick. This is because horizontal fences rarely have spaces in between the boards, which offers less visibility to its counterpart.
Horizontal fences are more durable, especially in locations that experience rain and weather damage.
Vertical fences are more prone to natural rotting and weather damage since the top and the wood can easily rot at the base and exposed edges.
Because of its general construction design, horizontal fences can guarantee reliable privacy for your property. Since its design has panels closer to each other, it can block external viewing.
With vertical fences, the panels or boards have more spaces in between, making external viewing possible. If you want more privacy with vertical fences, you can consider chain-link instead of wood.
If you consider doing the fencing project on your own, whether it is a horizontal or vertical fence, you will most likely do it on your own and do a good job.
If your residential or commercial property has uneven terrain, it may be best if you hire a professional since they are more experienced in dealing with fencing on slopes.
Additionally, it might be more suitable to have vertical fencing since it can be challenging to opt for horizontal boards on irregular or uneven ground.
Other considerable differences that make horizontal fences different from its counterpart are the following:
| | Horizontal fence | Vertical fence |
| --- | --- | --- |
| Appearance | Unique, modern, and appears sleeker and impressionable | Appears attractive, but is common and can be considered outdated |
| Cost | Can be more expensive and labor-extensive | Less expensive compared to its counterpart |
| Installation on uneven terrain | Can be more complicated to build on uneven ground or contoured ground. Horizontal fences are best installed on level surfaces. | Can easily be installed even on textured or uneven ground |
| Durability and strength | Can be less sturdy and durable, but can be remedied by installing more vertical posts | It Is more sturdy because of its construction design where it uses 2x4 stringer |
| Availability of pre-built wood panels | Horizontal fence panels must be built on-site | There are pre-built vertical panels that can be bought or ordered |
Advantages of a horizontal wood fence
As initially mentioned above, there are several differences that horizontal fences offer compared to vertical fences. These differences can either cater to your specific fencing needs or can convince you more to choose it.
Below are some of the notable advantages of having a horizontal fence installed.
Variety of styles and designs
One of the best parts of choosing a horizontal fence is that it comes with different styles and design choices. With this, you have multiple options to make your property appear the way you intend it to be.
With horizontal fences, you can choose between split rail, board on board, woven designs, and other types of styles and designs.
With this variety of options, you can make your fence distinct from others, adding more personality and look to your property.
If you choose to have a horizontal fence for your home or commercial property, you will have the advantage because you can tweak it so it suits your preference and necessity.
For example, you can have wood stained panels to match the existing items in your landscape or have them match your gate.
One of the advantages of having horizontal wood fences, especially if you are conscious of the environment, is that they will not damage your surrounding even if they start to rot.
If they start to have damage or rot, you can stain them to repel termite damage. This also means that you do not have to use harmful chemicals that can be dangerous to your health and the environment.
In constructing and installing horizontal fences, the panels or boards do not necessarily have to be the same size, unlike vertical fences. This helps you save more money since it won't waste too much wood.