Are you thinking of having a metal fence installed in your front and back yards? You are not alone, many homeowners love metal fences for their durability, security guarantee, and aesthetic appeal.
When looking for the best metal fences, steel, wrought iron, aluminum, and chain-link fences are among the best fencing options for your front and back yard. However, despite each being a fantastic alternative, each of these metal fences has its strong and weak points.
In this article, I will take you through the pros and cons of the above metal fences and how to maintain them to make it easier to pick the best one for your home.
Before we dive in, here's a table briefly discussing some features of the metal fences.
| | Steel | Wrought Iron | Aluminum | Chainlink |
| --- | --- | --- | --- | --- |
| Security | 8 | 10 | 5 | 4 |
| Maintenance | 10 | 4 | 10 | 10 |
| Cost | 4 | 3 | 8 | 10 |
| Aesthetics | 10 | 9 | 7 | 4 |
Why Should You Install a Steel Fence
Steel Is Strong and Secure
Steel consists of carbon and iron, making it sturdy and ideal for standing against heavy downpours and strong winds.
Its components, carbon, and iron, also make cutting through the steel fence hard and ensure that the steel fence's value does not deteriorate. Without a doubt, a front and back yard that is fenced with steel is very secure from intruders.
The anti-corrosion performance of steel makes it a cost-effective alternative since it requires minimal maintenance. Nonetheless, if the steel has an issue and needs repair, it is relatively inexpensive compared to the wrought iron fence.
When it comes to aesthetic value, steel is lauded by professional fence designers. You can achieve all the designs you want, from the most basic fence design to the most complex, while still maintaining its strength.
The Downsides of Using Steel
Steel is relatively expensive to purchase and install because it's hard to find materials used to make steel and requires professional expertise to install the fence because of its weight.
If you aim to get a fence that ensures privacy, steel may not be the best option. This is because the steel panels do not provide visual privacy.
Does Steel Fence Require Regular Maintenance?
The answer is no. However, if you notice any dirt build-up, mold, or mildew, clean the fence using soap and water. Steel fences are powder-coated, making them exceptional at warding of rust.
If you notice any chipping, it would be safe to fix that before it starts rusting. Wire brush the chipped area before applying a rust-inhibiting primer and then go over with an exterior enamel.
If you do this, your steel fence can comfortably serve you for over two decades.
Of all-metal fences, wrought iron fences are the strongest and the most ornate. They've been used for centuries and are not about to go out of style because they are timeless. You can use a century-old wrought iron fence to accentuate a modern home and maintain the modern theme.
Why Should You Use a Wrought Iron Fence?
Gives Your Property a High-End Look
Using a wrought iron fence to protect your front yard gives your property an elegant, beautiful, and high-end look that many other metal fences cannot match up to.
Wrought iron fences can be made in a wide range of ways that complement any home aesthetics. It boosts very elaborate curves and twists in a charming nostalgic nod that resembles its Victorian influence.
The steel and iron construction is extremely strong such that it is nearly impossible for fire or water to penetrate through. The fence can withstand harsh weather or any vibration without buckling. The wrought iron fence allows for optional welding of the panels to the post, making the fence stronger and more durable.
The strength of this fence also comes in handy when providing unmatched and stable security to your property. The iron fence does not fall prey to simple destruction; neither does it make room for an intruder to climb the fence.
The Flipside of Wrought Iron Fences
Out of all fences, both metallic and non-metallic, the wrought iron fence is the most expensive. However, the price gap is worthwhile because it offers a limitless lifespan一can be used by many generations.
Many entrepreneurs avoid venturing into the wrought-iron business because its production is costly and labor-intensive. This makes finding a company that makes quality iron fences hard; hence many potential clients settle for other alternatives.
How to Take Care of Wrought Iron Fences
Since this type of fence is ferrous, it is prone to rust, a major concern for most people.
Just like any high-end commodity, a wrought iron fence requires high maintenance in exchange for serving you longer. The most important step is ensuring that your iron fence is rust-proof by:
Applying a coat of preventive wax.
Galvanizing by applying a thin layer of zinc to the iron.
Spraying a non-conductive powder to your fence, such as epoxy
Use clean water and soap, wash away any dirt build-up or debris from trees.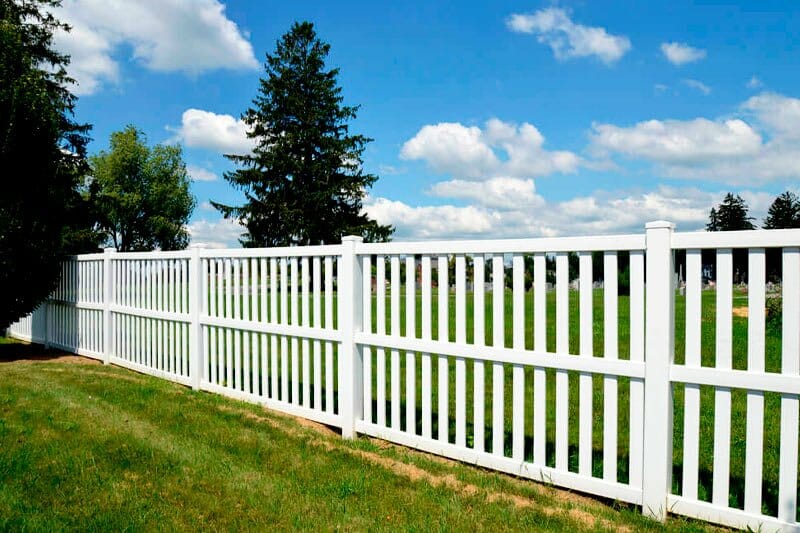 An aluminum fence is an excellent option if you are looking for a maintenance-free, strong, and durable fence for your front and back yards.
A significant advantage of aluminum is that it is rackable, meaning that aluminum fences can be installed in a way that fits the landscape. That's because aluminum fences come in panels that can be screwed together at the junction of the picket and the rail.
Reasons Why Aluminum Is the Best Fencing Alternative
Aluminum is inexpensive.
Installing aluminum is easy, fast, and cheap.
Aluminum is not prone to rust since it's non-ferrous and resists oxidation.
It comes in black, but it can be painted to match the theme of the home.
There are diverse types, designs, and shapes of aluminum.
This type of fence is adaptable to most environments.
Cons of Using Aluminum Fences
It Is Not the Strongest Fence You Can Get
Although aluminum is a strong and long-lasting material, it is quite lightweight. This means that it can easily be damaged and bent, say by lightning or impact by a car.
Fortunately, aluminum exists in various grades; therefore, before settling on the type of aluminum you want, ensure you test and carefully choose one that meets your desired strength.
It Is Not Entirely Secure
While the rackability of aluminum fencing makes installing the fence a dream, on the flip side, it compromises security. While other metals are welded together to form a strong fence, aluminum panels are screwed together.
An intruder can easily access the house if they locate the screws and unscrew them.
For this reason, we recommend getting a professional on the job. A professional fence installer will install your fence correctly while ensuring you do not bargain with the security of your property and your loved ones. In addition, we can help you get the price quotes from top local fence installers in just a few clicks.
Scroll to the top of the page and enter your Zip code.
Answer questions about your wrought iron fencing project.
Your project details are forwarded to three local experts. They will send you a price estimate for the job and some friendly advice.
IMPORTANT: There is no obligation to hire. This is a free tool and service to be used at your pleasure.
Maintenance For Aluminum Fences
Earlier on, we mentioned that aluminum fences are maintenance-free. However, it would be wise to check for loose screws and tighten them regularly. You can locate the loose screws by lightly pushing one section and listening for a rattling noise.
If you notice any chipping on the fence, easily fix that by applying a coat of paint on the chipped part. Consequently, if the fence looks dull, go over it with paint.
If you are on a tight budget, a chain-link fence will not have you breaking the bank. The chain-link may not match the elegance of the other metal fences, but it's very functional and will serve you for a long time.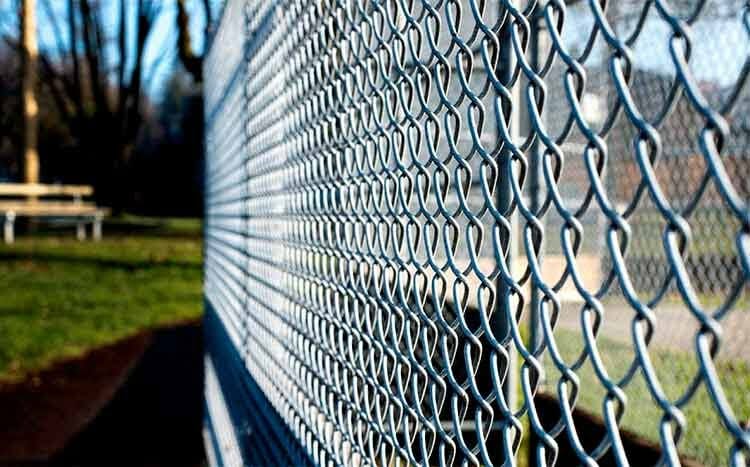 Why You Should Use Chain-link Fence
Chain link fencing is inexpensive to purchase and install.
The chain-link fence works best for the backyard to keep children and pets confined in the same environment.
It offers a solid boundary between you and your neighbors and tight security for children and pets.
The installation of a chain-link fence is very easy, fast, and safe.
Chain link fence is very low maintenance, and it will serve you for years while requiring minimal to no repairs.
Their repair is very easy.
Cons of Chain-link Fences
Provide less curb appeal compared to the other metal fencing alternatives.
Some homeowner associations discourage the use of chain link fencing.
It's functional but provides compromised security because weaving of the steel wires provides hand and footholds that people and animals can climb.
How To Maintain a Chain Link Fence
You don't need to do much to ensure your chain link fence stands the test of time. Use a high-powered hose to wash down the dirt and debris that accumulates over time. Make prompt repairs as soon as you notice your chain link fence begin to sag or pull away. Spray your chain link fence with a rust-resistant coating once a year to prevent rusting and corrosion