Chain-link fences are a durable and secure way of keeping your children and pets securely within your property and strays off your compound. They're a common fencing option, especially for small yards where the intention is not to completely block the view.
Although a chain-link fence is an inexpensive, resilient, and durable way to define your property line, it sometimes doesn't meet all customer expectations. Wood, vinyl, wrought iron, steel, and aluminum fences are all possible alternatives to chain link fences.
This article discusses all these options you can consider when looking for other alternatives to enclose your property.
Wood fences have been around from time immemorial and continue to be popular.
This is primarily because wood is economical and readily available, regardless of the type of wood you want to use.
Wooden fences will give your property line a classic and unique finish, whether you go for a traditional type of wood, such as pine, or be experimental with a kind like an oxbow.
Additionally, wood is customizable, allowing you to choose any style to go with your home aesthetics.
Wood fences require a lot of maintenance, which can be very tiresome and expensive. For instance, you are regularly required to treat and stain the wood to give it extra protection.
Wood fencing is not a durable method of fencing because, during the rainy season, you may notice warping or rotting on the wood due to excess moisture. However, depending on the maintenance, a wood fence can serve you for 5 to 10 years. In addition, termites and other pests consider wood a haven and cause destructive infestation.
Suppose you desire the classic look that wood gives but hate its vulnerability to rotting and destruction. In that case, vinyl panels easily mimic the color and texture of wood while giving you added durability.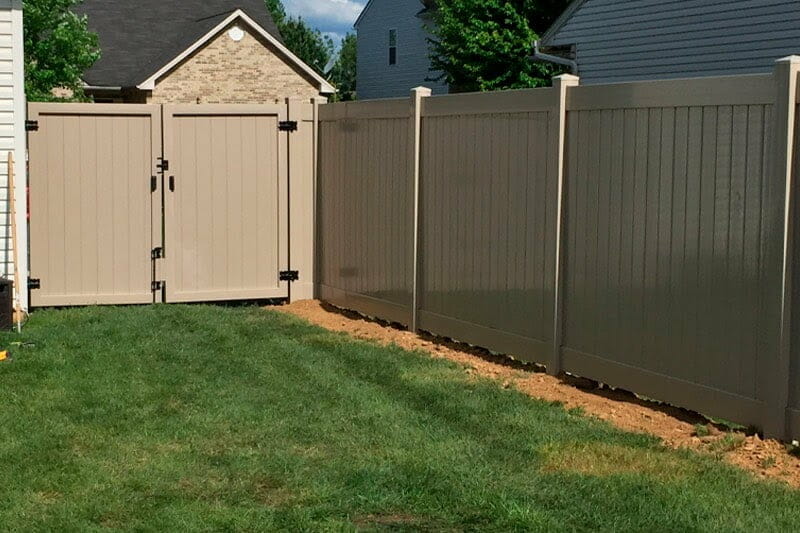 The most common type of vinyl fence is PVC, which is mainly preferred for its durability and flexibility. As a result, it firmly stands up against harsh weather, making it a great alternative to chain link and wood fencing.
Suppose privacy is a significant aspect that you are looking for when fencing your property. In that case, one-piece vinyl panels help to eliminate the spaces that are usually between fence posts, giving unparalleled privacy.
Vinyl fences have a non-porous surface that is easy to clean and makes them more appealing and very attractive.
Although vinyl fences are a moderately more expensive alternative to wood, on the flip side, it is a type of plastic that doesn't require any staining or treating to increase its longevity, unlike wood.
Additionally, vinyl fencing is five times stronger than wood, and it does not rot or fall prey to pests.
Many people veer away from installing vinyl fences because they are not made from natural materials, making them potentially harmful to the environment.
Vinyl fencing is also significantly more expensive than chain-link or wood fencing, meaning people with a tight budget would opt for the other alternatives.
Steel fencing is a stronger, more powerful, and more durable alternative to chain link fencing. In addition, a steel fence can double up as a protective barrier, such as a security gate.
Steel fences require very minimal maintenance since you can spray them with a hose. Once a steel fence is galvanized or covered in a powder coating, rusting should be the least of your worries since the fence will maintain its color and serve you for a long time.
Its strength makes it relatively expensive, although for what it offers, the price is worthwhile, and it is most likely a one-off purchase.
Additionally, installing steel fencing to protect your property requires a professional because of its weight. Without proper maintenance, steel will rust over time.
Aluminum's minimal maintenance characteristic has made it quite popular among people looking for options to fence their property.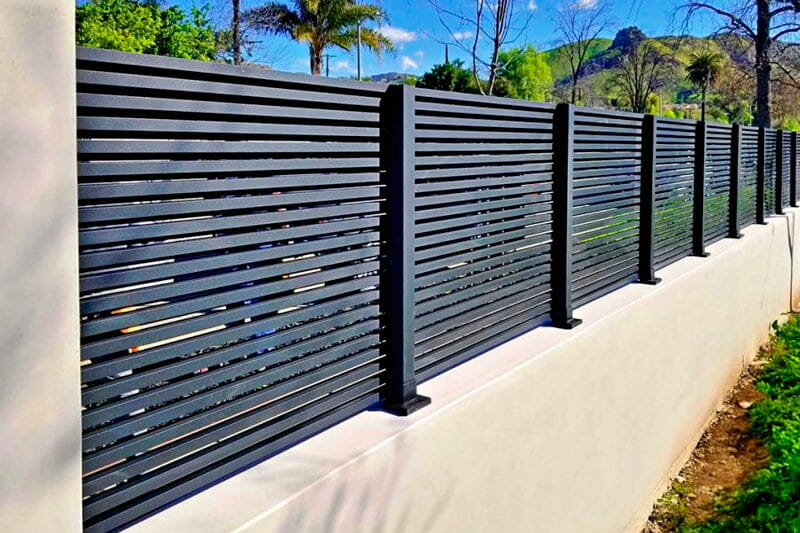 Unlike other metal fences, aluminum will not oxidize and rust since it is non-ferrous, neither will it rot like wood.
Aluminum fences are solid yet lightweight, making many people attracted to them since their installation is effortless.
Unfortunately, it may not be the strongest fencing option since it can get a mark or bend in case of an impact. However, it still gets the job done pretty well and can serve you for a while.
Aluminum fences come in various types, enabling the customer to choose one that fully meets their needs.
For a sloppy hill or an area with a pit and dip, getting a fence welded together may not be the best option. Instead, go for a rackable fence, and in this case, an aluminum fence should be your go-to. That's because an aluminum fence comes in panels that are screwed together at the junction of the picket and rail.
While the trackability of the aluminum fence is an added advantage, it is also a downside. The screwing together at the junction of the picket and the rail significantly compromises the security aspect of the aluminum fence.
Once an intruder locates the juncture points of the screws and unscrews them, they can easily enter the property.
You can solve this problem by seeking the services of an experienced professional who will install the screws from inside the property.
With a combination of strength, durability, and longevity, a wrought iron fence is inarguably the best choice of fence to install.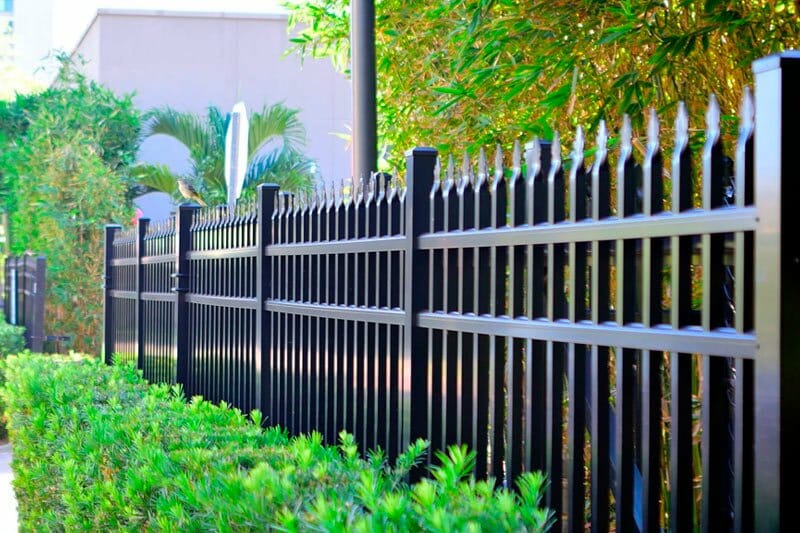 Pros of Wrought Iron Fences
A wrought iron fence will give your property unmatched security and minimal privacy compared to other types of fences. While also plastering a high-end and sophisticated look that will make your property look quite expensive.
Its strength, sturdy, and durable nature does not come in decorating the iron and steel construction. On the contrary, a wrought iron fence is very decorative and can be curved and structured into many designs to meet your tastes and fit the property's aesthetics.
Wrought iron fences have been around for over two centuries and remain popular since they do not wear off and will serve you for years on end.
Cons of Wrought Iron Fences
All its pros contribute to its high-end price point. It's probably the most expensive fence.
In heavy downpour or during winter, wrought iron fences are prone to rust, but galvanization can help minimize the rust.