Enclosing your property with a wooden or chain link fence can give you the security or privacy you need. Both fences are quite popular, easy to install and maintain. Read on to understand the advantages and disadvantages of either of them and what you should consider before choosing one over the other.
Wooden fences offer more privacy and can be more aesthetically appealing than chain-link fences. However, chain-link fences are less expensive to install and maintain compared to wooden fences. Choosing either mainly comes to cost, the purpose of the fence, personal preferences, and availability of materials.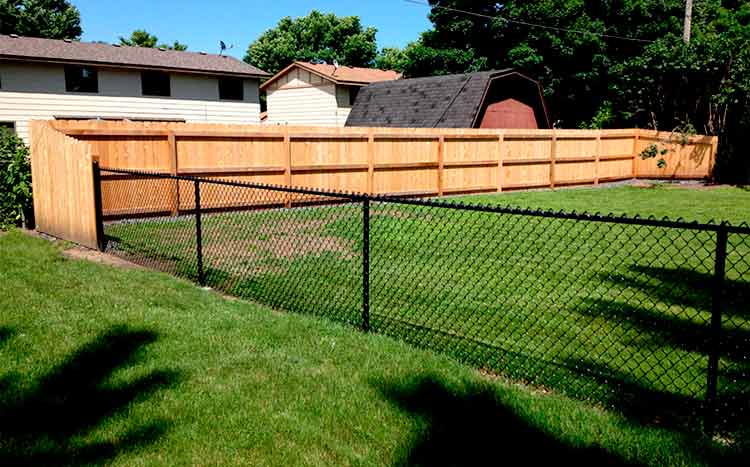 Wood and chain link fences are equally matched in many aspects. Each has its advantages and disadvantages that you may need to go over before you decide on one. For instance, wooden fences need more frequent maintenance over their lifespan.
In general, both fences are good and can be used in both commercial and residential areas although chain-link fences are more suitable for agricultural and commercial lots. Also, it is usually advisable to go with fence materials that are predominantly used in your location to match the surroundings.
The Cost of Wood and Chain Link Fence
| Fence | Low (per linear foot installed) | High |
| --- | --- | --- |
| Chain link | $5 | $20 |
| Wood (average cost) | $10 | $15 |
| Cedar | $6 | $16 |
| Pine | $5 | $8 |
| Spruce | $5 | $10 |
| Redwood | $10 | $15 |
| Cypress | $5 | $10 |
| White Oak | $5 | $7 |
| Hardwood | $8 | $12 |
Maintenance difference‌s ‌
Maintenance is one of the key things you must consider when choosing between chain link and wooden fences. Expect to maintain any natural wood fence more regularly than chain link fences in the absence of damage from physical impact or destruction from third parties.
Wood fences may need to be repainted, stained, and cleaned to get rid of pests, mold, and accumulated dirt over their lifespan. On the other hand, chain link fences can be left alone for many years and still maintain their strength and structural integrity.
Some of the things you need to do to keep a wooden fence in good condition over its lifespan include:
Regular inspections and on-time repairs- always check if there is a section on your wooden fence that needs urgent repairs or cleaning. Pest-infested or broken poles on a section can cause the entire fence to come down necessitating more expensive repairs.
Repainting and staining/re-staining- Wooden fences need to be repainted or re-stained every few years to protect the surface and make them more resilient to the elements. This can also prevent pests and mold from destroying the wood.
Regular hosing/pressure washing- You may need to hose your wooden fence down every few months to get rid of foreign objects, dust, and murk that may destroy the wood over time.
Chain link fences on the other hand do not require much in terms of maintenance over the lifespan. However, you can keep them in good condition or improve their appearance by:
Painting or applying rust-resistant gloss to prevent rust and surface corrosion- This may depend on the type of metal used for the chain-link fence. Some metals are more rust-resistant than others.
Cleaning- You can clean your chain link fence once in a while to get rid of accumulated dust, dead bugs, and other things that might corrode the surface.
If you were to decide on both fences on maintenance alone, chain link fences would make more sense. Some modern engineered wood fences may also offer the same durability but are more expensive.
Installation‌ ‌Of‌ ‌Wood and Chain Link ‌Fence‌
Installation of chain link fences takes slightly more time and requires a bit more skill than the installation of wooden fences. You may need the services of a professional installer with the right tools and expertise to install even a simple chain link fence while it is possible to DIY-install a simple wooden fence.
Some of the steps involved in the installation of a chain link or wooden fence include:
Permits – Applying for a fence or zoning and building permit if it is required before you start building your fence. A licensed fence contractor can obtain the permits on your behalf.
Preparation – Designing and marking the layout and positioning of the fence. This also includes identifying property lines or boundaries to avoid encroachment. Also, ensure that you read local fence ordinances to ensure your fence is legal.
Digging post holes – post holes should be deep enough to support the weight of the wooden boards or chain link fence. Ensure you do not interfere with underground utilities such as communication cables. You can notify your local utility protection service or relevant government department before you start digging.
Setting the post – Done by and adding the concrete to the post holes dug with post at the correct distance apart and straight/ level.
Waiting – Wait for the concrete to set (12 hours) before installing the wooden posts or other components of the chain link fence
Tensioning – Securing the fabric of the fence with bolts, nails, or tension wire.
For most landowners, having a professional fence installer do the job is easier and more convenient. Most fence contractors also offer important advice on materials and permits, and service warranties.
Tip: Scroll to the top of the page and enter your zip code to locate top-rated fence installation services in your location. The tool is free to use, and there is no obligation to hire any of the installers recommended.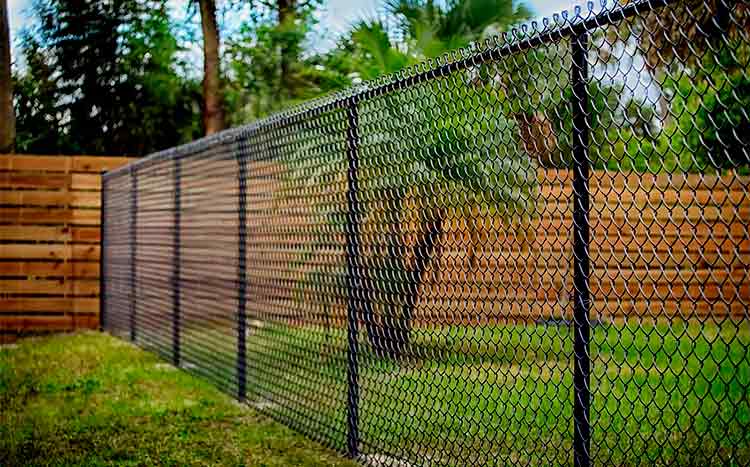 Durability‌ ‌Of‌ ‌Wood and Chain Link ‌Fence‌ ‌
Chain link fences have a longer lifespan of up to 20 to 25 years on average as compared to wooden fences that last between 12 to 16 years. However, you may get more durability from modern engineered wood fences. Proper fence maintenance and prompt repairs can extend the life of your wooden or chain link fence.
Security‌ ‌Of‌ ‌Wood and Chain Link ‌Fences‌
Owing to its design and materials used, a chain link fence will offer slightly more security than a wooden fence. However, the same cannot be said of privacy since chain link fences are see-through while most wooden fences can be a hundred percent opaque up to the allowable height.
The Pros and Cons of Wooden Fences
Pros
Easier to install
More options in terms of materials (engineered wood, natural wood, etc.)
Provides privacy
Legal in most places
Environmentally friendly (depending on where and how the lumber is sourced).
Can be customized with paint
Cons
Wood fences require more frequent maintenance
Not as durable as metallic fences
Lumber can be expensive
May block views and sunlight
Susceptible to rotting, pests, and mold
The Pros and Cons of Chain Link Fence
Pros
Chain link fences are durable
Require less maintenance over their lifespan
Offers better security
Slightly less expensive than alternatives
Can be extended or altered easily
Suitable for both commercial and residential areas
Cons
They do not offer privacy
May be illegal in residential areas
Can rust depending on the type of metal used
They are not customizable and may be less appealing to look at ( they do not improve curb appeal)
Consider the following when deciding between wooden and chain-link fences;
Privacy
Wooden fences will offer more privacy especially if the spacing between boards is minimal while chain-link fences do not offer much in terms of privacy. Understanding what you want to get from your fence can help you choose one over the other.
Cost
Your budget will be an important factor when deciding between wooden and chain-link fences. Wood fencing costs are generally higher than the materials needed for chain link fences. However, this might depend on your location and the type of building materials used locally.
Local Fence Laws
Be sure to check local fence laws or zoning codes before you decide to erect a chain-link or wooden fence. Most local county or municipal governments have specific codes or guidelines on the type of fence, height, and materials that can be used in certain areas. For instance, it's not uncommon to find zoning laws prohibiting the installation of chain link fences in certain areas.
Appearance/Curb Appeal
Are you concerned about the appearance of your fence? Wooden fences generally offer more options in terms of customization for aesthetics. Chain link fences aren't installed for their appearance.
Property Value
Installing a new fence on your property can add some value to it. Wooden fences will generally add more value to the property as compared to chain-link fences. However, some homebuyers may prefer chain link fences due to the security they add to your property.
Chain link fences may have that utilitarian or industrial look that is not appealing to those who prefer looks over function. However, this does not make them trashy or bad and they provide much-needed security for most homeowners or farmers. You can also paint the entire fence to make it more visually appealing.
Durability is the most important thing when it comes to choosing chain link fences so stainless-steel fences are the best option. They are more weather resistant and stronger therefore more durable and secure.
Some people may find privacy fences to be rude especially if they are too tall, blocking a view, unsightly, or installed in a neighborhood where homeowners do not install fences. It is important to mind your neighbors and follow local fence laws when erecting your fence.