As the most popular fencing materials in the United States, aluminum and wood are closely matched in terms of reliability and pricing. What are some of the things you would consider before choosing one over the other?
Wood fences are relatively inexpensive as compared to aluminum. However, being a metal, aluminum has a relatively longer lifespan compared to wood. Both fencing materials are widely available across the United States.
Certain factors need to be considered such as maintenance, privacy, style, cost and other factors listed below before you find an option that works for you.
| | Metal | Wood | Winnner |
| --- | --- | --- | --- |
| Cost | $45 Per linear ft. | $23 Per linear ft. | Wood |
| Durability | 25 Years | 40 Years | Wood |
| Maintenance | Zero | Needs re-sealing | Metal |
| Easy of installation | Moderate | Easy | Wood |
| Eco choice | Non-sustainable resource | Literally grows on trees | Wood |
| Security | Excellent | Moderate | Metal |
| Design options | Limited | Wide variety | Wood |
| Adds value to a home | Yes | Yes | Even |
| Sound reduction | Limited | Moderate | Wood |
In my view, wood fences have the edge over Aluminum fences due to a lot of factors such as:
Maintenance cost
Traditional look
Easy of repair
Style choices
You can get wood fencing material as modern engineered wood, bamboo, cedar, redwood, and myriad other varieties or species depending on your location. On the other hand, there is not much to choose from if you go for aluminum or any other metal.
That said, aluminum fencing is readily available and is also a relatively inexpensive fencing material. If modern and clean is the look you are after, then Aluminum might be the best one for you.
Cost of Aluminum vs Wood Fence
| Material | Aluminum | Wood (average cost) |
| --- | --- | --- |
| Low (per linear foot installed) | $20 | $10 |
| High | $27 | $15 |
Both aluminum and wood fences need proper maintenance to last. Both materials have a finite lifespan which largely depends on the climate and how they are maintained.
Wood fences are going to need sealing every 5 – 7 years with a wood oil or a lacquer.
Aluminum fences will most likely need a respray or powder coat every 10 – 15 years .
Although more work, it is a lot cheaper to stain or paint a timber fence every 5 – 7 years than it is to have your aluminum fence power coated.
It is important to follow the installation guidelines and best practices when installing wooden or aluminum fences. Professional fence installers can save you a lot of money in the long run by following these best practices as opposed to if you were doing it yourself. Most installation services also offer warranties for their work.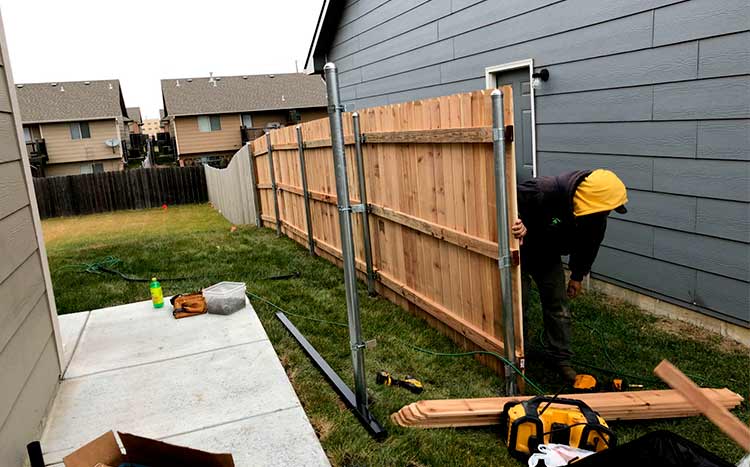 Both aluminum and wooden fences can withstand the elements well. Wood fences have a typical lifespan of 12 to 16 years. Aluminum fences can last for many decades (over 50 years) depending on the quality of the aluminum. You can extend the life of your wooden or aluminum fence through regular maintenance.
Aluminum fences generally offer better security because they are harder to breach as compared to wood fences. However, this depends on the design of the fence, how it is installed, and its intended purpose.
Some aluminum fences are installed for aesthetic purposes and offer little security, while some wooden fences can deter trespassers and thieves because of their height and overall design.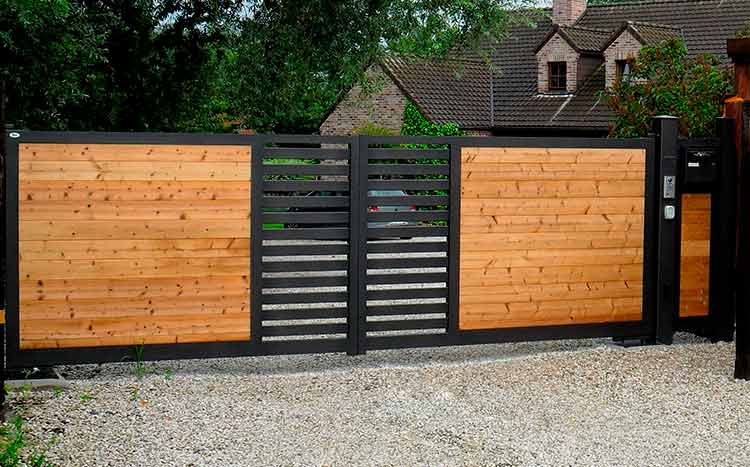 While this depends on factors such as the length of the fence and design, aluminum fences generally add more value to your house as compared to wood. Aluminum and other metallic fences are more durable (will last a lifetime) and more functional. Expect to spend between $3000 to $8000 or more to install an aluminum fence and a 40% to 50% expected ROI.
Wood fences generally offer more privacy because they form an opaque barrier between your yard and the street or neighboring lot. However, it is also possible to install opaque aluminum fences albeit at a significantly higher cost. Also, keep in mind that most fence codes prohibit or restrict the height and opaqueness of residential fences in urban areas.
The Pros and Cons of Aluminum Fencing
Durability- Aluminum fences have a longer lifespan than wood.
Strength- Aluminum is a strong metal that is hard to breach without the help of power tools. However, aluminum does bend more easily as compared to other metals such as wrought iron.
Low-maintenance – aluminum fences do not need as much maintenance over their lifespan as wood fences or other alternatives. This provided there no physical damage from impact or pressure from external sources such as trees and stacked objects.
Aluminum is readily available- You can walk into any hardware store across the country and you are bound to find all types of aluminum fencing boards and posts plus other installation components. On the other hand, wood is less available and you may be limited to a particular type based on your location.
Pest and mold-resistant- Being a metal, aluminum is not adversely affected by pests, mold, or other organic agents. You may, however, need to horse your fence regularly to preserve its surface appearance and to prevent long-term discoloration or accelerated corrosion due to high moisture absorption.
Low privacy- Aluminum fences are generally installed as a barrier and for aesthetic purposes. They don't offer much privacy because of the gaps between posts. However, you can still install a fully opaque fence if you are after privacy and security.
Different qualities- You must be very careful about the aluminum fencing materials you purchase. It's easy to purchase low-quality alloys that do not last as long as expected.
High cost – Aluminum is more expensive than wood.
The Pros and Cons of Wood Fencing
Aesthetics – Wood fences are attractive and give your yard that classic, elegant look.
Affordability – Wood can be the most affordable type of fence in places with well-established lumber industries.
Easy to install – Wood fences are the easiest to install as they don't require any special tools or skills. You can install a simple wooden fence with a few yard tools on your own.
Environmentally friendly – Wood, where it is produced sustainably, is an environmentally friendly fencing material because it can be recycled and reused.
Durability – Wood is less durable than other fencing options such as metal, stone, or vinyl
Maintenance – It requires more maintenance such as painting. It is also more prone to mold and pests such as termites especially as it ages.
Strength – Wood fences are easier to breach even without the use of power tools as compared to alternatives.
Wood Fence Maintenance tips
Some of the things you need to do to keep your wooden fence in good condition over its lifespan include:
Annual Inspections and repairs
It is important to do a visual inspection of your wooden fence regularly. Check if there are repairable issues such as broken sections or panels, rotting sections, loose nails, or mold-infested patches. Do these minor repairs to prevent further damage to neighboring sections or panels.
Staining or repainting
You may need to re-stain your wooden fence with oil-based wood stains to protect the surface from external elements such as rain and dust. It is recommended to apply at least two coats for semi-transparent stains or one stain for solid color stains on wooden fences.
Re-staining can be done every three to five years or when needed based on the condition of the wood surface. The best time of year to stain your wooden fence is later spring or fall when humidity and temperatures are ideal for drying.
Also, treat mold or mildew patches on the fence before you stain or paint it to prevent the mold spores from spreading even after you have stained or repainted the wood. Exterior mold or pests left untreated can significantly reduce the lifespan of your fence.
Pressure Washing
As part of your regular maintenance
schedule, ensure you pressure wash the entire wood fence to get rid of dust, dirt, pests, and mold. Mix the water with a mold-removing solution or pest killer for even better results. Fence cleaning can be done more regularly based on the condition of the fence and weather conditions.
Aluminum fence maintenance tips
Regular Washing/Hosing Down
Regularly clean your aluminum fence with water or water mixed with chemicals to get rid of grime, mold, and other unwanted substances. If left to accumulate, some of these substances can significantly discolor or even corrode the fence.
Take Care of Moving Parts Such as Gates
Ensure that moving parts on the fence such as gate hinges are working properly. Make the necessary adjustments and leveling as part of your regular preventive maintenance. Also, make sure that these moving components are properly secured at all times to prevent swinging and banging.
Which adds more value to a house?
According to most real estate agents, fences add value depending on the condition of the fence and the homeowner's needs.
For instance, homeowners with kids or pets will look for more privacy. As such, wooden fences will add more value to the home. Metal fences add value to the home if they're well-maintained and add curb appeal.
Which will give you more privacy?
Wooden fences. Thanks to the wood planks, a homeowner can install a closed fence that completely shuts your home from the outside world. Metal fences may be strong, but their open construction design makes them a poor choice for privacy.
Which is best for sound reduction?
Generally, the thicker the fence is, the better it servers as a noise barrier. Therefore, most wooden fences are better for sound reduction compared to open metal fences.