There are several horse fence styles and materials you can choose from like classic split rail wood, metal pipe or even electric.
Classic horse fencing cost from $1,500 to $3,200 per 100 linear feet. Timber and metal fencing is going to cost more than wire or a simple electric fence. On the lower end, you can pay as little as $350 to $850 per 100 linear feet for electric or tape fencing installed.
There are also some in-between horse fences that use both timber and wire that is a little cheaper.
Cost of A Horse Fence by Linear Foot
The cost of a horse fence per linear foot ranges between $3.70 to $30, depending on the fence's materials and installation costs. Installation costs may be low or high depending on the fence type and other factors. For instance, sophisticated horse fences such as high tensile electric fences cost more to install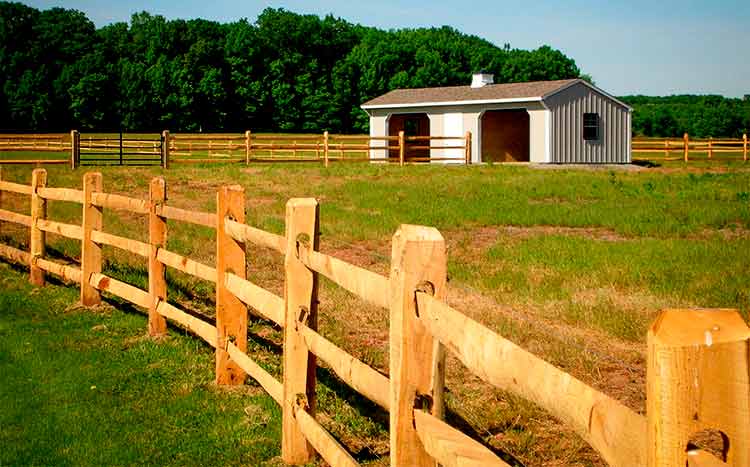 Average Material Cost of A Horse Fence
Average material costs for a horse fence range between $3 to $20 per linear foot depending on the type of material and type of fence you are installing. Budget horse materials include mesh wire, tape, high-tensile polymer, and barbed wire. More expensive but durable materials used for horse fences include vinyl, wood, and metallic pipes.
Tip: Some of the fence materials in the market are meant to be used for temporary horse fences, others have limited functionality while others are more durable and have more features. Established horse owners prefer plank or rail fences made of wood or steel because they are highly visible and durable.
Average Labor Cost of A Horse Fence
Average labor costs for horse fence installation range between $500 to $1500 depending on the type of fence and other factors. The average labor cost per linear foot to install a standard horse fence ranges between $2 to $5 also depending on the type of fence and other factors related to the installation.
It's advisable to get a professional to install the horse fence if you do not possess the expertise or experience to install it yourself. Horse fences serve many purposes and need to be done with absolute care to be safe for the animals.
Cost of A Horse Fence by Type
Costs for horse fences are significantly influenced by the type of fence or materials used. The table below contains estimated costs per linear foot for popular horse fences. Costs may vary slightly depending on the brand of materials purchased, quality, type of material where there are variants, and other factors.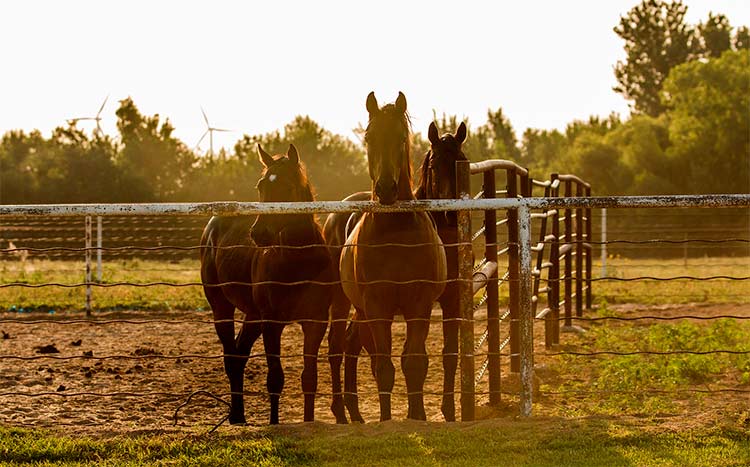 | Type | Cost per Linear foot |
| --- | --- |
| Metal Pipe | $5-$10 |
| Vinyl | $7-$20 |
| No climb | $1.50-$2 |
| Wood Board | $3.50-$10 |
| Tape | $1-1.5 per braid |
| High-Tensile non-electric | $0.10-$0.18 per line |
| High Tensile electric | $0.10-$0.20 per line |
Metal pipe fences are the most expensive option for horse fencing, but they are the most durable, and safe and require the least maintenance over their lifespan. As its name suggests, a metal pipe horse fence consists of metallic pipes laid horizontally parallel to each other and connected by a series of poles.
Metal pipe horse fences usually have aluminum, steel, iron, or metallic components. They can last for over three decades and require little maintenance except for repainting when needed. They are secure but can bend if kicked or run into by an adult horse, especially if made of aluminum.
Vinyl horse fences have grown in popularity in recent years due to their versatility, strength, and availability of materials. You can purchase vinyl fence materials from any hardware store across the country that are pre-designed and ready to install. Vinyl fences can last for up to 15 years and require little maintenance.
Vinyl or PVC horse fences are quite strong and act as a physical deterrent to your horses. However, horses can get injured if they run into them or attempt to jump over them and get stuck. Make sure the fence is properly installed and of the correct height.
A no-climb horse is a special fence designed to prevent horses from stepping through, climbing over, or walking over them. The fence is designed in a way that it can flex on impact so your horse does not get injured when it makes contact with it.
A no climb can last for over a decade but requires maintenance to maintain its shape and effectiveness after repeated physical impact. No climb fences fall on the medium-budget of the cost spectrum and are quite popular among new or amateur horse keepers.
Wood board or wood post and board fences can be used as physical barriers for your horses. They are strong and durable with an expected lifespan of over 10 years or more with good maintenance. Wood board fences are a medium-budget option for new and established horse keepers.
A normal wooden fence can be erected as a physical barrier for your horse due to its strength. However, wooden fences may splinter from repeated or forceful impact and injure aggressive horses. Proper care should be taken to repair any damaged or splintered sections to prevent this.
A tape or ribbon fence is an inexpensive option you can use as a psychological deterrent for trained horses to keep them in an enclosed area. Horses can step over or run through the fence, but its presence will trick them into staying inside. These fences need frequent maintenance because they easily break or strain.
High-Tensile non-electric Horse Fence
Tensile wire fences are the least expensive and suitable as temporary psychological barriers for your horses. They will not stop an angry horse or running pony from leaving its enclosure. High tensile non-electric horse fences are made of steel coated with a special polymer to prevent injuries. They can be purchased in bright colors for high visibility.
High-Tensile electric Horse Fences
High-tensile electric horse fences consist of an electrified steel cable that is also designed to prevent impact injuries. They act as a psychological and physical barrier because the electrical current can prevent horses from stepping through. High-tensile electric fences require technical skills to install and maintain.
Wire mesh horse fences may be the least expensive to install but it does not mean they are less reliable. They can be durable and safe if installed properly. One thing you need to keep in mind is the size of the gaps in the mesh. Make sure they are either too small for the horse to step through or stick their heads in or big enough that they can free themselves easily without help.
Cost Factors to Install A Horse Fence
Some of the things that determine how much you will spend on a horse fence include:
Size of the enclosure
How big is the area to be enclosed? Costs can run into double-digit figures if you have a big area (over an acre) to enclose. Of course, this depends on the number of horses you have and how you want to use the enclosure.
Cost of materials
The type of fence you choose will determine what materials you use. Don't spend too much trying to install a sophisticated fence if you do not need it. In most cases, a simple wooden or tape fence is all that is needed especially if you have a few well-behaved ponies.
Installation costs
Most people would prefer to use a professional fence installer to install their horse fence for the safety of their horses. Work with a licensed local fence installer who has experience installing horse fences and who can advise you on the materials you need.
Tip: If you need help finding a reliable fence installer, then you can use our free tool to locate top-rated fence installers in your location. Just scroll to the top of the page and enter your zip code to search.
DIY Vs Hiring A Professional
Choosing between DIY installation and hiring a professional fence installer? Here are some of the things you should consider for both options
Pros
Cheaper- no installation costs
More freedom – you can work at your own time and pace
Cons
Quality of the fence- you may make costly mistakes if you are not an expert or don't have the right tools
Time-consuming- may talk longer as you learn on the job
No insurance- unlike professional installers, you are not insured for injuries that may occur during the installation.
Material wastage- You may waste a lot of materials through trial and error
Pros
Expert craftsmanship
Quicker installations
Access to professional tools
Warranty included
Less work for you
Insured workers
Professional advice
Less wastage
Cons
Extra costs
Risk of hiring unreliable
installers
Some horse fences need frequent maintenance while others need little to no maintenance over their lifespan. This depends on the type of fence, how it was installed, and external factors like weather and the number of horses enclosed.
The best horse fence is one that acts as a physical and psychological barrier without posing danger to your horses. Wood board fences and special no-climb horse fences are among the best and most popular for new horse keepers.
A standard horse fence should be at least 4.5 to 5 inches tall to act as a physical barrier to both young and mature horses. Most horse fence building components are sold in standard sizes of the same height for this purpose.