If you are one of those people that really want to own wild animals such as deer, game fencing will be essential in order to keep them from running away.
A game fence will cost you $4 to $9 per foot, and if you pay per mile which usually contractors charge for bigger projects, expect to pay $15,000 to $22,000 per mile. If you take a DIY route, you will have to spend from $1.6 to $3.50 per foot for posts and galvanized wire.
There are a few critical things worth pointing out that can save you time and money before you start. Below we break it all down for you.
Let's start with the information that you have two primary game fence options, polypropylene plastic and steel.
Game fencing price ranges from affordable to moderate or in numbers for the primary materials per foot looks like this:
Plastic deer fence: $0.85 to $3.35
Steel deer fence: $1.30 to $3.10
The spectrum of quality based on the gauge of the steel wire or the thickness of the plastic defines the price.
The table below gives you the total project costs for the material and installation. DIY installation is most common because it is fairly easy, and looks aren't the primary concern. The costs are based on 164 linear feet of fencing:
| Fence Type | Cost of Materials | Installation Cost | Total Project Cost | Cost per Linear Foot |
| --- | --- | --- | --- | --- |
| Steel Fence | $2.30 - $5.00 | $215 - $508 | $164 - $315 | $1.30 - $3.10 |
| Plastic Fence | $1.85 - $5.25 | $140 - $550 | $164 - $315 | $0.85 - $3.35 |
Factors That Affect the Cost
The game fence is usually made from plastic or steel so depending on the material there are a few variables that define the overall cost. However, there are also factors that are common for both types, and which are worth paying attention to.
Typical deer fencing comes in 6, 8, and 12-foot heights. If you want to install a taller fence, expect to pay a higher price.
You can buy gate kits that allow you to easily insert a gate into the deer fence. Gate kits are not so expensive and cost around $170 for a 6-foot gate and around $215 for an 8-foot gate. Labor will usually cost around $200, therefore making a total cost of around $400 per gate installed.
Ground stakes make the fence more secure and prevent digging below the fence. Rebar and Kinked are the two available types, and if the ground isn't too rocky and firm, they are easy to install. Rebar stakes cost around $35 for a 20 pack and kinked ones come with the price of $21 for a 30 pack. Rebar stakes are preferable for rocky and firm grounds.
Considerations for Installations
Most deer fence is attached to metal posts, the type used for snow fence, construction barrier, and miscellaneous purposes. The use of 4"x4" pressure treated or cedar posts provide a more permanent installation and improve the look of the fencing.
Homeowners concerned for the well-being of the deers often attach light-colored steamers or plastic containers to their fences to allow the animals to see the barrier. Another option is to spray the fence on a weekly basis with an aromatic formula that is safe. These sprays are safe for the animal and for your family.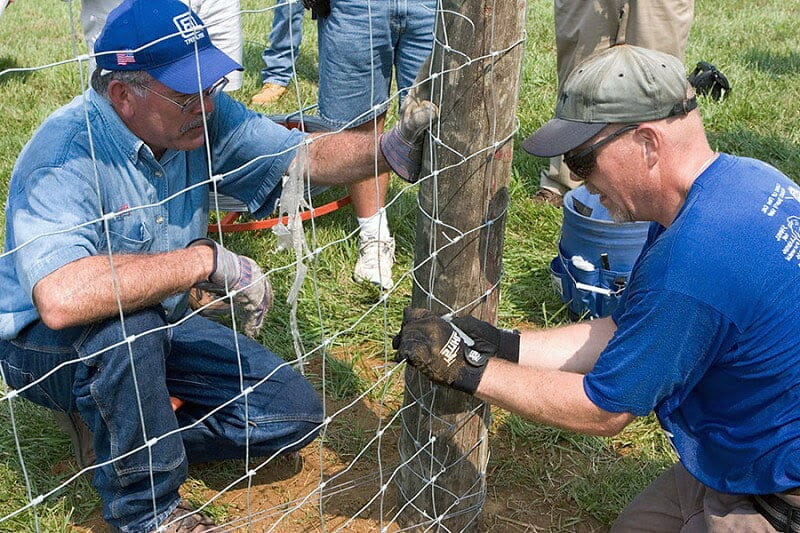 HomeGardenGuides.com is a free service that quickly matches you with top-voted local Fencing Specialists.
You can get 3 estimates fast by real certified experts in your area in just 2 minutes.
Scroll to the top of the page and enter your Zip code.
Answer questions about your fencing project
Your fence job details are forwarded to three local experts. They will send you a price estimate for the job and some friendly advice.
IMPORTANT: There is no obligation to hire. This is a free tool and service to be used at your pleasure.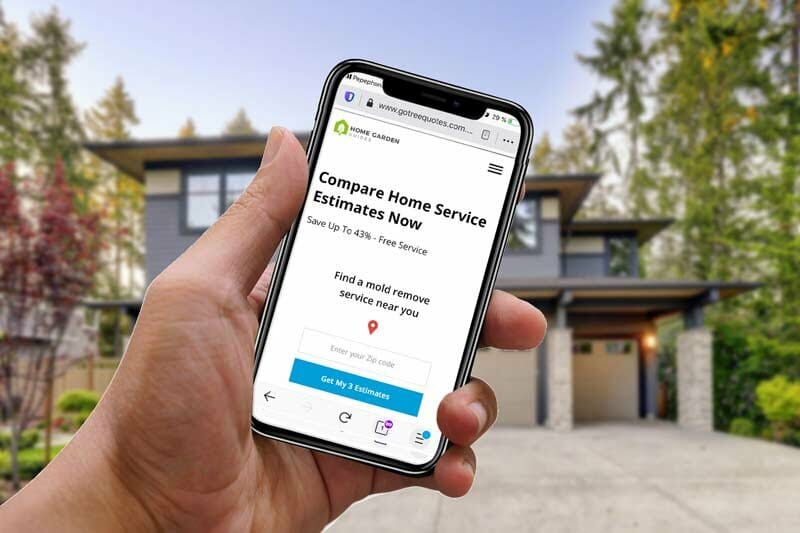 Types and Usage of Deer Fence
There are 3 most common types of deer fences, wire deer fence, deer fence with square posts, and wood post deer fence.
Game fencing is also useful to keep cattle, horses, and other barn animals safely enclosed. The shortest deer fence is about 3' while the tallest material is 10' high. Most deer fencing is sold in rolls from 50' to 300' in length.
A deer fence is an affordable structure for designating property boundaries and giving children and pets room to roam safely within your property lines. If you want to add style to your deer fencing, then consider using pressure-treated or cedar posts to attach it to, and top the posts with decorative caps.
There is always good to have some hints and some tips before starting with any kind of project. Before installing a deer fence ask your contractor for recommendations. This project is one of those which can be time-extensive and you don't want to deal with someone that isn't going to get the job right. Also, you should ask for pictures of their previous works and it is best to hire a company that concentrates on game fencing.
And last but not least, talk to as many contractors as possible. It will be enough to explain your project and most specialists will be able to offer you a quote.